In an effort to cut payroll, the new Marlins ownership group (headlined by Derek Jeter) has already kicked off a fire sale of major league assets. They've traded three significant players so far in Giancarlo Stanton, Dee Gordon and Marcell Ozuna, and only the latter of the three netted any significant prospect haul. Miami has succeeded in getting big salaries off the books, but their farm system still looks bleak and lacks top-rated prospects (though some pitchers in their system have upside).
So while the team has already completed its stated salary-slashing objective, the moves made so far have put the franchise in an in-between kind of state. Miami finished last season with a 77-85 record, and then traded away three players who were worth a combined 15 fWAR. The only major league asset who came back in return was Starlin Castro, who was worth about 2 fWAR in 2017. All told, the Marlins' roster looks about 13 wins worse than last season, which in theory would make them about as good as last year's Tigers club.
Of course, it doesn't exactly work that way, but the writing on the wall here is that the Marlins aren't going to do a whole lot of winning next season. They'd face enormous odds in challenging the Nationals for the NL East crown. Aside from that, their farm system is dwarfed by those of the division-rival Braves and Phillies, both of whom are on the rise. Clearly the club isn't planning on improving the team through free agency, as that would counteract the enormous effort the team made to reduce payroll. As such, there appears to be no reason to stop selling now. There are a few players on the roster who could help the Fish add significant prospects to their minor league ranks and improve the organization's future outlook…
Two Years of Control
Starlin Castro, 2B ($22MM owed through 2019, including $1MM buyout of $16MM option for 2020): When Castro came to Miami in the Stanton deal, trade speculation began immediately. There's probably some surplus value to be had in the 27-year-old's contract considering his reasonable salary and the fact that he's still in his prime. With the Marlins having already met their payroll-related goals, they probably even have the flexibility to pay some of his salary in order to get better prospects in exchange. Castro is coming off a .300/.338/.454 season, but poor defensive play at second limits his value to an extent.
Longer-Term Assets
J.T. Realmuto, C ($4.2MM projected arb salary for 2018): MLBTR has already talked about Realmuto's trade candidacy at length this month (including an in-depth piece on his market), so I'll keep this short. Realmuto has already requested a trade, and although he doesn't have any real leverage in the matter, he seems a likely candidate to be wearing another uniform even before he hits free agency following the 2020 season. The Marlins catcher was worth at least 3.5 fWAR in each of the past two seasons, and plenty of contenders and up-and-comers would love to have that kind of value coming from a premium position on the diamond. It would, however, take a reportedly "huge overpay" to pry him out of Miami's hands.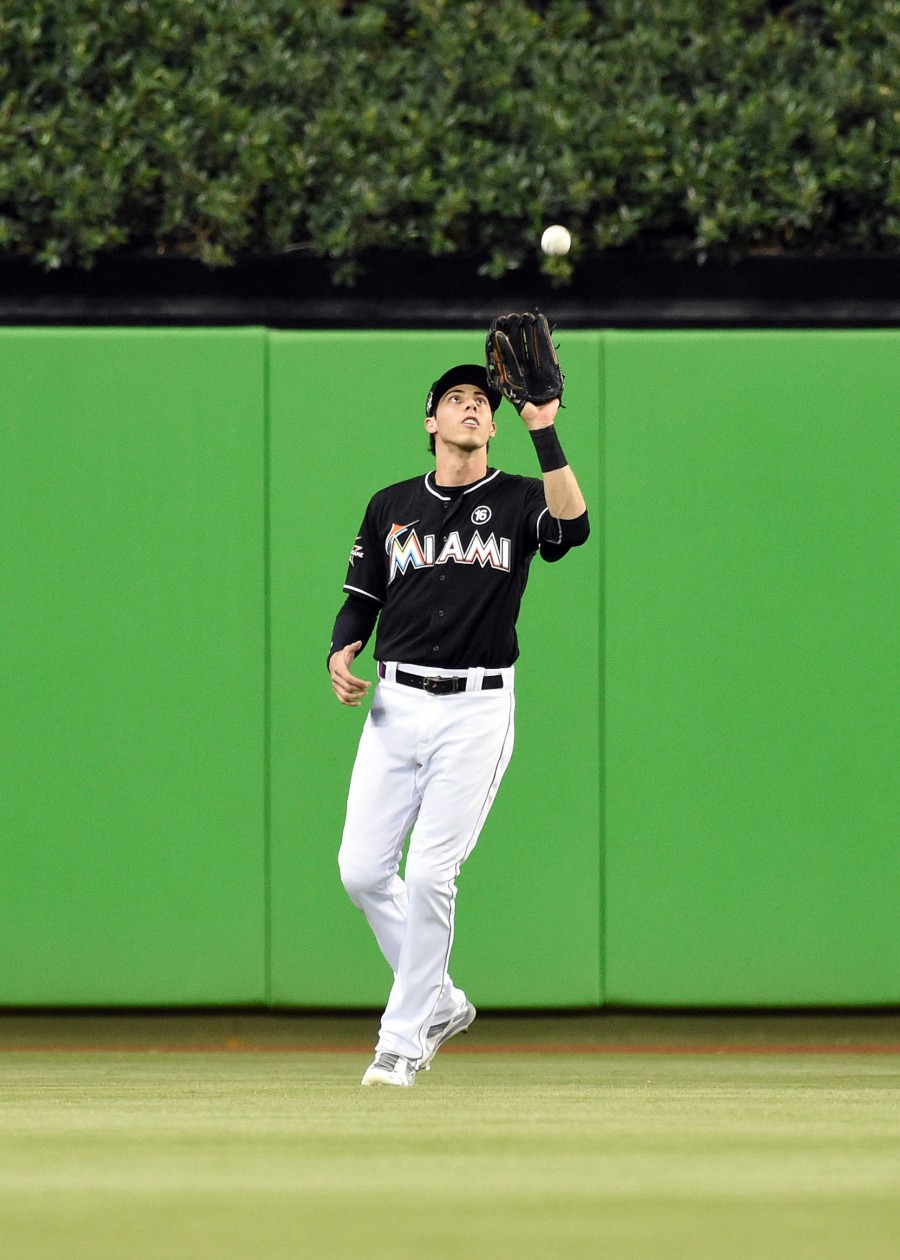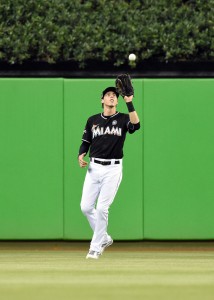 Christian Yelich, OF ($44.5MM owed through 2021, including $1.25MM buyout of $15MM option for 2022): Yelich has also been one of the more common names to pop up in trade rumors this offseason. He's easily the Marlins' most valuable asset; the former first round pick has been worth about 16 fWAR across the past four seasons combined. With five more years of team control, however, there's at least a chance he could be part of the next winning Marlins club at a very reasonable price, so there's less of a reason for the team to move him there is to move other assets. Among the plusses for Yelich are good defense in the outfield, a 10.7% career walk rate and improved baserunning ability.
Dan Straily, RHP ($4.6MM projected arbitration salary for 2018): While Straily isn't as talented (or receiving as much trade attention) as elite options like Michael Fulmer, Chris Archer and Gerrit Cole, he's a league-average MLB talent who could be made available in a thin and expensive market for pitching. Straily posted a 4.26 ERA in 2017 along with a 2.83 K/BB ratio and comes with three years of team control.
Justin Bour, 1B ($3.5MM projected arbitration salary for 2018): Amidst Marlins rumors, it's somewhat of a surprise to me that Bour's name hasn't been mentioned more often. Miami's left-handed-hitting first baseman enjoyed a breakout season in 2017 prior to an oblique injury. Upon his return in early September, he picked up right where he left off, and ultimately finished the season with an outstanding .289/.366/.536 slash line to go with 25 home runs across just 429 plate appearances. With the Rockies, Angels and Mariners still looking for first base help, it wouldn't be a shock to see the market for Bour heat up at some point. He wouldn't come cheap, though, as he's cost-effective and controllable through arbitration from 2018-2020.
Kyle Barraclough, RHRP (League minimum salary for 2018): Barraclough has a sky-high career strikeout rate 12.05 K/9), but carries the downside of an equally absurd walk rate (5.52 BB/9). The net result is a sort of effectively-wild performance that's led to fantastic career run-prevention numbers, headlined by a 2.87 ERA. With elite relievers becoming more and more in demand, it's conceivable Barraclough could net a hefty return.
Derek Dietrich, INF ($3.2MM projected arbitration salary for 2018): Though he's not a full-time player, Dietrich has managed to accrue at least 1.5 fWAR in each of the past two seasons, and can play both second and third base. He'd be a cheap utility infield option on a contending team, and comes with three years of team control. He hit .249/.334/.424 in 2017 with 13 homers, making him a nearly average offensive player at 99 wRC+.
Salary Dump Candidates
Wei-Yin Chen, LHP ($60MM owed through 2020, with a $16MM vesting option for 2021): Simply put, this offseason would be the worst possible time to trade Chen. After missing most of the season due to elbow issues, Chen returned to make just four appearances out of the bullpen in September prior to being shut down. While he was generally good when on the field (3.82 ERA, 3.73 FIP), the Marlins would have an incredibly difficult time trying to move any of his salary until he can settle concerns about his elbow.
Martin Prado, 3B ($28.5MM owed through 2019): Prado is coming off a dreadful 2017 season in which he was able to muster just 147 plate appearances due to multiple injuries. He posted just a 67 wRC+ across that time, and will enter the 2018 season at 34 years of age. There have been reports that the Marlins might try to attach Prado to a trade of a more valuable asset in order to clear his salary, but like Chen, it might be the wrong time to trade him. After all, he averaged 3 WAR from 2014-2016 thanks to a .295/.341/.407 slash line and elite defense at the hot corner.
Brad Ziegler, RHRP ($9MM salary for 2018): The issue with Ziegler is his recent inability to miss bats. The righty struck out fewer than five batters per nine innings in 2018 and experienced a steep drop in velocity on his sinker. All told, Ziegler was tagged for 25 earned runs in 47 innings. Perhaps he's another candidate to re-established value prior to the trade deadline, but he's also 38 years old; it's also possible the Marlins could be better served simply trying to find a taker for as much of his salary as possible.
Junichi Tazawa, RHRP ($7MM salary for 2018): See Ziegler. Okay, not exactly, but Tazawa's outlook isn't much more promising other than the fact that he's seven years younger. The righty is two years removed from his last respectable season. Last year was his worst performance yet: he was valued below replacement level thanks to a 5.69 ERA and 4.96 FIP. Miami's best chance to move his salary would be to try to include him in a trade along with Realmuto, Yelich or another contract with significant excess value.
Photo courtesy of USA Today Sports Images