Alex Cobb looked every bit the part of a rising star in the Rays' rotation before Tommy John surgery wiped him out for nearly two full seasons. His first year back was successful enough that he rejected a one-year, $17.4MM qualifying offer from Tampa Bay in order to test the waters of free agency.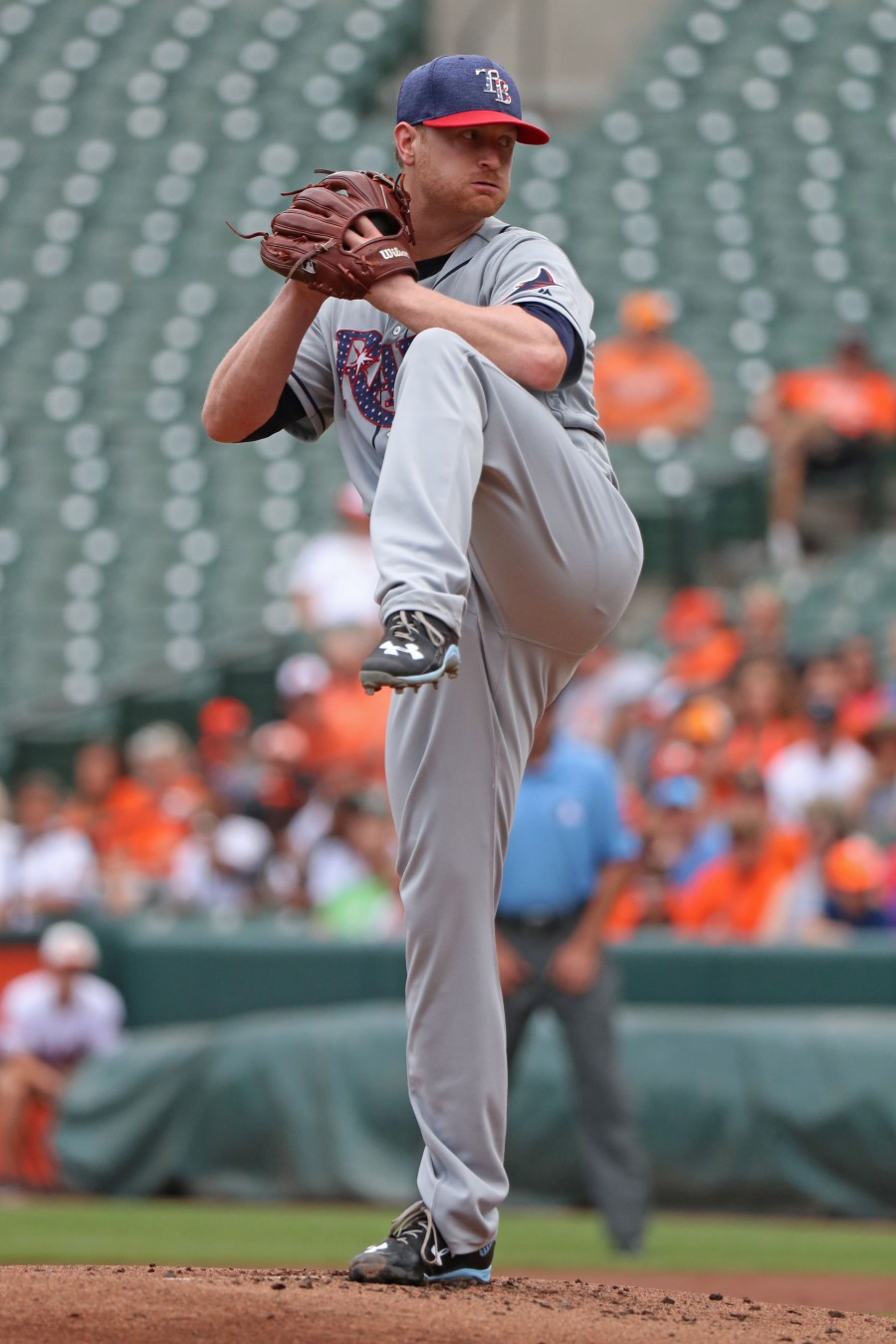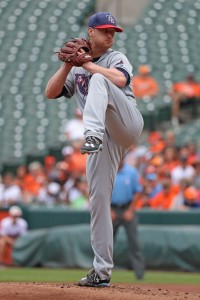 Pros / Strengths
Cobb has a career 3.50 ERA, and fielding-independent metrics like FIP (3.68), xFIP (3.62) and SIERA (3.73) all largely support that bottom-line run prevention mark. He's long displayed above-average control, never averaging more than three walks per nine innings pitched in a full season, and the 2017 campaign was his best in that regard (2.2 BB/9). Home runs have also never been a big problem for Cobb. That was true in 2017 as well, as he allowed a manageable 1.1 HR/9 in a season that saw MLB hitters put the ball over the fence at increasing levels.
If Cobb's overall 2017 numbers don't immediately stand out and generate excitement, it's perhaps worth looking at the strong fashion in which he finished the campaign. It's only seven starts, but in his final 38 1/3 innings of the year, Cobb's K/BB numbers took off. In that time, he averaged a dramatically improved 8.9 K/9 against 1.9 BB/9 with a 54.1 percent ground-ball rate. His 38-to-8 K/BB ratio in that time was nothing short of excellent. For a pitcher that was still trying to distance himself from Tommy John surgery and rediscover the form he showed in 2013-14 (2.82 ERA, 8.2 K/9, 2.7 BB/9, 0.7 HR/9, 56% grounder rate in 309 2/3 innings), that was a heartening finish.
Cobb is also the youngest of the top starting pitchers on the free agent market. He'll pitch all of the 2018 regular season at the age of 30, not turning 31 until October 7. Jake Arrieta, meanwhile, will turn 32 in March; Yu Darvish will be 32 come August; and Lance Lynn turns 31 in May.
Cons / Weaknesses
Cobb's finish to the season was nothing short of excellent, but the first 22 starts he made in 2017 were decidedly pedestrian. His 3.89 ERA in that time was solid, to be sure, as was his 2.3 BB/9 mark. However, Cobb was carrying a paltry 5.7 K/9 through his first 22 starts of the year and averaging 91.4 mph on his fastball. (Those marks jumped to 8.2 and 92.4 in his strong finish to the season; Cobb has previously exhibited similar intra-season velo gains.) Cobb's 4.43 FIP, 4.58 xFIP and 4.79 SIERA all painted a much uglier picture than his more palatable ERA. For most of the season, Cobb looked more like a fifth starter than a mid-rotation arm.
There's reason to wonder if Cobb can maintain the uptick in strikeouts he displayed late in the year as well, given that he posted a dismal six percent swinging-strike rate in that seven-start span. In fact, Cobb's overall 6.7 percent swinging-strike rate was the third-lowest of any qualified starting pitcher in 2017. He topped only Ty Blach and Andrew Cashner — who posted MLB's two lowest K/9 rates — in that regard.
The biggest knock against Cobb, though, is that he simply hasn't stayed on the field often enough in his big league career. Since debuting in 2011, Cobb has missed time due to a hand injury, a concussion that wiped out a third of his 2013 season, oblique issues and 2015 Tommy John surgery. He's never made more than 29 starts in a season and has never even reached the 180-inning mark. His agents can try to pitch him as a "low mileage arm" as a result, but the argument doesn't carry all that much weight when the disabled list is the driving factor behind his low innings total and he has already had Tommy John surgery.
Like Arrieta and Lynn, Cobb rejected a one-year, $17.4MM qualifying offer from his previous team, so he'll require the forfeiture of draft compensation for any team that wishes to sign him. Teams that paid the luxury tax in 2017 and teams that did not receive revenue sharing will also have to surrender a portion of their 2018-19 international bonus pool space to sign Cobb.
Market
Since the onset of free agency, Cobb has been regarded among the second tier of starting pitchers, ranking alongside Lynn in that regard, while both Darvish and Arrieta are considered to be the top two starters available. Of that quartet, only Darvish did not receive a qualifying offer (by virtue of the fact that he was traded midseason).
To date, Cobb has been tied most prominently to the Cubs. That makes plenty of sense given a potentially open rotation spot (assuming Mike Montgomery moves back to the bullpen) as well as clear connections to Cobb from his Rays days (manager Joe Maddon, new pitching coach Jim Hickey). Chicago reportedly made Cobb a three-year offer at a guaranteed total of $42MM. Cobb is said to have rejected that deal, and I'll delve more into his earning capacity in the section that follows.
Beyond the Cubs, he's been tied to the Twins, the Brewers, the Rangers and, much earlier in the offseason, the Orioles and Yankees. New York has since re-signed CC Sabathia, though the Yankees reportedly are maintaining interest in Darvish, so perhaps they'd have interest in Cobb at the right price. Then again, none of the names to which they've been prominently connected are associated with draft compensation.
Beyond that group, the Cardinals and Phillies are among the teams that are still reportedly seeking rotation upgrades to varying extents, though neither has been directly linked to Cobb. The Blue Jays, also, are said to be weighing the addition of a starting pitcher, as are the Dodgers (where president of baseball ops Andrew Friedman knows Cobb well from his own time with the Rays). Meanwhile, over in D.C., it's unclear who will lock down the fifth spot in the rotation. To be clear, none of those teams is reported to be a serious pursuer of Cobb so much as they're more generally reported to be exploring rotation additions. Presumably, once a combination of Darvish, Arrieta and/or Lynn come off the board, Cobb could see some new teams more seriously linked to his services.
Expected Contract
Reports early in the offseason suggested that Cobb was seeking upwards of $100MM over a five-year term, though FanRag's Jon Heyman recently wrote that Cobb is now believed "willing" to sign a four-year deal at a total of $70MM or a five-year deal worth $80MM. Despite a fairly robust group of potential landing spots, those numbers range from ambitious ($70-80MM) to outlandish ($100MM), in my view.
Certainly, a pitcher doesn't need to be an ace to secure $70-80MM in the modern financial climate of MLB. Ian Kennedy ($70MM), Mike Leake ($80MM) and Wei-Yin Chen ($80MM) have received five-year deals in the past two years. Kennedy and Chen even received opt-out provisions in their contracts. On a per-inning basis, I'd take Cobb over anyone from that trio. Cobb's agents at Beverly Hills Sports Council — the same agency that represents Leake — are no doubt making a similar case in pitching their client to teams.
Unfortunately, one can hardly look at Cobb on a per-inning basis and compare him to other starters. Each of the starters in that group averaged at least 29 starts per season in the years leading up to free agency. Teams banked on them as durable sources of respectable innings. Cobb? The 29 starts he made in 2017 were a career-high, as were the 179 1/3 innings he threw.
Cobb has made 25 starts in a season just twice in his career, and he's never reached the 180-inning plateau — even when combining Major League, minor league and postseason innings. It's true that teams are leaning more heavily on the bullpen and asking starters to turn a lineup over for a third time with diminished frequency. But, it's not reasonable to project Cobb to top 180 innings, and it'd be optimistic to even forecast him to approach last year's total of 179 1/3 frames. Steamer projects Cobb at 133 innings; Baseball-Reference projects him to tally 152 — which would be only the third time in his career that he's reached that level.
None of this is to disparage Cobb. In fact, when projecting Cobb's contract for our annual Top 50 free agent rankings — MLBTR pegged Cobb at a four-year, $48MM deal — I was the most aggressive member of the MLBTR staff when deciding what prediction to place next to his name. It took numerous exchanges in our debate to get Cobb pushed up to the Brandon McCarthy deal.
The parallels with McCarthy, though, are significant. When I was writing McCarthy's free agent profile three years ago, I noted that no pitcher with fewer than two seasons of 180+ innings had signed a guaranteed four-year deal in free agency. McCarthy set a precedent, in that regard, by inking a four-year, $48MM deal despite only having one season meeting that admittedly arbitrary criteria. No pitcher has matched the feat since.
Entering the offseason, I believed it was possible that the overall market for starting pitching had moved forward to the point that Cobb could secure a four-year guarantee despite the lack of durability on his resume. At the time, I'd have been comfortable predicting Cobb at anywhere between $52-56MM over a four-year term, recognizing that he at one point looked to be a potential emerging upper-echelon starter and showed glimpses of that down the stretch in 2017. (And, as previously noted, the increased emphasis on bullpen usage lessens the need for a starter to be able to rack up 200+ innings on the regular.) If Cobb is still dead set on maxing out his dollars on a four-year deal, then I think that range still applies.
However, the more I think about it, the more Cobb strikes me as a candidate for a "pillow" type of contract. "Pillow" deals in 2018, though, aren't the same as they were even five years ago. Rather than traditional one-year deals, newfangled pillow contracts are more frequently multi-year pacts with significant guarantees that include early opt-out clauses, as we've seen recently from Yoenis Cespedes, Scott Kazmir, Matt Wieters and Greg Holland.
If the Cubs were really willing to offer Cobb $42MM over a three-year term, then perhaps it shouldn't be that difficult to find a club that would offer a slightly larger guarantee with an opt-out after the first year. That'd effectively be the contract that Kazmir signed with the Dodgers — three years, $48MM with an opt-out after year one — and would leave Cobb with a notable payday and the opportunity to prove that he's now capable of tossing 180+ innings (or thereabouts) in consecutive seasons. As an added and certainly significant bonus, Cobb would hit the market without the burden of draft-pick compensation next year, were he able to remain healthy and build on his strong finish, as the new CBA stipulates that players can only receive one QO in their career.
Bottom line: if Cobb wants to max out his guarantee, I still think he can land a four-year deal in the range of $52-56MM. But, if his camp is dead set on a $70-80MM payday, I'm not sure it'll be there. Instead, he should consider seeking something in the Kazmir range — $45-48MM over three years with an opt-out clause — while hoping to re-enter the market next offseason when he won't be tied to draft compensation and can potentially have another largely healthy season under his belt.
Photo courtesy of USA Today Sports Images.