The Padres are in a fairly flexible spot this offseason, as the team entered the winter with fairly low payroll obligations for the 2018 season and a long-term balance sheet that features just one notable commitment. While nobody really expects the team to contend in the coming season, its pursuit of Eric Hosmer shows that the organization would like to begin building toward MLB competitiveness.
On the whole, there's no real reason to think the Padres need to trade any particular player. But the organization has one fairly obvious, high-end trade candidate and it also seems reasonaby likely that at least one veteran infielder will end up hitting the road.
Click here to view the previous entries in this series.
[Related: San Diego Padres depth chart and Padres payroll outlook; MLBTR 2018 arbitration projections]
One-Year Rental
Chase Headley, 3B ($13MM in 2018): The Friars brought back their former star in a deal that was designed mostly to acquire righty Bryan Mitchell, who'll compete for a rotation spot. Now, it seems likely that Headley will be dangled as a means of trimming some salary. Entering his age-34 season, Headley profiles as a solid average player who could hold down the fort for a year in the right circumstances. But his overall output with the bat has been average or worse over the past four seasons, so despite the limited contractual commitment, it seems likely the Padres will have to keep some of the salary if he ends up on the move.
Two Years of Control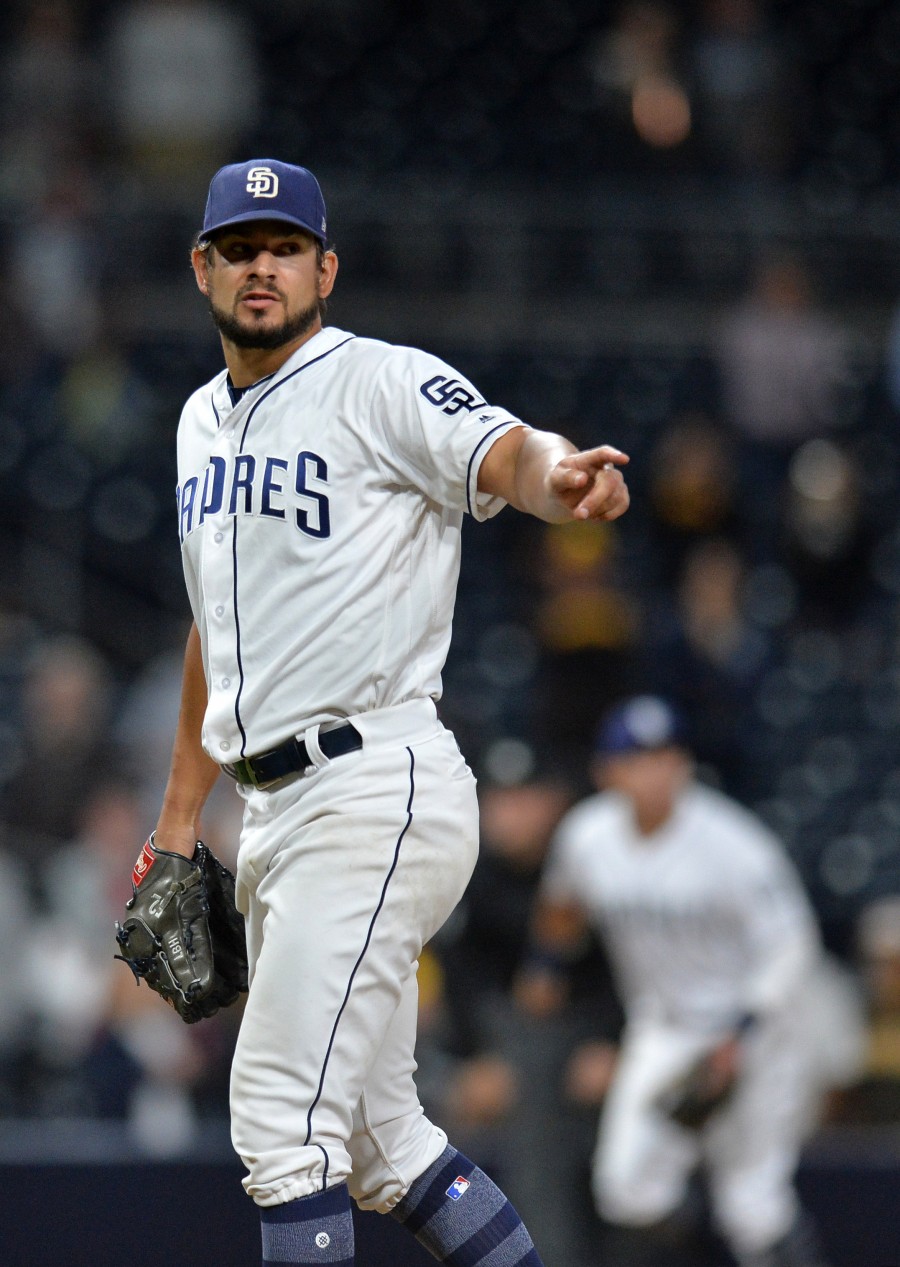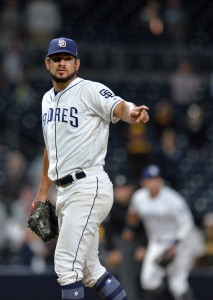 Brad Hand, RP (projected $3.8MM arbitration salary; arb-eligible thru 2019): This is the one player who stands out as a premium veteran trade asset. With Orioles lefty Zach Britton suffering an offseason injury, and a busy market for free agent relievers, Hand stands out as a highly valuable asset. He has retired more than 11 batters per nine via strikeout in each of the past two seasons and upped his output in 2017, when he ran a 2.16 ERA over 79 1/3 innings and stepped seamlessly into the closer's role. It's arguable the Pads ought to cash in on Hand in the near term, rather than risking any injury or performance decline, though we haven't heard much chatter surrounding him so far this winter.
Carter Capps, RP (projected $1.3MM arbitration salary; arb-eligible thru 2019): It was an open question whether the Padres would tender Capps a contract at all following his tepid return from Tommy John surgery. The 27-year-old managed just seven strikeouts and allowed nine earned runs in his 12 1/3 innings in 2017, while showing a whopping 5+ mph drop in his average fastball velocity and carrying only a 7.8% whiff rate. But the Padres evidently feel that Capps can still build himself back into being a quality reliever, and it's certainly worth bearing in mind just how dominant he had become before the elbow injury. It seems unlikely he'll be moved, but it's certainly possible a roster need could push him out or that another organization may put a slightly higher value on his upside.
Clayton Richard, SP/RP ($6MM through 2019): The southpaw just inked an extension at the tail end of the 2017 campaign, so it's quite unlikely the Pads would turn around and deal him before the start of the coming season. Instead, the 34-year-old is likely to hold down a rotation spot and perhaps eventually slide into a swingman role as situations dictate.
Longer-Term Assets
Yangervis Solarte, INF ($5.5MM through 2018, including buyout of 2019-20 club options): If the Friars don't trade Headley, it may be because they find a better deal that involves Solarte. A solid switch-hitting option who can handle third base, second base, and even a bit of time at short, Solarte would fit on a lot of rosters around the game. The flexibility in his contract boosts his value, though surely other organizations won't be offering up top talent for a player who is coming off of a personal-worst .255/.314/.416 season at the plate.
Wil Myers, 1B ($78.5MM through 2022, including buyout of club option for 2023): There's no indication that the Padres have interest in shopping Myers, who had a less-than-inspiring first season under his new contract. Rather, it seems the club is weighing a move for free agent Eric Hosmer, which would bump Myers into a corner outfield spot. But Myers does carry the team's only large, long-term contract, so he certainly merits mention.
Cory Spangenberg, UTIL (projected $2.0MM arbitration salary; arb-eligible thru 2020): In his most extensive MLB action, a 486 plate appearance run in 2017, Spangenberg turned in a .264/.322/.401 batting line with 13 home runs and 11 steals. That's a handy batting line for a player who rated as an outstanding overall baserunner and can play just about anywhere on the field. Then again, the output was still below the league average and there are limits to Spangenberg's defensive function; he graded poorly at third last year and isn't really an option at short or in center. All told, though, he's a useful asset who'd draw interest if dangled.
Kirby Yates, RP (projected $1.1MM arbitration salary; arb-eligible thru 2020): Though he'll turn 31 before the start of the 2018 season and has not really thrived in prior attempts at the majors, Yates is an interesting player after a strong 2017 season. Home runs marred his balance sheet in the end, but it's hard to ignore his 14.0 K/9 strikeout rate and robust 17.3% swinging-strike rate. Odds are the Padres will keep Yates and hope he can produce the results to match those promising peripherals, but his name could also come up in trade talks.
Matt Szczur, OF (projected $800K arbitration salary; arb-eligible thru 2021): It's hard to imagine teams lining up for a player who seemingly profiles at best as a solid, right-handed-hitting fourth outfielder. But Szczur did produce at a roughly league-average rate over 237 plate appearances in 2017, most of which came after he moved to the Friars from the Cubs in the middle of the season. Most impressively, Szczur maintained a 14.3% walk rate over the season. He's also still affordable as a Super Two.
Austin Hedges, C (pre-arb): In all likelihood, the 25-year-old Hedges is going to continue to take the bulk of the time behind the dish for the Padres in 2018 and beyond. But there's some uncertainty in his outlook after a marginal .214/.262/.398 output with the bat in 2017, even if he did swat 18 long balls. It's important to bear in mind that Hedges is considered a high-quality defender; indeed, he was one of the game's highest-rated pitch framers in his first full season as a big leaguer. There may not be a ton of offensive upside, but the Padres have good reason to continue to allow Hedges to develop as a hitter while he gives a boost to the organization's pitching staff.
Of course, the Padres have a variety of other younger players around who could conceivably also be traded. To take a few examples, it isn't impossible to imagine deals involving outfielder Hunter Renfroe, starter Luis Perdomo, or reliever Phil Maton. But those and others don't seem particularly likely to be targeted by contending organizations weighing win-now moves, so we needn't consider them in detail. We're also going to go ahead and assume that the team intends to utilize the just-acquired Freddy Galvis at shortstop, so there's no real cause to weigh his trade candidacy.
Photo courtesy of USA Today Sports Images.