Major League Baseball is roughly a week and a half away from pitchers and catchers reporting for spring training, yet over 100 players remain without contracts. Even most of the premier players in this year's free agent class haven't found contracts to their liking, so it's no surprise that plenty of mid- to lower-tier veterans also remain unsigned. Among them is first baseman Logan Morrison, who, despite enjoying a career year with the Rays in 2017, has only drawn scant interest this winter. While MLBTR projected a three-year, $36MM payday for Morrison entering free agency, that may prove to be rather optimistic.
Not only does free agents' earning power tend to drop as the spring gets closer, but Morrison has seen several teams address first base needs as he has continued to sit on the market. Any of the Phillies (Carlos Santana), Mariners (Ryon Healy), Red Sox (Mitch Moreland), Indians (Yonder Alonso) or Mets (Adrian Gonzalez, Jay Bruce) could have conceivably picked up Morrison this winter, but each has already acquired at least one established first baseman. Of those teams, the only potential suitor for Morrison could be the BoSox, who are still in the market for a slugger to man the designated hitter spot. However, they've been locked on the best offensive player available – J.D. Martinez – all winter. Perhaps Morrison will enter the picture for Boston if it doesn't sign Martinez, but it would be a surprise at this point if JDM went elsewhere.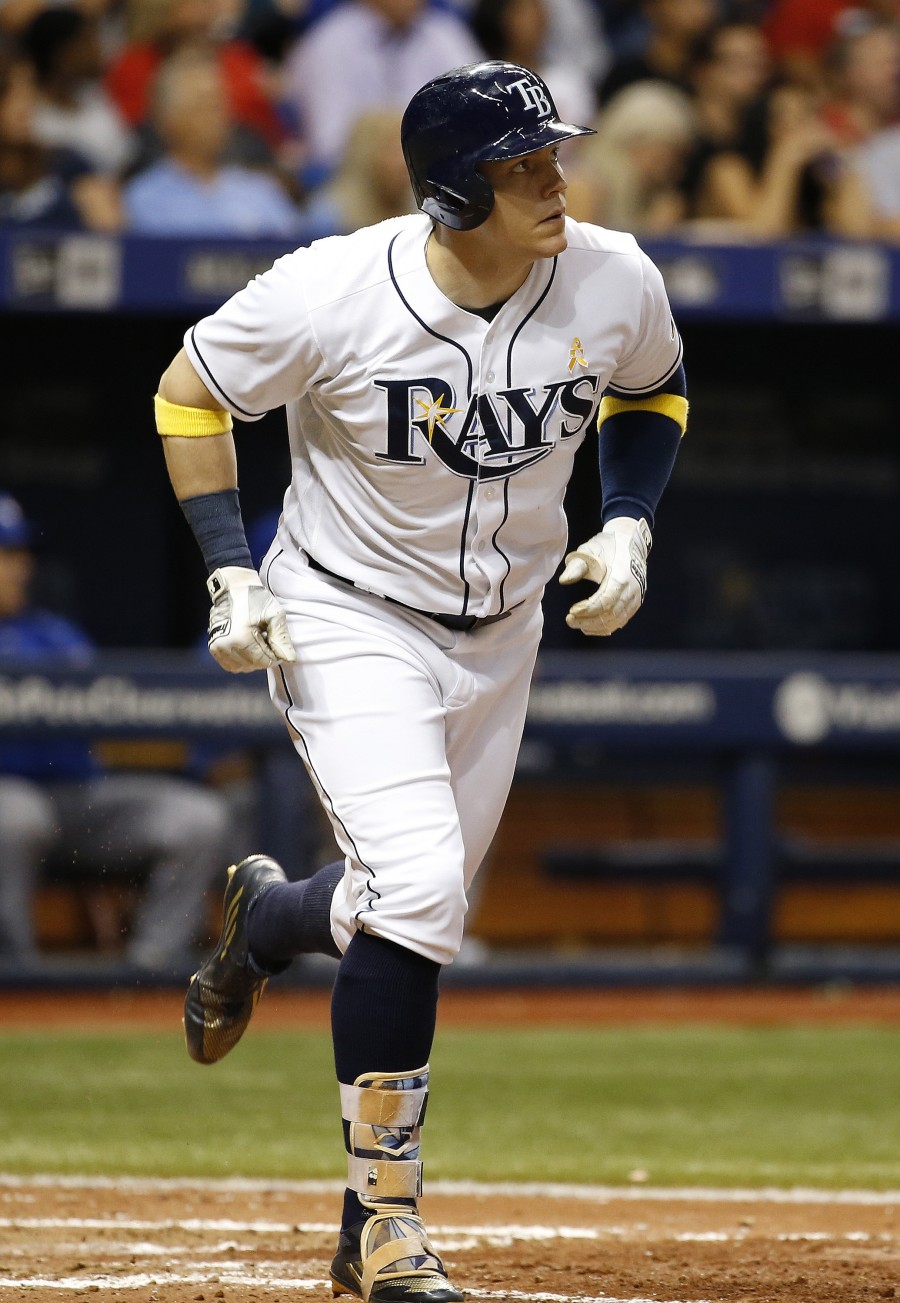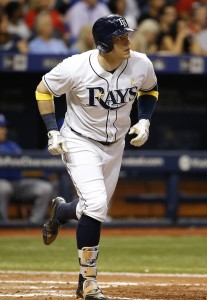 Regardless of whether it's the Red Sox or someone else, Morrison seems quite capable of helping a team. Sure, the 30-year-old's career has been unremarkable thus far (5.6 fWAR in 3,354 plate appearances with Miami, Seattle and Tampa Bay), but Morrison seems to have found another gear in recent years.
Since the second half of 2016, when he slashed .244/.352/.526 over an admittedly small number of plate appearances (91), Morrison has been one of baseball's most formidable hitters. He proved himself on a much grander scale last year, parlaying a personal-best walk rate (13.5 percent, compared to a 10.5 percent lifetime mark) and a career-high fly ball rate (46.2 percent, up from 37.5 percent) into a .246/.353/.516 line in 601 PAs. That output led to a 3.3 fWAR and a robust 130 wRC+, which ranked 30th among big league regulars, while he finished tied for seventh in home runs (38) and 10th in isolated power (.270).
Morrison's 2017 production seemingly wasn't just smoke and mirrors. According to Statcast, he ranked 26th in barrels per PA and 32nd in balls hit at least 95 mph. Thanks in part to his hard-hitting ability, Morrison ended the year with a .365 expected weighted on-base average that fell right in line with his real wOBA (.363). That xwOBA number placed 26th in the majors, tying him with superstar Kris Bryant and another Windy City standout, Jose Abreu. Adding to the intrigue, Morrison's success came despite playing half his season at one of the majors' least friendly venues for left-handed batters, according to Baseball Prospectus. And while many lefty hitters tend to fare poorly against same-handed pitchers, that hasn't really been the case with Morrison. He posted an above-average 109 wRC+ versus southpaws in 2017 and has compiled a playable mark (95) during his career.
All of the above suggests Morrison may quietly be one of the game's top offensive threats nowadays, yet finding an obvious landing spot for him at this late juncture of the offseason is difficult. Given that their first basemen ranked second to last in the majors in fWAR (minus-0.3) last season, the Rockies may be the best match for Morrison, and transitioning from the cavernous Tropicana Field to the hitter's paradise known as Coors Field would seemingly be a boon for him. However, at last check, Colorado hadn't even considered Morrison. The club could instead turn the keys at first over to prospect Ryan McMahon and/or re-sign bargain free agent Mark Reynolds.
Meanwhile, other first base bottom feeders from 2017 – Seattle, Detroit, Pittsburgh, Los Angeles, Boston, San Diego, New York (AL), Miami and Texas – have a.) upgraded there this offseason, b.) will continue to ride with their starters from last year or c.) are seemingly only going to spend a notable amount if it's for much-hyped free agent Eric Hosmer (the Padres). Hosmer's only MLB employer to date, Kansas City, could certainly use a first baseman if he does depart. Interestingly, Morrison is a KC native who has said he'd love to play there. There hasn't been any reported interest on the Royals' side, however, and considering they're in a rebuild, that might not change even if Hosmer exits.
Should nothing materialize at first, where St. Louis could also be an option if its interest in Hosmer is any indication, Morrison may be able to catch on somewhere as a primary DH. Again, though, obvious fits aren't easy to find. On paper, he'd be a significant improvement over the Angels' Albert Pujols, but both the future Hall of Famer's massive contract and the presence of ballyhooed pitcher/DH Shohei Ohtani seem to stand in the way of a signing. DH appears to be spoken for among almost all other AL teams, too, with the Yankees looking likely to rotate the position among multiple players and the Mariners (Nelson Cruz), Indians (Edwin Encarnacion), Athletics (Khris Davis), Blue Jays (Kendrys Morales), Rangers (Shin-Soo Choo), Astros (Evan Gattis), Tigers (Victor Martinez) and Orioles (Mark Trumbo) having prominent veterans on hand.
It's less clear what the Rays, Royals, Twins and White Sox will do at the position, on the other hand. As terrific as Morrison was for Tampa Bay last season, there hasn't been any buzz about a reunion, in part because the Rays entered the offseason in payroll-cutting mode. The Royals, as mentioned, are in a rebuild, and that could point them to a young, in-house option (Jorge Soler). The Twins could stand to upgrade at DH over the Robbie Grossman/Kennys Vargas/Eduardo Escobar trio, though they're understandably more focused on bettering their pitching. Plus, if they do add a position player, it might make more sense to find a third base option, thus protecting against a possible suspension for Miguel Sano and/or allowing the big-bodied Sano to spend more time at DH.
Chicago, which is making progress in its own rebuild, actually could make sense as a destination for Morrison. The ChiSox probably won't push for a playoff spot in 2018, but the same could be said of the Phillies, who still splurged on Santana and had to give up a draft pick and international bonus pool money in the process. Unlike Santana (and Hosmer, for that matter), signing Morrison wouldn't cost anyone a pick or international money because he didn't receive a qualifying offer after the season.
While Morrison did all he could to boost his stock during a platform year, it still hasn't led to an offseason payday during what has been an especially cold winter for major league free agents. The calendar says he's going to sign soon, though, and if Morrison's recent work is any indication, the team that lands him just might be adding a reasonably priced offensive force at a time when they're not typically on the market.
Photo courtesy of USA Today Sports Images.