This is the latest entry in MLBTR's 2017-18 Offseason In Review series.  Click here to read the other completed reviews from around the league.
After the Mets endured a Murphy's Law season in 2017, general manager Sandy Alderson replaced their skipper and brought in several familiar names in free agency over the winter.
Major League Signings
Jay Bruce, OF: three years, $39MM
Todd Frazier, 3B: two years, $17MM
Jason Vargas, LHP: two years, $16MM
Anthony Swarzak, RP: two years, $14MM
Jose Reyes, INF: one year, $2MM
Adrian Gonzalez, 1B: one year, $545K
Total spend: $88.545MM
Options Exercised
Trades and Claims
Notable Minor League Signings
Notable Losses
[Mets Depth Chart; Mets Payroll Information]
Needs Addressed
The Mets posted back-to-back playoff seasons from 2015-16 – the first of which included a National League pennant – and there was optimism they'd remain a formidable club last year. Instead, a spate of injuries to key players and disappointing performances from others sunk New York, which never recovered from a 10-14 April. Expectations throughout the Mets' dismal season were that they'd replace manager Terry Collins afterward, and that's exactly what happened. The 68-year-old Collins remains in the organization in a front office role, while the much younger Mickey Callaway, 42, is now overseeing the team's dugout and clubhouse. Although Callaway never managed at any level before the Mets hired him, he did develop a sterling reputation in Cleveland, where he worked to great success as Terry Francona's pitching coach from 2013-17.
Among the hurlers now at Callaway's disposal are left-handed starter Jason Vargas and righty reliever Anthony Swarzak, two of the team's free-agent pickups. The Mets guaranteed Vargas two years and $16MM with the hope that he'd deliver adequate innings as part of a starting staff that didn't amass nearly enough of those a year ago. Vargas has a handful of high-inning, acceptable ERA seasons under his belt, including his 179 2/3-frame, 4.16 ERA showing with the Royals in 2017. That's somewhat similar to the production Bartolo Colon offered the Mets from 2014-16, and they missed that during a horrid 2017 in which Jacob deGrom was their only starter to both escape the injury bug and perform to his potential. Unfortunately for the Mets, an injury has already come for Vargas, who suffered a fracture to his non-pitching hand in mid-March. He's now set to begin 2018 on the disabled list, thereby creating a temporary starting spot for Seth Lugo.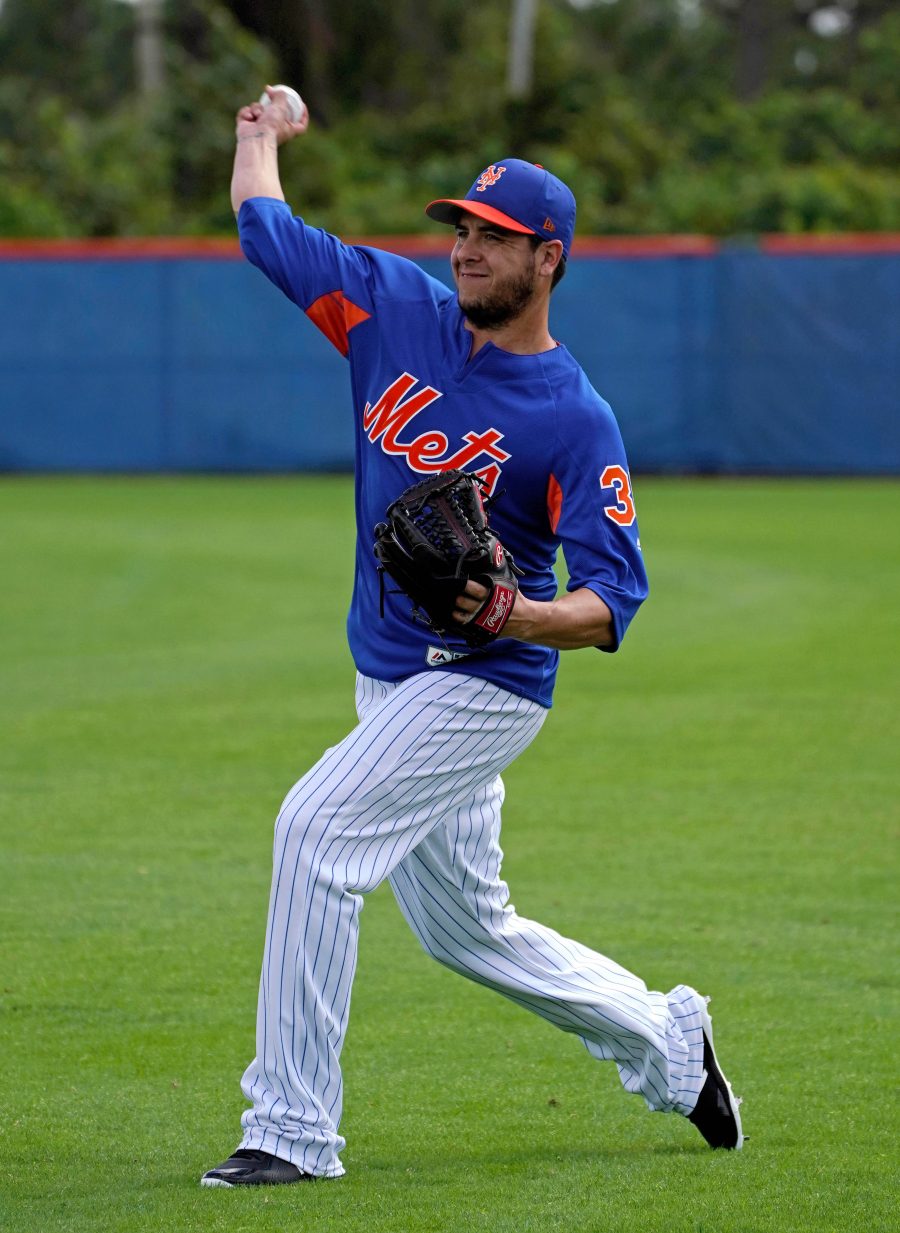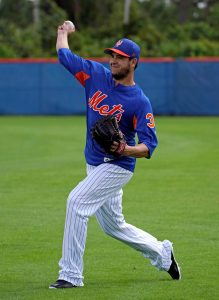 Swarzak is healthy, meanwhile, and surely looking to replicate the age-31 season he enjoyed with the White Sox and Brewers in 2017. After a fairly up-and-down career from 2009-16, Swarzak broke out with a 2.33 ERA/2.74 FIP and 10.59 K/9 against 2.56 BB/9 last year. Only 11 other relievers outdid Swarzak's 77 1/3 innings, and even fewer (seven) bettered his 2.2 fWAR. The latter figure placed him in similar company to Andrew Miller, Chad Green, Felipe Rivero and Archie Bradley, among other star relievers. That top-notch production led to a two-year, $14MM payday for Swarzak, who had to settle for a minor league contract the previous winter.
Along with Swarzak, the Mets' bullpen will heavily feature lefty Jerry Blevins, whose $7MM option was an easy one for the Mets to pick up. Blevins was outstanding in New York from 2016-17, a 91-inning stretch in which he logged a 2.87 ERA/3.09 FIP with 11.97 K/9 and 3.86 BB/9. Although, it's alarming that right-handed hitters crushed him to the tune of .288/.447/.545 in 2017 – an enormous departure from the .172/.266/.345 line they compiled against him the prior year. Historically, the 34-year-old has ended up somewhere in the middle of those lines versus righties, who've slashed .242/.343/.400 off Blevins since he debuted in 2007.
The rest of the Mets' offseason attention went to its position player group, which actually wasn't that bad last year (tied for ninth in wRC+, 11th in fWAR, 18th in runs). The most productive member of that faction was outfielder Michael Conforto, who was either elite or close to it before suffering a season-ending shoulder injury in late August. Conforto, 25, had to undergo surgery as a result, which will lead to a DL stint to begin 2018.
The Mets now know Conforto is on track to return soon, but they had to plan for a worst-case scenario in the offseason. To help protect against a potential long-term Conforto absence, they brought back outfielder Jay Bruce – a Met for parts of the previous two seasons – on a three-year, $39MM pact. Bruce got the exact contract MLBTR predicted back in November, but it still feels as if he did extremely well when considering the odd way in which free agency unfolded.
The 30-year-old Bruce landed his payday after enjoying one of his best seasons in 2017, which he divided between New York and Cleveland and hit .254/.324/.508 with 36 home runs and 2.7 fWAR across 617 plate appearances. In his second stint with the Mets, Bruce will work in right field (where the long-scrutinized defender quietly earned solid marks last year) and maybe even at first base, depending on what the Mets get from the combination of Adrian Gonzalez, Wilmer Flores and Dominic Smith.
Gonzalez will play with the Mets on a minimum salary after getting his release from the Braves, who acquired him from the Dodgers in a financially motivated trade. Atlanta, one of the Mets' division rivals, will pay the rest of the $21.5MM Gonzalez was owed on the megadeal he signed with the Red Sox back in 2011. Gonzalez was among the premier sluggers in the game then, but he's now a soon-to-be 36-year-old coming off a terrible season in which back problems limited him to 71 games, 252 PAs and an unsightly .242/.287/.355 line (69 wRC+). The lefty-swinger has been particularly poor against southpaws in three of the past four seasons (2014, 2016 and 2017), which could set him up to platoon with the righty-hitting Flores. Smith, a top 100 prospect prior to his ugly debut with the Mets last year, has been battling a strained quad for weeks. It's unclear when he'll return to action, but between his injury and the presences of Gonzalez, Flores and even Bruce, Smith seems likely to see a lot more time at Triple-A than in the majors this season.
Elsewhere in the infield, the Mets made one of the most impressive-looking signings of the offseason when they reeled in New Jersey native and ex-Yankee Todd Frazier on a two-year, $17MM accord in early February. Frazier was long on the radar of the Mets, who ended up with him instead of fellow targets Eduardo Nunez and Neil Walker (an ex-Met), Jason Kipnis (Indians, who nearly sent him to the Mets) Ian Kinsler (a former Tiger who's now an Angel) and Josh Harrison (Pirates). The Mets understandably balked at dealing young outfielder Brandon Nimmo for Harrison after the former recorded a .379 OBP over 215 PAs in 2017. That was the first extensive big league action for the 24-year-old Nimmo, a 2011 first-round pick. Now, because he took last season's audition and ran with it, Nimmo may play an even more prominent role this year.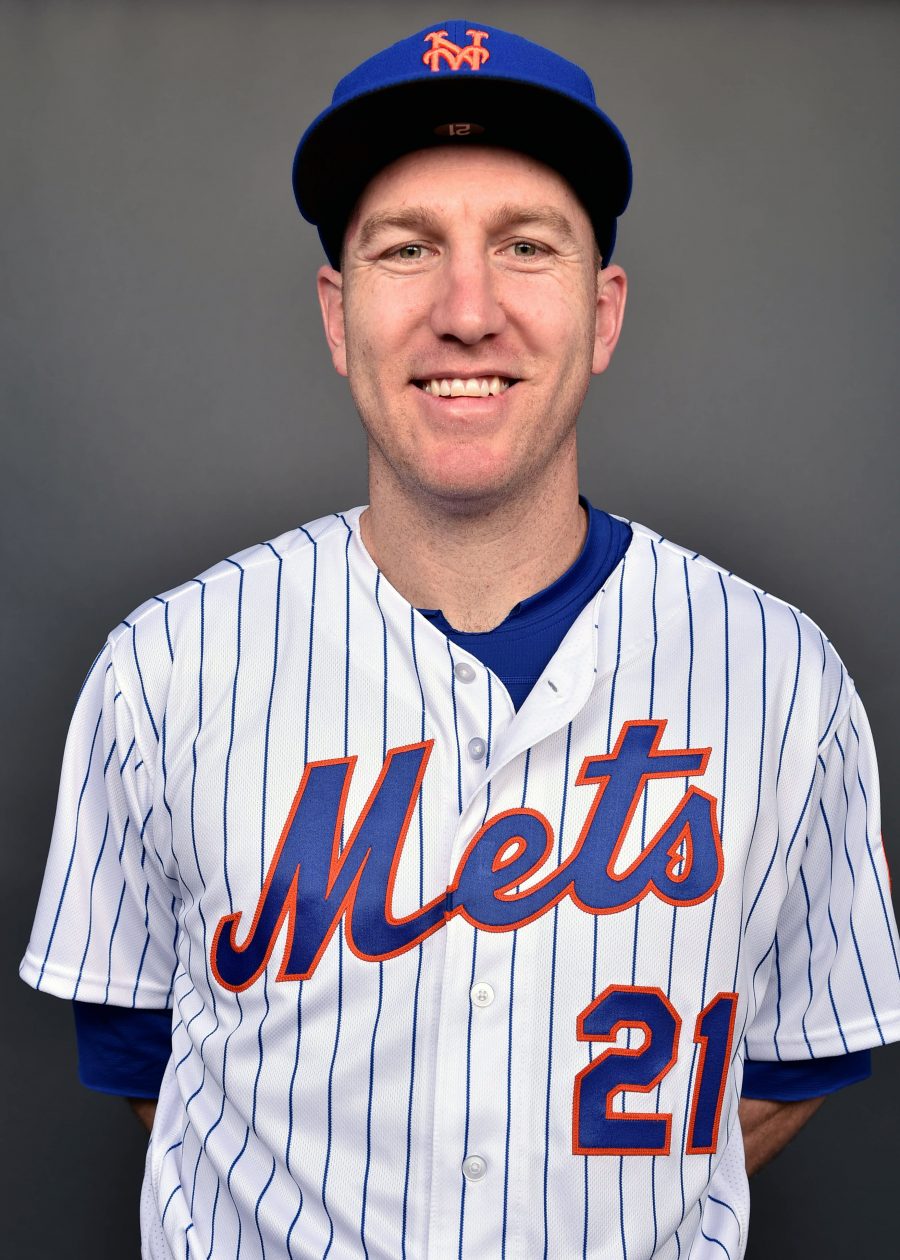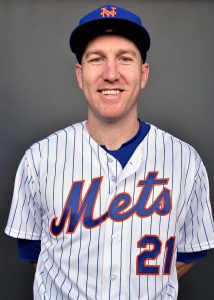 Back to Frazier, who, unlike Bruce, didn't make out nearly as well as expected in free agency. The 32-year-old was unable to parlay a consistently above-average career into a contract commensurate to it. Also a former member of the Reds and White Sox, Frazier has been worth between 2.5 and 4.8 fWAR in every season since 2012 (including an even 3.0 last year). He looks grossly underpaid relative to what he brings to the table, then, and should give the Mets a credible third bagger as pessimism continues to increase over the status of franchise icon David Wright. Back, neck and spine injuries limited Wright to 75 games from 2015-16, and he wasn't able to take the field at all last year. Unfortunately, that may be the case again this season for the 35-year-old.
The signing of Frazier will kick Asdrubal Cabrera to second, his preferred position. Months before the Mets brought in Frazier, they exercised Cabrera's $8.5MM option in early November. The 32-year-old isn't going to wow anyone, but he has provided decent offensive production in both of his seasons as a Met.
The re-signed Jose Reyes will offer depth behind Cabrera and elsewhere around the infield, where he played everywhere but first base last season. The switch-hitting Reyes, 34, was effective along the way in totaling 2.0 fWAR and batting .246/.315/.413 with 15 home runs and a team-high 24 steals over 561 PAs. For a meager $2MM, it's tough to argue with retaining Reyes from a baseball standpoint, though a past domestic violence suspension will always hang over his head.
Questions Remaining
The questions for the Mets begin with their pitching staff, a notion that would've been impossible to believe during the franchise's great run from 2015-16. The electrifying Noah Syndergaard is back after a partially torn lat muscle kept him off the field for all but 30 1/3 innings last season. When healthy, he and deGrom are about as good as a tandem gets. After that pairing, it's anyone's guess what the Mets will receive from the rest of their starters, including the now-injured Vargas, whose passable ERA in 2017 came with much less enticing peripherals.
Even if Vargas fares poorly as a Met, the 35-year-old's contract isn't going to turn into an albatross. Still, it does look a bit rich compared to the similar or lesser guarantees given to younger starters in Andrew Cashner (two years, $16MM), Jhoulys Chacin (two years, $15.5MM), Lance Lynn (one year, $12MM), Jaime Garcia (one year, $10MM; he did draw the Mets' interest) and Doug Fister (one year, $4MM). Lynn would have looked especially good in the middle of the Mets' rotation, as his history indicates he likely would have come close to replicating or bettering the aforementioned Colon's output as a Met. Of course, signing the qualifying offer recipient would have cost the Mets their second-highest draft pick and $500K in international pool space.
Of greater importance than Vargas is ex-ace Matt Harvey, who has experienced a startling decline over the past couple years, no doubt thanks in part to thoracic outlet syndrome surgery in 2016. The Mets considered trading Harvey in the offseason before ultimately electing to keep him and his relatively cheap salary ($5.625MM). Harvey is still relatively young (Tuesday's his 29th birthday) and capable of bringing mid-90s heat, which he has done this spring, leading to hope that he's on the verge of a renaissance.
The Mets could also use rebirths from Steven Matz and Zack Wheeler, whom injuries have beset after they began their careers in promising fashion. Wheeler got off to an inauspicious start this spring, though, and will begin 2018 at the Triple-A level as a result.
Lugo and Robert Gsellman are also among Mets starters who took significant steps backward in 2017, which helps explain their rotation's 27th-ranked ERA (5.70). Both might function as multi-inning relievers this year if they don't force their way back into full-time starting spots. The out-of-options Rafael Montero also could have been starting depth had he made the team – he did amass 18 starts last year, after all – but he's now done for the year after suffering a UCL tear.
There's also cause for concern in the bullpen, which was among the least effective units of its kind last year (26th in fWAR, 29th in ERA). Those struggles came in spite of 49 terrific innings from Addison Reed, whom the Mets traded to the Red Sox in July. There was interest in reuniting with Reed in free agency over the winter, but he ended up with the Twins on an eminently reasonable contract (two years, $17MM). It's hard to fault the Mets for missing out on Reed at that price, though, as he indicated he was more interested in playing in the Midwest than anywhere else.
Mike Minor, Joe Smith and Bryan Shaw (the latter two are familiar with Callaway from Cleveland) were also on the Mets' list before they came away with Swarzak, who they hope continues to resemble last year's version – not the Swarzak with the spotty track record before then. Regardless, they'll need more from closer Jeurys Familia and setup man AJ Ramos. Familia, 28, was tremendous from 2014-16 before stumbling through a season marred by a domestic violence suspension, injuries and a serious decline in performance. The 31-year-old Ramos, a midseason acquisition from Miami, also went backward after enjoying a few far better seasons as the Marlins' closer.
Meanwhile, the Mets' position player group looks like a capable one, though a lot of that depends on Conforto bouncing back from surgery to perform the way he did last year. Likewise, fellow outfielder Yoenis Cespedes – either the Mets' best or second-best hitter, depending on your opinion of Conforto – will hope for a more healthy season. Cespedes, in the first season of a four-year, $110MM contract, played only 81 games in 2017 and went on the DL multiple times because of hamstring problems. He already dealt with a sore wrist earlier this spring, but that proved to be a minor issue.
If any of the Mets' outfielders land on the shelf this year, they do have an underrated piece behind them in defensive stalwart Juan Lagares. It's unclear whether he'll actually be in New York for much longer, however. The Mets reportedly could trade Lagares, who's slated to count $6.5MM against their franchise-record $152MM-plus payroll this season. That'll be a situation worth monitoring as the season progresses.
As opposed to Lagares, Gonzalez will barely make a dent in the Mets' budget; whether it was prudent to sign him is up for debate, though, particularly given the affordable deals that younger, seemingly superior options signed in free agency. The Royals gave ex-Met Lucas Duda a $3.5MM guarantee, while Logan Morrison netted a surprisingly low $6.5MM from the Twins and Yonder Alonso got $16MM from the Indians. Also, Adam Lind is without a job despite enjoying a far more successful 2017 than Gonzalez. Even on a minimum salary, it's difficult to argue in favor of Gonzalez over any of those players at their respective costs. Although, again, it's possible Bruce will become part of the solution at first if Gonzalez's descent continues.
The rest of the Mets' notable position players are behind the plate (Travis d'Arnaud and Kevin Plawecki) and at shortstop (Amed Rosario). While d'arnaud and Plawecki haven't lived up to the billing they had as prospects, the Mets haven't shown much urgency in trying to improve over them (nor were there any obvious upgrades on the open market). And there was no chance they were going to look for a shortstop to supplant the 22-year-old Rosario, who was regarded as a top prospect before scuffling to a .248/.271/.394 line with three walks and 46 strikeouts during a 170-PA rookie campaign last season. The Mets are going to give him a long leash, as you'd expect.
Overview
With six free-agent signings and two options exercised, it was a productive winter for the Mets, but the vast majority of their success will depend on how many holdovers from last year's team rebound. It's imperative Syndergaard, Conforto and Cespedes end up available for either the extreme majority or entirety of 2018, as they and deGrom are the Mets' premier players. Harvey, Matz and Familia have posted high-level production in the past, but even middling years from them would be welcome compared to the ugly 2017s they posted.
While just about everything went wrong for the Mets as a whole during last year's 70-win train wreck, the team's talented enough to return to playoff contention this season. Considering how strong the Nationals are, pushing for an NL East title may be unrealistic for New York. Challenging for a wild card should be within reach, however, given the dearth of so-called super teams in the NL behind the Nats, Dodgers and Cubs.
How'd the Mets do over the winter? (link for app users)
[polldaddy poll=9967816]
Photos courtesy of USA Today Sports Images.