This is the latest entry in MLBTR's 2017-18 Offseason In Review series.  Click here to read the other completed reviews from around the league.
Looking to break the Mariners' 16-year playoff drought, trade-happy general manager Jerry Dipoto swung a couple of noteworthy deals in the offseason.
Major League Signings
Trades And Claims
Notable Minor League Signings
Notable Losses
[Mariners Depth Chart; Mariners Payroll Information]
Needs Addressed
For the most part, the Mariners' cast of position players was effective in 2017. Catcher Mike Zunino, second baseman Robinson Cano, shortstop Jean Segura, third baseman Kyle Seager, right fielder Mitch Haniger and designated hitter Nelson Cruz each turned in above-average seasons, and all six are reprising their roles this year (though Zunino's currently on the DL, and Cruz has an ankle issue). There's a new face at first base, on the other hand, after the Mariners received bottom-feeding production there a season ago. They were in especially poor shape at the position before the late-season addition of Yonder Alonso from the Athletics. Alonso was much steadier than Danny Valencia, but both players are now elsewhere after leaving in free agency.
Enter Ryon Healy, who – like Alonso – came over from Oakland. The Mariners moved to acquire Healy shortly after the offseason began in November, surrendering intriguing reliever Emilio Pagan in the deal. Whether it was the right call is up for debate, especially with so many other first basemen having ended up with reasonable contracts in free agency. And it doesn't help that the Mariners' bullpen took multiple hits toward the tail end of spring training, including standout reliever David Phelps' season-ending UCL tear. The M's Phelps-less relief corps could certainly use Pagan now after he worked to a 3.22 ERA/3.28 FIP in a 50 1/3-inning showing last year, his rookie season.
The 26-year-old Pagan is under control for the next half-decade, as is Healy. Also 26, Healy burst on the scene with the A's two years ago in hitting .305/.337/.524 in 283 plate appearances. There were troubling signs along the way, though, in the form of a 4.2 percent walk rate and an unsustainable-looking .352 batting average on balls in play. Healy's lack of patience continued last season, when he drew a free pass just 3.8 percent of the time, and his BABIP dropped to .319. Thanks in part to those factors, his production plummeted over the course of a full season (.271/.302/.451 in 605 PAs). Projection systems such as Steamer and ZiPS are forecasting even worse numbers this year for Healy.
If the righty-hitting Healy does indeed fail to live up to expectations this season, the Mariners could turn to lefty Dan Vogelbach, who was the favorite to emerge as their first baseman entering last year. But Vogelbach had a miserable spring, lost out to Valencia and ultimately totaled just 13 major league PAs. This spring was a different story for the 25-year-old, who led the league in OPS (an astounding 1.455) over a small sample of at-bats (54), leading to hope that he's finally ready to deliver on the promise he had as a Cubs prospect.
A few weeks after the Mariners welcomed Healy, they sent three prospects to the Marlins for speedy second baseman Dee Gordon and took on his entire four-year, $38MM guarantee in the process. With the expensive, potentially Hall of Fame-caliber Cano occupying the keystone for the foreseeable future in Seattle, the Gordon trade was a head-scratching move upon first sight. However, it quickly became clear the Mariners were going to employ some out-of-the-box thinking and shift Gordon to center field to replace last year's starter, Jarrod Dyson, who later departed in free agency. Reviews of Gordon's defense were positive during the spring, and Dipoto is confident the 29-year-old is amid a smooth transition after spending the first seven seasons of his career in the middle infield.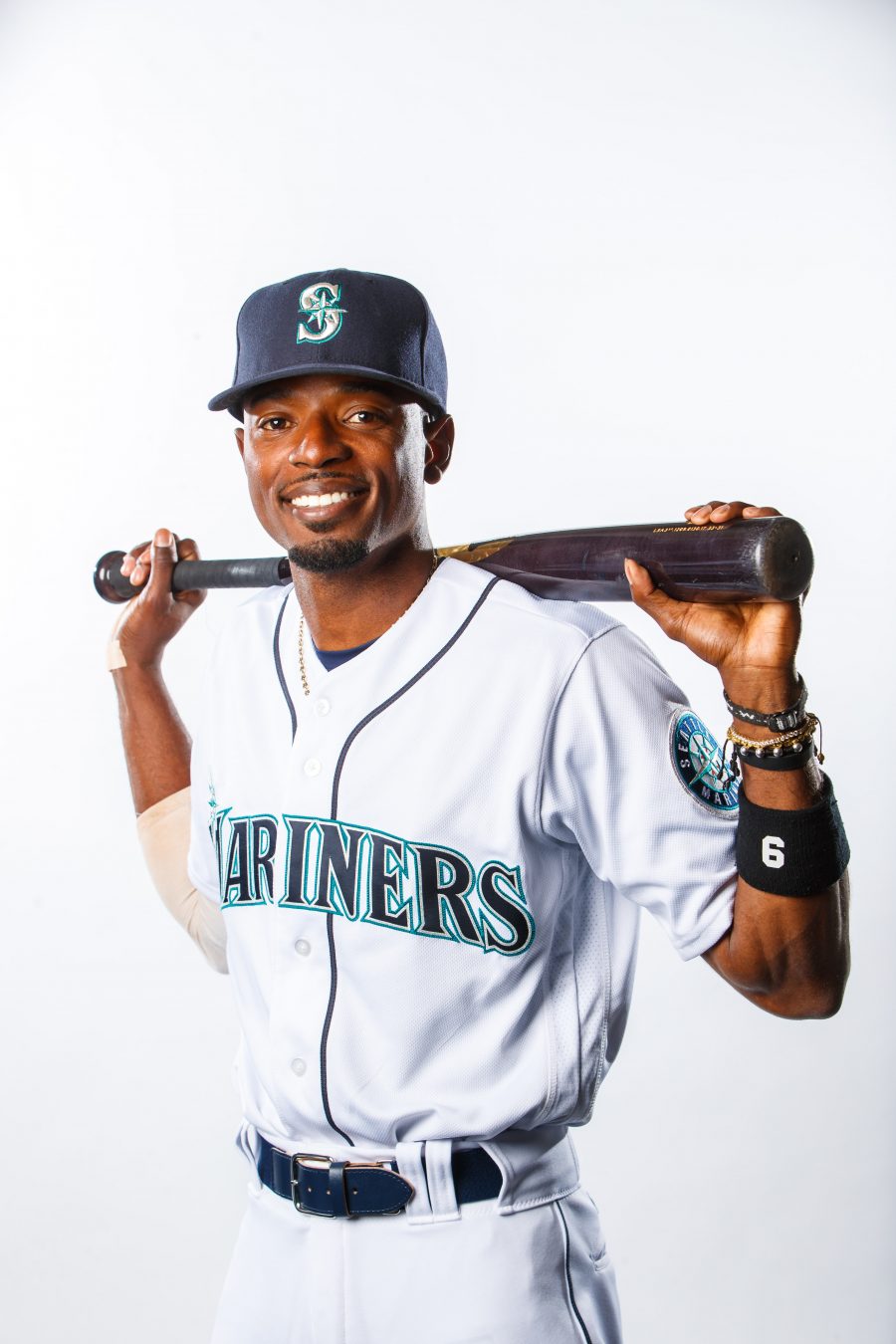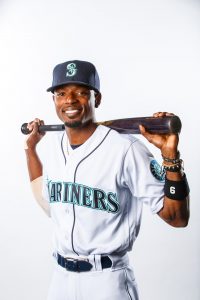 "We're not worried about [Dee Gordon in center field]," Dipoto told FanGraphs' David Laurila last month. "We looked at his athletic ability. We looked at the Statcast information we have and did an overlay of what kind of ground Dee would be able to cover. We imagined him playing center field, and with the naked eye it looks awesome. He's going to make mistakes in games — there's no question — but we're going to live through that. He's such a baseball guy. It looks natural for him right out of the chute."
Dipoto mentioned Gordon's athleticism, which is the key to his success in all aspects of the game. He brings almost no power to the table, evidenced by 11 home runs and an .073 ISO in 3,012 lifetime plate appearances, instead relying on his game-changing speed to make an impact offensively.
Gordon's wheels helped him bat a passable .293/.329/.367 entering this season, and when he has gotten on base, he has terrorized opposing teams. Gordon has stolen 58-plus bags three times, including a major league-high 60 in 2017, along with consistently netting excellent marks in FanGraphs' BsR metric. His baserunning prowess should be quite a boon for the Mariners, who were subpar in that department last year (per BsR) and have since lost Dyson's team-high 28 steals.
While the Gordon acquisition was a bit costly from a financial standpoint, the Mariners avoided extravagant spending in free agency. Their largest guarantee (two years, $17MM) went to reliever Juan Nicasio, a failed starter who's coming off his first full season in the bullpen. The 31-year-old divided 2017 among three teams (Pittsburgh, Philadelphia and St. Louis) and held his own over 76 appearances and 72 1/3 innings, with a 2.61 ERA/2.98 FIP and 8.96 K/9 against 2.49 BB/9. He also induced ground balls at a respectable clip (45.6 percent), which wasn't the case with Pagan (22.3 percent). Notably, Dipoto revealed in his previously linked discussion with Laurila that building a more grounder-heavy staff has been a focus recently.
"We've been a little more aggressive in trying to find more neutral pitchers," Dipoto said. "In 2016, we were extremely fly-ball oriented. We needed to become a little more balanced."
At 40.3 percent, Mariners pitchers recorded the majors' second-lowest grounder rate in 2017. Although, recently signed reliever Wade LeBlanc may not help them improve in that aspect, as he registered a meager 36.7 grounder percentage prior to this season. Nevertheless, the Mariners brought in the lefty-throwing LeBlanc in the wake of the right-handed Phelps' injury, though it's unrealistic to expect the former's production to approach the latter's. LeBlanc, 33, has been a mediocre option throughout his career, including during a 2017 campaign in which he compiled a 4.50 ERA/4.28 FIP with 7.15 K/9, 2.25 BB/9, and an uncharacteristically solid GB percentage (45.9) in 68 innings with the Pirates. The former starter did collect more than three outs in 19 of 50 appearances, so he could help make up for the losses of Pagan and Phelps in that regard.
The Nicasio and LeBlanc signings didn't exactly make for enticing headlines, but the Mariners' reunion in free agency with outfielder Ichiro Suzuki certainly did. Ichiro is one of the greatest Mariners of all-time, of course, as he previously thrived with the franchise from 2001-12 after emigrating from Japan. Now the game's oldest position player at 44, Ichiro is no longer the all-world performer he was for most of his initial Seattle stint. Ichiro generated below-replacement level numbers twice during his tenure with the Marlins from 2015-17, though he wedged a valuable 2016 between those years (.291/.356/.376, 1.4 fWAR in 365 PAs). It would make for a great story to see Ichiro return to that form now that he's back with the club whose hat he'll wear into Cooperstown. And hey, he's off to a pretty nice start so far.
Questions Remaining
Last year was disastrous for the Mariners' rotation, which suffered through a host of injuries – including to James Paxton, Felix Hernandez, Hisashi Iwakuma and the now-departed Drew Smyly – and concluded the campaign 18th in ERA and 25th in fWAR. Still, the Mariners entered the offseason with only two potential openings among the group behind Paxton, Hernandez and Leake (an August acquisition last year).
Expectations were that Seattle would land at least one new starter via major league free agency or the trade route during the offseason, but it's instead returning a bunch of holdovers (including Iwakuma, who's back on a minors deal). It wasn't for lack of trying with regard to two-way Japanese phenom Shohei Ohtani, though, as Dipoto exerted plenty of effort to reel in the ballyhooed 23-year-old. Dipoto made it known from the get-go that the Mariners wanted Ohtani, who, because of the rules in the new collective bargaining agreement, could only receive a bonus worth a few million dollars at most (though the winning bidder also had to pay his former Japanese team $20MM). Further, Ohtani was forced to sign a minor league contract that would keep him under team control for six years.
"We want to sell the Seattle experience," Dipoto said in November. "What it means to the Japanese-American, our culture and how this organization has trended — and trended so positively — when we have a star Japanese player. And make no mistake — this is a star Japanese player. He's talented. He's gifted. He's going to make some team a lot better."
Dipoto added that the Mariners weren't "going to leave a stone unturned" with respect to trading for bonus pool money, hoping that acquiring it would better their chances of signing Ohtani. The GM was true to his word, as he made a pair of deals to pick up an extra $1.5MM. In doing so, he gave the Mariners one of the league's largest international spending capacities; however, because of the CBA, Ohtani's immigration to the majors was never going to be about money. Thanks in part to that, the Mariners' quest to reel in Ohtani went for naught. Worse, Ohtani ended up with the AL West rival Angels, with whom he'll slot in near the top of the rotation and occasionally function as a designated hitter.
Dipoto took the decision in stride publicly, saying he was "happy for" Ohtani, yet there's little doubt it stung then and still does (Ohtani's spring struggles notwithstanding). But the offseason was only about a month old at that point, leaving Dipoto time to regroup and address the Mariners' rotation in some other way. That didn't happen to any notable extent, even though CEO John Stanton told Ryan Divish of the Seattle Times in January that payroll's "not an issue" for the club. At the same time, Dipoto suggested it would be unwise for the Mariners to splurge on a pitcher in free agency, where the likes of Yu Darvish, Jake Arrieta, Lance Lynn and Alex Cobb were among those still available, or further subtract from their weak farm system to acquire one via trade.
"We are doing the best we can to develop our system, not to clog it," Dipoto said. "Could we go out and sign a free agent that would be better than our current fifth starter? Absolutely. Would that be the best thing for the present of the Mariners? Maybe. Would it be the best thing through the wider lens for the present and future of the Mariners? Probably not. We'll be able to address those needs as we go. Because the one thing we've not had to deal with here is a lack of resources."
Because the Mariners chose to stay in house after losing the Ohtani sweepstakes, they're left with some obvious question marks in their rotation (and that's true even if Paxton and Hernandez stay healthy, which is a dangerous assumption). Marco Gonzales and Erasmo Ramirez look to be the Mariners' best healthy options behind Paxton, King Felix and Leake, while 2017 innings leader Ariel Miranda, Robert Whalen, Andrew Moore, Max Povse and Chase De Jong represent the rest of the starters on their 40-man roster. The only somewhat established major leaguers from that group are Ramirez and Miranda, but they've combined for an uninspiring 3.8 fWAR in 810 innings. And because of the lat strain he suffered in February, Ramirez won't be ready by the time the M's need to use a fifth starter for the first time this year (April 11).
While Seattle's starting staff looks iffy, the same is true regarding its bullpen in the wake of injuries to Phelps, the recently released Tony Zych (shoulder) and offseason addition Nick Rumbelow (neck strain). That trio's 11th-hour issues put Dipoto in an unenviable position in the spring, though he did work to shore up depth by adding LeBlanc, Erik Goeddel (minors contract) and Dario Alvarez (waivers). Neither Goeddel nor Alvarez made the Mariners' season-opening bullpen, which features closer Edwin Diaz, Nick Vincent, Nicasio, Marc Rzepczynski and James Pazos in key roles. LeBlanc, Dan Altavilla and Casey Lawrence are filling out the octet to start the year. Chasen Bradford, Shawn Armstrong and Mike Morin are also among those on hand as depth. So is Ryan Cook, who hasn't pitched in the majors since 2015 after Tommy John surgery knocked a promising career off track.
Speaking of players whose halcyon days could be long gone, the Mariners brought in a pair of aged outfielders prior to the season in the aforementioned Ichiro and the just-signed Jayson Werth. The latter got a minor league pact after stumbling through an injury-shortened season with the Nationals in 2017. Thus, even if the 38-year-old Werth does find his way to Seattle, he's no lock to produce. Considering his age and defensive limitations, Werth seems better suited for a designated hitter role than an outfield job at this point; however, he hasn't brought a DH-caliber bat to the table in a few years, and the Mariners have Cruz there anyway.
The Mariners' lack of aggressiveness in upgrading their corner outfield came in spite of the fact that the 25-year-old Ben Gamel and Guillermo Heredia, 27, haven't offered eye-opening production in the majors. Gamel was fine as a rookie in 2017 (.275/.322/.413, 1.6 fWAR in 550 PAs), but he tailed off badly after a successful, .422 BABIP-fueled first half. He's now on the DL after suffering a strained right oblique in early March. Heredia, meanwhile, has only managed a .248/.321/.332 line and 0.3 fWAR in 534 PAs since debuting in 2016. To his credit, the righty-hitting Heredia did hold his own against left-handed pitching last season despite playing through a shoulder injury that later required surgery.
Between Heredia and the lefty-hitting Gamel, the Mariners may have a useful, inexpensive platoon to put in left alongside Gordon in center and Haniger in right. However, given that both Gamel and Heredia are unproven and have minor league options remaining, there's a case that the Mariners should've landed a surer fallback option than Ichiro earlier in the offseason. They did reportedly have interest in Jay Bruce in free agency, but he went back to the Mets on a fairly rich deal (three years, $39MM).
First base and outfield aside, the Mariners began the season with proven entities throughout their starting lineup, as mentioned earlier. But there are questions about a couple of their bench spots, particularly in the infield and behind the plate (in fairness to Seattle, it's likely hard to attract quality infield reserves in free agency with Cano, Segura and Seager entrenched in their spots).
Utilityman Taylor Motter played all over the diamond in 2017, but he struggled along the way, helping lead to both his minor league demotion to open 2018 and the addition of Andrew Romine off waivers from Detroit back in November. The 32-year-old Romine has never been any kind of solution either, though, despite bringing similar defensive versatility to Motter.
Elsewhere, Seattle's hope is that its new backup catcher will approach or better the output of Zunino's backup from 2017, Carlos Ruiz, who's still unsigned. Rather than replace Ruiz from outside, the Mariners are going with Mike Marjama, whom they acquired in a minor trade with the Rays last August. Marjama then hit a miserable .167/.244/.346 in 86 PAs with the Mariners' Triple-A affiliate, though he was far better with the Rays' (.274/.342/.445 in 292 PAs). Marjama's a former infielder who hasn't been catching for that long – something Kate Preusser of Lookout Landing pointed out last summer as part of an in-depth piece – but the Mariners are bullish on his all-around work.
"I think comfort level with the pitching staff is key for him," Mariners manager Scott Servais told TJ Cotterill of the Tacoma News Tribune. "We like what he brings offensively and he's showed well behind the plate. He's making adjustments with our pitching. The more he catches our pitchers and the more comfortable he gets with them the better he'll be. But the other parts of his game are really nice."
Zunino's injury, albeit fairly minor, has put Marjama to the test immediately this year. While Marjama hasn't gotten a hit yet, Servais raved about his defensive performance after the M's Opening Day win over Cleveland.
Overview
Last season's 78-win showing was a massive disappointment for Seattle, which entered the year with legitimate playoff aspirations after piling up 86 victories in 2016. Injuries, particularly to the Mariners' pitching staff, helped derail those hopes. Now, they'll likely need far healthier campaigns from the likes of Paxton and Hernandez in order to have any shot to contend for a playoff spot in what should be a jam-packed race in the American League. An AL West crown is all but out of the question with the reigning World Series champion Astros standing in the Mariners' way, which will leave them to vie for one of the two wild-card positions.
Expecting Seattle to finally break its playoff drought would be overly optimistic, but if legitimate improvement isn't shown, it could spell trouble for the club's third-year GM. Dipoto's without a contract beyond this season, potentially his last atop the Mariners.
What's your take on the Mariners' winter?  (Link for app users.)
[polldaddy poll=9972922]
Photo courtesy of USA Today Sports Images.