The chatter started last year as Matt Chapman burst onto the scene for the Athletics. The early returns were impressive. Still, Dave Cameron was seemingly pushing the envelope a bit when he asked in early August whether Chapman could be emerging as a star.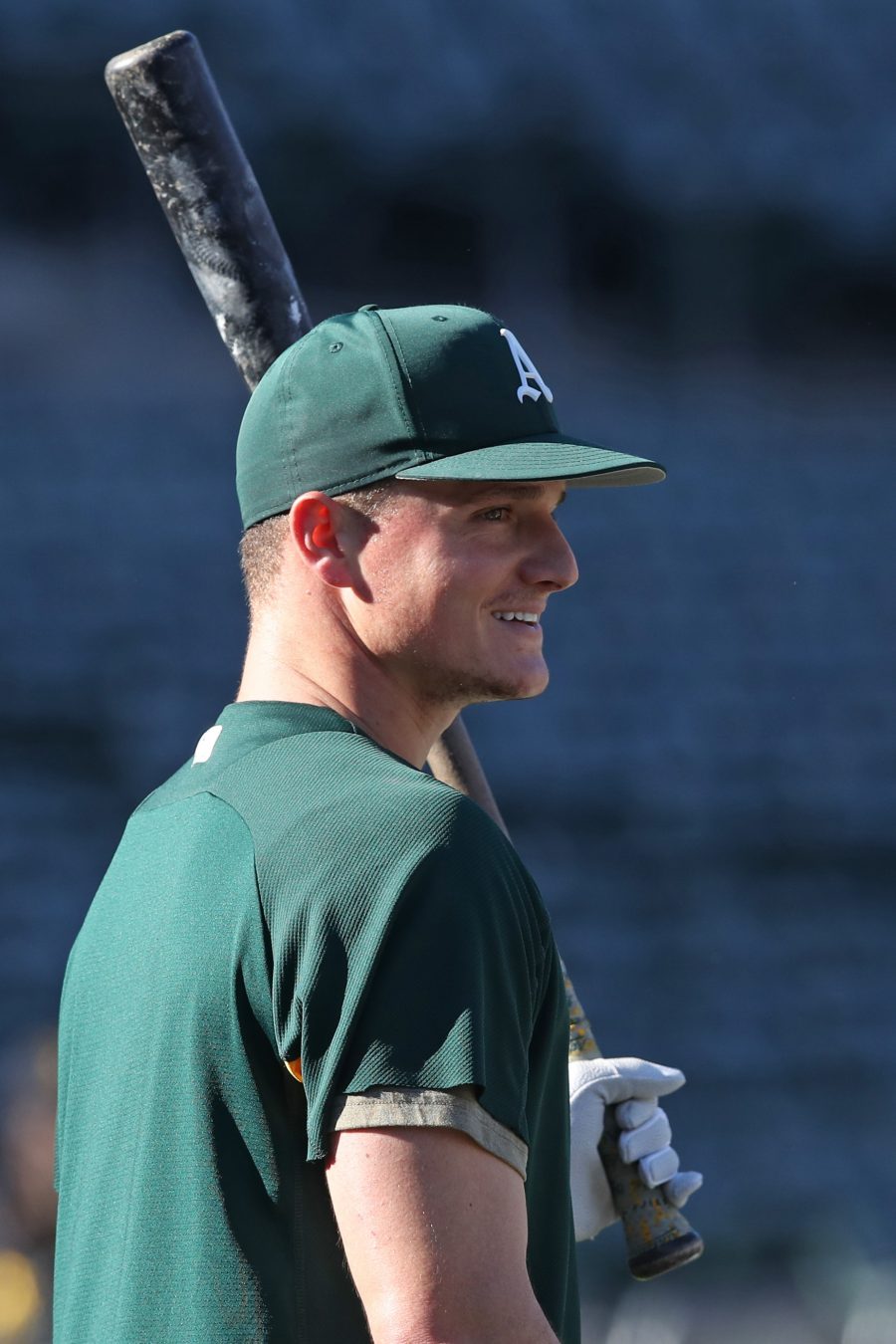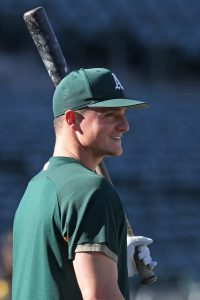 Of course, as Cameron noted, there was plenty of reason to wonder whether Chapman would really be able to hit enough to profile as a true star. The thrust of the post, really, was that his outstanding glovework made Chapman a potentially excellent player even if he only hit around the league average. From that point in the season, moreover, Chapman's output at the plate faded, leaving him with a solid but unspectacular 109 wRC+ at season's end.
The overall rookie showing was still plenty promising, no doubt. A quality regular on a league-minimum contract for years to come? Sign any team up, especially one that's somehow still playing in the O.co Coliseum.
Of course, it still remained to be seen how Chapman would look over a full season in the majors, after opposing pitchers had a chance to adjust. Would his prodigious minor-league strikeout levels be too much to overcome? Would his obvious defensive talent be sufficient to carry him if the bat lagged?
Consider those questions answered. Put most simply: he finished third in all of baseball in position-player rWAR (8.2) and rated among the top ten by measure of fWAR (6.5).
With 2018 in the books, the only question left is how much it'd cost the A's to lock Chapman in for the long run. It's a question that was already on the minds of the Oakland brass, as the organization reportedly sought to talk about a deal over the 2017-18 offseason. Unfortunately for the club, Chapman and agent Scott Boras declined the opportunity to discuss a contract at that time.
It could be, then, that discussing Chapman's value now is mostly an exercise in the hypothetical. But it stands to reason that the A's will at least try to open the door to talks once again — perhaps with added motivation as they seek to continue the momentum from an exciting 2018 season and keep pushing for a new ballpark. And perhaps Chapman's camp will show some willingness to consider numbers now that he has set down a marker as a top-end player rather than a target for a cheap pre-arb deal. He is still reasonably youthful, at 25 years of age, but won't reach arbitration until 2021 and can't qualify for free agency until the 2024 season — his age-31 campaign.
A lot can change in the meantime, as Chapman's just-announced thumb surgery underscores. Fortunately, it seems as if there isn't any reason to think that procedure will represent an ongoing problem; exactly how it could influence the possibility of a deal isn't entirely clear, though odds are it won't be a major factor in any direction.
In examining Chapman's merit as a player, there's frankly not a ton to discuss regarding his glovework. It's lauded by scouts and stats alike and there's no real reason to think it'll fade any time soon. He's also a solidly graded baserunner even if he isn't a threat to swipe any bags. The floor, as has long been suspected, is rather lofty. Those skills won't really pay in arbitration, which is certainly a relevant consideration in contemplating the valuation of a potential extension, but their value isn't in question.
The bat is where it's still interesting to dig in. Even as Chapman's output sagged some late in 2017, he made a notable improvement in his contact ability. For September and October, Chapman recorded a 21.2% strikeout rate — far superior to what he had shown as a professional to that point. He sustained the improvement in 2018, showing a similar approach to what he exhibited in 2017 but posting a much-improved 8.8% swinging-strike rate.
Even as he put the bat on the ball more often, ultimately carrying a 23.7% strikeout rate that sits barely above the leaguewide mean, Chapman kept producing power numbers. He finished the season with 24 long balls, a .508 slugging percentage, and .230 isolated slugging mark. With a solid 9.4% walk rate chipping in, Chapman managed a .356 OBP.
There's a lot to like here, clearly. Upping his contact rate clearly didn't prevent Chapman from making good contact. To the contrary, he posted an outstanding 93.0 mph average exit velocity and 47.6% hard-hit rate, according to Statcast. That said, some of the numbers also suggest some cause for skepticism with regard to the sustainability of Chapman's output. His on-base numbers were boosted by a .338 BABIP — the first time he cleared the .300 barrier as a professional. Chapman's average launch angle dipped to 14.7 and his groundball rate jumped to 40.3% (well over his minor-league average), perhaps explaining why Statcast credited him with only a .333 xwOBA — well shy of the .370 wOBA he actually recorded.
Perhaps it's not a slam dunk that Chapman will produce at a rate thirty percent better than league average for the foreseeable future. But he has already shown more adaptability as a hitter than was generally anticipated and established a fairly significant overall offensive ceiling. If there's some danger of regression, perhaps there's also some possibility that Chapman will continue to improve at the plate. Supposing he settles in as a solidly above-average hitter who can't ever quite fully combine both high-end power and strong on-base ability, Chapman could still easily run off a few more 5-WAR campaigns before he sniffs the open market.
Let's get down to some salary numbers, then. Chapman largely matched Nationals star Anthony Rendon in output this year and likely has even greater arbitration earning upside with his potential to drive the ball out of the park. Though Rendon benefited from having originally signed an MLB contract, boosting his first arb salary, his anticipated total of around $35MM in total arbitration earnings seems to be a reasonable ballpark tally for Chapman. Of course, Oakland wouldn't need to begin paying that for a few more years, during which time the club can pay him no more than it does any other player who happens to be taking up an active roster spot. And Chapman also was a bit slower to reach the majors, limiting his eventual free-agent value. Even if we guess he'll ultimately command $30MM+ annual salaries in his open-market years, there's a limit to what the A's in particular would be willing to promise to lock those seasons in.
From a practical perspective, then, there's reason to be skeptical that Chapman warrants anything approaching a nine-figure guarantee. He certainly would scoff at the kind of deal that he might have been presented with last offseason — say, the sub-1.000 service record deal (six years, $26MM) signed by Paul DeJong after a similarly strong 2017 debut. But there's a reason that the current record for a player with less than two years of service is still held by Andrelton Simmons, at a relatively modest $58MM over seven years. In short, there's not a ton for teams in this situation to gain by going wild at this early stage — particularly for players, like Chapman, that aren't especially precocious.
It seems fair to assume that beating the Simmons deal would represent a bare minimum starting point to capture the attention of Boras, who is a notoriously hard bargainer in early extension talks, in particular. Even handing over control over a pair of free agent seasons for Chapman could, after all, have a monumental impact on his eventual open-market earning capacity. My own guess is that Boras would take aim at some other notable pre-arb targets, even if they were landed for players with more than two seasons of MLB service. The Mike Trout contract (six years, $144.5MM) is assuredly well out of reach, but Carlos Gonzalez showed way back in 2011 that even mere mortal pre-arb players can secure big guarantees (seven years, $80MM).
It might well take something approaching or exceeding that salary level to get Chapman to bite. That'd be an unprecedented payout for a player who hasn't even recorded two full years of service time, but today's youthful superstars seem to be holding for such a move in the market. It's notable, after all, that we haven't seen a premium all-around player ink a deal at that stage of his career in recent years, with the largest sub-2 extensions of recent vintage being secured by players like Simmons and Christian Yelich before they fully broke out in the manner Chapman has. Here, Chapman has not only already turned in a superstar-level campaign, but features the kind of offensive profile that will boost his arb earnings.
Whether there's appetite on either side for a full exploration of a contract isn't yet known. It could be that last year's non-talks and/or the thumb surgery will interfere. Chapman may simply not have interest personally. The A's have a clean balance sheet to work with, but they also have other priorities to address and have never yet opened a season with a payroll of even $90MM. Then, there's the fact that the team's record for a single contract is still owned by former hot corner stalwart Eric Chavez — a player who in some ways serves as a fairly interesting comp for Chapman on the field — which on the one hand illustrates the extent to which the Oakland organization would need to leave its comfort zone to do a deal, and on the other hand perhaps suggests it's time it does so again.
Photo courtesy of USA Today Sports Images.