Since free agency opened across Major League Baseball on Oct. 29, nearly half of MLBTR's top 50 available players have come off the board. Twenty-three of those players have landed new contracts, leaving 27 without teams as the New Year approaches. Based on the original rankings compiled by MLBTR's Tim Dierkes, Steve Adams and Jeff Todd, here's a look at where the 20 best free agents left currently stand as 2018 nears an end: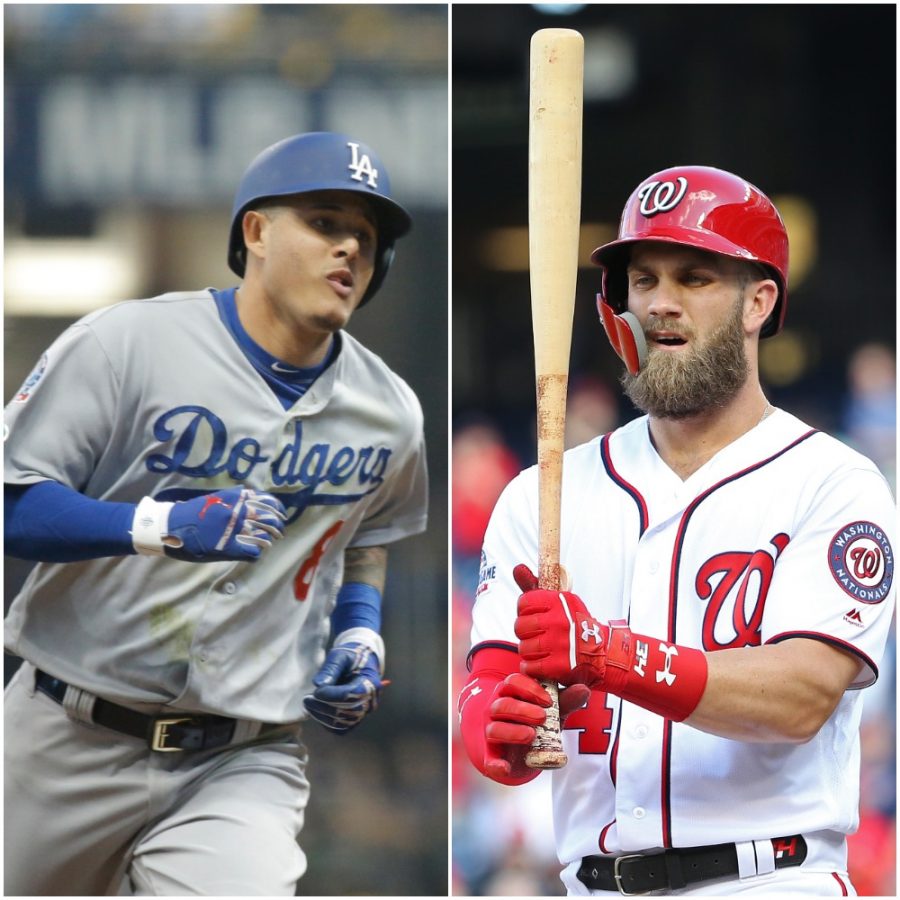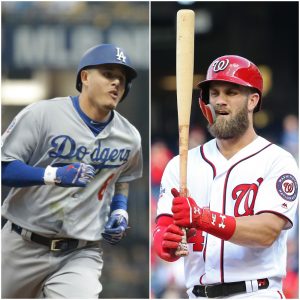 1. Bryce Harper, OF (original prediction: 14 years, $420MM): With Scott Boras as his agent, it's unsurprising that Harper – who may be in line for a record-setting contract – remains unsigned. As you'd expect, there has been no shortage of offseason rumors centering on the 26-year-old Harper, who has been connected to his only team to date – the Nationals – as well as the Dodgers, Phillies, Braves, Cubs, Cardinals, Giants, Yankees and White Sox over the past couple months. On paper, the most logical landing spot for the superstar may be Los Angeles, which jettisoned pricey outfielders Yasiel Puig and Matt Kemp in a trade with the Reds earlier this month. However, despite their financial might, the Dodgers haven't handed out exorbitant free-agent contracts during president Andrew Friedman's reign, and they're reportedly not inclined to give Harper the long-term pact he wants.
2. Manny Machado, SS/3B (original prediction: 13 years, $390MM): As a 26-year-old who has been an elite player at times, Machado entered free agency in a similar position to Harper. Like Harper, Machado has drawn interest from the the Phillies, Yankees and White Sox, having met with all three teams this month. Various reports have indicated Machado wants to play for the Yankees, yet the infield-needy club doesn't seem prepared to go to the $300MM mark for him. Regardless, we may find out his next destination soon.
3. Dallas Keuchel, LHP (original prediction: four years, $82MM): While Keuchel's still an easily above-average starter, the career-long Astro hasn't been able to replicate the AL Cy Young-winning form he showed in 2015. Both Keuchel's recent decline in production and his age (he'll be 31 on New Year's Day) are working against him on the open market, but he's nonetheless seeking a five-year deal. His desire for security over the next half-decade has reportedly led to leeriness from the Phillies and Nationals (and maybe others). But beyond Philadelphia and Washington, a bevy of other teams have shown interest in Keuchel during free agency. The Boras client is going to do well on his next contract, then, though he may have no choice but to drop his price before he puts pen to paper with someone.
4. Craig Kimbrel, RP (original prediction: four years, $70MM): Although Kimbrel is one of the greatest relievers in history, he showed some cracks last season as a member of the World Series-winning Red Sox. Compared to Kimbrel's otherworldly 2017 campaign, his strikeout rate fell by nearly 11 percentage points, his swinging-strike rate dropped by more than 2.5 points and his walk rate increased by over 7 ticks. Kimbrel was still outstanding, granted, but maybe not enough to merit the massive contract he's pursuing. The richest deal ever given to a reliever – five years, $86MM – belongs to the Yankees' Aroldis Chapman, who signed it when he was still in his late 20s. Kimbrel will turn 31 in May, and there hasn't been strong reported interest in him thus far. The Red Sox, Phillies, Cardinals and Braves have been connected to Kimbrel in rumors, but none of those clubs are itching to meet his demands.
5. Yasmani Grandal, C (original prediction: four years, $64MM): Grandal reportedly turned down a four-year, $60MM offer from the Mets, who have since filled their vacancy behind the plate with Wilson Ramos. In the estimation of MLBTR readers, he made a mistake in spurning the Mets' generous proposal. Along with New York, each of the Nationals, Braves, Astros, White Sox and Angels entered the offseason as potential Grandal suitors but have since made acquisitions behind the plate. In some cases (Atlanta, Houston, Chicago and Anaheim), those pickups haven't been particularly expensive, so perhaps Grandal will still end up in one of those cities. The longtime Dodger probably won't continue his career with them, however, as they've been more connected to Marlins star J.T. Realmuto – whose presence on the trade market doesn't do Grandal any favors – and aren't champing at the bit to hand out a long-term deal to the switch-hitting 30-year-old.
6. A.J. Pollock, CF (original prediction: four years, $60MM): Even though he's 31 and has dealt with a spate of injuries during his career, reports have indicated Pollock's holding out for a lengthy commitment worth $80MM or more.  When healthy, Pollock's probably worth that type of money. The problem is that the soon-to-be former Diamondback is coming off a three-year stretch in which he missed 249 games. Further, perhaps because of his supposed demands, a couple of the teams that have been connected to Pollock this offseason may have already moved on from him. The Astros signed Michael Brantley, while the Reds acquired Puig and Kemp. The Mets and Braves may be among the teams still in play for Pollock, a qualifying offer recipient, though the former's GM has suggested otherwise and the latter doesn't seem likely to give a lucrative, long-term contract to a 30-something.
7. Yusei Kikuchi, LHP (original prediction: six years, $42MM): As a free agent from Japan, the 27-year-old Kikuchi is the only player on this list with no major league track record. Further, unlike other free agents, there's a deadline for Kikuchi to sign. Kikuchi's Japanese team, the Seibu Lions, posted him Dec. 4, giving him and Boras until Jan. 2 to hammer out a deal with a major league club. Assuming Kikuchi does sign, there's optimism he'll become the latest big league success story from his homeland. In the meantime, it's anyone's guess which team Kikuchi will choose, as he implied earlier this month he's open to joining any of the majors' 30 franchises.
8. Marwin Gonzalez, UTIL (original prediction: four years, $36MM): There's a lot to like about Gonzalez, a switch-hitting, league-average offensive player who can line up at every infield position and both corner outfield spots. Gonzalez, who will turn 30 in March, reportedly drew interest from just about every team at the start of the offseason. Things have been quiet on the Gonzalez front lately, though, aside from a connection to the Padres three weeks ago.
9. Zach Britton, RP (original prediction: three years, $33MM); 10. David Robertson, RP (OP: three years, $33MM); 11. Adam Ottavino, RP (OP: three years, $30MM): Considering these three are the best non-Kimbrel relievers available and have some common teams chasing them, we'll group them together. The Phillies, Yankees and Red Sox have been after all three at times, and there has been plenty of interest from other clubs. Still, given that Britton, Robertson and Ottavino are all over 30, it's unclear whether three-year estimates will prove overly optimistic.
12. Jed Lowrie, 2B (original prediction: three years, $30MM): Lowrie was one of the A's best players and among the majors' premier second basemen from 2017-18, but he's also a soon-to-be 35-year-old with an extensive injury history. Moreover, he's part of a market which features several other starting-caliber second basemen, and Oakland – arguably his most likely destination at one point – removed itself from the equation when it acquired Jurickson Profar last week. The switch-hitting Lowrie nonetheless wants a three-year deal, though he may have to settle for two.
13. Kelvin Herrera, RP (original prediction: one year, $8MM): With a strong platform season, the 28-year-old, flamethrowing Herrera may have been in line to sign the second-richest deal among relievers this winter. Instead, after a tremendous start with the Royals, he scuffled following a June trade to the Nationals. Worsening matters, Herrera's season ended in late August on account of a torn Lisfranc ligament in his left foot. Herrera's now making progress in his rehab, though reported interest in him has been almost nonexistent so far this offseason. Minnesota's the only team that has been connected to Herrera on MLBTR's pages since the 2018 campaign ended.
14. Gio Gonzalez, LHP (original prediction: two years, $24MM): Gonzalez is a longtime innings eater who has totaled at least 2.0 fWAR in nine straight seasons, yet only the Mets have shown reported interest in him thus far. He can probably thank his age (33) and somewhat disappointing 2018 for that. Compared to 2017 – one of Gonzalez's most effective seasons – his inning, strikeout, walk and run prevention numbers all went in the wrong direction.
15. Brian Dozier, 2B (original prediction: one year, $10MM); 16. DJ LeMahieu, 2B (OP: two years, $18MM): The Nationals have been tied to these two accomplished second basemen in free agency, though it stands to reason Dozier and LeMahieu have more than one matching suitor. The Dozier rumor mill has been nearly silent, however, owing to the surprisingly poor 2018 the former Twins star endured with them and the Dodgers. LA may end up replacing Dozier with LeMahieu, who also had a less-than-ideal season from an offensive standpoint. However, the stellar defensive track record the 30-year-old LeMahieu built as a member of the Rockies at least gives him a high floor.
17. Mike Moustakas, 3B (original prediction: two years, $16MM): Moustakas was one of the most well-known stragglers on a slow-moving market last offseason. Moose entered the winter looking like a potential $85MM player, but he ultimately re-signed with the Royals in March for just a $6.5MM guarantee. Now, after his offensive production declined in 2018 between Kansas City and Milwaukee, it's an open question whether Moustakas will do much better this offseason. So far, the Brewers, Cardinals, Phillies and Mets have shown some level of interest in the 30-year-old.
18. Cody Allen, RP (original prediction: two years, $16MM): Allen enjoyed tons of success as the Indians' closer from 2013-17, and had that continued last season, he could have been in line for a huge contract. Unfortunately for Allen, though, his numbers came crashing down in 2018, and his velocity dropped as the year progressed. Given that teams can't regard the 30-year-old as a shutdown option anymore, reported interest has been scarce. It seems the Indians could bring Allen back, while the division-rival Twins have also considered him.
19. Nick Markakis, OF (original prediction: two years, $16MM): Brantley and Andrew McCutchen are off the board, and Harper and Pollock are unrealistic for most teams. That could work to the advantage of Markakis, the next best free-agent outfielder available, though he's more of a satisfactory regular than a high-impact one. Markakis was a first-time All-Star in 2018, but the 35-year-old's offensive production cratered over the season's last two months, giving him a final batting line that was more decent than exceptional. Still, as a roughly league-average hitter who gets on base, can handle both lefties and righties and hasn't missed more than seven games in a season since 2012, Markakis could give some team an acceptable stopgap over the next year or two. A return to Atlanta, where he has played since 2015, may be in the offing.
20. Derek Holland, LHP (original prediction: two years, $15MM): After four straight down or injury-limited seasons with the Rangers and White Sox, Holland had to settle for a minors deal with the Giants last February. It proved to be a perfect match, as Holland made the Giants' roster and returned to relevance in San Francisco. Across 171 1/3 innings (36 appearances, 30 starts), Holland showed better velocity than he offered in 2017 and posted a 3.57 ERA/3.87 FIP, a career-high K/9 (8.88), a personal-best infield fly percentage (11.8) and his second-highest swinging-strike rate (10.1 percent). So, even though Holland's still unemployed, he'll get a guaranteed contract – potentially from his old team in Texas – this offseason.
Photos courtesy of USA Today Sports Images.