This is the latest post of MLBTR's annual Offseason in Review series, in which we take stock of every team's winter dealings.
A transformative offseason leaves the Diamondbacks without former franchise player Paul Goldschmidt as well as several other top contributors of recent years.  Still, the D'Backs stopped short of a full rebuild, and are hoping to remain competitive in 2019.
Major League Signings
Merrill Kelly, SP: Two years, $5.5MM (plus $4.25MM club option for 2021, $5.25MM for 2022)
Adam Jones, OF: One year, $3MM
Wilmer Flores, IF: One year, $4.25MM (includes $500K buyout of $6MM club option for 2020)
Greg Holland, RP: One year, $3.25MM
Caleb Joseph, C: One year split contract, $250K ($850K more if Joseph makes MLB roster)
Total spend: $16.25MM
Trades And Claims
Notable Minor League Signings
Extensions
Eduardo Escobar, IF: Three years, $21MM
Torey Lovullo, manager: Contract extended through the 2021 season
Notable Losses
Goldschmidt, Patrick Corbin, A.J. Pollock, Clay Buchholz, Brad Boxberger, Jeff Mathis, Jon Jay, Randall Delgado, Jake Diekman, Chris Owings, Shelby Miller, Daniel Descalso, Chris Stewart, Brad Ziegler (retired)
[Diamondbacks Depth Chart | Diamondbacks Payroll Outlook]
Needs Addressed
One of Arizona's primary offseason questions was answered before free agency even began, as the D'Backs inked Eduardo Escobar to a three-year, $21MM extension.  After coming from the Twins in a July deadline deal, Escobar obviously enjoyed his brief stint in the desert enough that he chose to forego free agency to remain — perhaps a canny move in hindsight, given how many other comparable free agent infielders had to settle for two or fewer guaranteed years.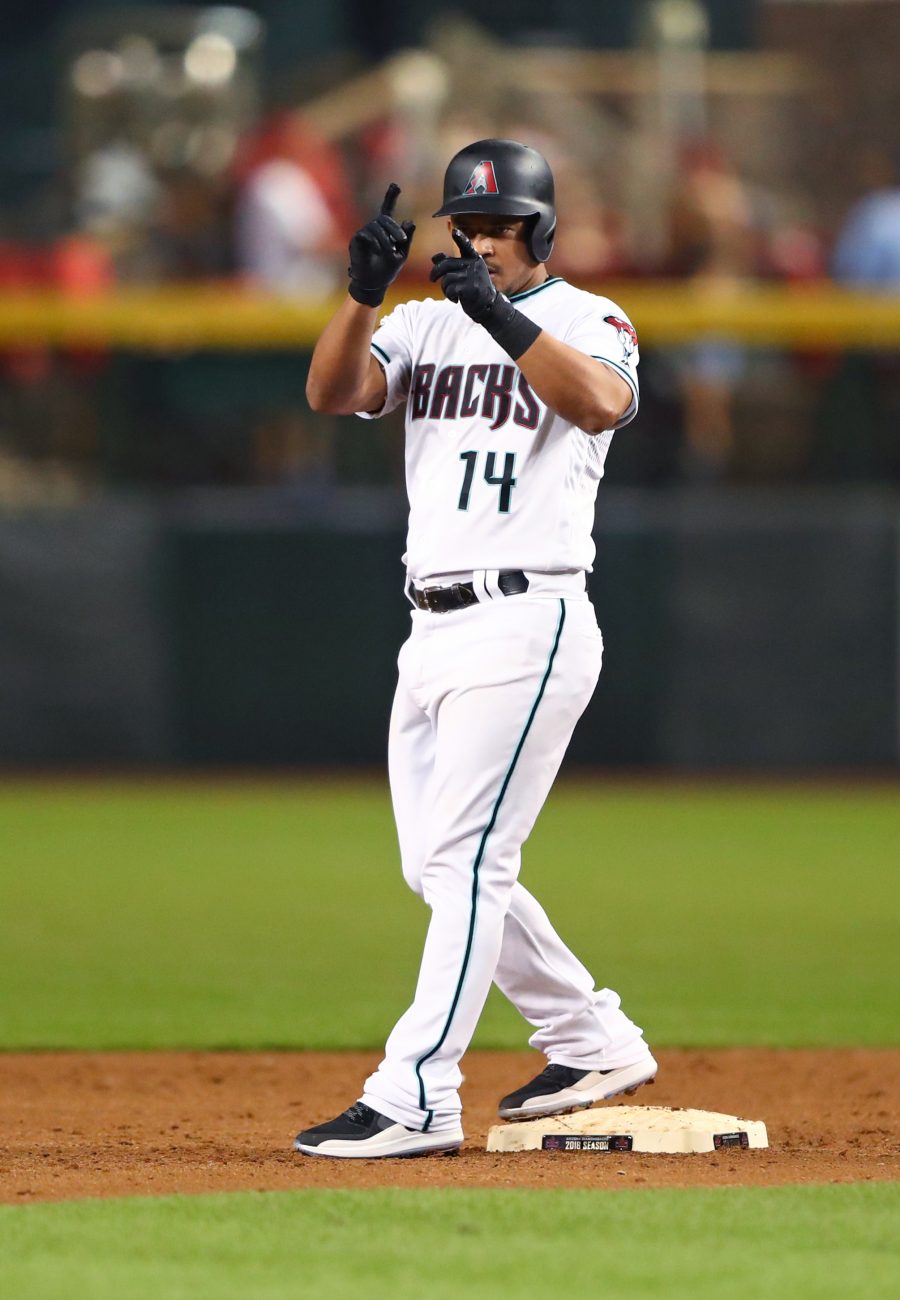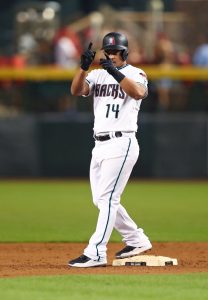 With the versatile Escobar locked up so early, the D'Backs had plenty of flexibility as they filled out the rest of their infield picture.  As it looks going into Opening Day, Escobar will be Arizona's primary third baseman, while Jake Lamb will shift over to first base (perhaps in a timeshare with Christian Walker, or maybe Yasmany Tomas if Tomas can earn his way back onto the 40-man roster).
The right-handed hitting Wilmer Flores could also factor into the first base mix, though the former Met played all over the infield during his six seasons in New York.  While Flores can help out at several positions, he looks to be line for a good chunk of time at second base now that Ketel Marte is being converted into at least a part-time center fielder.
Marte's first season as a proper everyday player yielded good dividends, as he posted above-average offensive (104 wRC+, .260/.332/.437 over 580 PA) and defensive (+7 Defensive Runs Saved, +1 UZR/150) numbers as Arizona's everyday second baseman.  While there's a solid "if it ain't broke…" type of argument to made that Marte should just remain at second, the D'Backs don't lose anything by giving Marte at least a part-time look in center field.
On days that Marte isn't in center, veteran Adam Jones could step into the role in his new capacity as Arizona's fourth outfielder.  Jones is no longer the player he was during his All-Star days in Baltimore, though as he moves into this new stage of his career, Jones still carries value as a player capable of playing all three outfield roles (even if he's best utilized in the corners) and as a right-handed bat who can spell David Peralta against some tough lefties.  Beyond on-field contributions, Jones is also a respected clubhouse leader who can help fill the void left behind by the Diamondbacks' departed veterans.
Jones' signing may have been necessitated by Jarrod Dyson's injury situation, as an oblique problem threatens Dyson's availability for Opening Day.  If Dyson requires a trip to the injured list, the out-of-options Socrates Brito will be retained on the 25-man roster, though Brito's status could be in question once Dyson returns.  For additional depth, Abraham Almonte and Matt Szczur both joined the club on minor league contracts.
The Goldschmidt trade came with no small amount of pain for the D'Backs, which obviously is expected when moving one of the game's best players.  Still, the Snakes hope the trade will provide a good return for years to come, in the form of a catcher of the future (and present) in Carson Kelly along with a potential long-term rotation piece in Luke Weaver.
After just 63 MLB games and 131 plate appearances over the last three seasons, Kelly's development had simply stalled, as Yadier Molina continues to have the Cardinals' starting catching job on lockdown.  With the promise of more regular playing time available in Arizona, Kelly finally has the opportunity to show the potential that made him a top-100 prospect.  Though one suspects Kelly will end up with the bulk of playing time, the Diamondbacks will be juggling at-bats between Kelly, Alex Avila, John Ryan Murphy, and perhaps even Caleb Joseph, since the team still looks to keep three catchers on its 25-man roster.
Weaver was also a highly-touted prospect out of the St. Louis farm system, and he sparkled over a brief (60 1/3 IP) stint in the 2017 season.  His numbers took a step back last season, however, as Weaver posted a 4.95 ERA, 2.24 K/BB rate, and 8.0 K/9 over 136 1/3 frames.  Call it a sophomore slump, or the league simply adjusting better to Weaver after more exposure, yet Weaver was likely only expendable due to the Cardinals' rotation depth.  Many other teams would have clung to a 25-year-old with this talent level, and the D'Backs will now hope that Weaver can fill the void left behind by Patrick Corbin and Clay Buchholz.
Merrill Kelly was another rotation addition, as the 30-year-old will finally look to make his Major League debut.  Originally a product of the Rays' farm system, Kelly made it as far as the Triple-A level before heading overseas for a four-year stint in the Korea Baseball Organization.  Kelly is an inexpensive flier that could be a real find for the D'Backs if he can carry his KBO form over to the big leagues.  It also helps that the Snakes don't need Kelly to be anything more than a fifth starter at this point, as Kelly is currently lined up behind Zack Greinke, Robbie Ray, Zack Godley, and Weaver.  (Plus, Taijuan Walker should return in the second half of the season if his Tommy John recovery goes smoothly.)
Speaking of fliers, the D'Backs made a $3.25MM bet on a more familiar MLB name in signing Greg Holland to a one-year deal.  It was only in 2017 that Holland turned in a largely-strong season as the Rockies' All-Star closer. After a lengthy trip through free agency, Holland didn't sign until landing with the Cardinals on Opening Day 2018.  The lack of a Spring Training clearly impacted Holland, as he struggled through a poor season.  Since Brad Boxberger was non-tendered and Silvino Bracho has been lost to Tommy John surgery, there's certainly room for a reinvigorated Holland to earn significant innings in the Arizona bullpen.
Questions Remaining
That "notable losses" category almost speaks for itself, as the Diamondbacks quietly underwent one of the more substantial roster overhauls of any team in the 2018-19 offseason.  Some of those departures, of course, can be chalked up to the normal winter roster churn, though there's no hiding the fact that Arizona lost its best hitter (Goldschmidt), best pitcher (Corbin), plus three more of the team's top ten fWAR contributors from 2018 (A.J. Pollock, Buchholz, and valuable utilityman Daniel Descalso).
There's only so many low-cost moves a team can make to fill in so many notable gaps, especially since the 2018 roster wasn't exactly stacked with world-beaters to begin with, having produced only an 82-80 record.  A Lamb/Walker first base platoon has potential, though even at its best it isn't going to match Goldschmidt's production.  Weaver and Kelly also have promise but are unproven commodities at the MLB level, and it be remains to be seen if Marte can play an acceptable center field.
Cutting some big salaries and still remaining a solid postseason contender is one thing if you're, for example, the Indians in the weak AL Central.  But the D'Backs still look at be at least a few steps behind the Dodgers and Rockies in the NL West, leaving Arizona in competition with virtually the entire rest of the National League for a wild card berth.  Could the Snakes get lucky if the teams in the stacked NL East and NL Central beat up on each other?  It's possible, if improbable.
In a way, this could be the type of middle ground that GM Mike Hazen was aiming for last fall, as Hazen's front office looked to "be creative" with its offseason maneuvering.  If there's enough standings congestion that the D'Backs could finish with a top-12 draft pick yet still play enough competitive baseball to keep the fans coming out to the park, that's a pretty positive result for a team going through a semi-rebuild.
The question remains, however, if Arizona's half-measures approach won't leave the team in a similar situation next winter.  If the D'Backs don't see themselves as full-fledged contenders by 2020, then it may have made sense for the club to also trade Ray and Peralta this winter, as both are controlled only for two more seasons.  Peralta drew interest from the Braves, while the Phillies and Astros were two of the clubs known to be in on Ray's services, this winter, though the Snakes didn't seem too keen on trading either.  (Unsurprisingly, Arizona put a very high asking price on Ray in trade talks.)
One player the D'Backs did shop more openly is Greinke, whose enormous $95.5MM remaining salary makes up an untenably large portion of Arizona's payroll, despite how well Greinke has pitched in the last two seasons.  Between that salary, Greinke's 15-team no-trade list and his personal desire to stay with the Diamondbacks, however, a trade partner wasn't found.
Greinke's salary and Tomas' ill-fated contract account for a whopping $50MM of the Diamondbacks' 2019 payroll, and then close to $53MM in 2020.  Last season's $131.5MM Opening Day payroll hit a new high-water mark for the team, and that seems to be the current ceiling for what ownership is prepared to spend on the roster, leaving some trimming necessary (i.e. the Goldschmidt trade) to keep salaries in check.
Could the D'Backs spend more?  Quite probably, given that they just signed a new TV deal a few years ago, though the club has also been angling for renovations to Chase Field or even a new ballpark altogether in order to increase stadium revenues.  But, if payroll isn't going to be on the rise, it limits what Hazen's front office can do in order to keep the rest of his core group together.  There wasn't any serious consideration given to re-signing Corbin or Pollock, and there hasn't been any speculation about Ray or Peralta being extended beyond the 2020 season.
2019 Season Outlook
Marte blossoming in center field, Weaver and Kelly establishing themselves as quality big leaguers, bounce-back seasons from Lamb, Holland, Jones, and Steven Souza  — a lot will have to go right for the Diamondbacks to reach the postseason.  It seems likelier they'll end up in the middle of the pack, though perhaps there's enough talent on hand to keep things interesting.  On the other hand, if a slow start leads to Ray, Peralta, etc. being moved at the trade deadline, Arizona could find itself in the lower fifth of a very competitive National League.
How would you grade the Diamondbacks' offseason moves?  (Link for app users.)
Photo courtesy of USA Today Sports Images