This is the latest post of MLBTR's annual Offseason in Review series, in which we take stock of every team's winter dealings.
Apart from a late push in the Bryce Harper market, the Giants stuck to mostly low-profile signings and acquisitions in Farhan Zaidi's first offseason as the club's president of baseball operations.
Major League Signings
Trades And Claims
Notable Minor League Signings
Gerardo Parra, Nick Vincent, Yangervis Solarte, Stephen Vogt, Fernando Abad, Craig Gentry, Donovan Solano, Jandel Gustave, Brandon Beachy (Cameron Maybin, Rene Rivera, and Matt Joyce also signed minors deals but were released in Spring Training.)
Notable Losses
[Giants Organizational Depth Chart | Giants Payroll Information]
Needs Addressed
Signed to a minor league deal last offseason, Derek Holland ended up being a major bargain for the Giants.  After four injury-riddled and ineffective years with the Rangers and White Sox, Holland got back on track by posting a 3.57 ERA, 8.88 K/9, and 2.52 K/9 rate over 171 1/3 innings for San Francisco in 2018.
The Reds, Rangers, and Mets were all linked to Holland over the course of the winter, though the southpaw ended up returning to the Giants on a one-year deal worth $7MM in guaranteed money, plus the club holds an option for 2020 that could result in Holland earning as much as $15MM over the course of the next two seasons.  There weren't any big red flags in Holland's peripherals from last season, so this new contract would also be well worth the Giants' while if Holland remains healthy.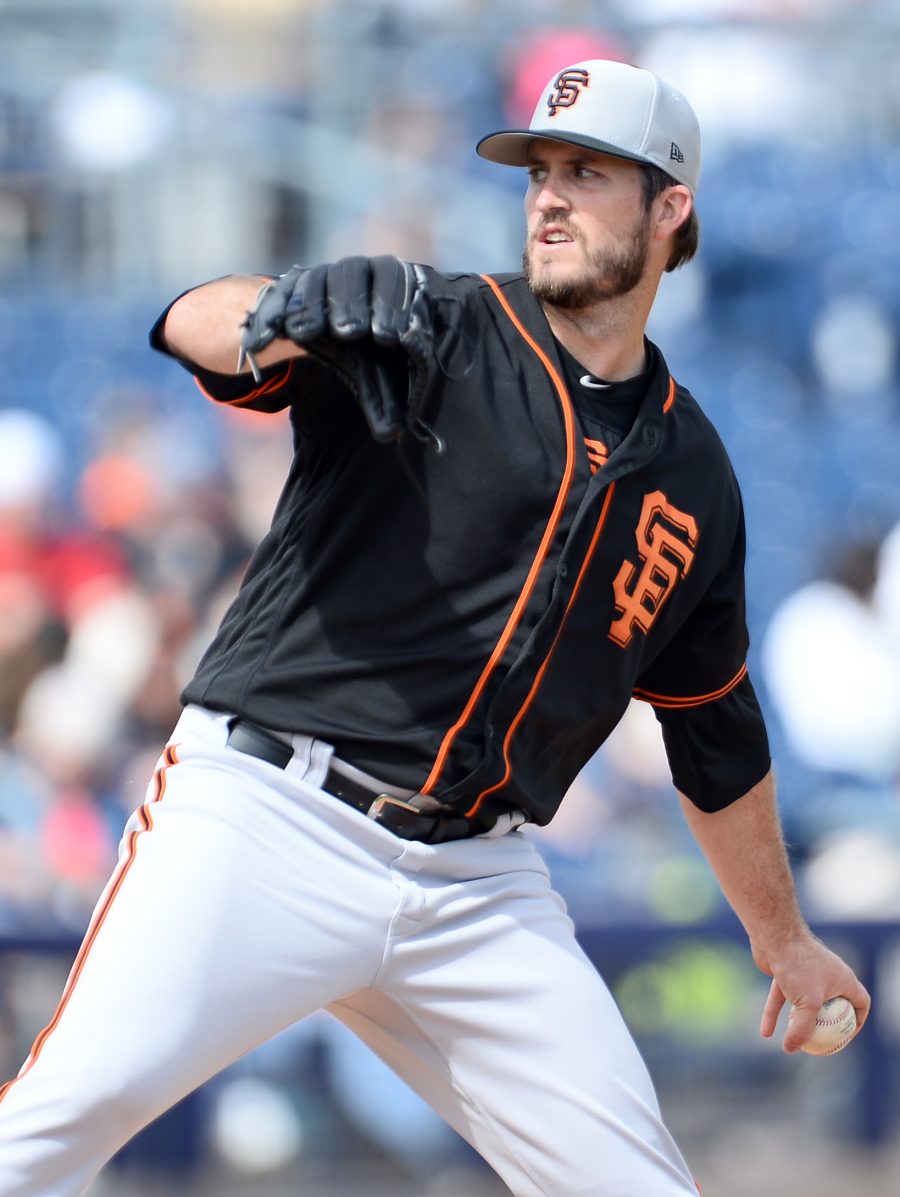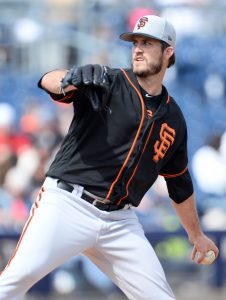 There's more of an injury concern in regards to new arrival Drew Pomeranz, who has had health issues over the course of his career and pitched only 74 innings last season due to a variety of arm problems.  At just a $1.5MM guaranteed salary, however, the Giants aren't taking much of a financial risk on Pomeranz, and he is only a year removed from giving the Red Sox 173 2/3 innings of 3.32 ERA pitching.  Pomeranz is penciled in as the fifth starter (behind Madison Bumgarner, Holland, Jeff Samardzija, and Dereck Rodriguez). San Francisco has the likes of Andrew Suarez, waiver claims Jose Lopez and Merandy Gonzalez (if they clear waivers and remain in the organization), and former first-rounder Tyler Beede as Triple-A depth options.
Hunter Strickland was somewhat surprisingly let go just prior to the non-tender deadline, though the Giants have been getting good results from many of their relievers this spring, leaving the club with a bit of a logjam for the Opening Day bullpen.  Rule 5 Draft pick Travis Bergen has to remain on the MLB roster all season or else be offered back to Toronto, though Bergen has pitched well enough to retain his position regardless.  Low-risk acquisitions Nick Vincent, Trevor Gott, Fernando Abad, or Pat Venditte could either provide depth if they remain in the organization, win jobs outright, or potentially move into roles left open should the Giants swing a late trade involving Will Smith or Tony Watson.
A change was made at backup catcher, as Nick Hundley will be replaced by pair of late-spring acquisitions.  After it seemed like rookie Aramis Garcia and minor league signings Rene Rivera and Stephen Vogt would vie for the job, San Francisco changed course by adding veterans Erik Kratz and Tom Murphy.  Rivera was cut loose, while Vogt and Garcia will provide additional depth in the minors.  It seems like enough of a logjam that a future move seems inevitable, though the Giants want to have plenty of catching on hand as Buster Posey recovers from hip surgery.  On the plus side, Posey seems to be making good progress and is on track to appear in the Opening Day lineup, though obviously the Giants will keep a close eye on their franchise player's status.
Outfield was the Giants' biggest need heading into the offseason, and the club ultimately brought in a number of new faces to supplement youngster Steven Duggar (who looks to play more or less every day in center field).  Former Rockies/Diamondbacks outfielder Gerardo Parra will make the Opening Day roster after signing a minor league contract.  The Giants essentially swapped one Rule 5 pick for another in trading for Connor Joe and letting Drew Ferguson return to the Astros.  Michael Reed, Mike Gerber, and Craig Gentry are also on hand, while incumbent Mac Williamson remains in the mix for at least part-time duty in left field.
Yangervis Solarte hasn't appeared in a big league game as an outfielder since 2014, though the former Blue Jays utilityman has been working out in left field during Spring Training with an eye towards improving his versatility.  Between Solarte, Joe, and Alen Hanson, the Giants have several players with experience at multiple positions — potentially bumping Pablo Sandoval out of the mix.
Questions Remaining
Of course, the Giants could have made a much more newsworthy outfield upgrade had they landed Harper.  The team was something of an eleventh-hour entry into "Harper's Bazaar," though San Francisco ended up being Harper's apparent second choice before the star free agent signed a (temporarily) record-setting 13-year, $330MM deal with the Phillies.  The Giants' reported offer of 12 years and $310MM fell shy, though the team would've had to top the $350MM mark to truly outbid the Phillies due to California's higher tax rate.
It goes without saying that signing Harper would've changed not only the trajectory of this Giants offseason, but also the team's outlook for the next several years.  With Harper in the fold, the Giants would have indicated a full-fledged push towards contending while many of their highest-salaried players (Bumgarner through this season, Samardzija and Mark Melancon through 2020, and then Posey, Brandon Belt, Brandon Crawford, Johnny Cueto, and Evan Longoria through 2021) are still with the team.  Along those same lines, the Giants also had interest in signing Yusei Kikuchi before the Japanese left-hander joined the Mariners.
Without Harper or Kikuchi, however, San Francisco left the offseason still straddling the middle ground between contending and fully rebuilding.  The club has to this point resisted overtures from rival teams and held on to Bumgarner, Watson, and Smith; yet the Giants also took a very modest approach to adding to their roster.  They weren't going to deal any prospects from an already-thin farm system, and they settled for inexpensive free agent and trade additions after missing out on Kikuchi and Harper.
Joe Panik's status is perhaps indicative of the Giants' overall stance this offseason.  The team kept Panik in the fold rather than non-tendering him following an injury-shortened and replacement-level season, at a one-year, $3.8MM deal to avoid arbitration.  At the same time, however, San Francisco also looked into signing second baseman DJ LeMahieu while checking the trade market to see what could be obtained for Panik.  As it turned out, the Giants didn't get that upgrade, and will instead go into the season with a known quantity in Panik who the club hopes will rebound.
A case can be made that Zaidi may be waiting to see how things shake out; come mid-season, he may have some new trade avenues or even the makings of a contending core.  After all, Posey, Belt, Bumgarner, Samardzija, Crawford, and Melancon were all limited by injuries in 2018 — better health from even a few of those names would likely make a difference in the standings.  A full teardown wasn't really possible this winter anyway since so many of those same players have limited trade value, due to their down years, health histories, hefty contracts, no-trade clauses, or all of the above.
On the other hand, it's also unrealistic to imagine that all of those veterans will enjoy bounce-back years.  With so many big contracts already verging on albatross territory for the team, one can't entirely blame Zaidi for eschewing the type of expensive acquisitions that have backfired on the Giants in recent years.  Signing a Harper or a Kikuchi is one thing, though settling for a lower-tier free agent as a stopgap isn't the type of move that would fuel a bigger jump up the standings.
If San Francisco isn't contending by midseason, it wouldn't be a surprise to see the club shift into a more definitive sell mode, at the very least on pending free agents like Bumgarner or Smith.  It also wouldn't be a shock to see the Giants explore being both buyers and sellers at the deadline — moving some short-term assets while taking on an expensive longer-term asset that could help them in 2020 or beyond.  If the Giants were willing to spend $310MM on Harper, they're clearly open to exceeding the luxury tax threshold again in order to land premium talent.
Should 2019 end up being the last hurrah for this group of Giants stars before a rebuild, it's perhaps fitting longtime manager Bruce Bochy will retire when the year is out.  The three-time World Series champion will manage a 25th season before stepping out of the dugout and starting his inevitable path to Cooperstown.
2019 Season Outlook
Frankly, there's still a few days for the roster to change, which could shift the outlook. Regardless, an awful lot would have to go right for the Giants to go from 89 losses in 2018 to a playoff contender in 2019.  In a very competitive National League, the Giants could themselves battling to stay out of last place in their division, rather than challenging the Dodgers for NL West supremacy.
How would you grade the Giants' offseason moves? (Link for app users.)
Photo courtesy of USA Today Sports Images