For Major League Baseball teams, there is essentially no risk in signing a player to a minor league contract. Cognizant of that, the Rangers were aggressive on the non-guaranteed market in the offseason, inking 20 players to minors contracts. Two months into the regular season, three of those players – Hunter Pence, Logan Forsythe and Danny Santana – have helped lead the Rangers' offense to the game's third-most runs (306) and a 10th-place ranking in wRC+ (103).
Pence, the most proven member of the trio, starred for much of his career with the Astros and Giants before recent struggles forced him to settle for a cheap pact with the Rangers. But the longtime outfielder looked done during the previous two years in San Francisco, especially when he hit .226/.258/.332 (59 wRC+) with four home runs and a .106 ISO in 248 plate appearances last season. To his credit, though, Pence spent the offseason working to turn things around, as he explained to Jessica Kleinschmidt of NBC Sports California in December. You may have scoffed at his efforts back then, chalking them up to a washed-up player grasping at straws, but it now looks as if Pence has discovered the Fountain of Youth during his age-36 season (Pence de Leon?).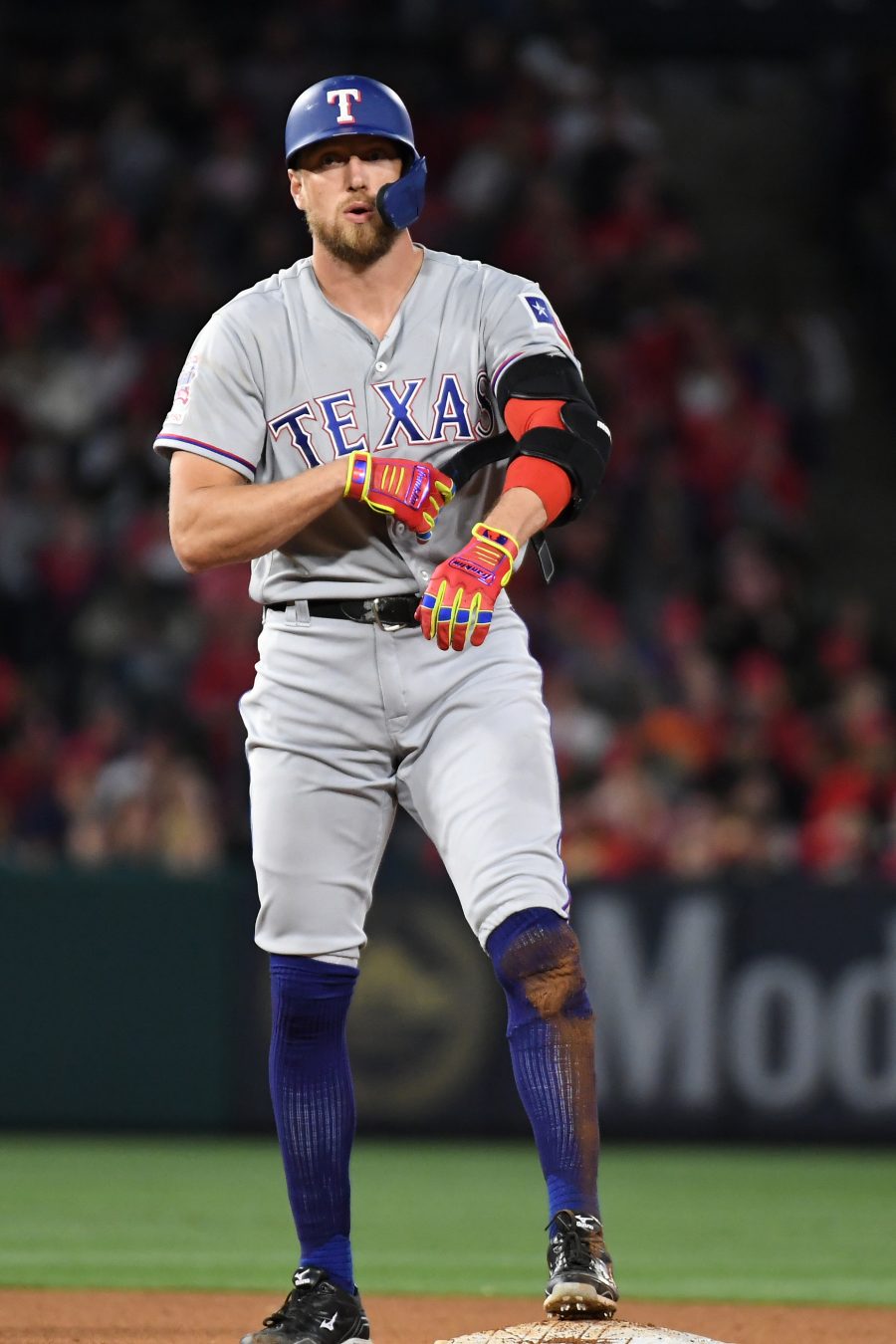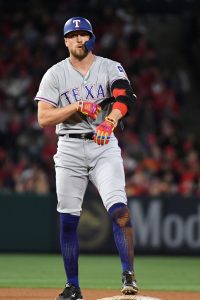 Through 153 trips to the plate with the Rangers, Pence has slashed .295/.346/.619 with 11 homers and a .324 ISO. He has already given the Rangers 1.1 fWAR after combining for minus-0.2 with the Giants from 2017-18. Pence's revival certainly doesn't look like a product of luck or ballpark – there's nothing abnormal in his batting average on balls in play or K/BB ratio, and he has logged far better numbers outside hitter-friendly Globe Life Park.
Pence is pulling more pitches, hitting more fly balls and making better contact, all of which has helped opened the door to his power resurgence, while swinging and missing less and chasing fewer pitches out of the zone. Pence's average exit velocity on fly balls and line drives sits at a strong 96.6 mph, up from 91.5 in 2018, and his weighted on-base average/expected wOBA has spiked from .255/.267 to .401/.387. In the xwOBA department, Pence has gone from hitting like Joey Rickard to resembling Juan Soto. It's an amazing one-year turnaround.
If there's one knock on the 2019 version of Pence, it's that he has largely been limited to the designated hitter spot at his advanced age. Forsythe, on the other hand, has spent the season in the field, registering most of his appearances at first base but also playing at least five games at shortstop, third and second. Now 32, Forsythe was one of baseball's most valuable second basemen with the Rays from 2015-16, but he began falling off the next season and then cratered last year between the Twins and Dodgers. It looks as if Forsythe's back after joining Texas on a deal in late February, though. Like Pence, a fellow right-handed hitter, Forsythe has offered better production outside of Arlington while posing a legitimate threat against pitchers of either handedness.
Forsythe has opened his Rangers career with a line of .309/.414/.485 (136 wRC+) and 1.2 fWAR in 163 attempts, far outdoing the minus-0.2 he posted in that category last season. An unsustainable .406 BABIP has aided Forsythe's cause, but he has made real strides otherwise. While Forsythe's power hasn't been sensational (three homers, .176 ISO), he's well ahead of his paltry 2018 output in that regard (two HRs, .059 ISO in 416 PA). As with Pence, a greater emphasis on pulling and elevating the ball has led to Forsythe's uptick in the power department. His average exit velocity has climbed from 89.6 mph on liners/flies last year to 92.8 this season. Forsythe's also swinging at far fewer pitches than ever outside the strike zone. Those factors have assisted in a strong .390/.362 wOBA/xwOBA, an enormous step up from the .274/.277 Forsythe recorded in 2018.
And then there's the 28-year-old Santana, who was a 3.9-fWAR player with the Twins during a 430-PA debut in 2014. Until this season, that looked like a total fluke (and perhaps it still does). Santana combined for minus-2.3 fWAR from 2015-18 with the Twins and Braves, though he's back above water this year. Granted, with a 0.6 fWAR over 125 trips to the plate, Santana's no world-beater. Still, that's more than the Rangers could have reasonably expected when they took a flier on Santana in December. Since then, the switch hitter has slashed .296/.339/.478 (107 wRC+) with four HRs and six steals in 125 PA, also showing off his defensive flexibility by appearing multiple times at first, second, short and in center field.
Santana, however, could have a tougher time than Pence and Forsythe maintaining his numbers. In fact, they've already started to drop over the past month. The fact that he's running ugly strikeout and walk rates (4.0 percent versus 29.6) and enjoying a .400 BABIP doesn't offer a ton of hope going forward. Beyond that, Santana's struggling against left-handed pitchers and hitting noticeably worse on the road. That said, there's little difference between Santana's wOBA (.347) and xwoBA (.341).
Should Santana continue to impress the Rangers through the season, they'll have a chance to keep him via arbitration for the next two years. Otherwise, they could easily say goodbye to him. Meanwhile, Pence and Forsythe – two impending free agents – could either stick with the surprising Rangers (27-27) through the season if they're in contention or emerge as summer trade chips if the team falls out of the race. Texas is in a win-win situation with all three of these minor league pickups, which is surely what general manager Jon Daniels hoped for when he added them over the winter.
Photo courtesy of USA Today Sports Images.