Just before the calendar flipped from 2018 to 2019, the Dodgers and Reds formally executed a deal that sent short-term veterans to Cincinnati and prospects to Los Angeles … a bit of an oddity in and of itself, given the expectations and eventual results for those two clubs in 2019. The ever-fascinating Yasiel Puig! Former star Matt Kemp, fresh off of a resurgent '18 effort! Excellent lefty Alex Wood, probably the best present-talent player in the deal! And going in the other direction: Homer Bailey, the guy (some fans allege) the Reds chose to keep over Johnny Cueto!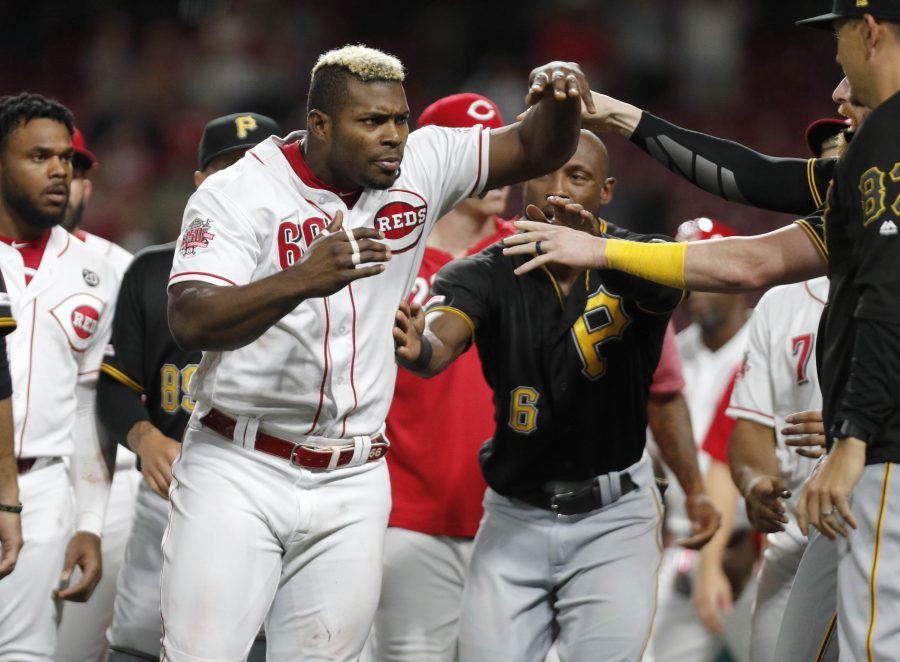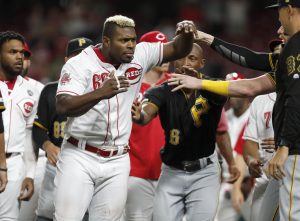 For a trade that involved some huge names, this one didn't get a ton of hype at the time. And it faded from memory rather quickly, in no small part because the most visible players in the deal ended up in other uniforms. That's not to say there weren't some big moments along the way, it's just … the most memorable one occurred minutes after Puig was traded away to the Indians, when he took part in an on-field brawl with his technically former Reds teammates.
Looking back on the deal, you can see what the Reds were trying to accomplish and why they hoped it would work out. But it stung in retrospect, even with Puig helping the club secure the services of Trevor Bauer in that summer swap. More than a loss for the Reds, though, it stands out as a masterstroke by the Dodgers, who didn't miss the veteran talent they parted with, re-filled their farm system, saved money, and gained payroll flexibility.
Let's break it all back down and see what precisely each side got and gave up …
Dodgers Receive
Homer Bailey, SP: one year, $23MM + $5MM buyout
Josiah Gray, SP: 6+ seasons of control; not yet on 40-man roster
Jeter Downs, INF: 6+ seasons of control; not yet on 40-man roster
Reds Receive
Matt Kemp, OF: one year, $21.5MM
Yasiel Puig, OF: one year, $9.7MM
Alex Wood, SP: one year, $9.65MM
Kyle Farmer, C/INF: 5 seasons of control; pre-arbitration
$7MM cash
So, the Dodgers took on $28MM in salary and sent another $7MM to Cincinnati, while the Reds absorbed $40.85MM in 2019 spending obligations.
You can see how the Reds convinced themselves to gamble some young talent here. They added less than $6MM in payroll obligations to get a trio of veterans who had long track records of success. In 2018, Puig turned in a 123 wRC+ effort while Kemp hit at a nearly identical rate (122 wRC+). Wood spun 151 2/3 innings of 3.68 ERA ball and had been even better the season prior. Farmer was a cheap and useful player to sweeten the pot. Even if the Cincinnati club didn't break out, the front office likely felt it'd be able to recoup some value at the deadline (which, to an extent, it did).
On the Dodgers' side, there was an added piece of value. Competitive balance tax considerations were of no concern to the lower-spending Redlegs, but the Los Angeles organization strongly preferred to stay under the luxury line. Bailey's contract helped make that possible, because the average annual value of his deal was much lower than the remaining cash he was actually owed. As it turns out, the Dodgers skated in just under the $206MM payroll line. In addition to moving the salaries of Puig and Wood, changing out Kemp money ($20MM CBT hit) for Bailey money ($17.5MM) made the difference.
That critical piece of accounting work was accomplished without really taking anything from the Reds at all, leaving the Dodgers room to structure a swap that brought in serious prospect value. Both Gray and Downs were seen as solid talents at the time of the deal, but they've only boosted their stock since.
After one year of added seasoning, we now know, the Dodgers secured two leaguewide top-100 prospects out of this deal. Gray rocketed through the low minors to finish the 2019 season at Double-A, where he ran up 39 1/3 innings of 2.75 ERA pitching in his age-21 campaign. He's now a significant part of the Dodgers' near-term rotation picture.
Downs also took off and reached the penultimate level of the minors in his first (and, it turns out, only) season in the Los Angeles organization. The middle infielder spent most of the season pummeling High-A pitching and ended the campaign with a cumulative .276/.362/.526 slash and 24 home runs through 535 plate appearances. The Dodgers preferred to keep Downs, but he ended up being a necessary piece of the team's bold bid to add superstar Mookie Betts. When the original deal fell apart, the club agreed to a modified pact that sent Downs to the Red Sox as the key prospect asset.
The original Dodgers-Reds trade unquestionably delivered a hit to the Dodgers' 2019 talent pool. Otherwise, they never would've been able to pull it off. But the club's immense depth left a robust mix in both the outfield and the rotation. The Dodgers rightly anticipated they'd be just fine with losing this trio of players. Sure enough, the club led all of baseball in outfield WAR and tied for second in the rotation.
Funny enough, this one could've worked out even better for the Dodgers. Baseball being the bizarre game that it is, Bailey actually ended up being the most productive player in this deal in 2019. He contributed 2.0 rWAR/2.9 fWAR … though not to the Dodgers, who cut him loose after the swap. Bailey caught on with the Royals and ended up being acquired by the Athletics, throwing well enough to earn a $7MM contract with the Twins this winter. To be fair, even had the Dodgers given it a shot, they may not have had room for Bailey on their already loaded staff.
The others involved didn't fare as well, last season or in free agency. Puig didn't play quite to expectations before the mid-summer trade. He remains the best free agent that has yet to sign. Kemp was cut loose after a brutal early showing and is now on a minor-league pact with the Marlins. And Wood? He missed most of 2019 with injury, severely curtailing the Reds' side of this deal. But he did return late in the season, just enough to show he's back to health … and to earn a return to Los Angeles on an incentive-laden, $4MM deal that could work out quite nicely for the Dodgers if he can return to form.
Photo courtesy of USA Today Sports Images.