Reds right fielder Nick Castellanos has exercised the opt-out clause in his contract and will reenter the free agent market, reports MLB Network's Jon Heyman (Twitter link). The Scott Boras client had two years and $34MM remaining on his contract but will seek a lengthier contract (and a heftier annual value) on the open market. The Reds can, and surely will, extend an $18.4MM qualifying offer to Castellanos — which he's a lock to reject.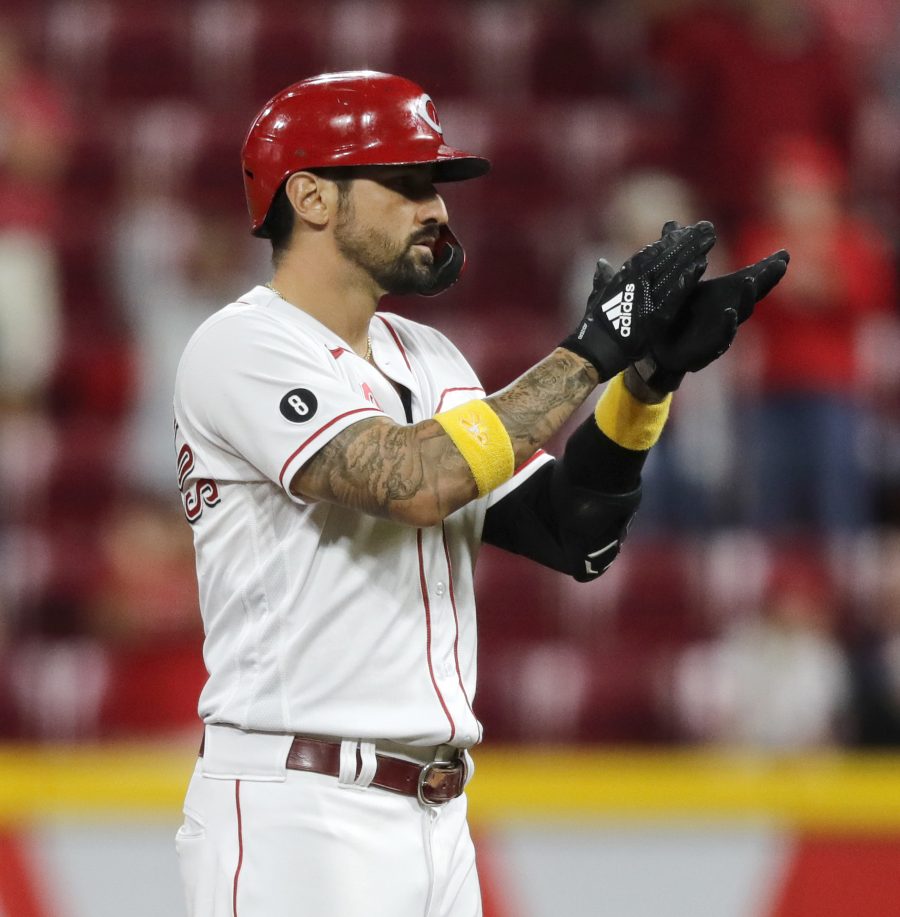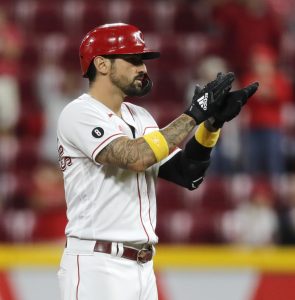 Castellanos, 30 in March, has been a near-lock to opt out of this contract for months now. While he decided to forgo the first opt-out provision in his deal last winter after a slumping through the pandemic-shortened season's final weeks, he's been one of the best hitters in the National League throughout the 2021 season. Had the microfracture in his wrist suffered back in late July proven to sideline him for a longer period or weigh down his production in the final two months, perhaps it'd have been another story, but Castellanos finished the season on a blistering tear at the plate.
On the whole, Castellanos batted .309/.362/.576 this season, complementing a career-high 34 home runs with 38 doubles and a triple en route to a stout 140 wRC+ on the season. That includes a .294/.335/.606 slash and 14 round-trippers in his final 176 plate appearances, which surely allayed any concern that the July wrist injury would linger and impact his production at the dish.
On the defensive end of the equation, Castellanos once again had his share of struggles. Virtually any defensive metric will paint him as below average in right field, and that's been an issue for him dating back to his days as a third baseman in Detroit. Defensive Runs Saved and Outs Above Average both pegged Castellanos at -7 in 2021 — which is actually an improvement over recent seasons — and he checked in with a -1.5 Ultimate Zone Rating. Some may be surprised to see that Castellanos actually has above-average sprint speed (65th percentile among MLB position players), but Statcast also puts him in just the seventh percentile in terms of his outfield jumps.
Overall, the lack of defensive value shouldn't matter too much. Castellanos has been a consistently above-average hitter since a breakout 2016 campaign with the Tigers, and he enjoyed the best season of his career this past season. With the widely expected advent of the designated hitter in the National League, it's possible that he'll be more valuable than ever before in 2022. Full-time (or even semi-regular) DH work was never an option for Castellanos in Detroit thanks to the presence of Miguel Cabrera and Victor Martinez, and he's spent his two and a half seasons away from the Motor City in the National League. Even if he doesn't immediately slide into full-time DH territory, Castellanos at the very least could see fewer innings in the outfield than he has in the past.
While it's likely that Castellanos' mind has been made up on this matter for some time, last night's comments from Cincinnati general manager Nick Krall surely didn't create any second thoughts. Krall didn't outright say that the Reds are going to further slash payroll, but that was the overwhelmingly clear implication as the GM voiced a need to "align our payroll with our resources" and stressed the importance of "scouting and developing young talent from within our system."
The Reds dumped Raisel Iglesias' $9.125MM salary on the Angels last offseason and surprisingly non-tendered Archie Bradley just three months after trading for him. Krall's Wednesday comments — and, to a lesser extent, yesterday's trade of stalwart catcher Tucker Barnhart — suggest that there's more of the same in store this winter. In fairness to the Reds, they have a ready-made, offensively superior 2022 option at catcher in Tyler Stephenson, and Barnhart's salary was steeper than most any team would pay for a backup catcher. How the Reds handle their $10MM club option on southpaw Wade Miley will be more telling.
Suffice it to say, it seems difficult to imagine the Reds pushing to re-sign Castellanos to a new contract that figures to include both a raise on his annual value and at least double the years he previously had remaining. Castellanos is arguably (although not definitively) the best hitter on the free-agent market this winter, and if the designated hitter indeed comes to the National League, he'll have a vast market of teams bidding on his services. A contract of at least four years in length seems certain, and it's quite possible that even with a qualifying offer in tow, bidding could push into the five-year range.