Oakland's rapid sell-off and the Blue Jays' aggressive offseason both continued Wednesday, as the A's announced that third baseman Matt Chapman has been traded to Toronto in exchange for right-hander Gunnar Hoglund, infielder Kevin Smith, left-hander Zach Logue and left-hander Kirby Snead.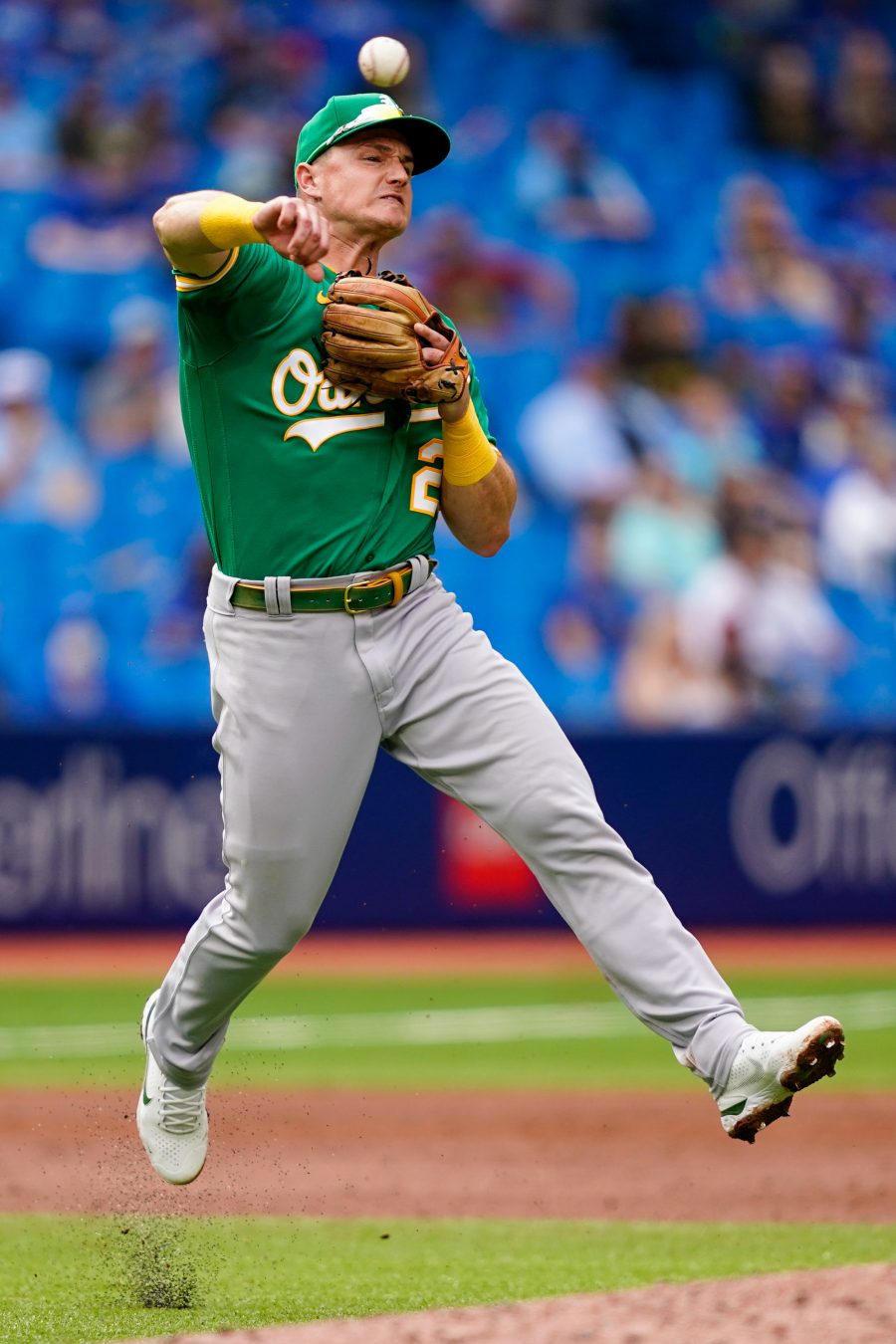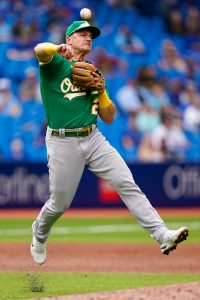 The acquisition of Chapman will give the Blue Jays not only one of the best defensive third basemen in the game but one of the top defensive players in baseball at any position. Since Chapman's 2017 Major League debut, his 88 Defensive Runs Saved and his 47.3 Ultimate Zone rating both trail only Mookie Betts and Andrelton Simmons among all big leaguers. Statcast's Outs Above Average metric largely agrees, ranking him tenth among all big league players, regardless of position, since 2017. Indeed, Chapman has twice been recognized as the league's best all-around defender by being named the league's Platinum Glove winner.
Of course, Chapman is far from a glove-only player. From 2018-19, he was a legitimate MVP candidate on the strength of his combined offensive and defensive prowess. The former No. 25 overall draft pick posted a .263/.348/.507 slash with 60 home runs while playing his home games at the cavernous Oakland Coliseum during those two seasons, finishing Top 7 in American League MVP voting on both occasions.
Chapman's offensive production has fallen sharply over the past two seasons, due in no small part to a major hip injury in 2020 that he tried to play through before succumbing to surgery. That procedure both repaired a labrum tear and "cleaned up" the head of his right femur bone. Even as his production has dipped, Chapman has still hit for power (37 home runs, .216 ISO) and drawn plenty of walks (11.4%), but his strikeout rate has spiked from 22.8% in 2018-19 all the way to 33.1% in 2020-21. Over the past two seasons, he's posted a combined .215/.206/.431 batting line.
The Jays are surely betting that Chapman will bounce back to an extent at the plate now that he'll be 18 months removed from that September 2020 surgery. However, even if he doesn't return to his MVP-caliber levels from 2018-19, the new three-true-outcomes version of Chapman was still worth 3.5 wins above replacement per both Baseball-Reference and FanGraphs last season. He's a pronounced upgrade for a Jays team hoping to make a deep postseason run on the strength of a dominant offense and a rotation that has improved by leaps and bounds in recent seasons.
Chapman's salary has not yet been settled, as he's arbitration-eligible and did not settle on a price point with the A's prior to the lockout. He's projected by MLBTR contributor Matt Swartz to earn $9.5MM this coming season and will be owed one more raise for the 2023 campaign before reaching free agency in the 2023-24 offseason. While Jays fans may be looking to Matt Olson's swift extension following a trade from Oakland to his hometown Braves, it should be pointed out that as a client of the Boras Corporation, Chapman seems less likely to follow that same trajectory. Still, he'll be locked in as the Toronto third baseman for at least the next two seasons.
Adding Chapman firmly pushes Cavan Biggio to second base, where he's better suited to play from a defensive standpoint. Chapman's range will also play nicely alongside Bo Bichette, who has drawn mixed reviews for his glovework at shortstop. Statcast notes that Bichette is much stronger on balls hit to his left side than those hit to his right, so getting some extra range out of their third baseman will be particularly helpful.
It's worth pointing out that Chapman isn't an ideal fit for a Toronto lineup that skews almost entirely right-handed. He'd give them eight pure right-handed hitters in the starting lineup, with Biggio the lone lefty. That right-handed lean was part of the reason that a potential Freddie Freeman fit has seemed so tantalizing for the Jays. This acquisition technically doesn't rule out a Freeman signing, but it does quash any speculation of Vladimir Guerrero Jr. moving back to third base. That's in the team's best interest anyhow, as Guerrero was never a strong defensive option at the hot corner. A theoretical Freeman addition would push Guerrero into a primary designated hitter role earlier in his career than the Jays might've liked, but the sheer offensive firepower of that lineup would still make it worth considering. Toronto had been linked to Kyle Schwarber, but he's now Philadelphia-bound after agreeing to a four-year deal with the Phillies.
Turning the Oakland's return, they'll acquire one high-end but far-off pitching prospect, Hoglund, and a trio of largely MLB-ready pieces in Smith, Logue and Snead. Hoglund was the No. 19 overall draft pick in 2021 and might well have gone in the Top 10 selections had he not required Tommy John surgery during last year's NCAA season. The former Ole Miss ace was largely regarded as one of the top college arms in the draft after pitching to a 2.41 ERA with a sky-high 39% strikeout rate against a strong 6.1% walk rate.
Baseball America ranked him fifth among Toronto farmhands, while FanGraphs pegged him No. 3 in the Toronto system. Much of Hoglund's future depends on how he recovers from Tommy John surgery, but he'd been described as an advanced college arm with mid-rotation upside and a potential quick path to the big leagues.
Smith, 25, ought to step right into the Athletics' Opening Day lineup. He went just 3-for-32 in a brief big league cup of coffee late in the 2021 season, but that's overshadowed by a big .285/.370/.561 batting line in Triple-A last year. Smith, ranked seventh among Jays prospects at BA and 16th at FanGraphs, smacked 21 home runs, 27 doubles and four triples while also going 18-for-21 in stolen base attempts in that outstanding Triple-A campaign. BA ranked him as the game's No. 91 prospect in the 2018-19 offseason, and while a poor first showing in Triple-A dropped his stock, last year's excellent rebound restored a good bit of faith in his abilities.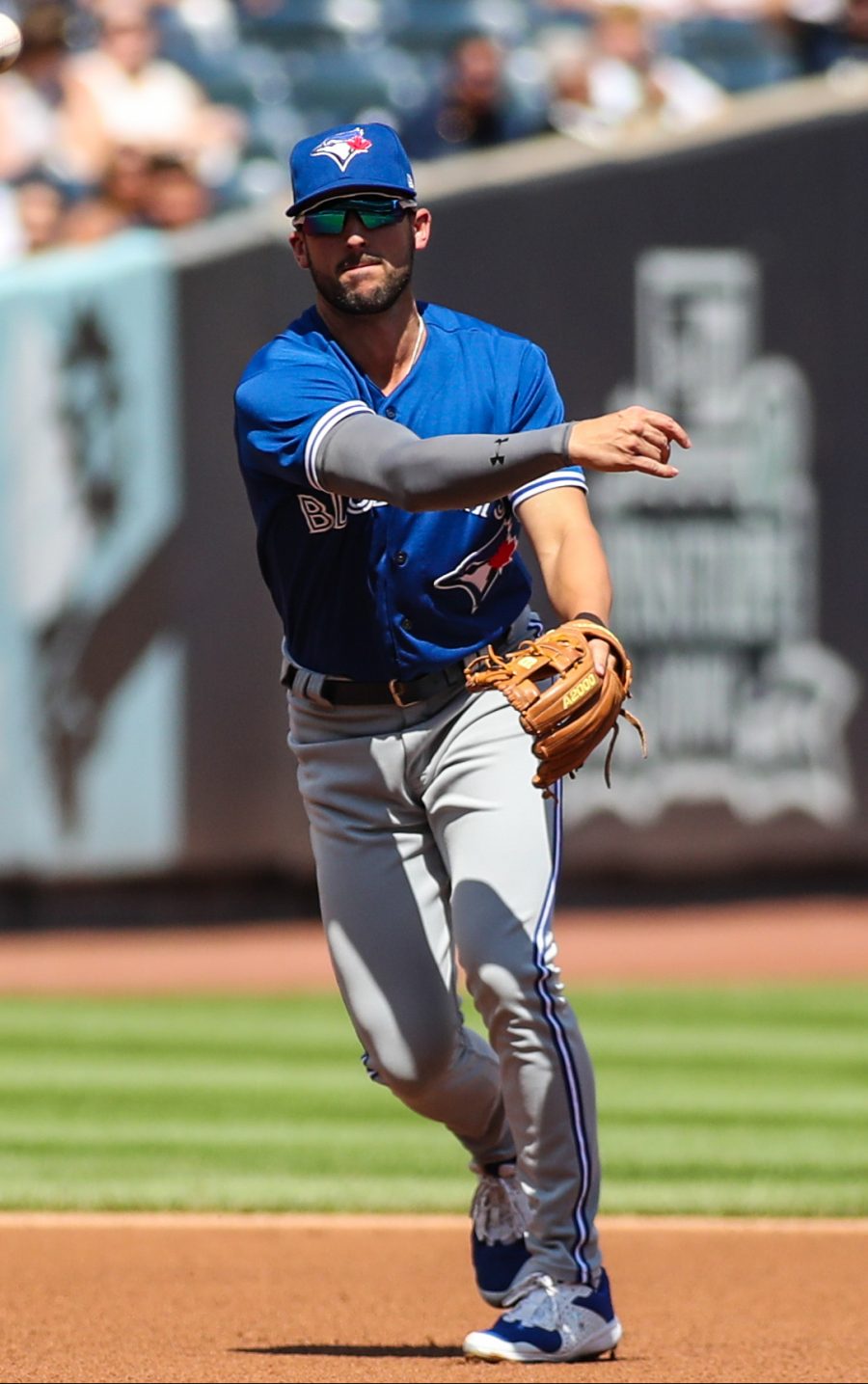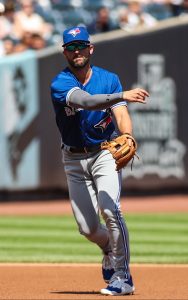 The Jays played Smith primarily at shortstop during his time in Triple-A, but he also has 651 professional innings at third base and 161 innings of work at second base. Scouting reports peg him as a capable but not-elite defender at short. Given the presence of all-world defensive prospect Nick Allen in the upper tiers of the Oakland system, it seems quite possible that Smith's eventual home with the A's will be either third base or second base.
As for the two pitchers, Logue has a chance to be in the Oakland rotation before long. The 25-year-old (26 in April) was Toronto's ninth-round pick in 2017 and has greatly elevated his status, thanks in part to a nice showing between Double-A and Triple-A this past season. In 125 innings between the two levels, Logue notched a 3.67 ERA with a strong 28.2% strikeout rate, an even better 5.3% walk rate and a 38% ground-ball rate. That he's a fly-ball pitcher moving to Oakland as opposed to Toronto's more hitter-friendly Rogers Centre can only help his chances of becoming a quality big league contributor.
Logue ranked 24th among Jays prospects at BA, where he was labeled one of the system's "most improved" players in 2021 and touted as a potential back-end starter. FanGraphs tabbed him 10th in the Toronto system, praising his plus changeup, plus command and above-average cutter. Scouting reports generally don't peg Logue as more than a fourth starter, but if he's able to realize that potential, there's quite a bit of value in six-plus seasons of a No. 4 starter.
Snead, 27, gives the A's an MLB-ready bullpen piece who made his big league debut late in the '21 season. Snead allowed three runs (two earned) on seven hits and a pair of walks with seven strikeouts through his first 7 2/3 big league innings last year. That marked the continuation of an excellent season in Triple-A, where he'd notched a 1.58 ERA with a huge 36.1% strikeout rate, a 10.1% walk rate and a massive 63.3% ground-ball rate.
Unlike many lefties, Snead has no issues containing right-handed opponents in 2021. While he was still better against left-handers, who posted an awful .141/.222/.203 against him (Majors and Triple-A combined), right-handers were similarly futile. Even when batters held the platoon advantage, they mustered only a .186/.278/.245 output against Snead. He's been a pure reliever throughout his professional career, but that dominance against both righties and lefties mitigates any specialist concerns and gives him the chance to be a multi-inning option. Snead has pitched 236 1/3 innings through 186 minor league appearances, so he's no stranger to working more than an inning at a time.
The trade of an All-Star third baseman to the Blue Jays for a four-player package consisting of three largely MLB-ready pieces and one further-off but high-upside prospect will do little to quell comparisons to the 2014 Josh Donaldson blockbuster. That trade, which brought Franklin Barreto, Brett Lawrie, Kendall Graveman and Sean Nolin to Oakland, didn't pan out as the front office hoped, but today's swap is a separate deal, eerie similarities notwithstanding. The A's have added a notable influx of talent to their system, and the Chapman return in particular features the largest crop of MLB-ready talent they've picked up thus far in their offseason dealings.
The Chapman trade marks the latest step in the dismantling of a roster that was largely foreseeable but is nevertheless disheartening for the fanbase. Chapman follows fan favorites Olson and Chris Bassitt out the door, and it's unlikely Oakland will stop its roster purge with those three. Lefty Sean Manaea, a free agent at season's end, seems all but certain to be traded. Right-hander Frankie Montas, center fielder Ramon Laureano and reliever Lou Trivino all have multiple seasons of club control remaining but still could change hands. Montas, in particular, has been a target for pitching-hungry clubs. Looking ahead, it's not really a question of whether any of those players will be traded — but rather one of who'll be the next to go.
Former All-Star second baseman Carlos Baerga first reported on Instagram that a trade agreement was in place. Sportsnet's Shi Davidi reported Oakland's return for Chapman (Twitter link).