The Mariners made a massive addition to their lineup, announcing the acquisition of star outfielder Jesse Winker and third baseman Eugenio Suárez from the Reds. Seattle will reportedly assume the entirety of the three years and $35MM remaining on Suárez's contract. In return, they're sending pitching prospect Brandon Williamson, outfielder Jake Fraley, right-hander Justin Dunn and a player to be named later to Cincinnati.
Mariners president of baseball operations Jerry Dipoto has been open about his hunt for offensive help throughout the winter. Seattle already signed reigning AL Cy Young winner Robbie Ray to a five-year contract, but they hadn't previously done a whole lot to bolster the offense aside from a deal that brought in Adam Frazier from the Padres.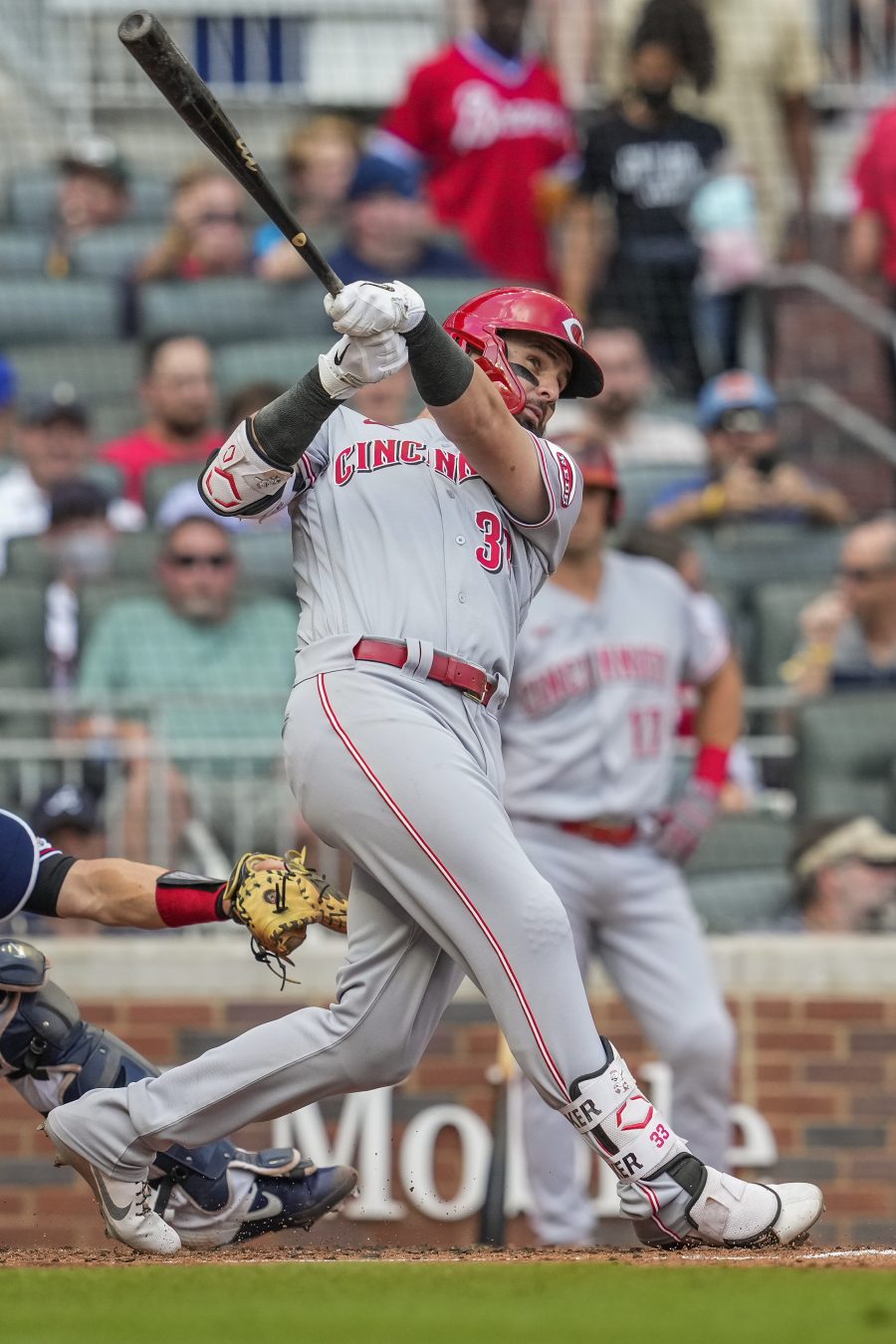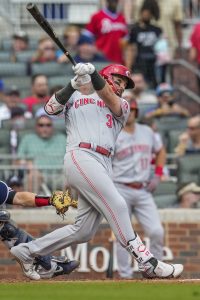 Winker got his due as a first-time All-Star last season, but he's quietly been an excellent hitter for some time. He's had a wRC+ of 127 or better (output at least 27 percentage points above the league average) in four of his five career seasons. The former supplemental first-rounder has been particularly impressive the past couple years. Going back to the start of the 2020 campaign, he owns a .292/.392/.552 line with 36 home runs over 668 plate appearances.
Last year, he tallied 485 trips to the dish and hit a personal-best .305/.394/.556 with a strong 10.9% walk rate and a 15.5% strikeout percentage that's more than seven points lower than the league average. Winker rarely swings and misses or chases pitches outside the strike zone, and he's capable of doing plenty of damage when he makes contact. He posted well above-average marks in terms of barrel rate, hard contact percentage and average exit velocity.
It's easy to see the appeal for Seattle in adding that kind of offensive firepower to the lineup. Despite winning 90 games, the Mariners didn't have an especially productive offense last year. Seattle hitters ranked just 21st in team wRC+ (excluding pitchers). They finished 22nd in total runs scored. Winker should be a massive boon to a unit that'll need to improve if they're to snap a 20-year playoff drought.
That said, Winker isn't entirely without flaws. He's limited to the corner outfield defensively, and he's never rated favorably in the eyes of public metrics. Defensive Runs Saved has pegged him as 20 runs below average in 2,335 2/3 career innings in the corners (in addition to three runs below average in 138 innings as a center fielder). Statcast's Outs Above Average has him at -21 plays as a big leaguer, including a -7 mark last season.
The left-handed hitting Winker also has some of the league's most notable platoon splits. He's been downright elite in his career against right-handed pitching (.313/.405/.556), but his numbers without the platoon advantage (.188/.305/.295) have been unimpressive. Winker's probably not a strict platoon player — he does at least draw a boatload of walks against southpaws — but his impact has been concentrated to feasting on righties.
Perhaps of more concern than any aspect of his talent, though, has been his lack of volume. Winker has gone on the injured list in every full season of his MLB career. Heading into last season, the 28-year-old had never tallied even 400 plate appearances in a big league campaign. He picked up a personal-high in playing time last year, but he ended the season on the IL after suffering an intercostal strain in mid-August (from which he unsuccessfully tried to return in September).
That all makes Winker a tricky player to value, but there's little question he'll improve Seattle's overall offense. He'll presumably step in as the M's regular left fielder, joining an outfield that could feature Jarred Kelenic in center and Mitch Haniger in right. Former Rookie of the Year Kyle Lewis is coming off another serious knee injury, and Dipoto told reporters (including Ryan Divish of the Seattle Times) he's unlikely to be ready for the start of the season as they proceed with caution in his recovery. Former top prospect Taylor Trammell and utilityman Dylan Moore could be depth options behind the presumptive season-opening trio of Winker, Kelenic and Haniger. Julio Rodriguez, among the top handful of prospects in the game, mashed at Double-A at the end of last season.
Winker will probably be in the Pacific Northwest for at least the next two seasons. He's projected by MLBTR contributor Matt Swartz for a $6.8MM salary via arbitration this year. He'll be controllable via that process once more next winter before reaching free agency in advance of his age-30 season.
In order to entice the Reds to part with a player of Winker's caliber, the M's are taking on far more money than just his projected arbitration figures. Cincinnati signed Suárez to a $66MM extension in March 2018, which will pay him a bit more than $13MM annually for the next three seasons. (The deal also includes a $15MM club option for 2025). Initially, that looked to be a shrewd investment by the Cincinnati front office, as Suárez went on to earn down-ballot MVP support in each of the following two years. Yet after combining for a .277/.362/.550 line over that stretch, he's struggled the past couple seasons.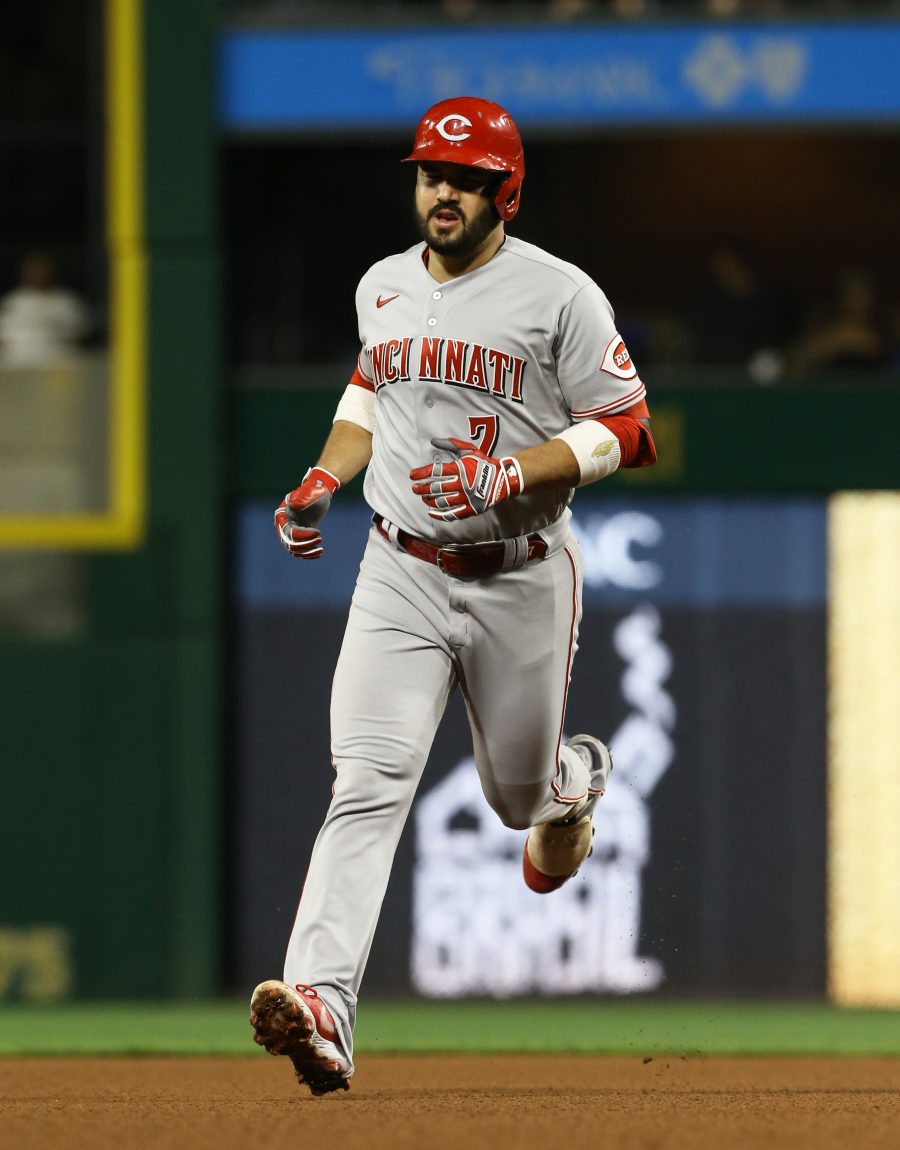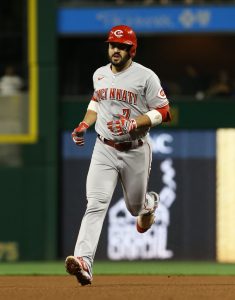 Suárez hit .202/.312/.470 during the shortened 2020 campaign. That's a ghastly batting average, but he offset it somewhat with a robust 13% walk rate and 15 homers in only 231 plate appearances. However, his issues at the plate mounted last year. His walk percentage dipped to a solid but no longer elite 9.8%, not sufficient to make up for an even lower .198 batting average. Suárez reached base at only a .286 clip — the sixth-lowest mark among the 135 players who totaled 500+ plate appearances. He still hit for power (31 homers), but the on-base issues and his inability to successfully acclimate to an ill-advised move from third base to shortstop kept his overall production in the realm of replacement level.
Clearly, the Mariners assumed Suárez's deal as a means to acquire Winker. That said, it seems likely they'll give him some opportunity to try and right the ship in his new environs. Seattle bought out longtime third baseman Kyle Seager at the end of the year. Abraham Toro looks like the in-house favorite for playing time at the hot corner, but Toro can bounce between the corners and second base as a bat-first utility option as well. Divish tweets that Suárez is likely to step in as the primary third baseman, at least to begin the year, with Toro deployed around the diamond as needed.
The acquisitions of Suárez and Winker will add around $20MM to the Mariners' 2022 books. That puts this year's estimated expenditures at $106MM, per Jason Martinez of Roster Resource. That's well above last year's season-opening $73MM mark but nowhere close to franchise-record payrolls that exceeded $150MM from 2017-18. Precisely how much remains in the coffers isn't clear, although it seems they're content with the position player group. Dipoto told reporters (including Daniel Kramer of MLB.com) the club was unlikely to make further moves on that side of the ball. Seattle had been linked to big-ticket free agents like Kris Bryant and Trevor Story this offseason, but Dipoto called their pursuits of free agent hitters "dead ends."
The Winker acquisition marked another aggressive move for a win-now Mariners team, but it's a continuation of payroll-cutting efforts for the Reds. Cincinnati traded away Tucker Barnhart and lost Wade Miley on waivers for little to no return in November. They've listened to trade offers on their top three starting pitchers, and they moved Sonny Gray to the Twins for pitching prospect Chase Petty over the weekend.
This afternoon's swap is the most notable to date, as the Reds slice around $20MM in 2022 commitments off the books. Of arguably greater import, they find a way out of the future commitments to Suárez. Only Joey Votto ($25MM) and Mike Moutakas ($18MM) have guaranteed money on the Cincinnati books in 2023, and the payroll slate is completely clean by 2024. Reds brass has pushed back against the idea they're orchestrating a full teardown, but the recent subtractions of Winker and Gray make it more difficult for what had been an 83-79 team to contend this season.
Against that backdrop, it wouldn't be surprising to see further subtractions by Cincinnati. Luis Castillo and Tyler Mahle each have two more seasons of arbitration control, as Winker did. Both pitchers would bring back a haul if the Reds made them available, particularly with the free agent market essentially now bereft of mid-rotation options.
Even if the Reds have further moves on the horizon, however, the players they bring back should all factor into the mix in short order. Fraley and Dunn are immediate big leaguers, and Fraley seems likely to step right into the left field spot vacated by Winker's departure. The left-handed hitter struggled in limited big league looks between 2019-20, but he showed reasonably well this past season.
Fraley picked up 265 plate appearances last year, hitting .210/.352/.369 with nine homers and ten steals. The batting average is obviously subpar, but the LSU product more than compensated with an elite 17.4% walk rate. Fraley's extremely patient approach at the plate should make him a serviceable on-base option. He's primarily been a left fielder in the big leagues, but he's capable of covering center in a pinch. Fraley's controllable through 2026 and isn't on track to reach arbitration eligibility until 2024.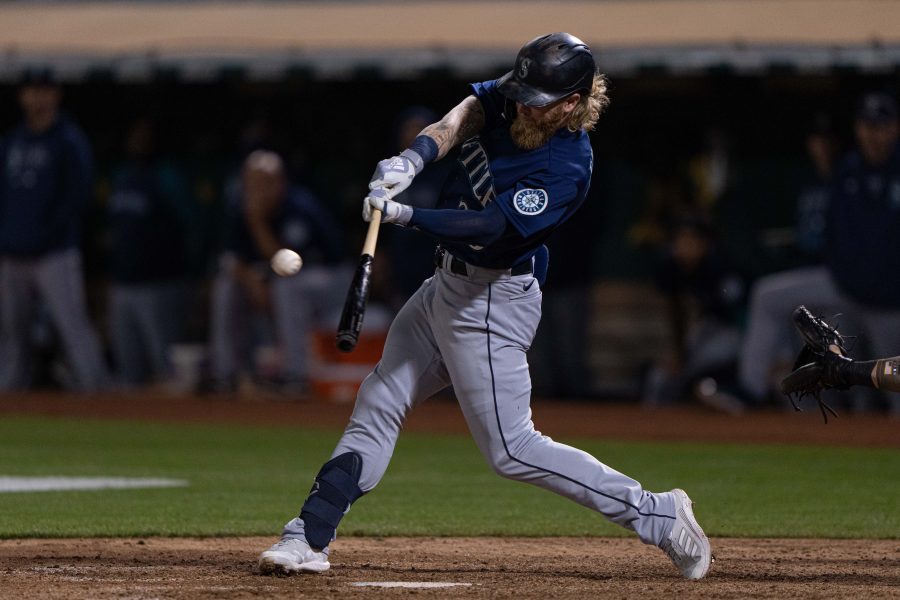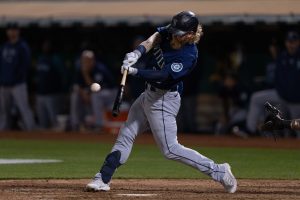 Dunn, meanwhile, is a former first-round pick who went to Seattle from the Mets in the Edwin Díaz/Robinson Canó trade. He's made 25 starts over his three big league seasons, posting a 3.94 ERA in 102 2/3 innings. The 26-year-old's peripherals don't support that kind of run prevention; he's benefitted from an unsustainable .205 opponents' batting average on balls in play and has walked an untenable 15.5% of batters faced. Despite averaging a decent 93.8 MPH on his four-seam fastball last year, he only generated swinging strikes on 9.7% of his offerings (a bit below the 10.9% league mark for starters).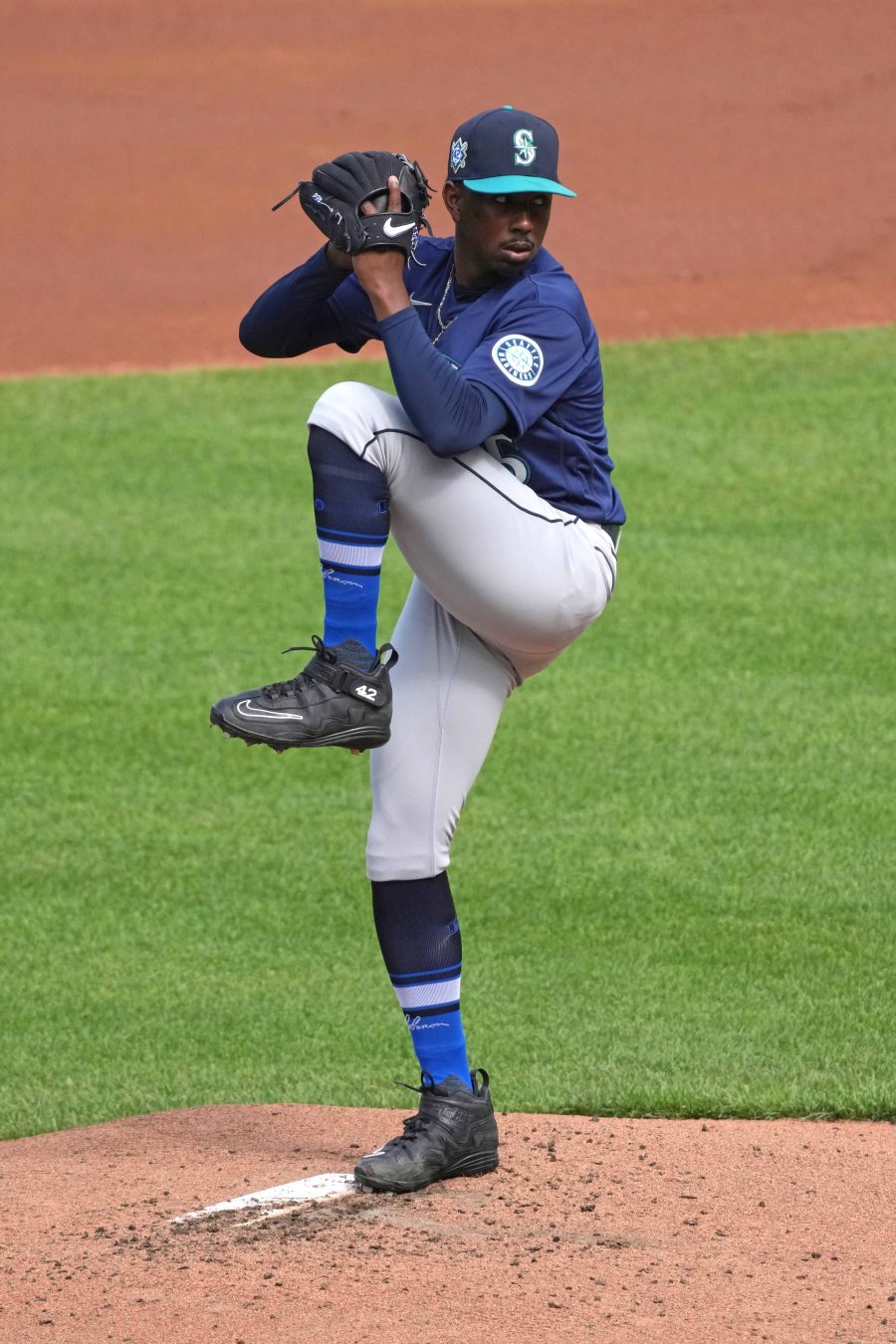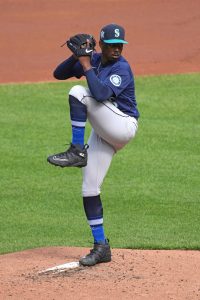 Like Fraley, Dunn is an affordable, MLB-ready piece though. He's controllable through 2025 and won't reach arbitration until next season. If the Reds do move one or both of Castillo and Mahle, Dunn could factor into the back of the rotation immediately. He might also be a candidate for a bullpen transfer — some prospect evaluators have long suggested he'd be a better fit in relief — where he could aid a Cincinnati bullpen that was among the league's worst.
Fraley and Dunn are the more well-known parts of the return, but Williamson is quite likely the player the Reds value most of the trio. A second-round pick out of TCU in 2019, the southpaw has impressed evaluators since getting into pro ball. Baseball America ranked him as the game's #83 overall prospect this winter (fifth in the Seattle system), noting that the 6'6″ lefty can run his fastball into the mid-90s and has a potential 70-grade curveball on the 20-80 scouting scale.
BA writes that the 23-year-old could develop into a #3/4 starter. FanGraphs slotted Williamson 61st on their recent Top 100 list, opining that control issues could limit his ability to work deep into games consistently but praising his repertoire and suggesting he could be "dominant" for five-six innings per start. Williamson pitched his way to Double-A last year, working 67 1/3 innings of 3.48 ERA ball with an excellent 33% strikeout rate and a fine 8.1% walk percentage. He seems likely to get a big league look at some point this season and may eventually work alongside college teammate Nick Lodolo in the Reds' rotations of the future.
The Reds also pick up a player to be named later who is reportedly a notable part of the return. Moreover, general manager Nick Krall told reporters (including Mark Sheldon of MLB.com) they plan to reinvest some of the money they saved in free agency. Cincinnati fans may roll their eyes at their assertion, given the club's cost-cutting efforts to date, but Krall reasserted that this was not going to be a multi-year teardown.
The deal offers a major shakeup to both organizations. The M's continue to push forward in an effort to hang with the Astros (and perhaps the Angels) at the top of the AL West. The Reds' hopes of contending were dealt another blow, but the front office continues to maintain they're not punting on the 2022 campaign. Whether Cincinnati's future moves back up that assertion remains to be seen, but there'll be no shortage of demand if they turn their attention to trading away either Castillo or Mahle.
Jeff Passan of ESPN first reported the Mariners were acquiring Winker. Mark Feinsand of MLB.com reported the Mariners were acquiring Suárez and that the Reds were acquiring Fraley, Williamson and Dunn. Joel Sherman of the New York Post reported that Seattle was taking on the entirety of Suárez's contract. Ken Rosenthal of the Athletic reported the Reds were acquiring a player to be named later who "enhances" the quality of their return.
Images courtesy of USA Today Sports.