December 21: Judge will make even salaries of $40MM throughout the course of the deal, per Jon Heyman of The New York Post.
December 20: The Yankees have made it official today, announcing the deal.
December 7: The reigning American League MVP isn't going anywhere. Free-agent outfielder Aaron Judge has agreed to terms on a new contract with the Yankees, reports Jon Morosi of MLB.com. The deal, which is still pending a physical, will guarantee Judge $360MM over a nine-year term, reports Ken Rosenthal of The Athletic.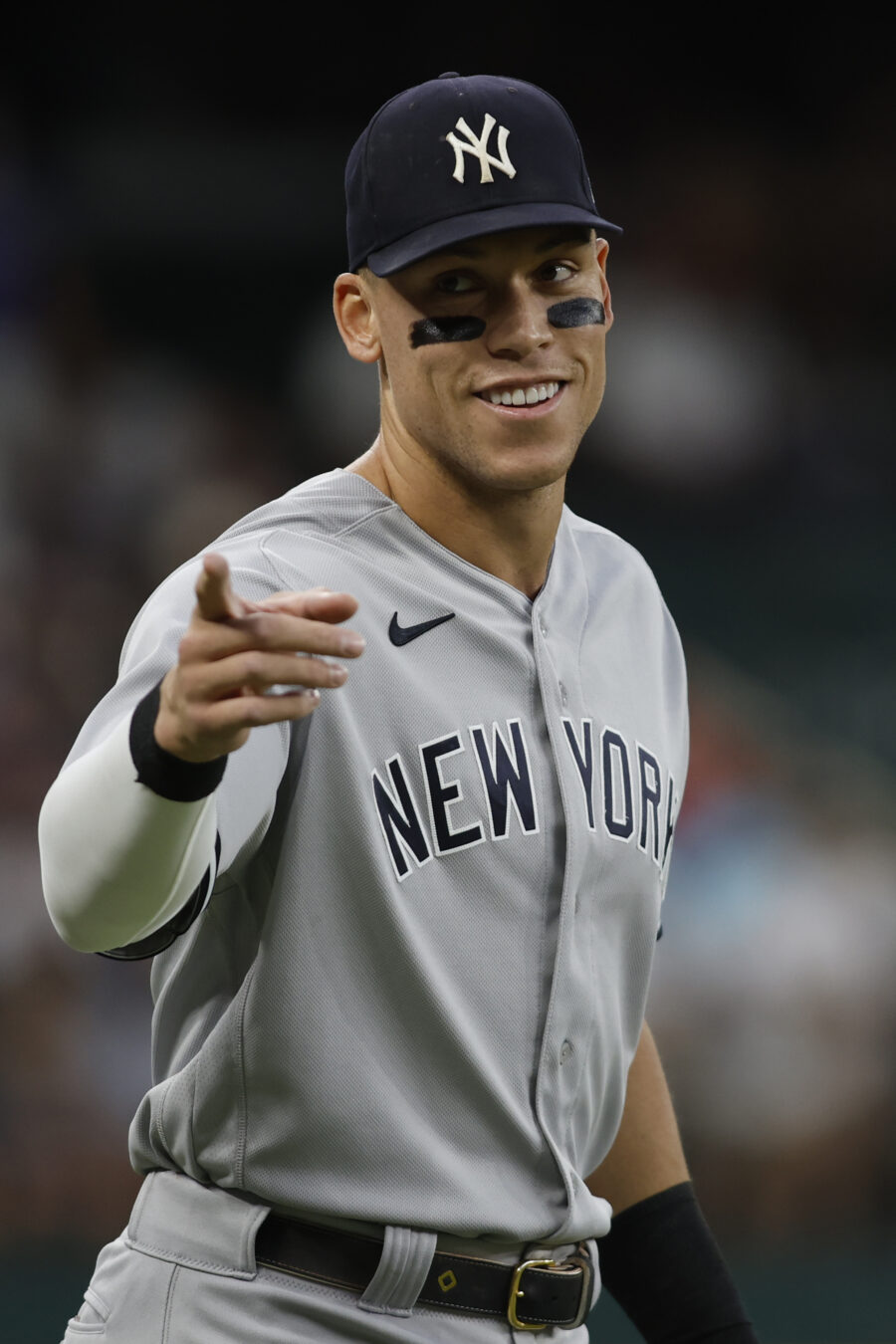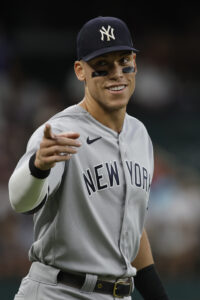 It's the largest free-agent contract in MLB history, handily topping Bryce Harper's previous $330MM record. The $40MM average annual value on the contract establishes a new record among position players and trails only the matching $43.333MM AAVs of Max Scherzer and Justin Verlander — both of whom are on shorter-term deals — for the largest in MLB history. Judge is represented by Page Odle of PSI Sports Management.
Judge's decision to remain in New York puts an end to a weeks-long saga that saw him primarily fixated on the Yankees and Giants, his two most serious suitors from the moment he rejected a qualifying offer issued by the Yankees. The Giants were reported to have made a similar offer yesterday, and Morosi tweets that Judge turned down higher offers after ultimately deciding he preferred to remain a Yankee. The Padres, notably, made a late offer worth a reported $400MM in an attempt to woo Judge, albeit to no avail. Judge will now likely spend his entire career in Yankee pinstripes, as the new contract will run through his age-39 season.
Judge famously bet on himself heading into the 2022 season, turning down a seven-year, $213.5MM extension offer from the Yankees in Spring Training. General manager Brian Cashman took the uncommon step of announcing the terms of the Yankees' final offer to the public. While that unorthodox tactic upset Judge — as the outfielder himself has since publicly stated — it also leaves no doubt as to the numbers that were offered and thus gives a clear window into just how much the 2022 MVP gained in betting on himself. Judge's gamble drew some scrutiny, but in the end, he secured an additional two years and a jaw-dropping $146.5MM — a 68.6% increase over the originally proposed guarantee.
It's a massive win for Judge — one that was earned on the heels of a season the likes of which baseball fans have not seen since Barry Bonds dominated during the steroid era. Judge led the Majors in home runs, runs scored, RBIs, on-base percentage, slugging percentage and total bases, finishing out the year with a comical .311/.425/.686 batting line and a new American League record of 62 home runs.
It's nearly impossible to draw up a better platform season for a free agent. Judge not only captivated baseball fans but caught the attention of sports fans everywhere while chasing down Roger Maris' longstanding record, evidenced by being named Time Magazine's Athlete of the Year. Judge thrived in a national spotlight with the game's highest-profile team and also almost singlehandedly prevented a second-half collapse by the Yankees. Judge mashed at a .349/.502/.784 clip following the All-Star break, belting 29 home runs and reaching base in more than half of his 307 plate appearances. The rest of the lineup, meanwhile, looked utterly lifeless in the season's final months; non-Judge Yankees hitters combined for a disastrous .223/.292/.360 slash after the All-Star break.
Those heroics simultaneously pushed the Yankees to a division crown in the AL East (thus landing them a first-round bye in the newly expanded playoff format) and painted a gruesome picture for Cashman and owner Hal Steinbrenner of just what a Judge-less Yankee team might look like moving forward. While Judge finally went cold with a 1-for-16 slump in a brutal ALCS that saw his team score just nine total runs in a sweep at the hands of the eventual-champion Astros, it's unlikely the Yankees would've even reached that point had he not put the team on his back in such dramatic fashion.
By measure of wRC+, which weights for a hitter's league environment and home park, Judge was 107% better than an average big league hitter in 2022. It's the highest single-season mark any qualified hitter has posted since Bonds in 2004, and if you prefer to set Bonds aside for PED reasons, Judge's 2022 wRC+ is the best of any hitter since Ted Williams in 1957. There's no overstating just how remarkable his 2022 season proved to be.
Of course, Judge is hardly a one-year wonder. Setting aside some struggles in a brief 2016 call-up that saw him tally just 95 plate appearances, the former No. 32 overall draft pick has been one of baseball's best hitters for the past six seasons. A 52-homer campaign in 2017 earned Judge not only a unanimous selection as the American League Rookie of the Year but also a second-place finish in AL MVP voting. Injuries impacted each of his next three seasons, however. Judge missed nearly two months in 2018 when he fractured his wrist upon being hit by a pitch, and he missed time in 2019-20 with a severe oblique strain and a pair of calf strains.
Over the past two seasons, however, Judge has appeared in 94% of the Yankees' games and been among the game's very best players in the process. In addition to his 2022 MVP win, he earned a fourth-place finish in MVP balloting in 2021 after slashing .287/.373/.544 with 39 home runs. Virtually every batted-ball metric under the sun supports the notion that Judge is a generational talent at the plate. He led the Majors in average exit velocity, hard-hit rate and max exit velocity in each of the past two seasons, according to Statcast, which also ranks Judge as MLB's leader in "expected" slugging percentage and weighted on-base average in that span.
Judge's power profile is so prodigious that it's easy to overlook his defensive skill set, but doing so would undersell his all-around value. Listed at 6'7″ and 282 pounds, Judge might draw the assumption that he's a plodding slugger who's a liability with the glove, but that's in no way reflective of reality. To the contrary, Judge's 61 Defensive Runs Saved since his Major League debut tie him for eighth among all MLB players, regardless of position. Statcast placed his sprint speed in the 50th percentile among MLB players in 2022, while his arm strength landed in the 93rd percentile. Judge will surely slow down over the life of the contract, but at least for the time being, he's even a viable option in center field, where he logged a career-high 632 innings this past season and turned in above-average marks in DRS, Ultimate Zone Rating and Outs Above Average.
Since Judge's first full season came at age 25 and he's set to turn 31 early in the first season of his new contract, it's easy to see why the Yankees initially tried to limit the contract to a seven-year term.  Instead, Judge's legendary 2022 campaign pushed them to compete with other teams in free agency and offer a nine-year contract that will carry him through age 39.  Long-term contracts paying even through age 38 have been exceedingly rare in the last decade.  Arguably the only other player who's done that without compromising on the average annual value is Mike Trout, who tacked on ten years and $360MM in a March 2019 extension.  In contrast, Phillies-for-life Bryce Harper and Trea Turner accepted AAVs of $25.4MM and $27.3MM, respectively.
Judge's aging curve will be an issue for another day.  Looking at financial component of this agreement for 2023, it comes at an even larger cost to the Yankees than the bottom-line, $360MM guarantee. New York was about $5.8MM shy of the luxury-tax barrier prior to agreeing to terms with Judge, as projected by Roster Resource, and his $40MM AAV now catapults them into the second tier of luxury penalization.
As a second-time offender, they're subject to a 30% tax on the first $20MM by which they exceed the luxury threshold and a 42.5% tax for the next $20MM. They'll pay a 75% tax on the next $20MM by which they exceed the threshold and a 90% tax on every dollar spent thereafter. Judge bumps the Yankees to a projected $267.2MM worth of luxury obligations, meaning if the Yankees called it an offseason right now, they'd be on the hook for approximately $12.035MM in penalties. That seems unlikely, however, and any further additions will come with substantial taxes, as New York now sits $5.8MM shy of the third tier of penalties (and the aforementioned 75% tax rate). The Yankees have been reported to hold strong interest in free-agent ace Carlos Rodon, though it's not clear whether Steinbrenner has the appetite for a $40MM AAV on Judge and an AAV approaching or even exceeding $30MM for Rodon.
It's possible, if not likely, that they'll look to get out from underneath the remainder of their onerous commitments to Josh Donaldson or Aaron Hicks via the trade market, but the Yankees would need to pay down a substantial portion of either player's salary to facilitate such a trade (or take on another bad contract in return). There's also been speculation about the Yankees possibly dealing from their sizable arbitration class, with infielder Gleyber Torres a commonly cited possibility.
Judge's enormous AAV not only makes the Yankees a lock to repeat as a second-time luxury payor — it also makes them quite likely to be a third-time offender in 2024, when they're already projected for nearly $170MM in luxury obligations. That figure doesn't include any of the team's arbitration-eligible players, and any multi-year additions this winter will increase that number. With Luis Severino, Frankie Montas and Harrison Bader all set for free agency following the 2023 campaign, the Yankees will likely be on the lookout for both rotation and outfield help in the next 12 to 15 months.
Those moving parts coalesce to demonstrate how quickly the Yankees' luxury figure could balloon. Teams crossing the luxury tax for the third consecutive season are taxed at rates of 50% (first $20MM), 65% (next $20MM), 95% (next $20MM) and 110% (all dollars thereafter).
All of that is secondary to the Yankees, however, who entered the offseason hell-bent on retaining the league MVP and burgeoning franchise icon. They went to record-setting levels in order to make it happen, furthering the future market for star-caliber free agents in the process, but it's surely a day for celebration in the organization regardless of any down-the-road consequences.
From a broader market perspective, Judge's deal with the Yankees not only puts a bow on one of the highest-profile free agencies in recent memory — it's also likely to serve as a facilitator for a flurry of subsequent moves. So much of the 2022-23 offseason hinged on Judge's decision, that several teams and other top-tier free agents have been reluctant to act.
For instance, with Judge now remaining in New York, the Giants will likely turn their attention to the shortstop market, where they reportedly have Carlos Correa atop their list of targets. The Twins have been angling to re-sign Correa, but it was always in Correa's best interest to see if the Giants might miss on Judge and jump into the bidding. If Correa departs Minnesota, the Twins reportedly view Xander Bogaerts as their top fallback option. As with Correa, then, it was in Bogaerts' best interest to know where Judge landed before he made any sort of decision. All the while, the Red Sox have been hoping to keep Bogaerts, just as the Braves have been hoping to keep Dansby Swanson. But the Cubs, Dodgers and Cardinals have each been tied to the shortstop market, and the Padres have been aggressive in trying to add a marquee player of any shape or size and clearly still have money to spend.
The previously mentioned Rodon, too, likely needed to wait on Judge, given the Yankees' interest. And it's feasible that the next tier of free-agent pitchers, including Chris Bassitt and Kodai Senga, prefer to wait until Rodon comes off the board so that they can stand as the two top options and perhaps have increased leverage among rotation-hungry teams.
Viewed through that lens, Judge's contract is far more than a watershed moment in Yankees franchise history, it's a catalyst that'll set off a chain reaction of franchise-altering decisions and megadeals throughout the sport — quite possibly within the next few days or weeks. While elated echoes of "All Rise" ring out through the Bronx, things are just getting started for the rest of the league.