Every offseason, rebuilding clubs take one-year fliers on formerly productive veterans coming off bad seasons. They're generally minimal financial commitments that afford the player a fresh start with a path to regular playing time. In most instances, the team is hoping the player puts together a strong first half that turns them into a reasonably valuable trade candidate come deadline season.
The hit rate on deals of this nature isn't particularly high. Most players don't rebound as hoped. Wil Myers was designated for assignment by the Reds. Pierce Johnson hasn't panned out for the Rockies. Ditto for Trevor May in Oakland and Corey Dickerson and Dominic Smith in Washington. The Nationals will happily live with a couple misses in exchange for one notable hit, and they found it in third baseman Jeimer Candelario.
Candelario looked like a potential building block for the Tigers a few seasons ago. He led MLB in doubles two seasons back and combined to hit .278/.356/.458 in over 800 plate appearances between 2020-21. Even with generally middling defensive marks, he was a productive regular based on his well-rounded profile at the plate.
Things cratered for him last season. Candelario managed only a .217/.273/.361 slash over 467 trips to the dish. His walks fell to a career-worst level as he chased more pitches outside the strike zone. The contact quality similarly regressed sharply. It was essentially a replacement-level season overall. The entire Tigers lineup was a disaster, leading to a front office change in August. New baseball operations leader Scott Harris and his staff moved on from Candelario, declining to tender him an arbitration contract projected in the $7MM range.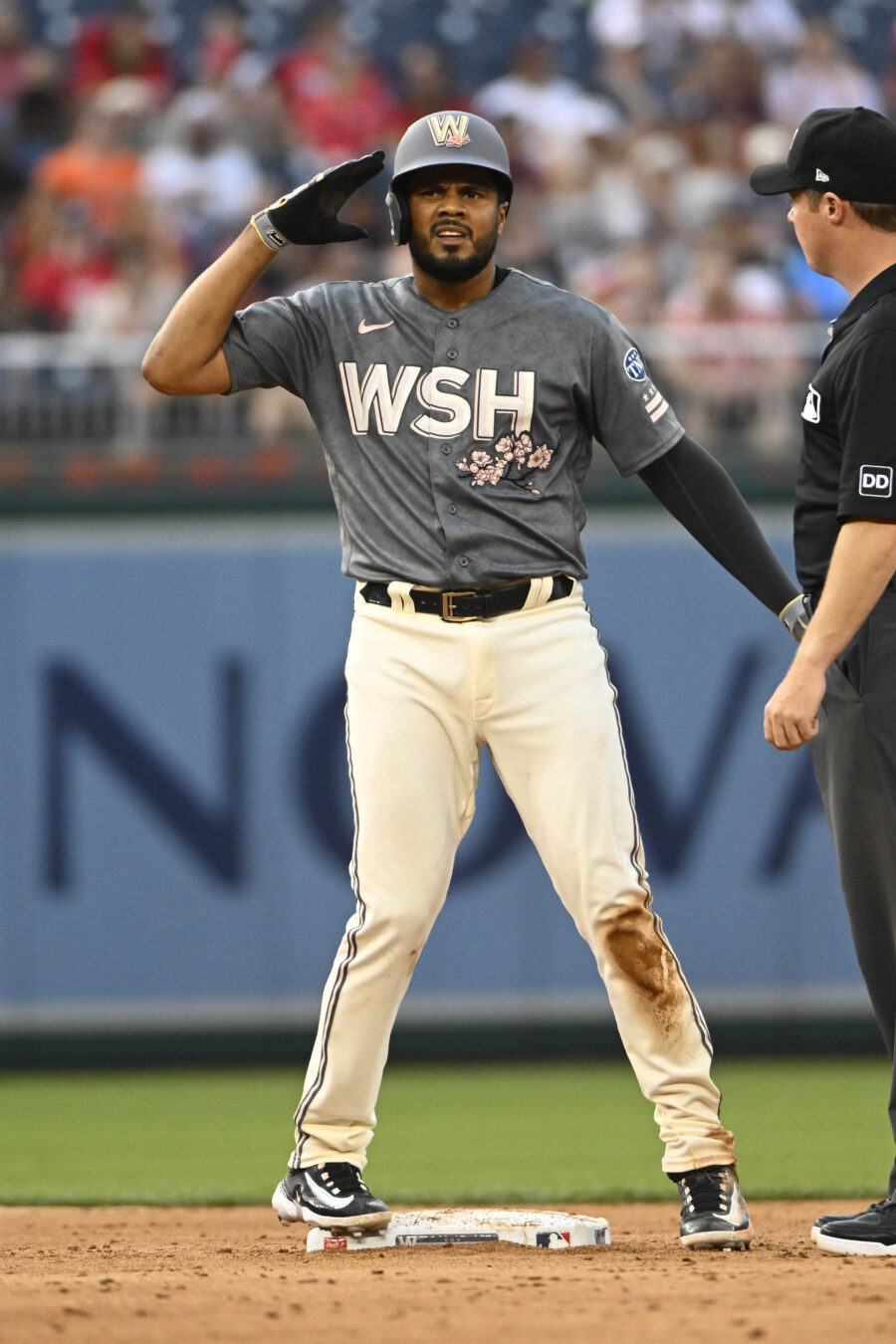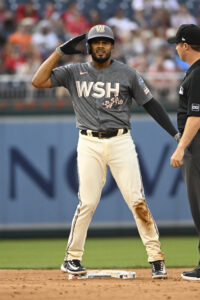 That sent him to free agency for the first time. Washington stepped in with a one-year, $5MM guarantee that contained $1MM in additional incentives ($200K for reaching 200 plate appearances and $100K thereafter for each 100 trips to the plate, maxing out at 600). Carter Kieboom opening the season on the injured list ensured Candelario would get regular run at the hot corner in the early going.
He has seized the opportunity with a performance essentially in line with his 2020-21 production. Candelario has a .263/.338/.471 line with 10 home runs over 325 plate appearances. He's tied for second in MLB with 26 doubles. Candelario has dialed the approach back in, cut down slightly on the swing-and-miss, and pushed his exit velocities back up a couple ticks.
Candelario has paired that with better than expected defensive grades. Defensive Runs Saved and Statcast have pegged him between three and five runs better than average over 662 1/3 innings of third base work. It's the first time since 2020 in which he has rated as an above-average defender. Single-season defensive metrics can be variable, but Candelario looks to be a capable gloveman at the hot corner, even if he's unlikely to win a Gold Glove.
Nothing in his offensive production is dramatically out of line with his best years in Detroit. In a broad sense, he just seems to have put last year's awful season behind him. There is one notable change from Candelario's early-career production, though: the platoon splits.
For his career, he'd generally been better from the right side of the dish. Candelario entered this season with an overall .270/.329/.438 batting line against southpaws compared to a .230/.320/.388 showing versus right-handed pitching. The script has flipped this year. Candelario has a .279/.350/.537 line against righties and is hitting only .227/.313/.318 off left-handers.
That probably won't change front offices' opinions on him too much. This year's platoon splits are very small samples; he has only 99 plate appearances against southpaws. He's probably not going to keep teeing off on right-handers at quite this level and he'll presumably see his production against lefties pick back up. He's not the cleanest fit for a team seeking a strict platoon bat, but he's shown enough from both sides of the plate throughout his career he'd be a fine plug-and-play regular at the hot corner.
It seems very likely he'll be donning a new uniform five weeks from now. He surpasses the six-year service threshold this season and is headed back to the open market next winter. Candelario has played well enough the Nats could at least consider a qualifying offer if they held onto him. There'd be a strong chance he accepts, though, which would keep him in Washington for another season at a salary around four times greater than this year's figure.
It's hard to envision Candelario having more trade value for Washington than he does right now. Not only is he affordable and productive, this year's market for offense could be very thin. The upcoming free agent class is extremely light on position players, reducing the number of productive rental bats available. That's especially true on the infield. The Blue Jays almost certainly won't trade Matt Chapman, positioning Candelario as the top impending free agent infielder who's likely to be on the trade market.
Teams like the Marlins, Phillies, Cubs (where Candelario began his career) and Diamondbacks haven't gotten much production out of third base. The Astros have Alex Bregman at the hot corner but are looking for another bat, preferably one who can hit from the left side. Candelario could factor in at first base or designated hitter in that scenario. The Brewers have some uncertainty at both corner infield spots.
If Candelario finishes the season strong, he should be able to leverage that infield scarcity into a solid multi-year free agent deal. A trade would kill any possibility of him being saddled with draft pick compensation — players moved midseason cannot receive a qualifying offer — and he'll hit the market at age 30. A three or maybe even four-year deal with annual salaries north of $10MM doesn't seem out of the question.
Candelario's stint in Washington will probably be brief, but it's shaping up exactly as intended for both parties. The Nats look positioned to add a couple mid-level prospects to their farm system, while Candelario is parlaying his opportunity into a much more lucrative free agency trip.
Image courtesy of USA Today Sports.