The Pirates selected LSU right-hander Paul Skenes with the first overall pick of the 2023 amateur draft.  The 21-year-old Skenes joins Henry Davis (2021), Gerrit Cole (2011), Bryan Bullington (2002), Kris Benson (1996), and Jeff King (1986) as players selected by Pittsburgh as the first overall pick.  FanSided's Robert Murray was the first to report that Pittsburgh was taking Skenes.
In a draft class that is heavier on position players in the top tier, Skenes has long stood out as the best pitcher of this year's prospects, and one of the favorites to go first overall.  MLB Pipeline ranked Skenes as the top overall draft prospect of 2023, while Baseball America ranked him second (behind LSU teammate Dylan Crews) and Fangraphs, The Athletic's Keith Law, and ESPN's Kiley McDaniel all had Skenes third.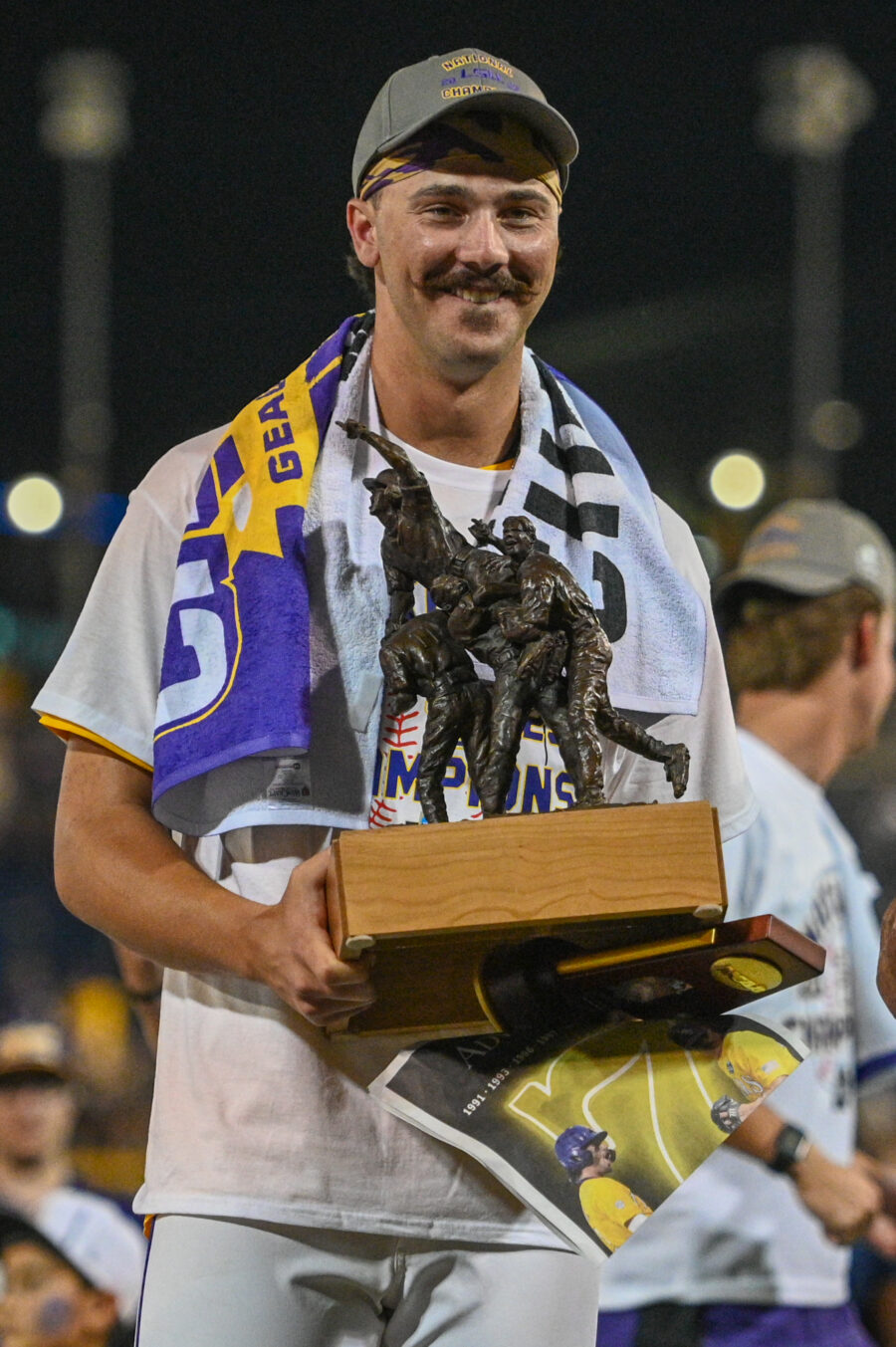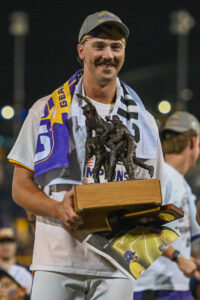 The pundits are unanimous in their praise for Skenes' fastball (which touches 100 mph) and slider, which are both considered plus-plus pitches.  Relying mostly on this two-pitch arsenal, Skenes dominated collegiate batters, helping lead LSU to the College World Series title.  His changeup is a bit more of a work in progress simply because Skenes hasn't thrown it all that much, but Pipeline's scouting report describes the pitch as "88-93 mph with fade and is a solid offering when he lands it in the strike zone."  Skenes has strong command of his pitches, and he has a classic pitcher's build at 6'6 and 235 pounds.  If this wasn't enough, Skenes was also an excellent hitter while playing as a catcher before he focused entirely on pitching — while there hasn't been any two-way speculation, it at least speaks to Skenes' athleticism.
The Pirates earned the top pick via the first-ever MLB Draft Lottery, which took place last December at the Winter Meetings.  In an effort to combat tanking, the lottery was instituted in the new Collective Bargaining Agreement as a new method to determine the top six picks in the draft order.  All 18 of the non-playoff teams technically had a shot at earning a top-six pick, though naturally teams with worse records had better chances of landing one of those top spots.  The Nationals and Athletics each had worse records than the Pirates' 62-100 mark in 2022, but it was Pittsburgh who lucked out and landed the first overall pick.
The Bucs' rebuild has made them regulars near the top of the draft in recent years, but between these selections, their additional picks later in the draft, international signings and prospects picked up in trades, the Pirates are hopeful that their young core is getting ready to turn the franchise around.  We saw some hints of promise with the Pirates' excellent 19-9 record in April, though their subsequent struggles indicate that Pittsburgh's true breakout might be at least one more season away.
With light perhaps at the end of the rebuilding tunnel, the Pirates certainly hope that this is the last time they'll have such a high pick (barring some major lottery luck) in the foreseeable future.  This makes Skenes an even more important prospect as perhaps the last consensus blue-chipper the Pirates might be selecting in the coming years, and he immediately becomes the club's most prized pitching prospect.  Since Ben Cherington was hired as Pittsburgh's GM in November 2019, his front offices have favored position players with their top picks — Nick Gonzales seventh overall in 2020, Davis first overall in 2021, and Termarr Johnson fourth overall last year.
The first overall pick has an assigned slot value of $9,721,000, and it remains to be seen if finances might have played some role in Pittsburgh's choice of Skenes.  Crews was rumored to be wanting an above-slot signing bonus, so taking Skenes might have been a better financial fit for the Pirates, plus Skenes was in no way a reach at 1-1.  With a $16,185,700 bonus pool to work with, the Bucs have plenty of flexibility to sign Skenes and spread some money around to other highly-touted prospects further down the board.
Photo courtesy of USA Today Sports Images