Enrique Hernandez is back with the Dodgers. Los Angeles announced they've acquired the utilityman (along with cash considerations) from the Red Sox for relievers Nick Robertson and Justin Hagenman. Boston is reportedly paying down $2.5MM of the approximate $3.6MM remaining on Hernandez's contract.
Hernandez, 31, is struggling through one of the worst seasons of his career, batting just .222/.279/.320 in 323 plate appearances. The offseason injury of Trevor Story — which required elbow surgery — prompted the Sox to move Hernandez from center field to shortstop. The results weren't pretty, with Hernandez returning to a position he'd barely played since 2018 and posting some of the lowest defensive grades of any player at any position (-6 Defensive Runs Saved, -13 Outs Above Average in just 484 innings).
The extent to which the defensive struggles also impacted Hernandez's mindset at the plate can't be known, but his production hasn't dipped to this level since the 2016 season. He's hitting .260 against left-handed pitching — albeit with a lowly .314 OBP and .338 slugging percentage — but has been a nonfactor against right-handed pitching (.209/.266/.314).
Struggles on both sides of the ball notwithstanding, Hernandez is a career .259/.346/.465 hitter against southpaws. The Dodgers will hope that a return to the team he called home for the majority of his career can bring about a turnaround at the plate and/or on the field. Los Angeles has hit well against lefties as a team, but that's generally been in spite of poor production from a cast of outfielders that has looked lost against southpaws.
All of David Peralta, Trayce Thompson and Jason Heyward have struggled in that regard. James Outman is getting on base at a .366 pace against lefties but not hitting for power and striking out at a 34% clip. Chris Taylor has gotten on base at a lowly .268 rate but at least hits lefties for power.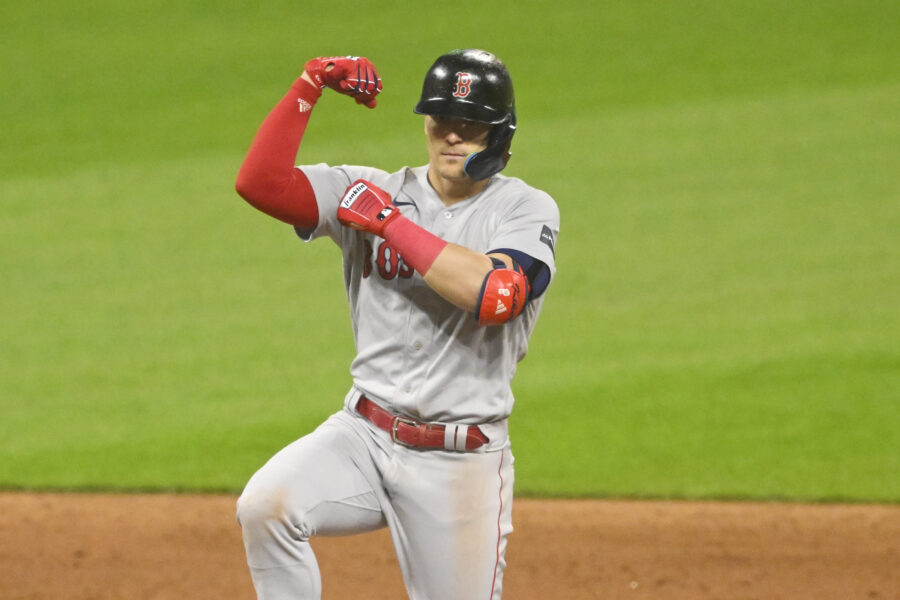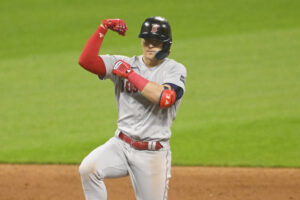 There's no guarantee that Hernandez will improve the team's overall production against southpaws, but he's a low-cost roll of the dice as a bench player who's had success in just this type of limited role before — with this very team, no less. Given that the Dodgers have been cycling through journeyman like Yonny Hernandez and Jake Marisnick on the bench, there's some sense to seeking lower-cost stability. Hernandez figures to be a boon in the clubhouse at the very least, and any big early hits following the swap will clearly be well-received by a fanbase with which he was popular during his last tenure. There's minimal risk in displacing Hernandez, though the Dodger faithful will surely be hoping this trade is merely a footnote among a larger slate of deadline transactions rather than a focal point of the front office's approach to upgrading the roster.
For the Red Sox, with Story nearing a return, they'll subtract Hernandez from their glut of middle-infield and outfield options. Jarren Duran's emergence in center field put a serious dent in Hernandez's role with the team — particularly with Masataka Yoshida and Alex Verdugo locked into the corners. Yu Chang is a more versatile infield defender, meanwhile, and the Sox apparently prefer to continue giving the more controllable Christian Arroyo opportunities over Hernandez — a pending free agent playing on a one-year, $10MM contract extension he signed last winter.
Per Roster Resource, the Dodgers had a $228MM payroll and $245MM luxury-tax bill prior to the trade. Tacking on roughly $1.1MM won't put them anywhere near the third tier of luxury-tax penalization, which begins at $273MM and is the point at which teams see their top pick in the following year's draft pushed back by 10 spots. As a third-time luxury tax offender in the midst of the first penalty bracket, the Dodgers would pay a 50% dollar-for-dollar tax on all overages. As such, Hernandez's remaining $1.1MM actually amounts to about $1.65MM in terms of total expenditure.
In return for picking up the bulk of the tab, Boston lands a couple pitchers who add desired right-handed middle relief depth. Robertson, 25, is on the 40-man roster and has made nine big league appearances for Los Angeles this season. The rookie righty has allowed 10 runs (seven earned) over his first 10 1/3 frames. He's fanned 13 against four walks, though, missing bats at a decent 11.4% clip. Robertson is a fastball-changeup pitcher who has averaged a little under 95 MPH on his heater in his brief MLB look.
He's having an excellent year in Triple-A. Over 28 1/3 innings with the Dodgers' top affiliate in Oklahoma City, the 6'6″ hurler owns a 2.54 ERA. Robertson has punched out an excellent 37.5% of batters faced at the top minor league level, where he's also inducing grounders on half the batted balls he allows. The former seventh-round pick owns a 3.54 ERA with a 30% strikeout rate over parts of four minor league campaigns. He'll start his Boston tenure on optional assignment to Triple-A Worcester but could be recalled to work out of the big league bullpen at any point.
Hagenman has never played in the majors. Like Robertson, he's having a strong year in Triple-A. Through 55 innings spread over 25 appearances, the 26-year-old righty has a 2.78 ERA. He's punching hitters out at a solid 27% clip while keeping his walks to a tidy 5% rate. The Penn State product went unselected in last year's Rule 5 draft after posting a 6.08 ERA in Triple-A; he'd be eligible for the Rule 5 again next winter but has a good chance to earn a spot on the Sox's 40-man roster before then after his much better second season at the top minor league level.
David Vassegh of SportsNet Los Angeles noted this afternoon the Sox and Dodgers were discussing Hernandez trades. Ken Rosenthal and Fabian Ardaya of the Athletic first reported the Dodgers were acquiring Hernandez. Alex Speier of the Boston Globe reported the Red Sox would receive two upper minors relief pitchers. Chris Cotillo of MassLive first suggested Robertson and Hagenman were potentially involved in the deal. Tom Caron of NESN confirmed Hagenman's inclusion, while Jeff Passan of ESPN first confirmed the package was Robertson and Hagenman. Speier was first to report the cash considerations.
Image courtesy of USA Today Sports.