Shohei Ohtani has been diagnosed with a tear in the ulnar collateral ligament of his pitching elbow, general manager Perry Minasian told reporters (including Rhett Bollinger of MLB.com). He will not pitch again in 2023. It isn't clear if he'll require surgery; Jeff Fletcher of the Orange County Register writes that Ohtani is seeking a second opinion before making that decision.
Ohtani started the first game of today's doubleheader against the Reds. He departed in the second inning with what the team initially announced as arm fatigue. Minasian told the Halos' beat that he underwent imaging between games and learned of the ligament damage. He nevertheless played in the nightcap as the designated hitter, going 1-5.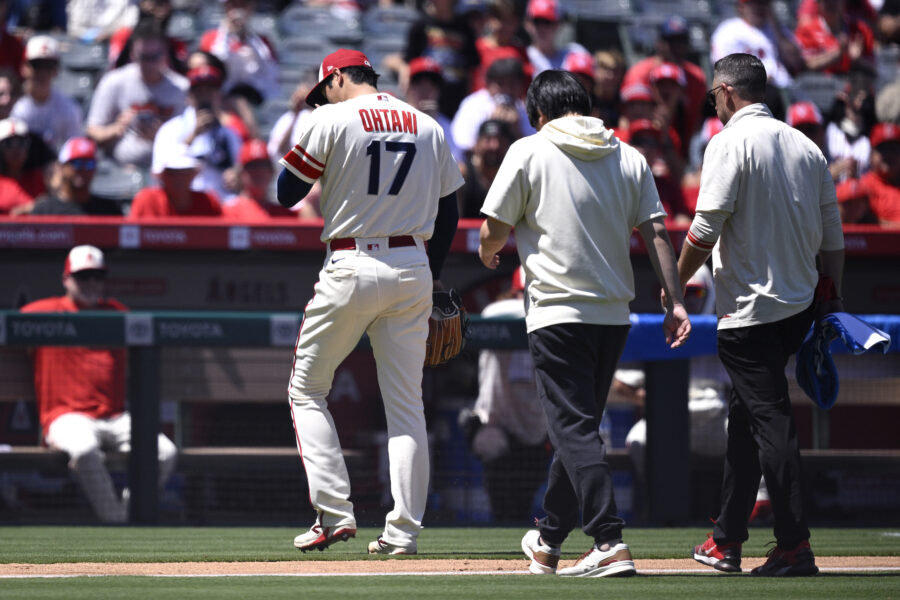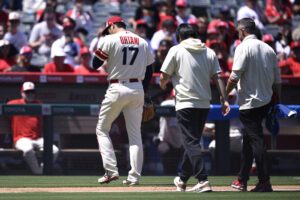 The extent of the injury isn't clear. A full tear of the UCL typically requires a complete Tommy John repair. Partial tears can sometimes be resolved by either a less invasive internal brace procedure or by non-surgical rehab altogether. The Angels will surely provide more details on Ohtani's treatment options in the days and weeks to come.
Even if he avoids going under the knife, it's a seismic development for the market's top impending free agent. The two-way superstar has been trending towards shattering the MLB contract record. While that could well still be the case, teams will now have to carefully weigh his arm health in formulating offers.
Ohtani's elbow delayed his emergence as a generational superstar at the MLB level. He was diagnosed with a UCL tear at the end of his debut campaign in 2018. He underwent Tommy John surgery in October of that season, limiting him solely to designated hitter work for the '19 season. Ohtani only pitched twice during the shortened 2020 schedule while battling major command woes. It wasn't until 2021 that he was able to pitch at a top-of-the-rotation level for a full season, securing his first MVP award in the process.
Over the past three seasons, the three-time All-Star has been an ace-caliber hurler. He owns a 2.85 ERA in 427 innings going back to the start of '21. He finished fourth in Cy Young balloting a season ago when he posted a 2.33 ERA while striking out just under a third of opponents in 166 innings.
His pitching performance had taken a slight step back this year, although he was still one of the best in the sport. In 22 starts entering play Wednesday, he'd worked to a 3.17 ERA across 130 2/3 frames. Ohtani fanned an excellent 31.4% of batters faced but battled some inconsistency in his command, walking 10.3% of opponents.
That's of course only half the story. As was the case after his first UCL injury, he'll be able to continue working as a designated hitter. He has been the best offensive player on the planet this year. Ohtani is hitting .304/.405/.664 through 556 plate appearances. He leads the majors with 44 homers, handily leads qualified batters in slugging and trails only Ronald Acuña Jr. and Freddie Freeman in on-base percentage.
Even were Ohtani strictly a hitter, he'd have a strong argument to win AL MVP. His pitching accomplishments make that honor a lock. He'll remain the clear #1 free agent in next winter's class even if surgery winds up being necessary. A DH-only version of Ohtani, if it comes to that, would still be far and away the best player on the open market. Yet there's no doubt the elbow injury makes him a tougher evaluation for clubs. Not only might there be a possibility that Ohtani is unable to pitch for part of next season, teams will have to attempt to project how deep into his career he's capable of carrying a workload unprecedented in modern baseball.
How the injury affects Ohtani's market value will become clearer a few months from now. In the short term, he'll remain in the batting order as a DH. Even if his offensive performance is no worse for wear, that'll be a modest consolation for an organization that couldn't have drawn up a worse August.
Since pushing in two of their top prospects for Lucas Giolito and Reynaldo López at the trade deadline, the Halos have gone 9-18. They're a season-worst six games under .500 after being swept by the Reds. Their playoff hopes had all but evaporated even before tonight's news both that Ohtani would no longer be able to pitch and that Mike Trout was headed back to the injured list. It has been a staggeringly brutal few weeks even for a franchise no stranger to disappointment.
Image courtesy of USA Today Sports.