11:45am: The Rangers are receiving $750K worth of international allotments in the trade, tweets Mark Feinsand of MLB.com.
11:22am: The teams have formally announced the trade. The international bonus allotments that the Rangers are receiving are coming over from the Athletics; the amount was not specified, though international allotments must be traded in increments of at least $250K, per the collective bargaining agreement.
10:15am: The Athletics, Rangers and Rays have reportedly come to an agreement on a three-team trade that will send infielder Jurickson Profar from Texas to Oakland. Yahoo's Jeff Passan first broke the story. Right-handed reliever Emilio Pagan is headed from the A's to the Rays in the swap, as is Oakland's Competitive Balance Round A selection in next year's draft (currently slotted in at No. 38 overall). The Rangers will send minor league right-hander Rollie Lacy to the Rays, as well.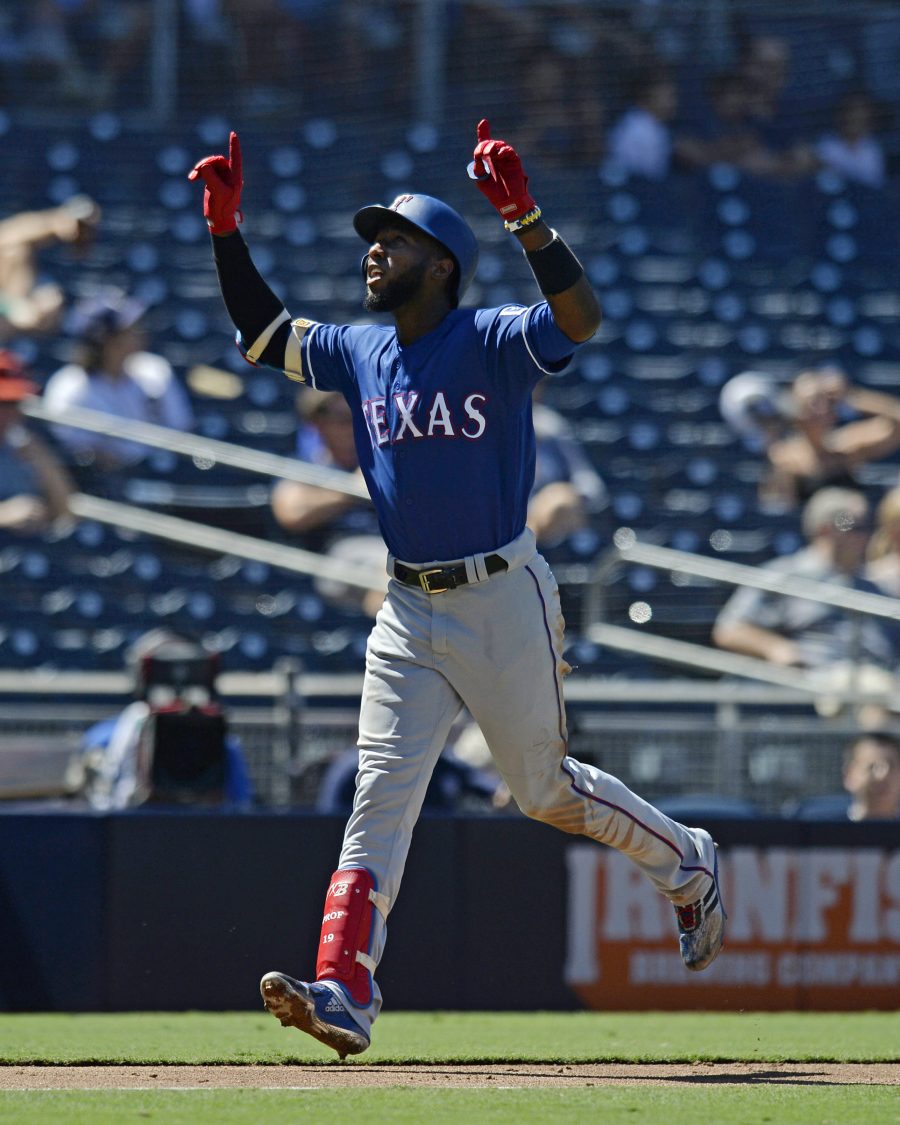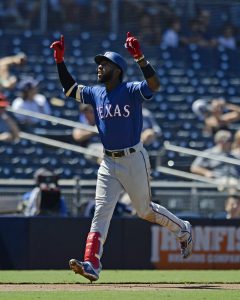 In exchange for Profar and Lacy, the Rangers will receive minor league infielder Eli White from the A's. Additionally, the Rays will send minor league left-handers Brock Burke and Kyle Bird and minor league right-hander Yoel Espinal to the Rangers. Texas will also receive international bonus allotments in the trade.
Presumably, the trade signals that Jed Lowrie's time with the Athletics has come to a close. The Oakland infield is currently full with Matt Chapman at third base, Marcus Semien at shortstop and Matt Olson at first base, meaning Profar's likeliest spot with the A's will be second base. The addition of Profar also brings into question prospect Franklin Barreto's immediate future with the organization, as he'd been the presumptive heir apparent at second base in the event that Lowrie signed elsewhere.
Profar, 26 in February, once rated as the game's top overall prospect but saw is promising future put on hold when a pair of shoulder injuries cost him both the 2014 and 2015 seasons. He struggled in his 2016 return and was a seldom used utility piece in 2017, but Profar finally enjoyed a full, productive season with the Rangers in 2018. Last year, the switch-hitter appeared n a career-high 146 games and tallied a career-high 594 plate appearances, hitting .254/.335/.458 with 20 homers, 35 doubles, six triples and 10 stolen bases along the way.
Because Texas optioned Profar to Triple-A for much of the 2017 season, his overall level of Major League service time was suppressed a bit. As such, he has just under five years of service time, meaning the Athletics will be able to control Profar for both the 2019 and 2020 seasons before he reaches free agency. Profar is projected by MLBTR contributor Matt Swartz to earn just $3.4MM in 2019, so he'll be an affordable means of filling the team's second base need for the next two years — a key factor for the perennially cost-conscious A's, who still need to address their rotation.
The only other Major League piece involved in the trade is the 27-year-old Pagan, who is joining his third organization in three years. He spent just one year in Oakland after being acquired in the trade that sent first baseman Ryon Healy to the Mariners in the 2017-18 offseason. Though he's moved around a fair bit, Pagan has generally had useful big league results. In 112 1/3 innings a a Major Leaguer, he's notched a 3.85 ERA with 9.5 K/9 and 2.2 BB/9.
Though Pagan shows good control and is able to miss plenty of bats, however, he's not without his red flags. The right-hander is among the game's most extreme fly-ball pitchers and has yielded an average of 1.6 home runs per nine innings at the Major League level — neither of which figures to become any easier when moving to the American League East and its cavalcade of hitter-friendly parks (though Tampa Bay's Tropicana Field doesn't necessarily fit that description). For the Rays, the fact that Pagan is well-versed in multi-inning appearances was likely appealing, though. Pagan's 112 1/3 MLB frames have come across 89 total appearances, and the Rays aggressively lean on multi-inning relievers as part of the burgeoning "opener" strategy that worked quite well for them in 2018.
The 23-year-old Lacy will join the Tampa Bay organization after spending only a brief time with the Rangers. Texas acquired Lacy in the July trade that sent Cole Hamels to the Cubs, though his results with the Rangers dropped off a bit from the numbers he posted in the Cubs' minor league system. Some of that surely coincides with a move from Class-A to Class-A Advanced, and it's worth noting that Lacy only totaled 28 1/3 innings in the Rangers' system before the season ended, so it's also a small sample of data. On the season as a whole, the right-hander worked to a 2.97 ERA with 10.0 K/9, 3.1 BB/9 and a ground-ball rate of nearly 60 percent through 109 innings between those two levels this season.
Looking to the Rangers' return, Burke may well be the headliner in the deal. A third-round pick in the 2014 draft, the 22-year-old Burke was the Rays' minor league pitcher of the year this past season and pitched to a 3.08 ERA with 10.4 K/9 and 2.9 BB/9 in 137 1/3 innings between Class-A Advanced and Double-A. The Rays protected Burke from the Rule 5 Draft last month by selecting him to the 40-man roster, and he'll now be added to the Rangers' 40-man in place of Profar.
Bird, 26 in April, split the year between Double-A and Triple-A, where he pitched to a combined 2.39 ERA with 88 strikeouts against 35 walks in 75 1/3 innings of relief work. Like Burke, he was selected to the Rays' 40-man roster last month, meaning he'll join the Rangers' 40-man and give the organization an immediate left-handed bullpen option for the upcoming season. Even if he doesn't break camp with the club, it seems likely that Bird will get an opportunity at some point in 2019.
The 26-year-old Espinal spent the bulk of the '18 season in Double-A Montgomery, where he boasted a huge strikeout rate but demonstrated his share of control issues as well. In 54 2/3 innings at the Double-A level, Espinal notched an impressive 1.98 ERA with 11.7 K/9 but 4.8 BB/9 and a below-average 32.2 percent ground-ball rate. He won't be as immediate of an option as Burke or Bird, but with some Double-A experience already under his belt, he's likely not that far off from MLB readiness.
White, meanwhile, is the lone piece headed from Oakland to Texas in the swap. An 11th-round pick by the A's back in the 2016 draft, White took his already-strong OBP skills to new heights in at the Double-A level in 2018. In 578 plate appearances this past season, the second baseman/shortstop hit .306/.388/.450 with nine home runs, 30 doubles, eight triples and 18 steals.
Yahoo's Jeff Passan reported that Profar had been traded to Oakland and eventually followed up with all of the names and pieces involved in the deal (all Twitter links). USA Today's Bob Nightengale, The Athletic's Ken Rosenthal and the Dallas Morning News' Evan Grant all added some details along the way (all Twitter links).