The Cubs' new front office took a modest approach toward free agency, instead making several aggressive trades with a eye on the long-term.
Major League Signings
International Signings
Notable Minor League Signings
Trades and Claims
Notable Losses
Aramis Ramirez, Carlos Pena, Koyie Hill, Tyler Colvin, DJ LeMahieu, Sean Marshall, Carlos Zambrano, Andrew Cashner, Kyung-Min Na, Chris Carpenter, John Grabow, Doug Davis, Ramon Ortiz, Ryan Flaherty, Marwin Gonzalez    
Jim Hendry and Theo Epstein became GMs within months of each other in 2002, aiming to bring championships to teams with long histories of losing.  Hendry fell short with the Cubs, creating three playoff teams in nine years and failing to reach the World Series.  Epstein reached the playoffs twice as often in the same amount of time with the Red Sox, winning it all twice.  But after missing the playoffs the last two years in Boston — and in epic fashion in 2011 — Epstein was ready for a new challenge and the Sox were willing to let him go with a year remaining on his contract.  Cubs owner Tom Ricketts, long an admirer of the Red Sox model, signed Epstein to a record-setting five-year, $18.5MM contract to become the team's president of baseball operations.
The Cubs-Red Sox connections lasted all offseason.  Both teams interviewed Dale Sveum, with the Cubs bringing him aboard as their new manager.  The teams had difficulty determining what the Red Sox should receive as compensation for Epstein.  Eventually, hard-throwing relief prospect Chris Carpenter was deemed acceptable as the main piece of compensation.
The hiring of Epstein allowed the Cubs to pull off the unthinkable: luring a second standing GM in the Padres' Jed Hoyer.  In two years on the job in San Diego, Hoyer had created a surprising 90-win team in 2010 and crafted one of the game's best farm systems.  Assistant GM Jason McLeod, who led the Red Sox and Padres through many excellent drafts, joined Hoyer and Epstein in Chicago.  With the former Boston trio, Ricketts created a stronger Cubs front office than most thought possible.
With a middling farm system and openings at the corner infield spots, right field, and the rotation, the new Cubs front office had their work cut out for them.  The team had offseason payroll flexibility, but Epstein and company recognized the team is a long shot for 2012 contention.  They attacked the roster by balancing short and long-term acquisitions.
The Cubs flirted with star first base free agents Albert Pujols and Prince Fielder, but it's unclear whether they were ever serious.  Ultimately, the team's modest free agent approach brought in DeJesus on a two-year deal and Maholm, Wood, and Johnson on one-year pacts.  The Cubs secured club options on Maholm and Wood, making them possible two-year signings, while DeJesus has a third-year option.  Given the lack of offense he provided the Athletics, DeJesus didn't come at a bargain price for the Cubs.  Still, the 32-year-old will be worth the money if he bounces back in his first extended National League exposure.  Maholm adds depth to what had been an extremely shallow 2011 rotation.  He's a back-end type starter, but the Cubs limited risk with a one-year deal.  The same applies to Kerry Wood, a fan favorite.
The Cubs' ho-hum free agent acquisitions were countered by several aggressive trades.  Re-signing 33-year-old Aramis Ramirez on a pricey three-year deal didn't make sense for the Cubs.  Instead Epstein and Hoyer made a change-of-scenery deal with the Rockies, sending Colvin for Stewart as the trade headliners.  Stewart, 27 in April, is a former first-round pick who is potentially under team control through 2014.  He'll be an upgrade over Ramirez defensively, and provides pop against righties.  He's likely to strike out plenty, struggle against southpaws, and spend some time on the DL, however.  Those warts made Stewart available, but given the internal and external third base alternatives, he's a decent flyer.
By trading Marshall to the division-rival Reds, Epstein and Hoyer attempted to add some long-term pieces in exchange for one year of an elite reliever.  Travis Wood, 25, could reside in the middle of the Cubs' rotation for the next five years.  ESPN's Keith Law sees Wood as a potential league-average starter, though the flyball-prone lefty has work to do to return to that point.  He seems unlikely to make the Cubs' 2012 Opening Day rotation.  Sappelt profiles as a future fourth outfielder, while the 5'7" Torreyes is far from the Majors and could be a singles-hitting second baseman in the best case.  A controlled, useful starter plus other pieces will always beat one year of a reliever in a value sense, though I wonder if the Cubs should have aimed for at least one player with more upside in this trade. 
I discussed unloading Carlos Zambrano in August, with the expectation that the Cubs should expect a low-value player in return.  Zambrano came with temper-related baggage, declining performance, and a huge salary.  Getting Volstad was a huge win.  The groundballing 25-year-old seemed to quietly come into his own last year, posting a 3.84 SIERA in 165 2/3 innings.  There's a legitimate case to be made that Volstad is better than Zambrano right now, and the Cubs have Volstad potentially through 2014.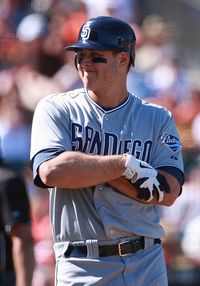 29-year-old career minor leaguer Bryan LaHair won the International League MVP in 2011, but it wasn't enough to quiet talk that the Cubs should or would pursue Pujols or Fielder.  That talk ended for good when the Cubs acquired Rizzo (pictured) from the Padres, mainly for Cashner.  Epstein and Hoyer have loved Rizzo for a long time.  They drafted him for the Red Sox in '07, and Epstein traded him to Hoyer in the Adrian Gonzalez trade in 2010.  Keith Law and Baseball America consider Rizzo one of the 50 best prospects in baseball, and LaHair gives the Cubs the flexibility to make sure Rizzo is ready before promoting him as their long-term first baseman.  Acquiring a player like Rizzo requires a valuable asset, and the Cubs surrendered one of their most interesting young big-league ready pitchers in Cashner.  Cashner began 2011 in the Cubs rotation but missed most of the season with a rotator cuff strain.  If he's destined for a permanent relief role, as some believe, it's hard not to favor the Cubs in this trade.
Both the Red Sox and Padres ranked within the top nine for draft spending from 2009-11, so Epstein and Hoyer clearly believe in investing in amateur talent.  The new collective bargaining agreement will severely restrict the Cubs and other teams from spending big on the draft and internationally, so Epstein and Hoyer overspent on free agent Cuban lefty Gerardo Concepcion while they still could.  The Cubs would argue the assertion that they overpaid for Concepcion, but Jim Callis of Baseball America says he "projects more as a No. 4 starter than as a front-of-the-rotation option" and is not a top 100 prospect overall.  Maybe the Cubs are choosing certainty over upside with guys like Travis Wood and Concepcion, or maybe they disagree with the industry and see bigger things for these lefties.
The Cubs have some extra rotation depth at the moment, having held onto righty Matt Garza despite trade interest.  The 28-year-old is under team control for two more years, though he won't be cheap in 2013.  If the price is right, the Cubs are amenable to extending Garza, their de facto ace.
Expectations are low for the 2012 Cubs, as rebuilding the team the right way is considered more than a one-offseason project.  Given the size of the payroll and fan base, Epstein and Hoyer did not choose a complete rebuild, but they're going younger at the infield corners and staying young in the rotation.  It'll be interesting to see how they react this summer or in the 2012-13 offseason if the Cubs are better than expected this season.  When Hoyer's Padres exceeded expectations in 2010, he didn't deviate from his long-term plan, avoiding trading top prospects at the deadline and following through on the Adrian Gonzalez trade after the season.  I expect something similar from the Cubs, who still have a few decent trade chips.
Photo courtesy of Icon SMI.