It's not easy for potential stars to arrive in the Major Leagues with less fanfare than Brandon Beachy in the present day media environment. Beachy, who originally signed as a non-drafted free agent, has followed up a standout debut season with three strong starts this April. It could be time for the Braves to consider an extension.
Beachy has an impressive 3.27 ERA with 10.1 K/9, 3.0 BB/9 and a 35.9% ground ball rate at the Major League level. His leverage in contract talks will be limited by his relative inexperience, however. He has just 31 starts and 176 innings in one-plus years with the Braves (one year and 14 days of service time through 2011).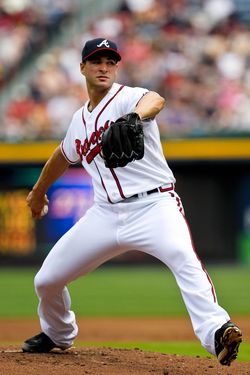 Madison Bumgarner recently established a record for pitchers with one-plus years of service time, obtaining a six-year, $35MM guarantee from the Giants. In my view, Beachy doesn't have a case for a similar deal. The 25-year-old right-hander has 176 career innings — approximately 50% of Bumgarner's total. He also trails Bumgarner in wins, starts and ERA, so it's hard to imagine a compelling case for anything in the $35MM range.
But Bumgarner's deal was exceptional. Most starting pitchers who sign extensions after one-plus MLB seasons obtain four-year contracts in the $10-13MM range that tend to include multiple club options. The extensions ensure that the pitchers are paid handsomely through their second arbitration seasons and provide the teams with options on two additional seasons.
In recent years, James Shields, Ubaldo Jimenez, Brett Anderson, Wade Davis and Cory Luebke have signed four-year deals in the $10-13MM range. Beachy's current numbers are reasonably similar to the ones Anderson and Davis had at the time of their extensions. Beachy trails Jimenez and Shields in all-important bulk stats like innings, starts and wins, but boasts more impressive rate stats. Luebke, who signed most recently, compares especially well with Beachy. They have similar year to year totals and career stats, so the Braves could argue convincingly that Beachy should be in line for a similar four-year deal in the $12MM range. It would be difficult for Icon Sports Management to argue that much separation exists between Beachy and Luebke.
Unlike many top MLB players, Beachy didn't obtain a life-changing bonus when he signed his first professional contract (the Braves offered $20K). The security of an extension might appeal to the one-time non-drafted free agent.
Meanwhile, the Braves haven't signed Boras Corporation clients Tommy Hanson and Jair Jurrjens to extensions. It's unclear whether this reflects hesitation from a front office with reservations about the pitchers' health or resistance from an agency that typically eschews extensions that delay players' free agency. Either way, Braves GM Frank Wren could turn to Beachy should he want to lock at least one young starter up long-term.
The cost — likely $12MM or so — is significant. But it's not the kind of contract that's going to set a franchise back long-term. I would consider a four-year deal in the $12MM range a team-friendly one as long as the Braves obtained multiple club options in the process. Beachy's only going to get more expensive — a five-year deal in the $30MM range might be attainable within six months — so this is Atlanta's best chance to sign Beachy at this rate. If they believe in his ability to sustain his success and stay on the field, they should make him an offer now.
Photo by Daniel Shirey courtesy of US Presswire.