No MLB team finalized more extensions this offseason than the Giants, who locked up five of their top players. General manager Brian Sabean committed more than $200MM in future salaries in the four-month period from the beginning of January to the beginning of April. The extensions promised to solidify the team's rotation long-term and cap the future earnings of a pair of arbitration eligible All-Stars. 
For the most part, the extensions have worked for the team. Tim Lincecum's disappointing season is the largest blemish on an otherwise encouraging set of contracts for San Francisco.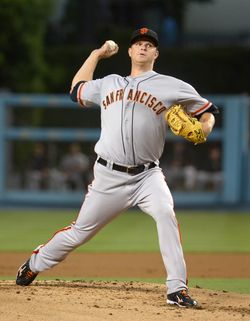 Lincecum, whose early-career accomplishments assured him of a substantial raise, signed a two-year, $40.5MM contract extension to cover his final two arbitration years. Though he has pitched better lately, his ERA sits at 5.30 in what has been the most disappointing season of his MLB career. It'd be understandable if the Giants are relieved Lincecum didn't accept their $100MM extension offer before the season. In that context, $40.5MM isn't so expensive. Still, if the team had gone year to year with Lincecum, he wouldn't have been locked in for a $22MM salary in 2013; a non-tender would have been possible.
Three other Giants starters have exceeded expectations since signing multiyear deals. Vogelsong, who signed a two-year, $8.3MM contract in January, is repeating last year's success. He has a 2.85 ERA with 7.1 K/9 and 3.1 BB/9 on his way toward a career high in innings pitched. Vogelsong would have been a free agent after the 2012 season if the Giants hadn't locked him up. They'll surely be glad to have him back for just $5MM in 2013 (the extension also includes a 2014 club option).
Like Vogelsong, Madison Bumgarner has replicated his 2011 success. The 23-year-old left-hander has inserted himself into the NL Cy Young Award race by posting a 2.83 ERA with five times as many strikeouts as walks in 171 2/3 innings this year. He obtained a record deal for pitchers with one-plus years of MLB service (five-years, $35MM), so it's not as though Bumgarner obtained anything less than full value back in April. But this deal could hardly be going better for the Giants.
Matt Cain also obtained a record-setting contract this spring. He obtained a five-year, $112.5MM contract that established a record for right-handed pitchers. He's earning Cy Young Award consideration again after pitching a perfect game and posting a 2.83 ERA in 174 2/3 innings. If Cain had reached the free agent market this offseason, he would be the most sought-after pitcher available. The Giants could have re-signed him, of course, but not without spending considerably more than they did in April.
Lastly, Pablo Sandoval's play has justified his new three-year, $17.15MM contract — at least when he's been on the field. Although he spent time on the disabled list with a strained hamstring and a fractured hamate bone, he does have an .821 OPS in 294 plate appearances. This extension had limited upside for the Giants in the first place, since it didn't buy out any free agent years or include any club options.
For now the Giants are presumably focused on maintaining their division lead over the Dodgers and Diamondbacks. A few months from now, once the most chaotic part of the offseason has ended, Sabean and the rest of the San Francisco front office will encounter a familiar challenge: it'll be time to consider extensions for a new set of players led by All-Star catcher Buster Posey.
Photo courtesy of US Presswire.