The Yankees heavily invested in the free agent market, yet the team still has some notable holes as it tries to celebrate Derek Jeter's final season by returning to the playoffs.
Major League Signings
Masahiro Tanaka, RHP: Seven years, $155MM (Plus $20MM release fee).
Jacoby Ellsbury, OF: Seven years, $153MM.  $21MM vesting option for 2021.
Brian McCann, C: Five years, $85MM.  $15MM vesting option for 2019.
Carlos Beltran, OF: Three years, $45MM.
Matt Thornton, LHP: Two years, $7MM.
Brendan Ryan, SS: Two years, $5MM.  $2MM mutual option for 2016.
Hiroki Kuroda, RHP: One year, $16MM.
Derek Jeter, SS: One year, $12MM.
Kelly Johnson, IF/OF: One year, $3MM.
Brian Roberts, 2B: One year, $2MM.
Total spend: $503MM
Notable Minor League Signings
Trades and Claims
Extensions
Brett Gardner, OF: Four years, $52MM.  $12.5MM club option for 2019 with a $2MM buyout.
Notable Losses
Robinson Cano, Mariano Rivera, Andy Pettitte, Curtis Granderson, Alex Rodriguez (162-game suspension), Phil Hughes, Boone Logan, Joba Chamberlain, Lyle Overbay, David Huff, Chris Stewart, Vernon Wells, Travis Hafner, Kevin Youkilis, Jayson Nix
Needs Addressed
After missing the postseason for just the second time in 19 years, it wasn't a surprise that the Bronx Bombers went on an old-fashioned Yankees spending spree.  Between signing new free agents, re-signing a few of their own free agents and extending Brett Gardner's contract, the Yankees spent over $555MM on player salaries this offseason.  To put it in perspective, when Forbes Magazine released its annual team valuations a year ago, seven entire franchises weren't valued as worth $555MM.  When the Yankees decide to spend, they don't take half measures.
The Yankees ended up with five — Jacoby Ellsbury, Brian McCann, Masahiro Tanaka, Hiroki Kuroda and Carlos Beltran — of the top 12 players on Tim Dierkes' list of the offseason's 50 best free agents and were known to be in contact with several other major names, from Shin-Soo Choo to Jhonny Peralta to several free agent pitchers and, of course, Robinson Cano.  GM Brian Cashman worked quickly to identify the players he wanted, as the Yankees reached agreements with all of those players (save Tanaka) by the end of the Winter Meetings.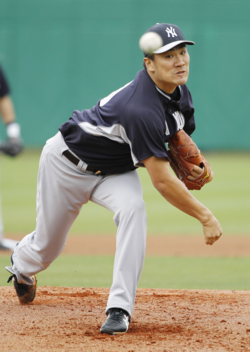 It's hard to argue with the results.  McCann's presence instantly turns one of the league's worst catching situations into one of its best; Beltran's still-powerful bat is a fine replacement for the departed Curtis Granderson; Kuroda's return helped solidify the rotation; Ellsbury adds speed and defense to the Yankee outfield, plus his addition allows the club to shift Alfonso Soriano to a more regular DH role (with Beltran and Jeter also seeing some time at designated hitter) and Ichiro Suzuki's declining bat is now relegated to the bench.
The one signing that took a bit more time was Tanaka, as first the new posting rules between MLB and Nippon Professional Baseball had to be established.  Then, the Yankees had to outbid the Cubs, Diamondbacks, White Sox, Dodgers and Astros in order to land the 25-year-old right-hander with a seven-year, $155MM contract that ranks as the 18th-largest deal in baseball history.  That contract (plus the $20MM posting fee the Yankees paid to the Rakuten Golden Eagles) represents a huge investment in a pitcher who has yet to appear in a Major League game, yet given Tanaka's impressive scouting reports and his status as the best starter on the market, he was seen as a must-have for a Yankee club that needed rotation help.
The one signing that New York didn't make, however, was the one that many thought was a foregone conclusion when the offseason began.  The Yankees simply weren't prepared to offer Cano more than seven years (at $175MM), and thus Cano made his stunning move to the Mariners that left the Yankees with a big hole at second base.  While the team is still looking for infield help, right now it looks like newly-signed veteran Brian Roberts will man the position with the re-signed Brendan Ryan and roster holdover Eduardo Nunez also in the mix.
Another notable non-move was choosing to forgo signing an experienced closer to replace Mariano Rivera, as David Robertson will get a clear shot at the ninth-inning job.  Veteran setup man Matt Thornton was signed to add some left-handed experience to the young relief corps and Andrew Bailey was signed to a low-risk minor league deal to see if he can stay healthy and revive his career.
Maybe the biggest "need" for the Bombers this offseason was getting some of Alex Rodriguez's contract off their books, and the Yankees got their wish when A-Rod's 211-game suspension was only partially reduced to 162 games after his lengthy appeal.  The suspension saved the Yankees around $22.13MM in payroll for 2014, though A-Rod's absence leaves the Yankees thin at the hot corner.  Newcomer Kelly Johnson will get the lion's share of games at third, though since Johnson has only played 16 games as a third baseman (all last season in Tampa Bay) during his eight-year career.  Minor league signing Scott Sizemore could be an under-the-radar boon at either third or second if he's able to stay healthy, as he's missed virtually all of the last two seasons recovering from two separate left ACL tears.
The Yankees settled a bit of long-term business by signing Gardner to a four-year, $52MM extension.  Gardner would've been eligible for free agency following 2014 and he was the subject of a few trade rumors in the wake of the Ellsbury and Beltran signings, but now it seems he'll be wearing the pinstripes though at least the 2018 season.  Such extensions are pretty rare for the Yankees, as the team usually doesn't explore new deals with players, managers or even front office staff until their current contracts are up.  The Gardner deal could be a sign that even the Yankees are taking note of the rising costs of free agent contracts, and since Gardner was a player they liked and wanted to keep anyway, it made sense to extend him now and possibly get a bit of a discount if he has a big 2014 campaign.
Two major pieces of the Yankees' puzzle were put in place before the offseason even began.  Manager Joe Girardi was re-signed to a four-year, $16MM extension that will keep him in the Bombers' dugout through the 2017 season, a move that broke the hearts of Cubs fans and rewarded a manager who arguably did his best work in 2013 by squeezing 85 wins out of an injury-riddled roster.  Jeter was sure to pick up his player option for 2014 anyway but in early November, that $9.5MM option was shelved in favor of a one-year, $12MM contract that Hal Steinbrenner negotiated himself.
Jeter's new deal carried some extra luxury tax complications, which might've been an early sign that the Yankees were going to abandon their plan to stay under the $189MM payroll threshold.  The Yankees had been positioning themselves to get under the $189MM mark for the last two years in order reset their mounting luxury tax payments but, as Steinbrenner and Cashman always claimed, that $189MM target would only be kept if the team could remain competitive.  Since the Yankees don't abide by missing the postseason, they will head into 2014 with another $200MM+ payroll (hat tip to Cot's Baseball Contracts for the info).        
Questions Remaining
For all of the hundreds of millions the Yankees spent this winter, most of that money was spent to simply replace departing stars, and not necessarily to fix other problem areas.  Beltran for Granderson is essentially a wash when Granderson is healthy, and while Tanaka is presumed to be an upgrade over Andy Pettitte, don't forget that the retired southpaw delivered 3.2 fWAR last season.  While McCann and Ellsbury are big improvements on the Yankees' 2013 catchers and the Suzuki/Vernon Wells outfield platoon, those additions could be offset by the losses in the bullpen and at second base.
Cano's departure leaves the Yankees with one of the shakiest infield situations of any contending team.  The hope is that Jeter and Mark Teixeira can stay healthy and regain some semblance of their former productivity, but that's a tall order for two players who combined for only 32 games last season.  While Ryan or Nunez could spell Jeter at shortstop, the Yankees don't have anyone on the roster who can realistically replace Teixeira for a lengthy stretch if his wrist injuries continue to bother him.  Roberts' health is also hardly a given considering his injury problems over the last few seasons.
The addition of a player like Stephen Drew could solve a lot of these infield questions.  Drew could step in at shortstop if Jeter was hurt, and since he has expressed a willingness to move to second or third base, he would provide the Yankees with an stable everyday option at either spot.  The Yankees did make Drew an offer early in the offseason but pulled it back to focus on other signings, while Drew passed up on the deal (believed to be for two or three years) since he felt he could find a longer-term deal.  In hindsight, the Yankees missed out by not landing Peralta earlier in the winter, as they were simply outbid by the Cardinals.
C.C. Sabathia, Tanaka, Kuroda, Ivan Nova and one of Adam Warren, Michael Pineda or David Phelps will comprise New York's starting rotation.  While there's at least a bit of uncertainly surrounding all of the candidates, Sabathia's status is the Yankees' biggest concern, as the 33-year-old is coming off the worst season of his Major League career.  Sabathia has gotten into terrific shape and returned to his old offseason throwing program in an attempt to return to his old form, though if he continues to decline, it will be a huge blow to both the Yankees' playoff hopes and to their future payroll plans (given how Sabathia is still owed $76MM through 2016, plus $20MM more in 2017 if his option vests).
Nobody can replace Rivera, yet it's surprising to see that the Yankees didn't pick up one veteran arm to provide some closer for Robertson if he struggles.  Bailey may not appear until after the All-Star break, while Thornton fits better as a setup man or even as a specialist against left-handed batters.  Joel Hanrahan has been on the Yankees' radar, though he's coming off elbow surgery himself.  Beyond Roberts, Thornton and Shawn Kelley, New York is going with a young bullpen that includes some promising arms (Preston Claiborne, former top prospects Dellin Betances and Manny Banuelos and the losers of the fifth starter competition) but no proven experience.
If I had to guess, the Yankees still have a few more moves up their sleeves before Opening Day.  They added Wells and Lyle Overbay last March and I'd expect similar veteran additions to join the roster this spring to give the team some depth in the bullpen and especially around the infield, particularly at first.
Deal Of Note
Of all the Yankees' major signings, the McCann contract seems to have the fewest question marks, which is somewhat surprising considering New York is committing $85MM to a catcher through his age-34 season.  A big-hitting catcher is hard to find, however, and the Yankees simply couldn't go through another year getting barely replacement-level production from behind the plate.  Francisco Cervelli, Chris Stewart, J.R. Murphy and Austin Romine combined for only 0.9 fWAR/0.1 rWAR over a combined 202 games last season — McCann delivered 2.7 fWAR/2.2 rWAR in 102 games.  It's very possible that McCann improves on his performance, as he'll stay healthier by getting some DH days and his left-handed power swing is a great fit at Yankee Stadium.  Signing McCann also kept an All-Star catcher away from two AL rivals in the Rangers and Red Sox, both of whom were interested in McCann's services.
McCann's presence also turns the Yankees' catching pool from a weakness into potential trade bait.  Stewart was dealt to Pittsburgh and it's possible that at least one more of Cervelli, Murphy or Romine could be sent elsewhere for infield help.  The Yankees could even trade top prospect Gary Sanchez if they wished to strike a bigger deal, though the rough plan seems to be to groom Sanchez as McCann's eventual replacement, with McCann shifting to DH in a few years' time.
Overview
It's often said that Jeter personifies the Yankees, and that may be especially true in 2014, though not in the way that either Jeter or the team hopes.  A healthy Jeter can still perform at a league-best level, though it's anyone's guess as to whether he'll be able to stay off the DL and produce at his usual standard — the same could be said of the Yankees as a whole, as they'll need to rely on much better health from several key players return to contention. 
An argument could be made that despite all the struggles and injuries last year, the Yankees still won 85 games, so they're not far away from getting back to the postseason.  It's worth noting that Cashman doesn't buy that argument, as he saw his club's 2013 record as a fortunate overachievement and thus felt it necessary to spend big.  With how much of that money went towards reloading instead of actually adding talent, however, it's possible the Yankees may have only bought themselves a "real" 85-win talent level (by Pythagorean record standards) and could still fall short in the tough AL East.
Photo courtesy of Kim Klement/USA Today Sports Images