The Mets have officially announced the signing of first-round pick Michael Conforto (Twitter link). The Scott Boras client had previously been reported to have agreed to terms at a $2.97MM bonus (per MLB.com's Jim Callis), but reports over the past few weeks indicated that the two sides were hung up on a few non-financial details.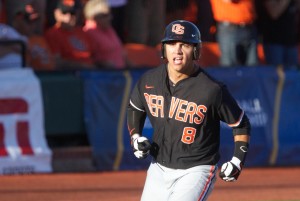 All of that is worked out now, and Conforto can get a start on his professional career. An outfielder out of Oregon State, he was widely considered to be one of the best bats in the draft. Conforto ranked as the No. 8 prospect in this draft by ESPN's Keith Law and Baseball America while Jonathan Mayo and Callis of MLB.com ranked him 17th.
Conforto batted a whopping .345/.504/.547 with seven homers, 16 doubles and a pair of triples in 59 games for Oregon State in 2014 — his junior season. Law praised Conforto's power to his pull side, also noting that he works counts well and is able to hit the ball to the opposite field. Law expressed concerns about Conforto's defense, however, questioning his range and his throwing arm in left field. BA offered a bit of a different take, writing that he improved his previously fringy defense and is now adequate, and their scouting report projected him as a 20-25 homer hitter down the road. MLB.com shared some of the defensive concerns and worried that he might swing and miss too much, however that scouting report also projected him to hit 25-plus homers with regularity at his peak.
Photo courtesy of USA Today Sports Images.