Despite an injury plagued 2014, Michael Cuddyer figures to be amongst the more heavily pursued free agent position players of the winter.  The 35-year-old (36 by Opening Day) played in just 49 games in 2014, but his offensive numbers are more in less in line with his 2013 output and there's always a market for effective bats with some pop.  His last trip through free agency netted a three-year, $31.5MM contract and he's now in position to land yet another lucrative deal.
Strengths/Pros
Over the last three seasons in Colorado (280 games), Cuddyer owns a .307/.362/.525 batting line with 46 homers.  His best work in Colorado came in the sandwich year of 2013 when he was NL batting champion with a .331 average at the plate.  And, while Coors Field is the most hitter-friendly park in the majors, it wasn't just the home altitude that helped Cuddyer knock 20 homers and post the NL's fourth-highest slugging percentage (.530) in that season.  The veteran hit eleven homers at Coors and nine dingers on the road in 2013.  Meanwhile, his wRC+ (Weighted Runs Created Plus, explained masterfully by Fangraphs here) of 138 was the best showing of his career at the time, putting him well ahead of the league average and 14 percentage points above his previous watermark from Minnesota in 2009.  In a smaller sample, he topped that with a wRC+ of 151 this past season.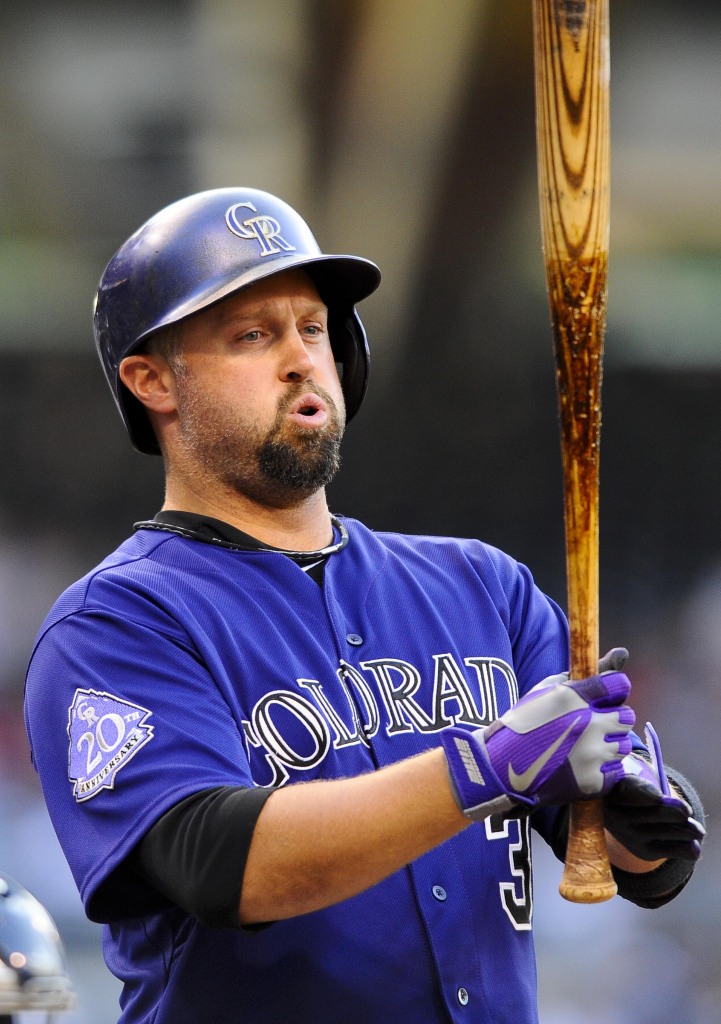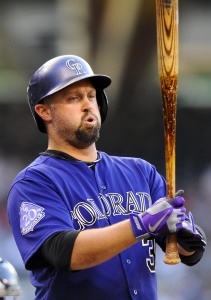 Somewhat surprisingly, Cuddyer consistently posts average or better marks in baserunning value, according to Fangraphs.  Cuddyer has a strong career BsR of 8.3 and his recent marks of 0.0, 1.1, and 1.3 in the last three seasons would indicate that he has been at least an average runner.  At this point in his career, he's probably not the fastest guy out there, but the numbers would suggest that he's smart on the basepaths.
Cuddyer offers some versatility as he could be slotted in as a first baseman or an outfielder.  He also won't have a qualifying offer attached to him and won't require the forfeiture of draft picks.
Weaknesses/Cons
Cuddyer averaged roughly 150 games per year in his final three seasons with the Twins, which helped lead to his big payday in Colorado.  Unfortunately, he's averaged ~93 games per season since and saw time in just 49 games in 2014.  In 2012, an oblique injury cost him the majority of August and all of September.  He played 130 games in 2013, but a neck injury shelved him for two weeks in May.  Last season, a painful shoulder fracture and a pair of strained hamstrings led to Cuddyer being mostly out of commission.  Teams are sure to be wary about that as he approached his age-36 season.
Cuddyer has experience at multiple positions but he's not Gold Glove material at any of them.  For his career, Cuddyer has a -8.0 UZR/150 rating in right field and his -4.4 rating at first base also leaves much to be desired.  Unfortunately, Cuddyer's shaky defense has watered down his significant offensive contributions, especially in recent years.  In 2013, despite his strong performance at the plate, he registered a rather pedestrian WAR of 2.4.
Personal
Michael and his wife, Claudia, have three children.  When he's not on the diamond, Cuddyer likes to indulge in his own favorite childhood pastime: magic.  In 2012, Jerry Crasnick of ESPN.com asked an audience member for his take on Cuddyer's skills.
"He's blowing guys' minds here," Jason Giambi said of Cuddyer. "[The tricks] are as good as any I've ever seen, and trust me, I live in Vegas and I get to see a lot of those shows. They're pretty incredible."
As Cuddyer told Crasnick, he used the tricks as an icebreaker with his teammates when he arrived in Colorado.  Then-GM Dan O'Dowd spoke highly of Cuddyer as a positive figure in the locker room.
"Not only is he a good player — and will be for a significantly long period of time — but if you talk to anybody in the game, he innately just 'gets it.' He challenges people in his own way to be all about the team," O'Dowd said.
Market
Cuddyer loves being in Colorado, owner Dick Monfort wants to keep him, and manager Walt Weiss hopes that he'll return since he "means so much to [the] club, in ways that go beyond the stat sheet."  Unfortunately, monetary constraints will probably get in the way of a reunion.  Patrick Saunders of The Denver Post recently wrote that it'd be hard to see the Rockies paying even $4-6MM for Cuddyer next season.  You never know for sure how the market will break, but that probably won't get it done.
The Pirates, Brewers, and Marlins are among the teams that are expected to shop for a first baseman and the Padres could be added to that list if they don't have confidence in Yonder Alonso's abilities.  Meanwhile, the Astros and Mets will be shopping for a corner outfielder and Cuddyer could fit within their budgets.  Cuddyer also holds appeal as a DH so we could see a return to the American League in that role.
Expected Contract
If Cuddyer was coming off of something resembling a full season, his contract outlook would be quite different.  Given his age and health issues, a one or two-year deal seems likely but another three-year deal probably isn't in the cards.
Still, there will be plenty of teams willing to give Cuddyer a substantial sum of money and it could even rival the average annual value of his three-year, $31.5MM Rockies contract.  I predict Cuddyer will land a two-year, $22MM deal this winter.  If he stays healthy, it may not be his last big payday either.