Pitcher Jake Peavy has officially agreed to a deal to return to the Giants, as first reported by Ken Rosenthal of FOX Sports (Twitter link).  It's a two-year, $24MM deal with a full no-trade clause, according to ESPN's Jerry Crasnick.  Peavy, a CAA client, will be paid a $4MM signing bonus and salaries of $7MM in 2015 and $13MM in 2016, writes Crasnick.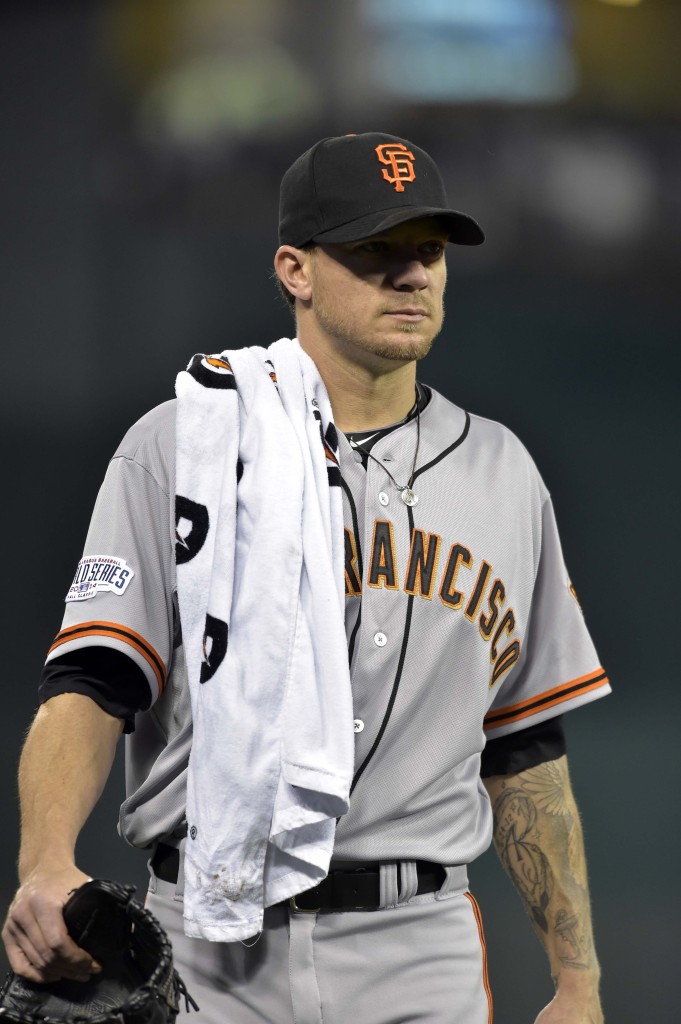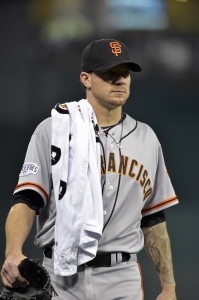 Peavy, 34 in May, posted a 3.73 ERA, 7.0 K/9, 2.8 BB/9, 1.02 HR/9, and 38.5% groundball rate in 202 2/3 innings for the Red Sox and Giants this year.  The Red Sox traded him to the Giants on July 26th with cash for Edwin Escobar and Heath Hembree.  Peavy posted a 2.17 ERA in 78 2/3 innings for the Giants after the trade.  While his control improved with the Giants, his sharp drop in homer-to-flyball rate (3.2 percent) isn't sustainable, even in the pitcher friendly AT&T Park.
While the level of production he showed in the season's second half is very likely to come back down to Earth, there's no doubt that a full-time move to AT&T Park and the NL West will be of benefit to Peavy's numbers.  He'll provide the Giants with some much-needed stability in the rotation, as the team currently has a great deal of uncertainty behind ace Madison Bumgarner and veteran workhorse Tim Hudson.  Matt Cain is coming off elbow surgery, Ryan Vogelsong is also a free agent, Tim Lincecum hasn't been reliable for the past three seasons and Yusmeiro Petit, while excellent in 2014, has never held down a rotation spot for a whole season.
Peavy's contract closely mirrors that two-year, $25MM contract extension that fellow 34-year-old NL West hurler Jorge De La Rosa signed in August, and it's also in line with what both Hudson and Bronson Arroyo signed for last winter.  While each of the latter two pitchers is considerably older than Peavy, they signed in a free agent market with less quality pitching available.  In a free agent profile back in late October, MLBTR's Jeff Todd correctly predicted that Peavy would top Hudson and Arroyo, though Peavy's final deal fell a bit shy of his $28MM prediction.
This marks only the second significant move for Giants GM Brian Sabean this offseason — he agreed to terms on a two-year, $15MM deal with Sergio Romo earlier in the week — though not for lack of trying.  The Giants made a legitimate run at re-signing Pablo Sandoval and have also been connected to Jon Lester, Yasmany Tomas and Chase Headley, among others, but each has signed elsewhere, leaving the Giants to seek upgrades elsewhere.
Photo courtesy of USA Today Sports Images.