The Cubs made multiple splashes this winter, spending big to bring in Jon Lester and Joe Maddon while also rounding out their rotation and adding a new starting catcher and center fielder.
Major League Signings
Jon Lester, SP: six years, $155MM.  $25MM mutual option for 2021 with a $10MM buyout.  Guaranteed with 200 innings in 2020 or 400 in 2019-20.  Full no-trade clause.
Jason Hammel, SP: two years, $20MM.  $12MM club option for 2017 with a $2MM buyout.  May void based on 2016 performance.
David Ross, C: two years, $5MM.
Jason Motte, RP: one year, $4.5MM.
Tsuyoshi Wada, SP: one year, $4MM.
Chris Denorfia, OF: one year, $2.6MM.
Jacob Turner, SP: one year, $1MM (club option exercised).
Total spend: $192.1MM.
Joe Maddon, Manager: five years, $25MM.
Notable Minor League Signings
Trades And Claims
Notable Losses
Luis Valbuena, Dan Straily, Justin Ruggiano, Carlos Villanueva, Wesley Wright, John Baker, Ryan Kalish, Zack Godley, Jeferson Mejia, James McDonald, Kyuji Fujikawa
Needs Addressed
Manager Joe Maddon surprised the baseball world by opting out of his Rays contract in late October, a clause triggered when top executive Andrew Friedman jumped to the Dodgers.  Cubs manager Rick Renteria was fired a week later.  In a statement on Halloween, Cubs president Theo Epstein explained he made the difficult decision to be loyal to the organization rather than being loyal to Renteria, who had been expected to manage the Cubs in 2015.  Maddon's deal with the Cubs was announced hours later.
The Rays contend Maddon opted out after talking to the Cubs, and MLB is investigating the Cubs for tampering.  In February, new Commissioner Rob Manfred said a decision regarding that charge will be made prior to Opening Day.  Aside from perhaps strained relations between the two clubs, it's difficult to imagine the Cubs suffering any penalty of consequence even if they are found guilty.  The series of events feels a little dirty, as Ken Rosenthal of FOX Sports put it, but in the end, the Cubs now have one of the best-regarded managers in baseball.
After declining a $5MM option on Wada, the Cubs inked him to a non-guaranteed deal worth $4MM.  The 34-year-old showed promise as a back-rotation option in a small sample of 13 starts in 2014, and the cost was minimal.  Travis Wood was also retained, with an arbitration contract worth $5.685MM.  He's consistently shown the skills of a 4.40 ERA pitcher.  With Wood a borderline non-tender candidate and Wada potentially ticketed for Triple-A to start the season, it's fair to ask whether the Cubs could have found a better way to spend nearly $10MM.
Also in November, the Cubs picked up La Stella in a trade with the Braves.  Though GM Jed Hoyer insisted the move wasn't a precursor to anything, La Stella fits nicely as a replacement for Valbuena, who was traded in January.  We'll look at that trade under the Deal Of Note section.
The Cubs had a functional catcher under control in Welington Castillo, but clearly felt that was an area to upgrade.  They kicked off their offseason with a pursuit of Russell Martin, by far the best available option.  The Cubs ended up finishing in second on Martin, though there's no evidence they got close to the five-year, $82MM deal he signed with the Blue Jays.
Though it was thought the Cubs were in the Martin market rather than the catching market, they executed on Plan B by acquiring Montero during the Winter Meetings.  With a minimal cost in prospects, the acquisition was akin to signing Montero to a three-year, $40MM free agent deal (the amount remaining on his contract).  The Montero and Ross acquisitions suggest a conscious effort to improve the team's pitch-framing, an area in which Castillo rates poorly.  Veteran leadership was also a factor.
Still, there's a reason a willingness to take on Montero's contract was most of what was needed to acquire him – the 31-year-old hit .237/.324/.358 over the last two seasons and makes more than $13MM annually through 2017.  In Montero, Wood, Motte, Denorfia, and Ross, the Cubs took on almost $58MM in commitments to five players who weren't very good in 2014.
The Cubs also brought Hammel back as the Winter Meetings began, locking in their secondary rotation piece at a lower than expected price.  It was thought that Hammel might command a three-year deal, but perhaps he was just motivated to return to Chicago.  The Cubs had reportedly looked at Justin Masterson as an alternative; he signed a one-year, $9.5MM deal with Boston.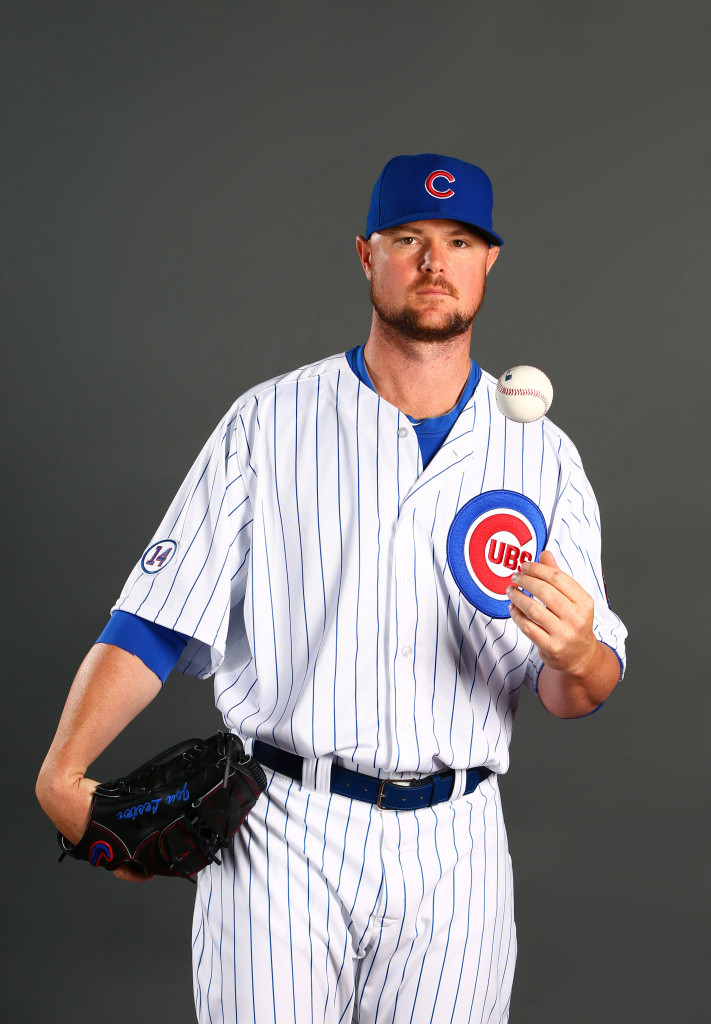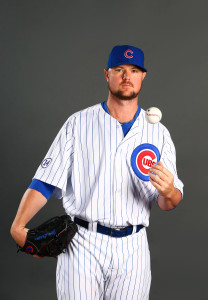 The Winter Meetings was also the site of the Cubs' biggest winter splash, as they completed their tense pursuit of Lester with the largest contract in franchise history.  The lofty $155MM price tag matched expectations, and after years of conserving payroll, the Cubs can certainly afford it.  The Cubs need their new ace to be a workhorse, a trait that's missing from the team's other projected starters.  Any deal of this magnitude and length for a starting pitcher carries a lot of risk, but the Lester signing addressed the team's biggest need without sacrificing young cornerstone players or a draft pick.
Also in December, the Cubs picked up Motte on a low-risk deal to complement their bullpen.  The former Cardinals closer will be two years removed from Tommy John surgery in May.  The Cubs' bullpen could be deep if Motte rediscovers his 2012 form.
Questions Remaining
As James Shields' free agency dragged into February, the Cubs got involved in hopes of a bargain.  According to Pat Mooney of CSNChicago.com, "The Cubs made Shields a backloaded offer that started at $60 million over four years. That morphed into a three-year, $60 million concept that included a significant amount of deferred money and a vesting option that would still cap the overall value at less than $80 million."
As with Martin, the Cubs finished in second, but nowhere close to the player's ultimate contract.  Shields would have gone a long way toward answering the Cubs' remaining rotation question marks.  Even if Lester's spring "dead arm" phase turns out to be nothing, none of the Cubs' No. 2-4 starters (Jake Arrieta, Hammel, and Kyle Hendricks) have ever pitched 185 innings in a season.  The Cubs have also shown continued interest in Cole Hamels.  Such a deal could potentially happen this summer if the Cubs are willing to take the hit in giving up a young potential star.
The Cubs made the wise and expected choice to keep starting shortstop Starlin Castro, as the team's impressive infield depth behind him has yet to fully arrive.  The long-term look of the Cubs' middle infield may start to be determined this year, depending on how Addison Russell, Javier Baez, and Arismendy Alcantara perform.  Could Castro be moved this summer?  We have seen that move from Theo Epstein's playbook once before.  For now, it will be Baez and Castro at second base and shortstop, with Russell potentially ready by midseason.  Alcantara is valuable now in a super-utility role.  The surplus has yet to manifest itself.
The Cubs have more immediate roster issues to address before the April 5th opener.  With no strong offers for Castillo, the team is currently leaning toward opening the season with three catchers (none of whom can play another position).  Epstein says Maddon has been "pounding the table" for three catchers, but it reduces the team's flexibility if non-catchers need days off.  The versatility of Alcantara, La Stella, and Denorfia would be crucial in a three-catcher scenario.
The Cubs also don't have enough bullpen spots to retain everyone currently on their 40-man roster.  Hector Rondon, Pedro Strop, Neil Ramirez, Jason Motte, Justin Grimm, and Phil Coke appear locked in, leaving one spot for Edwin Jackson and out of options relievers Drake Britton and Felix Doubront (assuming Wada goes to the minors or the DL).  The disabled list could solve this logjam, or the Cubs can just release the worst two of the three.
Perhaps the biggest question for Cubs fans is, "When will Kris Bryant join the roster?"  The third base phenom has clubbed nine home runs in 11 spring training games, but the Cubs would lose the ability to control him for the 2021 season if they put him on the Opening Day roster.  Stashing him in Iowa for a few more weeks is the prudent thing to do, even if agent Scott Boras thinks the Cubs are "damaging the ethics and brand of Major League Baseball." 
I do want to play devil's advocate to the commonly accepted wisdom that Bryant should not open the season with the Cubs.  Say the Cubs wait until April 15th, meaning Bryant misses out on the bare minimum of eight potential big league games.  Projections suggest the Cubs are sacrificing less than 0.3 wins above replacement in this scenario.  However, I don't think WAR was meant to be employed this way, and a player with Bryant's talent could easily affect the outcome of one or two games within eight (or more).  A single well-timed home run can do that.  And the Cubs could easily miss the playoffs by one game this year.  The 2010 Braves opened the season with Jason Heyward and won the Wild Card by one game.  I'd probably cook up a reason to hold off on selecting Bryant's contract, perhaps health or defense-related, but I don't think it's open-and-shut.
Deal Of Note
The Cubs' January acquisition of Dexter Fowler may have flown under the radar because of Lester.  The trade, which sent Luis Valbuena and Dan Straily to Houston, was a better allocation of resources for both teams.  The Cubs didn't have a true center fielder on the roster, and mostly because of Bryant, they didn't really need Valbuena (the game's 15th-best third baseman by WAR in 2014).  Fowler projects for the highest on-base percentage on the Cubs, and the team thinks it found a way he can improve defensively.  Beyond defensive concerns, Fowler has battled health issues.  But if all goes well, he could be a qualifying offer candidate for the Cubs after the season.
Overview
The Cubs flirted with some huge moves in the 2013-14 offseason, and a year later they finally brought in their big-name manager and ace starter.  Still, they're keeping a relatively low payroll to start 2015, and probably could have afforded and justified an all-in plunge for Lester, Martin, and one of Shields, Ervin Santana, or Brandon McCarthy.
Second-guessing aside, the stakes are high for the first time in Theo Epstein's tenure.  The Cubs will be viewed as a disappointment if they don't make the playoffs.  They appear to be primed for sustained success, but it would be nice to get some actual wins on the board.