You can find all the published entries in our Offseason in Review series here.
The rebuild continues, but the Braves have concentrated the bulk of their talent acquisitions at or near the MLB level.
Major League Signings
RP Carlos Portuondo: $990K bonus (minor-league deal)
Total spend: $18.8MM
Trades and Claims
Extensions
Notable Minor League Signings
Willians Astudillo, Reid Brignac, Jhoulys Chacin, Chase d'Arnaud, Jeff Francoeur, Nate Freiman, David Holmberg, Kyle Kendrick (since released), Blake Lalli, Ryan Lavarnway, Alexi Ogando, Alex Torres, Carlos Torres, Matt Tuiasosopo, Rob Wooten, Chris Volstad (since released)
Notable Losses
Betancourt, Pedro Ciriaco, Ross Detwiler, Edwin Jackson, Mike Minor, Sugar Ray Marimon, Maybin, Miller, Peter Moylan, Eury Perez, Simmons, Joey Terdoslavich
Needs Addressed
The biggest move made by Atlanta last winter came on the eve of Opening Day, when closer Craig Kimbrel was shipped to the Padres. This time around, the stunner came early in the offseason, with defensive magician Andrelton Simmons heading to the Angels for one year of veteran shortstop Erick Aybar and two pitching prospects: the high-upside Sean Newcomb and near-ready Chris Ellis.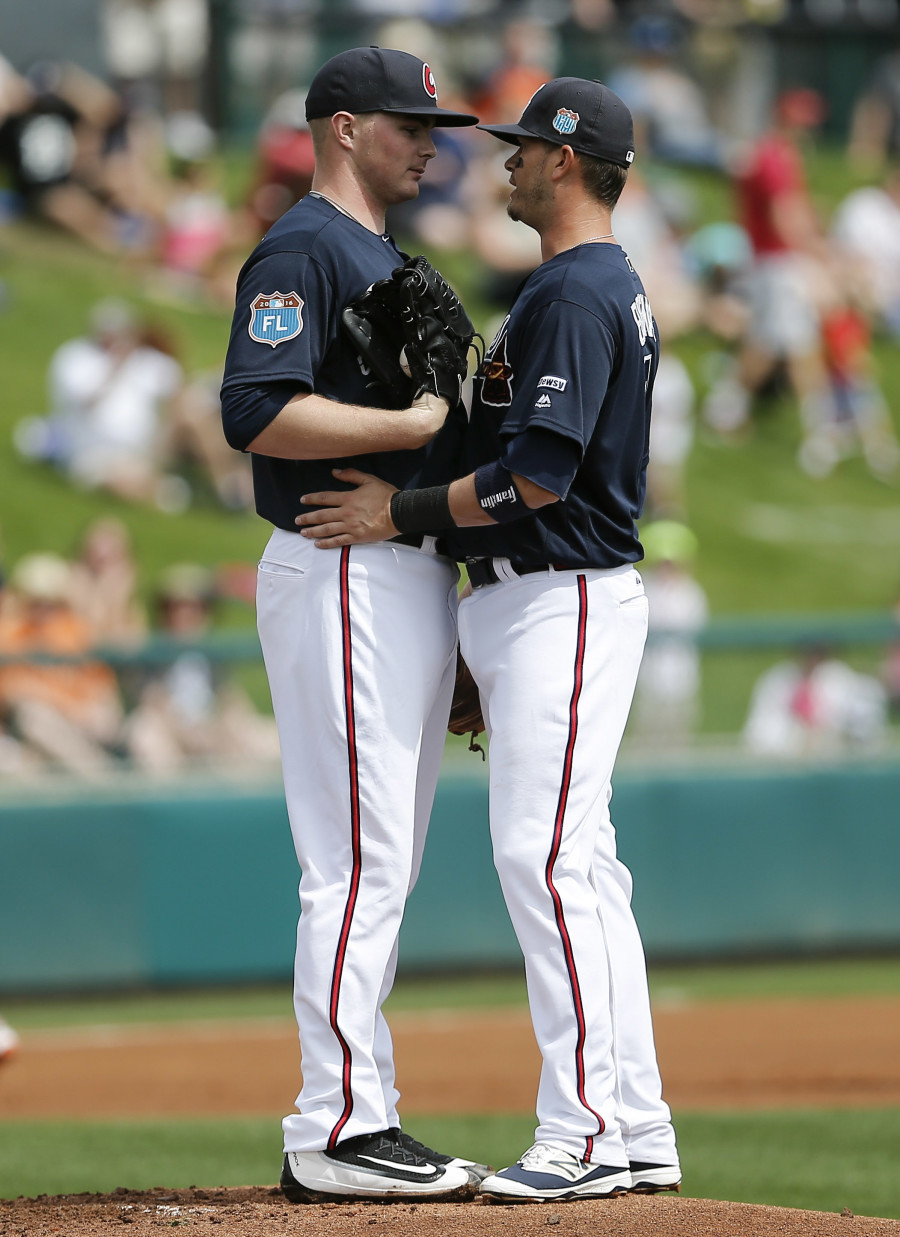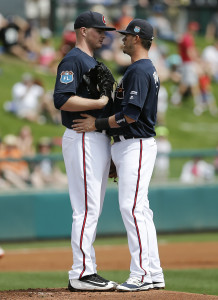 While GM John Coppolella had to defend the Simmons swap to fans and observers, the later send-off of Shelby Miller largely sold itself. The 25-year-old Miller, the key piece of last year's Jason Heyward deal, had a strong first campaign in Atlanta and is controllable for three more seasons. But the Diamondbacks paid big to get him, parting with five years of Ender Inciarte, last year's top overall pick Dansby Swanson, and highly-rated pitching prospect Aaron Blair. Inciarte looks like a solid building block piece — if he, too, isn't eventually flipped — while Swanson may form a future middle infield pairing with rising youngster Ozhaino Albies. As for Blair, he joins Newcomb and Ellis in an increasingly loaded stockpile of promising young arms.
That's not all that Atlanta accomplished on the trade front. Cameron Maybin was another recent trade piece who was passed along, adding to the cost savings achieved in the Kimbrel pact. And the club officially gave up on one-time catcher-of-the-future Christian Bethancourt, who was out of options, preferring instead to roll the dice on promising but oft-injured righty Casey Kelly and young backstop Ricardo Rodriguez.
That set of swaps opened quite a few needs and opportunities at the major league level. Aybar promises to play regularly at short, keeping the seat warm for Swanson and Albies while providing a potential trade chip at this year's deadline. Likewise, Inciarte will move into the center field role, shifting Michael Bourn to a reserve role.
Joining those new faces are a host of veterans signed to short-term contracts. At catcher, Atlanta gave two years to the non-tendered Tyler Flowers and brought back A.J. Pierzynski on a one-year pact. That looks like a fairly sturdy duo behind the plate: Flowers has an average bat for the position and has posted good framing numbers, while the 39-year-old Pierzynski slashed .300/.339/.430 last year for the Braves. Ryan Lavarnway was re-signed to a minor league deal to provide further depth.
Kelly Johnson, Emilio Bonifacio, and Gordon Beckham will join Jace Peterson and Adonis Garcia in the mix at second and third at a total cost of just $4.5MM. It would be a surprise if that group produced at a terribly high level, but the club will hope that it will be able to make out a serviceable enough unit from those options. If nothing else, the pressure will be reduced on Peterson, who wasn't quite up for everyday duty when he joined Atlanta before last season as part of the Justin Upton trade.
Among the team's minor league signings were veteran utilitymen Reid Brignac and Chase d'Arnaud, who could step in at short if Aybar is moved. (Light-hitting Daniel Castro also represents a place-holding option there.) And players like Jeff Francoeur, Nate Freiman, and Matt Tuiasosopo also joined the organization over the winter in hopes of pushing for a bench spot.
Rounding things out were a host of pitching additions, led by guaranteed deals for right-handers Bud Norris and Jim Johnson. The 31-year-old Norris will be relied upon in the rotation, where he'll look to re-establish himself as a durable back-of-the-rotation starter. Kyle Kendrick might've hoped for the same, but was already released after struggling early this spring. The same fate befell Chris Volstad, though David Holmberg and Carlos Torres are still in camp as depth options for an otherwise youthful staff.
Meanwhile, Johnson will hope to replicate his solid form in the first half of 2015 with the Braves after struggling following his mid-season move to the Dodgers. Minor league signees like Jhoulys Chacin, Alexi Ogando, and Alex Torres all bring plenty of experience to the pen mix, too.
Continued analysis after the break …
Questions Remaining
Needless to say, there are quite a few moving parts in Atlanta, and the Opening Day roster will likely see quite a bit of turnover during the season to come — and yet more down the line.
The rotation is an area on which Coppolella, John Hart, and company have focused plenty of attention in acquisitions. Norris will join staff ace Julio Teheran as the two most established arms. The youthful Williams Perez will likely have an opportunity to prove himself, though he isn't generally seen as having much upside. Chacin may yet crack the staff and provides a swingman option. Otherwise, the vanguard of the team's large group of hopeful future staff members — Matt Wisler, Manny Banuelos, and Mike Foltynewicz — will get a longer look after receiving their first exposure to starting in the majors in 2015 (none with particularly impressive results).
Unfortunately for the Braves, they didn't get to see what Mike Minor has left, as he was deemed too great a risk for a tender when he experienced a rehab setback this winter. The organization has been stung by this situation recently: the organization also lost Kris Medlen and Brandon Beachy without recompense after they, too, were beset with arm trouble in the midst of arbitration.
It's possible to imagine a scenario where Atlanta gets some decent performances and enjoys relative stability from the rotation in 2016, but it's also not difficult to foresee some quality and depth issues. Teheran could end up being trade bait if he performs, and Norris has quite a bit to prove. Holmberg and Torres aren't the most established depth options, while youngsters like Blair, Kelly, Ellis, and Tyrell Jenkins may or may not be ready for the majors this season. (The highest-upside arms, such as Newcomb, Kolby Allard, and Touki Toussaint, are probably further off.) All told, it wouldn't be surprising if Atlanta picked up some castaways late this spring or during the season.
There's some room for critique here, as Atlanta could have pursued more compelling rotation pieces if it's serious about putting a solid product on the field in 2016. After all, the organization's current projected Opening Day payroll projects to land south of $75MM for the first time in the 21st century. The Braves could've pushed for Doug Fister in free agency, pursued the trade route that the Phillies used to land Charlie Morton and Jeremy Hellickson, or even pushed for a more controllable, MLB-level arm. The price of pitching was high, to be sure, but a bigger move might also have reaped greater rewards at the trade deadline and/or given the team a better chance to hang in the postseason picture.
Over in the pen, at least, there appears to be more in the way of depth. Veterans Johnson and Jason Grilli could turn into deadline movers if they can be as healthy and effective as they were early last year, and Arodys Vizcaino showed immense promise as a late-inning arm. In terms of middle relievers, aforementioned trade acquisitions Ramirez and Krol may slot right in, and there's a wide variety of depth pieces — including Chacin, Ogando, and already-optioned 40-man members Chris Withrow and Danny Burawa. Atlanta will need to carry Rule 5 pick Daniel Winkler for at least a few weeks to lock down his rights from the Rockies. The club already sent lefty Evan Rutckyj back to the Yankees, and will unfortunately have to wait a while before getting a look at injured southpaws Andrew McKirahan and Paco Rodriguez, but that could at least open the door for Alex Torres.
It's a testament to the amount of turnover in this organization that we're only now able to turn to one of the most important questions facing the team: the ability of Hector Olivera to adapt to the big leagues. We won't go through the details of the complex, 13-player trade that brought Olivera (and Rodriguez, Zachary Bird, and a competitive balance pick) to Atlanta, but suffice to say the Braves gave up some real future value in hopes that Olivera would turn into an affordable, steady regular. Soon to turn 31, Olivera underwhelmed at the plate and in the field in his first taste of the majors, but he's shown better this spring and will move from third base to left field. He's controlled through 2020, so it's still a long-term play, but the organization will need to see significant strikes in 2016 or begin to make alternative plans.
With Inciarte up the middle and Nick Markakis holding down right — at least unless the club considers a mid-season deal for the sturdy veteran — the regular rotation should largely be set. If Bourn sticks as a fourth outfielder, with Bonifacio and Johnson also capable of time on the grass, that would likely mean that Nick Swisher would be set onto the market. Atlanta will surely be happy to find any team interested in taking on some of his salary, but that seems unlikely given the veteran's injury-aided fall-off at the plate. (The Indians are already paying $15MM of the $29MM owed in total to Swisher and Bourn for the coming season.)
Much attention has been given to youngster Mallex Smith's big spring, though it doesn't seem there was ever much chance that he'd head north out of camp (at least once Inciarte was added). He's only 22 and didn't exactly master Triple-A after a mid-season promotion last year, so it seems likely he'll get more seasoning. But a nice showing could earn him a big league nod at some point in the coming season.
The same holds true of Albies and Swanson, and perhaps also third baseman Rio Ruiz, though in all cases the Braves will surely keep an eye on service time and avoid rushing any of the players that they hope will form a solid position-player core for years to come. We already covered the infield mix above; odds are, the club will let things play out without any aggressive promotions at least until the Super Two deadline has passed and the summer trade market has begun to materialize.
But it's fair to note here that, as with the rotation, there might've been some room for greater improvements. Players like Howie Kendrick, Ian Desmond, and David Freese all languished on the market and would have upgraded a cheap but largely uninspiring second and (especially) third base situation. To be fair, the investments in Johnson, Bonifacio, and Beckham had already been made before the asking prices fully dropped. And parting with a draft pick (for Kendrick or Desmond) would've been painful due to the lost bonus dollars. Nevertheless, the overall situation at these spots is sub-optimal, particularly since the rising prospect crop may not quite be ripe for a big league challenge over the season to come.
There's one very notable player we've yet to mention, of course: first baseman Freddie Freeman. There's some concern about his nagging wrist issues, but otherwise Freeman is the organization's surest asset. (He's also the most expensive and longest-controlled, as his deal guarantees $118.5MM through 2021.) If any player is bolted down in Atlanta, it's the 26-year-old first baseman. There were plenty of trade rumors early in the offseason — some of them, perhaps, more serious than the team prefers to acknowledge — but Coppolella made clear in mid-November that Freeman wasn't going anywhere. (At least, not until he first parted with his own right arm; no word whether such a move was ever discussed.) It is certainly still possible that Freeman will end up somewhere else at some point in the future, but there's now a rather significant presumption against that scenario.
Deal of Note
Parting with Simmons — a young, up-the-middle player who had seemed a franchise cornerstone — was a much greater surprise than was moving Kimbrel, a trade that was more stunning for its timing. Coppolella took a lot of heat from fans who felt the organization's contention timeline was being pushed back with the Simmons move, but made clear he felt the return was too good to pass up.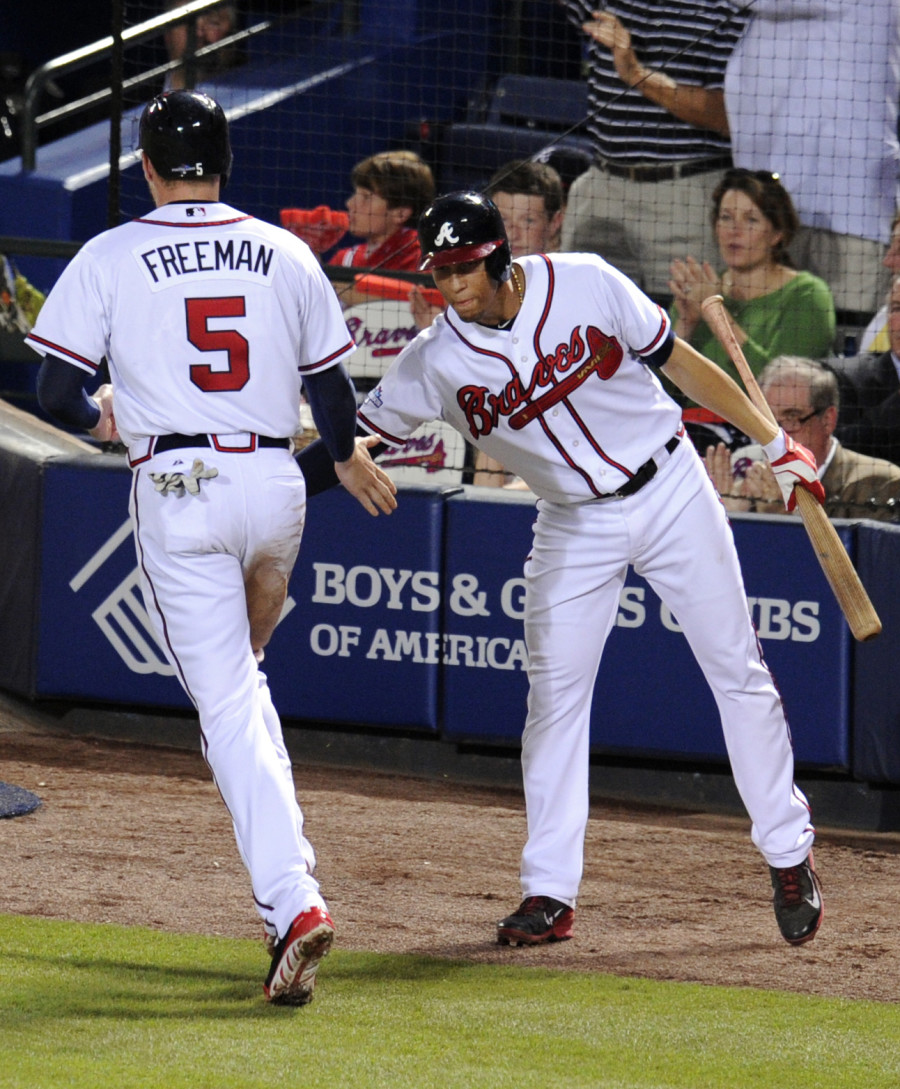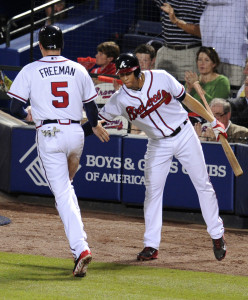 Newcomb is the gem of the deal, but he's no sure thing. Still, the free-wheeling front office no doubt sees the benefit of stockpiling a large volume of live arms. Even if pitchers like Newcomb and Foltynewicz can't harness their repertoire in a rotation, they might well become dominant late-inning relievers. And the stockpile could also be deployed to fill in the gaps on the position player side.
But what's most interesting about the organization's decision is less the quality of those young arms, which largely remains to be seen, so much as what it says about the organization's view of the 26-year-old Simmons, who hasn't developed at the plate, and up-and-coming Albies. There's little question that Simmons has a high floor with his outstanding glove, but Atlanta may well have decided he'd never turn into even an average offensive producer and might eventually decline in the field in his late twenties. (The significant cost savings probably didn't hurt, either.)
The Simmons deal looks quite a bit different in light of the organization's future decisions, though that may in part be due to happenstance. It took nearly a full month for the Miller deal to come together, amidst an over-heating pitching market. But the addition of another exciting young shortstop in Swanson — who's expected to be a quick mover as a polished college draftee — leaves good reason to believe that the organization can fill the position from its prospect ranks as soon as late 2016.
Overview
The totality of the offseason continues to highlight the Atlanta front office's focus on value and flexibility. You can certainly quibble with one or another exchange, but the overall rebuilding efforts seem to have nicely balanced the desire to add upside with the imperative to begin plugging production onto the MLB roster in advance of the new ballpark opening next year.
With Freeman as the "rock" — he and Teheran are the lone holdovers from the organization's last post-season appearance in 2013 — Atlanta hopes that it can begin a new ascendancy and return to being a perpetual contender. There's an expectation of more TV money to come down the line, to say nothing of added financial opportunities in Cobb County, and that — along with a collection of young talent widely seen as one of the best in the game — ought to make last year's 67-win season a low-water point. Of course, the organization was still careful to keep down costs this winter, possibly foregoing some opportunity for fringe contention.
What remains to be seen is precisely who'll lead the renaissance, and how long it will take to mature. Coppolella and Hart will need to continue to be creative and opportunistic, while remaining increasingly cognizant of the need to make hard calls on balancing near and long-term prerogatives and choosing which players to rely upon.
If the club is even on the fringes of the playoff race this summer, will it sell or hold its many short-term veteran assets? Is Teheran a core piece or another chip to be cashed in? How aggressively should the prospects be moved up and how will service time factor in? When and how will the team begin pursuing established major leaguers in trade and free agency?
Regardless of how these questions are answered, it's sure to be interesting.
How would you rate the Braves' offseason work? (Mobile app users can click here to access the poll.)