This is the latest entry in MLBTR's Offseason In Review series. The full index of Offseason In Review posts can be found here.
The White Sox set a rebuilding course with a pair of Winter Meetings blockbusters in which Chris Sale and Adam Eaton were cashed in for top prospects.
Major League Signings
Trades And Claims
Notable Minor League Signings
Extensions
Notable Losses
Chris Sale, Adam Eaton, Brett Lawrie, J.B. Shuck, Justin Morneau, Austin Jackson, Alex Avila, Matt Albers, Jacob Turner, Daniel Webb, Anthony Ranaudo, Jason Coats
White Sox Roster; White Sox Payroll Information
Needs Addressed
When I published my White Sox Offseason Outlook on November 5th, the team had not yet tipped its hand as to the offseason direction.  GM Rick Hahn had said in August, "By the time we make our first or second transaction, publicly it will be fairly clear as to our direction." Hahn wasn't kidding.  The White Sox staked a very clear rebuilding position with back-to-back Winter Meetings blockbuster trades.  Finally, the team committed to a full teardown.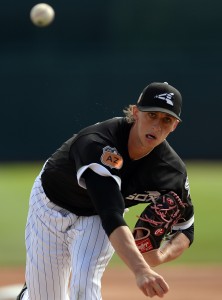 First, longtime ace starting pitcher Chris Sale was traded to the Red Sox for a bevy of top prospects, led by Moncada and Kopech (pictured at right).  In Moncada, the White Sox acquired the type of player who is rarely traded: a potential perennial All-Star, on the cusp of being MLB-ready.  The switch-hitting Cuban is penciled in as Chicago's second baseman of the future.  Moncada draws raves from prospect gurus for his power, speed, and arm.  Kopech, meanwhile, is a power pitcher who comes with "front of the rotation potential," according to Baseball America.  Basabe, while further from the Majors, also rates as one of the team's top ten prospects now.  The White Sox determined they could not win in the next three years with Sale, and Hahn was able to maximize the return by pitting the Red Sox against the Nationals, Astros, Braves, and others.
Barely 24 hours later at MLB's Winter Meetings in Orlando, Hahn made a deal to send Adam Eaton to the Nationals for three pitching prospects.  Baseball America ranks Lucas Giolito and Reynaldo Lopez both slightly above Kopech, and has all three in the #25-32 range among all MLB prospects.  Like Moncada, Giolito and Lopez have Major League time.  While there may be growing pains, the top assets acquired by Hahn are all close to contributing in 2017.  Dunning played the Basabe role in this deal, as a third piece who is further from the big leagues.  Eaton, 28, is at the top of his game and was the rare veteran player to be dealt with five years of remaining control.  With the Eaton trade, Hahn was able to pull off a second deal that drew raves around the industry.  The total haul for Sale and Eaton leaned toward pitching, a function of Hahn pursuing the best available young players, regardless of position.
A week later, the White Sox filled their rotation vacancy by signing Derek Holland to a one-year deal.  Holland hasn't had a healthy, valuable season since 2013, but this is the kind of free agent signing we expect to see with a rebuilding club.  In the best case scenario, Holland has a nice first half and the White Sox are able to spin him for a useful, controllable piece in July.
Earlier this week, the White Sox locked up shortstop Tim Anderson to a precedent-setting six-year, $25MM deal.  The contract sets a new record for a player with less than one year of Major League service.  With only 115 days of Major League service under his belt, it's difficult to project what kind of player Anderson will become.  But at age 23, he already looks like a solid two-win contributor.  And the team has a fantastic recent track record with these types of extensions, having previously signed Sale, Eaton, Jose Quintana, and Nate Jones.
Questions Remaining
With the Sale and Eaton trades occurring in rapid succession, it seemed a Jose Quintana deal wasn't far behind.  Quintana's availability this winter was no secret.  While the 28-year-old doesn't have Sale's ace reputation, he is a very good starting pitcher on a very team-friendly contract.  With a terrible free agent market for starting pitching, it was surprising no team was willing to meet the demands of the White Sox for Quintana.  The Pirates and Astros were reportedly quite interested, with the Rangers, Yankees, and Braves also connected.  Quintana is undoubtedly a major trade chip for the White Sox in the coming months.  In a February call with MLB.com's Scott Merkin, Hahn said, "Frankly, there just hasn't been an offer on the table that has made us feel like, 'Boy we better move now or we are going to be kicking ourselves.'"  While Hahn noted he's feeling no economic or timing pressure on his remaining trade chips, the team is taking a calculated risk that offers will improve in future.  While a summer Quintana trade currently seems like the most likely scenario, it's possible a deal could be struck between now and Opening Day.
Rumors were scant regarding first baseman Jose Abreu, outside of a Winter Meetings note that the Rockies were interested.  The White Sox may have run into an overcrowded free agent market, which featured more first base/DH-type bats than there were jobs.  At the lower end, players such as Brandon Moss, Mike Napoli, and Chris Carter took cheaper-than-expected deals.  Abreu, 30, is more appealing than many of those free agents, but not enough to trigger wide reported interest.
In their talks for Adam Eaton, the Nationals reportedly attempted to expand the deal to include reliever David Robertson.  Talks continued, but the Nationals and White Sox have reportedly reached a stalemate on the veteran closer.  With two years and $25MM remaining on his contract, and control problems in 2016, Robertson is not for everyone.  He's another name to watch this summer.  Perhaps the White Sox will end up eating more money than they were willing to in the winter.  Todd Frazier, a free agent after 2017, is another veteran player who received little reported interest this winter despite hitting 75 home runs over the past two seasons.  The White Sox will be rooting for strong, healthy first halves for many veteran players, which would lead to an active July.  Hahn repeatedly said he would have liked to have made four more transactions this winter, and perhaps Quintana, Abreu, Robertson, and Frazier were the four players.
The team would also be best served moving 32-year-old veteran Melky Cabrera, who will serve as the Opening Day left fielder.  The Melk Man hit about as well as Wil Myers, Adam Eaton, or Mike Napoli last year, but his below-average defense and $15MM salary seems to have limited interest.   One quietly intriguing trade chip this summer will be Nate Jones, a fantastic reliever who is under contract for up to five more seasons.  Jones, a 31-year-old with a 97 mile per hour fastball, is far more valuable than Robertson and could be the best reliever traded this summer.  The White Sox still have a ton of trading left to do.
Aside from all the trades that have yet to happen, the other question is who is actually going to play for the 2017 White Sox.  With a team that is clearly not concerned about winning in 2017, the White Sox have a rare opportunity to use low-pressure playing time to unearth trade chips or future contributors.  Unfortunately, the roster is currently loaded with placeholders devoid of upside.  For example, the club's Opening Day outfield could feature Cabrera, Peter Bourjos, and Avisail Garcia.  Someone has to stand out there, but hopefully Hahn can identify a few post-hype sleepers to try out in the outfield until long-term fixtures are identified.  The White Sox make a great home for players feeling the roster squeeze.  The release of Lawrie was a step in the right direction, opening up second base for cheaper options led by Tyler Saladino.  The team's catching position is another area of uncertainty.  The club is hoping 25-year-old Omar Narvaez can keep the seat warm until 2016 first-round pick Zack Collins is ready for The Show.
Overview
In 2017, the White Sox are set to join teams like the Phillies, Reds, Padres, and Brewers as clubs undertaking rebuilds.  It's the right move for the franchise as Hahn and company look to build a sustainable winner with a deep roster.  The Major League product will get worse before it gets better, as the White Sox will continue to clear the decks of veteran players this summer.
What's your take on the White Sox' winter? (Link to poll for mobile app users …)
Photo courtesy of USA Today Sports Images.