The Nationals made their long-awaited strike for bullpen help, acquiring relievers Sean Doolittle and Ryan Madson from the Athletics, FOX Sports' Ken Rosenthal reports (Twitter links).  Right-hander Blake Treinen, minor league left-hander Jesus Luzardo and minor league third baseman Sheldon Neuse are headed to Oakland. The Nats have officially announced the move, adding that Joe Ross has been transferred to the 60-day DL to create roster space.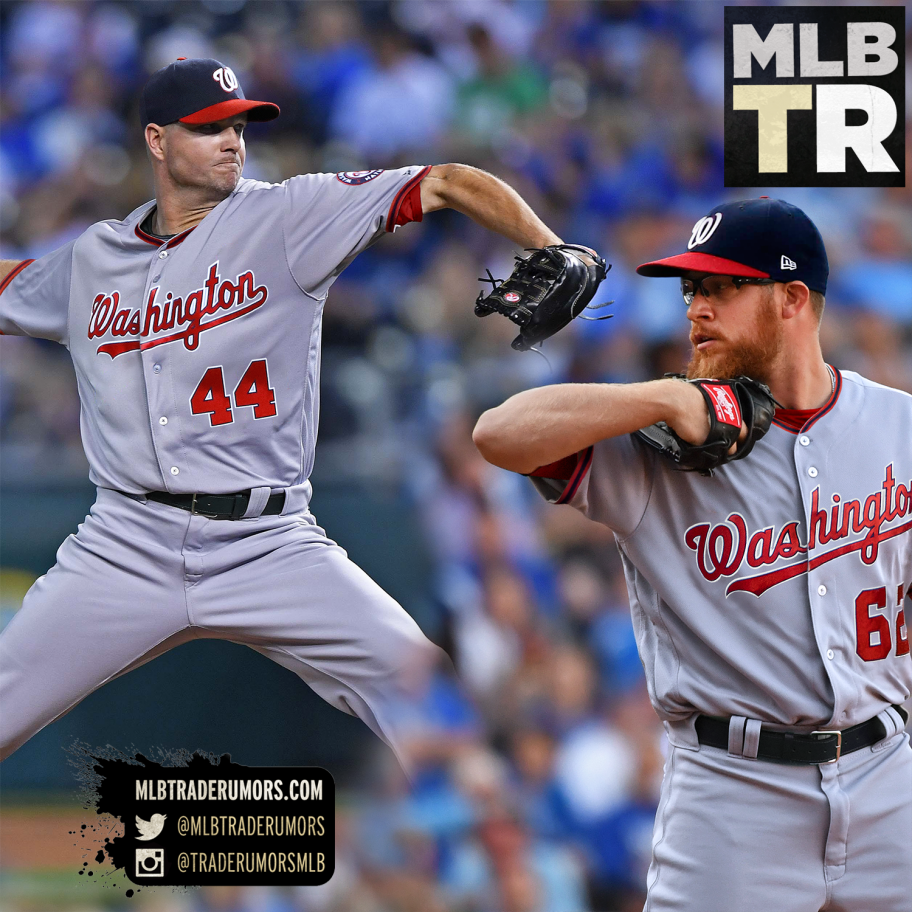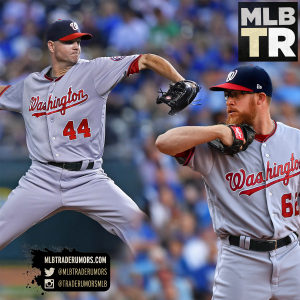 The trade ends months of speculation about how Washington would address its struggling bullpen, which sits last in baseball with a cumulative 5.34 ERA and -0.9 fWAR.  The Nats were linked in trade rumors to seemingly every available reliever in the sport and finally settled on a familiar trade partner in Oakland.  Rosenthal reported yesterday that the Nationals were looking to add both Doolittle and Madson from the A's in a single deal.  Both Madson and Doolittle have closing experience and either could slide right into Washington's open ninth-inning role, though the club could also alternate between the two depending on how matchups favor the right-handed Madson or the left-handed Doolittle.
The Nats are undoubtedly very familiar with Madson from his years pitching for the Phillies in the NL East, though that almost seems like another career for the 36-year-old, who missed all of 2012-14 due to injury before resurfacing as a shutdown reliever for the 2015 World Series champion Royals.  Madson parlayed that comeback year into a three-year, $22MM deal with the A's and has performed well in Oakland, posting a 3.03 ERA, 7.6 K/9 and 3.38 K/BB rate in 104 IP wearing in the green-and-gold.
Drafted 41st overall by the A's in 2007, Doolittle has been a staple of the A's bullpen for the last six seasons, with a 3.09 ERA, 10.7 K/9 and a sterling 6.38 K/BB rate over his 253 career innings.  He has run into a bit of trouble with home runs over the last two seasons, which could hint at an issue as he moves from the Coliseum to a more hitter-friendly venue in Nationals Park.
Doolittle is owed roughly $1MM more this season and $4.35MM in 2018, as per an early-career extension signed with the Athletics in April 2014.  The Nationals also hold club options on Doolittle for 2019 ($6MM, $500K buyout) and 2020 ($6.5MM, $500K buyout), making him an affordable long-term answer in their bullpen.  Between both Doolittle and Madson, the Nats have addressed their pen both now and in the future with the trade.
Rosenthal reports that no money will change hands in the trade, so the Nationals will fully absorb the Madson and Doolittle contracts.  The Nats will therefore add $11.85MM in payroll next season, though some money will come off the books with the likes of Jayson Werth, Joe Blanton, Oliver Perez and Stephen Drew hitting free agency (though Bryce Harper and Daniel Murphy are due hefty raises and will eat up almost $15MM of that open money).
Treinen was part of another Oakland/Washington deal back in January 2013 when the then-Athletics prospect was dealt to the Nats as part of the three-team deal with the Mariners that saw John Jaso go to the A's, Mike Morse to Seattle and A.J. Cole to the Nationals.  Armed with both a 96mph-fastball and an ability to keep the ball out of the air (62.2% career ground-ball rate), Treinen put up good numbers for the Nats in 2014-16 before running into problems this season.  Treinen has a 5.73 ERA over 37 2/3 innings, though a bloated .381 BABIP is partially to blame — Treinen's ERA predictors (3.75 FIP, 4.09 xFIP, 3.75 SIERA) are much more forgiving of his performance.
The righty will only be arb-eligible for the first time this coming winter, so the Athletics have acquired a big arm under team control through the 2020 season.  Santiago Casilla is likely to be Oakland's primary ninth-inning option in the short term, though Treinen surely projects as a potential closer of the future for the A's, and could conceivably audition in the role before this season is out.
Luzardo and Neuse were respectively rated 15th and 17th by the Baseball America Prospect Handbook's preseason ranking of the top 30 prospects in the Nationals' system.  Luzardo is a hard-throwing 19-year-old who was a third-round pick for Washington in the 2016 draft, despite undergoing Tommy John surgery in March 2016.  He quite possibly would've been taken earlier in the draft were it not for that surgery, and Luzardo has only just begun his pro career, with three starts this season for the Nationals' rookie league team.
Neuse was a second-round pick in 2016, and is hitting .291/.349/.469 with nine home runs over 321 A-ball plate appearances this year.  Neuse is described by the BA Handbook as possessing average power potential, with "a short, compact swing" that allows him to hit to all fields.