With 10 teams qualifying for the MLB playoffs annually, there's guaranteed to be a fair amount of turnover at the top of the mountain each season. For instance, both the 2016 and '17 postseasons welcomed five playoff teams that didn't earn a trip during the previous campaign. At least some of last year's playoff-bound clubs will face a high degree of vulnerability going into 2018, then, and it would obviously behoove all 10 to make as many improvements as possible heading into the spring. This offseason has unexpectedly operated at a Pedro Baez-esque pace, leaving room for 2017's top teams to make some significant moves over the next couple months if they wish.
As you'll see below in this AL-focused edition, headline-grabbing transactions are likely still on the way for some of the junior circuit's best teams from a year ago.
Cleveland Indians (2017 record: 102-60; current FanGraphs projection for 2018: 93-69): While the Indians are the odds-on favorites to win the AL Central for the third straight year, they've absorbed multiple blows this winter. First baseman/designated hitter Carlos Santana, who had been a stalwart for the Tribe since 2010, joined the Phillies as a free agent. Likewise, workhorse reliever Bryan Shaw and fellow late-game standout Joe Smith exited on the open market, taking away a couple members of last year's otherworldly pitching staff. And the Indians may also lose two more notable 2017 contributors in outfielders Jay Bruce and Austin Jackson, both of whom are unsigned.
Contrary to last offseason, when the Indians' windfall from their 2016 World Series run helped them splurge on free agent Edwin Encarnacion, they're unlikely to make any major moves this winter. As it stands, Cleveland hasn't created headlines aside from exercising talented but injury-prone outfielder Michael Brantley's $12MM option, reeling in Santana's replacement – Yonder Alonso, whose fly ball-first offensive approach led to quality results in 2017 – and picking up outfielder Melvin Upton Jr. on a minor league pact. Jackson himself took a minors deal last year and went on to thrive as a reserve, giving the Indians hope that Upton will reestablish himself in similar fashion next season.
Houston Astros (2017 finish: 101-61; current projection for 2018: 97-65): No one would have blamed the reigning World Series champions for doing little to nothing this winter, given the dearth of weaknesses on their roster. Thus far, a bullpen that was unreliable in the playoffs has been an area of focus. Even that group wasn't in dire need of help, however, despite Luke Gregerson's departure in free agency. Nevertheless, the Astros bolstered their relief corps with the signings of the aforementioned Smith and ex-Cub Hector Rondon, giving them two more righties to join the likes of Ken Giles, Chris Devenski, Brad Peacock, Will Harris and Joe Musgrove.
It's possible Astros general manager Jeff Luhnow's offseason heavy lifting is now done, though it would seem unwise to rule out more pickups. After all, the Astros have been connected to top-tier starters Yu Darvish, Jake Arrieta and Chris Archer, star outfielder Christian Yelich, and catchers J.T. Realmuto and Jonathan Lucroy on the rumor mill in recent weeks. They even showed some interest in 2017 NL MVP Giancarlo Stanton before the Marlins shipped him to the Yankees last month, and they've looked at free agent outfielder Carlos Gonzalez.
The shine has come off CarGo lately, but he might help replace retired designated hitter Carlos Beltran – who, despite being a highly respected veteran presence, wasn't productive on the field last season. For now, catcher Evan Gattis is the front-runner to serve as Houston's DH in 2018. If he does, that could open up room for a Realmuto or Lucroy acquisition, especially with Gattis and starting backstop Brian McCann likely to become free agents after next season.
Boston Red Sox (2017 finish: 93-69; current projection for 2018: 91-71): Despite their success last season, the Red Sox endured an uncharacteristically poor year at the plate as they began life after David Ortiz. While Boston did finish 10th in the majors in runs, it placed just 22nd in wRC+, 27th in home runs and 28th in ISO. Consequently, their fan base has been calling for the acquisition of a bopper to help fill Ortiz's monumental void. President of baseball operations Dave Dombrowski is sure to oblige at some point as he attempts to make life easier on rookie manager Alex Cora. The question is: Will the Red Sox successfully woo the premier hitter on the market, outfielder J.D. Martinez, and where would he play with the enviable OF trio of Mookie Betts, Jackie Bradley Jr. and Andrew Benintendi in the fold?
The Red Sox and Martinez, an elite hitter with serious defensive limitations in the grass, have been in a staring contest for weeks. With free agency moving so slowly, a deal doesn't appear imminent. Should Boston come up short in the Martinez sweepstakes, it's unclear what it would do for a Plan B. Free agent first baseman Eric Hosmer, White Sox first baseman Jose Abreu and Orioles shortstop/third baseman Manny Machado have been on the Red Sox's radar this winter; however, the presences of just-re-signed first baseman Mitch Moreland and DH Hanley Ramirez could complicate matters (the latter may be a release candidate, though), and acquiring Machado from the division-rival Orioles is hardly a slam dunk.
New York Yankees (2017 finish: 91-71; current projection for 2018: 91-71): The Yankees have also been in on Machado, who'd add to an already ridiculous lineup that includes the newest Bronx Bomber, Stanton, fellow 50-home run man Aaron Judge and big-hitting catcher Gary Sanchez, among others. Although swinging a deal for Machado appears unlikely, he'd fill a greater need in New York than he would in Boston. The Red Sox, after all, look set on the left side of their infield with Rafael Devers and Xander Bogaerts, whereas the Yankees have lost third basemen Chase Headley and Todd Frazier since last season. They also waved goodbye to second baseman Starlin Castro, who – along with two low-level prospects – went to Miami in the Stanton swap. But that was a small price to pay to get Stanton and Judge in the same lineup and outfield.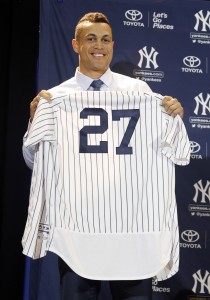 Being able to write Stanton, Judge and Sanchez into his normal lineup will put neophyte skipper Aaron Boone in an enviable spot, but the Yankees' work isn't necessarily done. While they're bent on staying below the $197MM luxury tax threshold in 2018, GM Brian Cashman still seems likely to acquire at least one veteran infielder (perhaps Frazier, who remains a free agent) so as not to turn to unproven options at both second and third. Additionally, despite the re-signing of CC Sabathia and the presences of Luis Severino, Masahiro Tanaka (who surprisingly didn't opt out of his contract at season's end), Sonny Gray and Jordan Montgomery, Cashman has been on the hunt for an established, controllable starter.
The Yankees sent a haul of prospects to the A's for multiple years' control over Gray last summer, and it may happen again this winter for someone like Gerrit Cole (Pirates), Michael Fulmer (Tigers), Chris Archer (Rays) or Danny Duffy (Royals). Alternatively, a trade for contract-year Diamondbacks left-hander Patrick Corbin seems like a possibility. The Yankees have also shown interest in Darvish, though that looks like an improbable match when considering their tax concerns. Dumping a large portion of reserve outfielder Jacoby Ellsbury's $68MM-plus contract on someone would help make a Darvish signing more realistic, but good luck with that.
Minnesota Twins (2017 finish: 85-77; current projection for 2018: 81-81): Speaking of Darvish, the small-market Twins have aggressively courted him this offseason as they work to upgrade an underwhelming starting staff. It's an unlikely marriage on paper, but GM Thad Levine is familiar with Darvish from their time in Texas together. More importantly, the Twins have money available to make such a splash, as MLBTR's Steve Adams explained in November. Whether via free agency (Darvish, Jake Arrieta, Lance Lynn, Alex Cobb) or a trade (Archer?), it would behoove the Twins to add at least one proven starter to a group that lacks certainty after Ervin Santana and Jose Berrios. Otherwise, repeating as a postseason-bound team in 2018 could be a rather tall task for Minnesota, particularly with the playoff-hopeful Angels having made one well-received move after another this winter. The Twins, meanwhile, have been mostly quiet in terms of transactions, with relatively inexpensive relievers Fernando Rodney and Zach Duke being their only notable signings.
Of course, when talking about the Twins' offseason, it would be impossible to ignore the controversy surrounding franchise building block and third baseman Miguel Sano. Last week, photographer Betsy Bissen accused Sano of assaulting her in 2015. Sano issued a denial, but the league is now investigating the claim.
Photo courtesy of USA Today Sports Images.