This is the latest entry in MLBTR's 2017-18 Offseason In Review series.  Click here to read the other completed reviews from around the league.
With the big exception of a prominent new slugger, the Red Sox will head into 2018 with largely the same roster that won them the AL East last season.
Major League Signings
J.D. Martinez, OF/DH: Five years, $110MM (deal contains player opt-out clauses after the second, third, and fourth seasons; Red Sox can potentially convert fourth and fifth seasons into mutual options)
Mitch Moreland, 1B: Two years, $13MM
Eduardo Nunez, IF: Two years, $8MM (Nunez can exercise $2MM buyout and opt out of contract after 2018)
Total spend: $131MM
Trades And Claims
Notable Minor League Signings
Notable Losses
Red Sox 25-Man Roster & Minor League Depth Chart; Red Sox Payroll Overview
Needs Addressed
It isn't a stretch to say that Boston's entire offseason revolved around a single player.  While the Red Sox did their due diligence by checking in on some other big free agent bats (such as Carlos Santana, Eric Hosmer, and Logan Morrison), J.D. Martinez had long seemed like a natural fit, particularly given his past association with Dave Dombrowski.  As well, Martinez's numbers over the last four seasons — .300/.362/.574 with 128 homers — set him apart as the consistent, elite bat that the Sox were lacking last season in the wake of David Ortiz's retirement.
It did take a while for the deal to be struck, both because agent Scott Boras was surely trying to find at least one more big-money suitor for his client and because the Red Sox saw no reason to offer anything close to Boras's initial $200MM asking price for Martinez given the lack of competition.  The Diamondbacks were the only other team that seemed like a serious consideration for Martinez, but even they were a longshot due to a lack of payroll flexibility.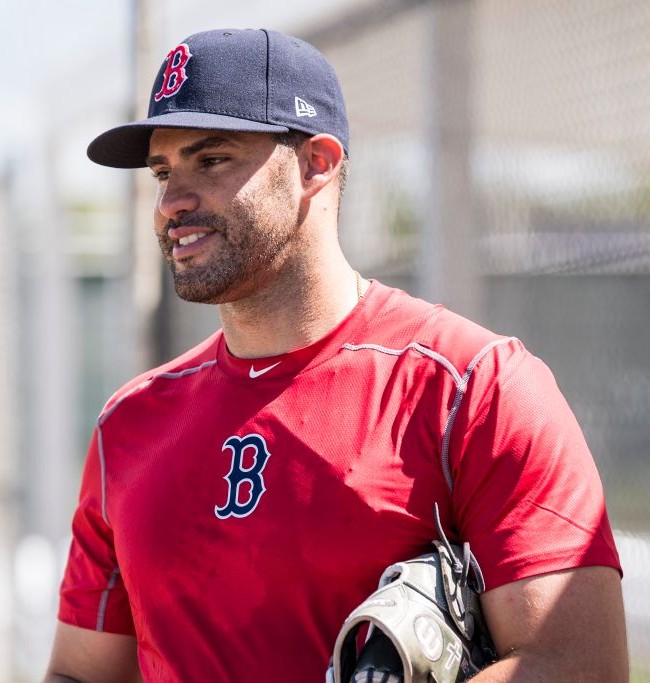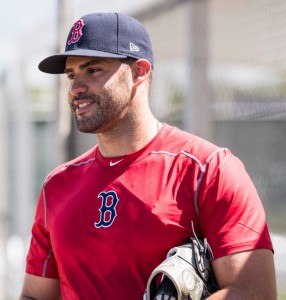 Even once a deal was struck, it still took another week for contractual terms to be fully worked out, resulting in quite a bit of flexibility for both sides.  Martinez can opt out of the deal after the 2019, 2020, and 2021 seasons, while the Red Sox can turn the contract's final two years into mutual options should Martinez spend significant time on the DL due to injuries related to the Lisfranc foot problem that sidelined him for part of the 2017 campaign.  These terms reflect some extra caution for a franchise that has been burned on several expensive free agent signings in recent years, and if Martinez plays well enough to opt out at the first opportunity, the Red Sox would have to feel pretty satisfied at getting elite production on what would become a two-year, $50MM commitment without having to worry about a decline on the contract's back end.
Martinez will spend most of his time as a designated hitter, occasionally stepping into some corner outfield duty to spell Andrew Benintendi or Jackie Bradley Jr. against left-handed pitching.  Bradley was himself the subject of some trade speculation this winter, though the Sox never seemed particularly keen on the idea of moving a controllable player who offers outstanding baserunning and defense, plus some above-average hitting numbers in the past.  With Martinez willing to accept a role as the primary DH (but also eager to improve upon his recent poor showing as a defender), the Red Sox were able to both upgrade their lineup while also keeping their elite defensive outfield formation of Benintendi/Bradley/Mookie Betts intact.
While Boston had been linked to several first base names earlier in the offseason, the team made the somewhat surprising move (two months before signing Martinez) of bringing Mitch Moreland back into the fold on a two-year deal.  Moreland provides solid numbers against right-handed pitching and a very good glove at first base, but his contract landed a fair sight higher than other, similarly productive first basemen. In any event, he'll now participate in some sort of timeshare with Hanley Ramirez at first, with Ramirez also seeing time at DH when Martinez is in the field.
Also returning to the infield mix is Eduardo Nunez, who will eventually settle into a utilityman role but will suit up as Boston's starting second baseman for at least the first few weeks of the regular season.  Dustin Pedroia is hopeful that his recovery from knee surgery will allow him to return a bit earlier than the originally-projected seven-month timeframe, but if not, the Sox now have a very solid replacement at the keystone in Nunez.  With Marco Hernandez out until May due to shoulder surgery, Nunez will provide the Sox with some valuable infield depth, including at third base should Rafael Devers have a sophomore slump.
Questions Remaining
Dombrowski has spoken in the past about how Boston's established pitching staff makes it hard for the club to attract notable veterans as minor league depth, as those pitchers prefer to join teams that provide clearer opportunities to win big league jobs.  This particular issue could become an early problem for the Sox given that two members of their projected starting five could now begin the season on the disabled list.  Drew Pomeranz's spring work was delayed by a mild flexor strain, and it isn't known if he'll be ready by Opening Day.  Meanwhile Eduardo Rodriguez and sixth starter Steven Wright were already expected to start the year on the DL as they continue to recover from knee and shoulder surgeries, respectively.
While none of these seem like terribly long-term problems, it isn't a good sign given that Pomeranz and Rodriguez have both dealt with multiple injury concerns in the past.  David Price is also looking to return to health (and effectiveness) after a 2017 season marred by elbow problems.  With Brian Johnson and Hector Velazquez currently representing Boston's top starting pitching depth options, it wouldn't be surprising to see the Sox make a signing later this spring or even into April — especially should Pomeranz, Rodriguez or even Wright experience a setback.  Some pretty significant names still remain in the free agent pitching market at this late stage. It's also possible that starting pitching could be targeted as needed at the trade deadline.
Turning to the relief corps, Robby Scott is the only left-hander currently projected as a member of Boston's Opening Day bullpen, with Roenis Elias and rookie Williams Jerez also representing southpaw options on the 40-man roster.   Beyond that pair, 25-year-old Bobby Poyner has opened some eyes in camp, per MLB.com's Ian Browne (via Twitter).  The Sox didn't make a particular push to add any relief help this winter given that they already have several pen options on hand, and while Elias could re-emerge after an injury-plagued 2017, left-handed relief could be another area to watch come the July trade deadline.
Between Moreland at first base and Martinez at DH, it remains to be seen how big a factor Ramirez will be this season, and the playing-time arrangement could make it difficult for Ramirez to reach the 497 plate appearances he requires for his $22MM option for 2019 to vest.  Ramirez's three years in Boston have seen him sandwich an excellent 2016 season in between disappointing performances in 2015 and 2017, so it's hard to know what to really expect from the veteran slugger this season.  New manager Alex Cora still sees Ramirez as a major part of the team's lineup, and since Ramirez underwent shoulder surgery last October, it could be that his bat will reawaken now that he's healthy. The odds are good, though, that the organization will not allow his option to vest even if he's healthy and productive.
While many big-market teams looked to get under the $197MM luxury tax threshold this offseason, as the Red Sox did last year, Boston will once more sail over the tax line with just over $237MM in projected salary for 2018.  Quite a bit of money will come off the books after the season (Ramirez if his option doesn't vest, plus Pomeranz and Craig Kimbrel will be free agents), though several key players on the roster will absorb a lot of that freed-up money in the form of arbitration raises.  While the Sox clearly have an internal budget, they haven't shown much hesitation in spending heavily to remain competitive. Having recently re-set their tax rate, the Red Sox likely won't weigh CBT considerations too heavily, though they are close to pushing their payroll high enough to trigger some additional penalties.
Overview
It was a pretty quiet winter overall for the Red Sox, as they didn't really have too many glaring needs to fill on an already-deep roster.  Cora's hiring, a renewed focus on analytics, and better luck avoiding the injury bug could be all Boston needs to revive a lineup that had trouble hitting the ball out of the park last year, though obviously Martinez's addition will greatly help in the thunder department.  The other question is if the Sox did enough to keep pace in the division, as the back-to-back AL East champs now find themselves as underdogs against a Yankees team that became even more fearsome this winter.
What's your take on Boston's offseason moves?  (Link for app users)
Photos courtesy of USA Today Sports Images