This is the latest entry in MLBTR's 2017-18 Offseason In Review series. Click here to read the other completed reviews from around the league.
The early-offseason buzz on the Padres' possible interest in adding an impact player came to fruition when Eric Hosmer inked the biggest contract in franchise history. They had also reportedly shown some interest in top free agent pitchers Jake Arrieta and Alex Cobb. While the addition of Hosmer isn't expected to turn the Padres into an immediate contender — nor would've the signing of Arrieta or Cobb, for that matter — it's another step towards building the organization's next playoff-caliber roster.
Major League Signings
Trades and Claims
Extensions
Notable Minor League Signings
Notable Losses
Padres 25-Man Roster & Minor League Depth Chart; Padres Payroll Overview
Needs Addressed
The Padres still believe that Wil Myers can take a step forward and live up to the $83MM contract he signed last offseason. And it's not a stretch, either. He's averaged 29 homers and 24 stolen bases over the past two seasons and he's only 27 years old. But he wasn't comfortable in the role of clubhouse leader, which is partly why the team decided to pursue Hosmer, who filled that role on a Royals team that had a successful three-year run that included back-to-back World Series appearances and a championship.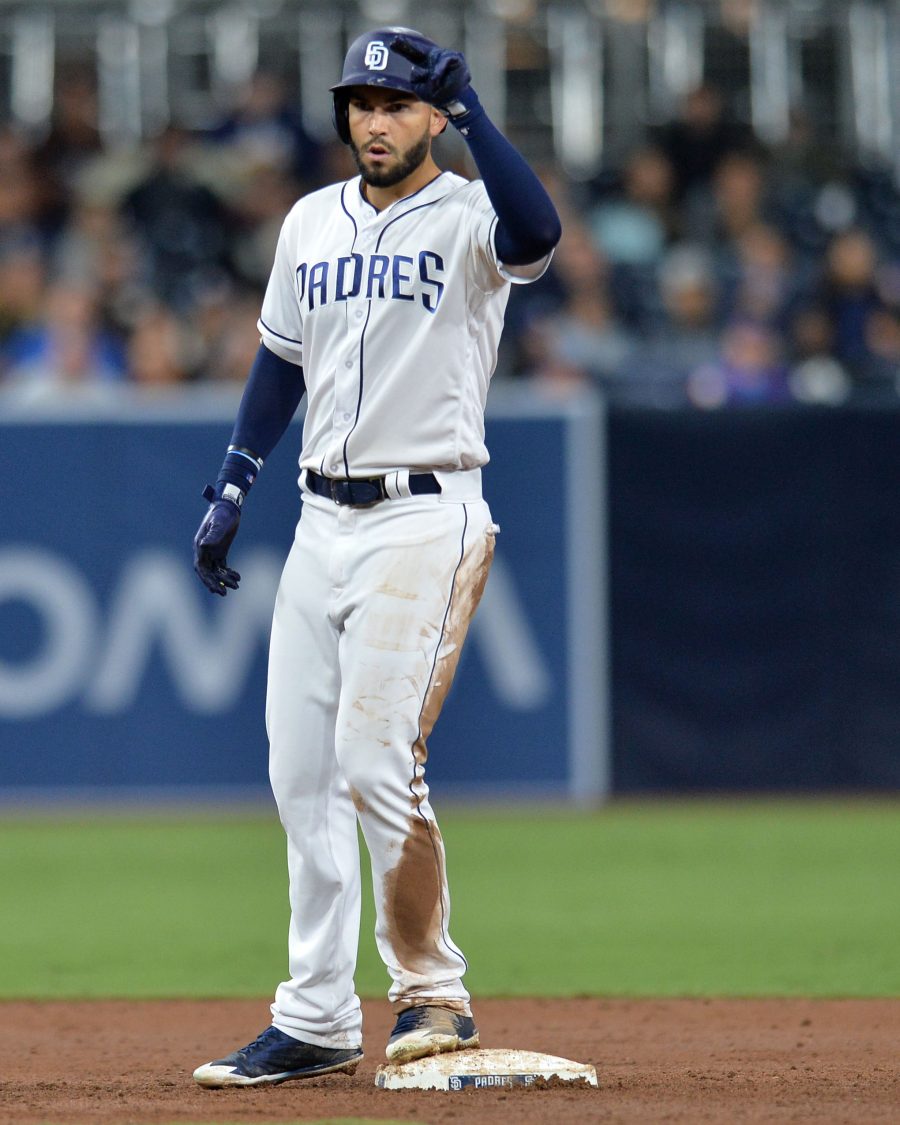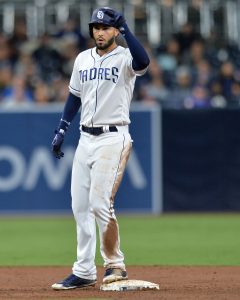 Valuing Hosmer was a topic of ample debate as his trip onto the open market drew near. Ultimately, the Pads and Royals decided he was worthy of a significant investment despite the fact that he's not an overwhelming offensive force for a first baseman. Age (he's just 28) plainly played a big role along with Hosmer's oft-lauded makeup. Nobody questions that Hosmer is a quality big leaguer, and the hefty guarantee is spread over a lengthy term, but this type of signing always represents a notable risk for a lower-budget team.
In addition to Hosmer, the team solidified the left side of its infield by trading for Galvis and Headley. Neither is likely to deliver huge output over the full course of the season, but they're both steady veterans who will raise the overall standard and provide a benchmark for the team's youthful assets to measure themselves again. It's certainly possible that either player could end up on the move over the summer.
The core of the bullpen — a unit compiled smartly from some unlikely places — remains intact. Craig Stammen, a successful reclamation project in 2017, was re-signed to a two-year deal over the winter. He'll be joined by veteran Japanese hurler Kazuhisa Makita, who also signed an affordable multi-year pact.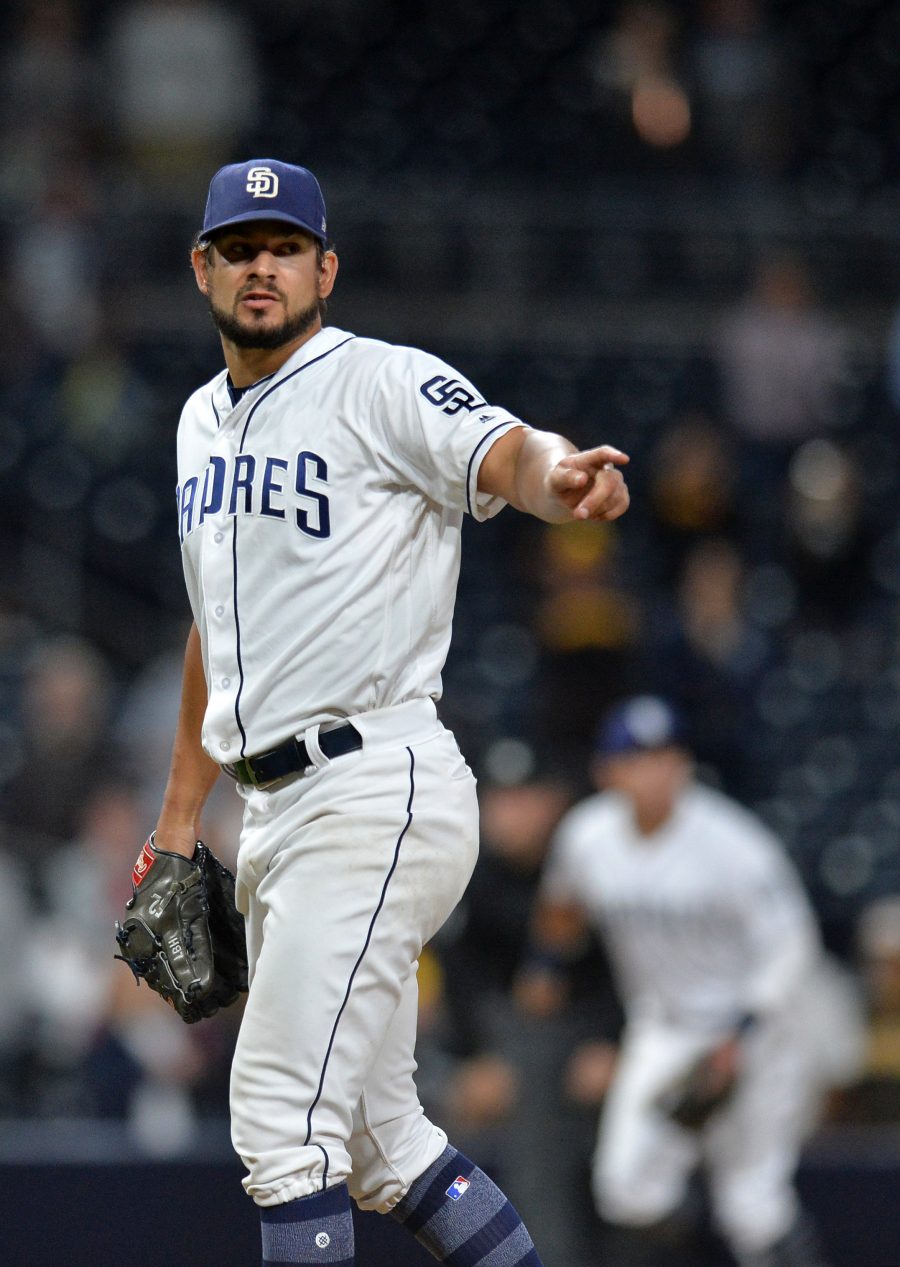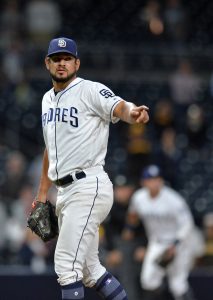 Most notably, though, the Padres decided to keep closer Brad Hand off of the trade block. It had long seemed he'd be moved — it was rather shocking it didn't happen last summer — after coming out of nowhere to become one of the game's better high-leverage relievers over the past two seasons. While the potential to plug more young talent into the system was surely tantalizing, the team smartly took advantage of an opportunity to achieve value by investing further in Hand. The extension gives the organization control through the 2021 season at what looks to be quite an appealing rate for a high-quality closer that had already reached arbitration.
Filling out the rotation remained a need even after a late-season move to extend Clayton Richard. The Headley swap was designed primarily to bring in Bryan Mitchell, who has a big arm and will be given a chance to sink or swim in the majors. Veteran Chris Young lost a spring battle to make the staff, but old friend Tyson Ross opened some eyes in camp and has continued to show well early in the season. While the loss of intriguing youngster Dinelson Lamet has put a damper on things, the impressive arrival of 2016 fourth-rounder Joey Lucchesi has created some excitement in the early going. Robbie Erlin's return after two seasons mostly lost to injury is also worth watching. He opened with some success in the pen and has now moved into the rotation, though his first start (just this evening) did not go as hoped.
Questions Remaining
Along with Hosmer and Myers, catcher Austin Hedges and center fielder Manuel Margot are all but locked in at their respective positions for the next several seasons. The team's future double-play combination is expected to be made up of Fernando Tatis Jr. and Luis Urias. Two of the best prospects in the game, both are on the fast track to San Diego, though they'll have to earn their way up before being anointed. A lot can happen in one season, but it's easy to imagine that group of players in the same lineup at some point in 2019. That would leave just two future lineup spots, third base and corner outfield, unsettled.
In all likelihood, the corner outfield spot opposite Myers will likely be filled internally by one or more of Franchy Cordero, Jose Pirela and Hunter Renfroe. All three will have a chance to make their case in 2018. Cordero, who dazzled at Triple-A in 2017 with his speed-power combination, did not join the competition right away after opening the year on the DL. But with Margot hitting the shelf with an early injury, Cordero has received a chance and is off to a nice start.
While the return of Headley gives the Padres some stability at the hot corner for at least the next few months, the team's third baseman during their next window of contention is probably not in the organization at this time. A reunion between Hosmer and Moustakas, who could reach free agency once again next offseason, is intriguing. Filling the spot in-house is a slight possibility, although it would probably take a breakout season from second baseman Carlos Asuaje to convince the team to alter their plans for where Urias and Tatis end up on the diamond. A strong performance from Galvis, who the team could look to re-sign after the season, could also shake things up.
With an abundance of talented pitching prospects who could reach the Majors sometime over the next 2-3 seasons, the Padres are in great shape to fill out their pitching staff without having to add significantly to their payroll. Left-hander Eric Lauer should join Lucchesi at some point in 2018, while the next wave should be ready to make an impact next season. In the meantime, Erlin, Bryan Mitchell and Luis Perdomo will have every opportunity to prove that they can be a part of the rotation for years to come. Lamet will be counted on to reenter the picture at some point in 2019.
Overview
Hosmer is entering a situation that should seem like very familiar territory. As a highly-touted Royals prospect, he made his MLB debut in 2011. He was surrounded by talented young players, including Danny Duffy, Alcides Escobar, Alex Gordon, Mike Moustakas and Salvador Perez. There was a lot of hype surrounding this group, which only made it more frustrating for the fan base when the team suffered its eighth consecutive losing season. And then a ninth. That this group of players would help lead the team to 86 wins by 2013, their first post-season appearance in 19 years in 2014, and a World Series title in 2015, made it all the more special.
This Padres team is in the midst of — you guessed it — seven consecutive losing seasons. The streak is almost certain to reach eight. But they have the resources to turn things around quickly. Their farm system was ranked third in baseball by both Baseball America and ESPN's Keith Law, while Baseball Prospectus ranked it first. General manager A.J. Preller has done a terrific job stockpiling young talent and still has payroll flexibility even after committing to Myers and Hosmer.
Signing Hosmer was not a pure win-now move, as he's young enough to contribute for years to come. But it did represent a strong signal of the organization's near-term aspirations. The organization's first major outside acquisition since its failed gambit at producing a contender in Preller's first year in town, Hosmer is evidently a believer. As I wrote in the Padres' Offseason Outlook back in November, "If he's convinced that the Padres are a team on the rise and on a road to contend by 2019, he could be willing to sign on."
He signed on. I guess that means he thinks they can contend next season. But there's still plenty of work to be done to fully establish a new winning core in San Diego.
How do you grade the Padres' offseason efforts? (Link for app users.)
Photos courtesy of USA Today Sports Images.