This is the latest entry in MLBTR's 2017-18 Offseason In Review series.  Click here to read the other completed reviews from around the league.
Major League Signings
Trades & Claims
Option Decisions
Notable Minor League Signings
Notable Losses
Nationals 25-Man Roster & Minor League Depth Chart; Nationals Payroll Overview
Needs Addressed
Another great regular season, another postseason disappointment. The refrain is familiar at this point for the Nationals, though it's also far from clear that there was any reason to waver from an approach that has delivered a steady stream of MLB talent since the organization's breakout 2012 season.
The latest NLDS calamity did not lead to a roster shake-up, unsurprisingly, but it did result in wholesale change in the field leadership. A largely unexpected decision not to pursue a new contract with skipper Dusty Baker left the organization searching for a new manager and coaching staff. The Nationals ultimately settled on Davey Martinez — who, like several other recent hires, he has never before held that role. Among the rookie skippers, though, Martinez stands out for his ample experience on MLB coaching staffs — particularly, a long run alongside current Cubs and former Rays manager Joe Maddon.
Once Martinez was installed, the Nats did not have a lot of work to do over the winter. Veteran outfielder Jayson Werth wrapped up his contract, but there was no need to find a replacement with Adam Eaton returning from the knee injury that cost him most of the 2017 season, Michael Taylor and Brian Goodwin coming off of productive campaigns, and top prospect Victor Robles waiting in the wings after briefly ascending to the bigs late last year.
Otherwise, the club saw a few role players hit the open market. The resulting openings were steadily addressed by free agent signings throughout the course of the winter.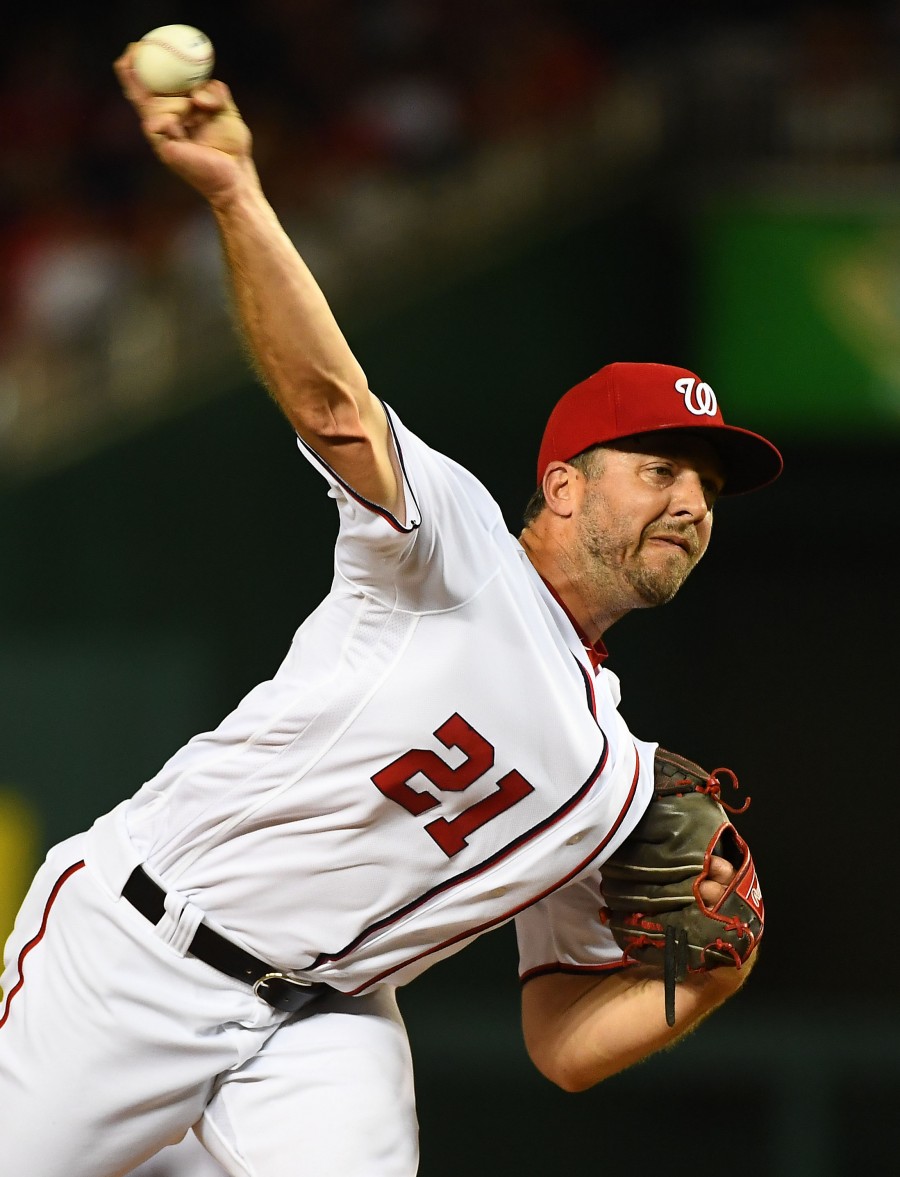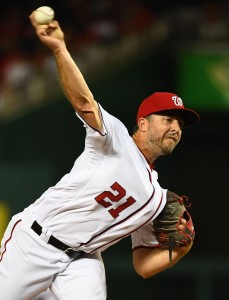 The two most significant players to depart — mid-season acquisitions Brandon Kintzler and Howie Kendrick — were both brought back, in fact, after successful showings in D.C. Kintzler, who makes up for his lack of strikeout prowess with loads of groundballs, will rejoin Sean Doolittle and Ryan Madson in a late-inning unit that the club lined up entirely via trade last summer. The price tag seems fairly appealing in comparison to the slightly loftier deals given to similarly useful relievers. Kendrick, too, was picked up for a low-AAV, two-year agreement. The sturdy veteran will help the team cover for the early-season absence of Daniel Murphy at second before sliding into a utility role.
Beyond those two spots, the most glaring holes were a lefty bench bat to replace Adam Lind and a second backstop to go with Matt Wieters, who exercised his player option after a poor first season in Washington.The club elected not to pursue a reunion with Lind, instead adding the younger Matt Adams. Much like his predecessor, Adams has never figured out left-handed pitching, but won't be asked to do so in D.C. as he fulfills a supporting role to Ryan Zimmerman at first. Behind the dish, the Nationals picked up veteran Miguel Montero on a minors deal rather than striking a more significant acquisition.
Pitching depth was the last piece of the puzzle, with Matt Albers, Joe Blanton, and Oliver Perez all departing and the final rotation spot still up in the air. While there were whispers all along that the Nationals could use their remaining openings to fit a more significant acquisition — Jake Arrieta, Greg Holland, and any number of hypothetical trade candidates seemed intriguing — that never came to pass. Rather, the organization took something of a volume approach. Jeremy Hellickson signed a minors deal and will likely get a shot as the fifth starter if A.J. Cole stumbles. The aging but hard-throwing Joaquin Benoit got a small guarantee to fill out the pen, but will open the year on the DL. Plenty of other former MLB arms will populate the upper minors, including former Nats Edwin Jackson and Tom Milone along with Carlos Torres, Cesar Vargas, and Tim Collins.
But the Nats saved perhaps their most significant move for last. Just days into the 2018 season, the organization announced a long-anticipated new contract with president of baseball operations and GM Mike Rizzo. The agreement puts an end to any speculation that the ownership group might turn elsewhere. Despite Rizzo's success in turning out a contending product, the organization's handling of its managers had created a bit of uncertainty in Rizzo's status. While it's resolved for the time being, the deal only promises two more seasons, so questions could start up again sooner than later.
Questions Remaining
Ultimately, Rizzo took a fairly straightforward approach to filling out the roster this offseason. On the one hand, that's largely to be expected given the state of affairs at its outset. On the other, perhaps it's somewhat surprising that we weren't surprised. Rizzo, after all, has engineered a string of moves over the years — including a variety of offseason signings (Werth, Jackson, Rafael Soriano, and Scherzer) and trades (Doug Fister, Trea Turner & Joe Ross, Eaton) — that were largely unanticipated before coming to fruition.
Given that history, and the run of playoff woes, a splash of some kind felt likely. While there's still evidently no resolution to the team's long-running TV rights fees dispute with the neighboring Orioles, that hasn't stopped the organization from running one of the game's highest payrolls. The Nationals are over the luxury tax line again (so there was no soft cap on spending) but are only slightly over the threshold at this point, so wouldn't have incurred a huge tax bill with a major salary addition.
Though there's ample talent on hand, the roster certainly isn't without its question marks. Two key position players, Eaton and Murphy, are returning from significant leg surgeries. Zimmerman had a great bounceback 2017 effort but can't be counted on to repeat it given that he's now 33 and had struggled a fair bit (both with injuries and on the field) over the three prior campaigns. Turner wasn't nearly as exciting in his sophomore effort, while some regression might be anticipated for Anthony Rendon after an MVP-caliber '17 campaign. And it wouldn't be terribly surprising to see Taylor and/or Goodwin stumble a bit — both have more than a little swing and miss in their games — though that's the one place that there's an obvious potential replacement (Robles) to be called upon.
That said, there really wasn't much cause for the Nats to go out looking for upgrades in any of these situations. Behind the plate, though, it's quite another matter. Matt Wieters struggled badly last year and ultimately opted in for another season at an unappealing rate of pay. Pedro Severino has long been considered ready defensively but has not made strides with the bat at Triple-A. While the organization brought in another veteran in Montero, there are obviously reasons — inability to control the running game and an awful second half at the plate — that he was available on a minors pact.
That unit seems unlikely to be terribly productive. While youngster Raudy Read touched the majors last year and might have become an option, he's sitting out the first half of the year for a PED suspension. The Nats ultimately watched as a string of receivers — Welington Castillo, Chris Iannetta, Alex Avila, and Jonathan Lucroy among them — sign for less than they're paying Wieters. There was an effort to acquire J.T. Realmuto from the Marlins, who made all kinds of sense for the Nats, though it seems the Fish held to their lofty asking price and nothing got done.
The result is sub-optimal and could set the stage for a mid-season acquisition. Of course, it also wouldn't be surprising to see the Nats end up pursuing a relief arm over the summer, as that has become an annual rite in D.C. and is fairly common for any contending team. The Nationals pen doesn't seem to be a particularly compelling group, though there is a fair amount of depth and the three-man high-leverage unit is at least settled to open the year. An argument could have been made to pursue further relief additions, though the team chose a defensible course. It'll have a few months to evaluate some of the interesting but inconsistent or not-yet-established arms in the stable.
Speaking of evaluating arms, that'll also be the team's preferred method of dealing with its fifth starter's slot. Cole is first up, and he'll need to make real strides after a putrid first outing on the year. If he doesn't show quite a lot in short order, Hellickson will take the helm once he's at full speed. With prospect Erick Fedde and some veteran depth options still also in the mix, the Nats ought to be able to get by well enough.
The overall rotation mix is still strong, led by two outstanding starters in Max Scherzer and Stephen Strasburg. Then there's Tanner Roark, who is a quality hurler. And let's not look past Gio Gonzalez, whose volatile reputation is belied by his steady effectiveness. Last year's 200-inning, sub-3.00 ERA output won't likely be repeated, but Gonzalez has somewhat quietly been one of the game's best starters for quite some time and is a solid bet to provide good innings.
Still, it feels as if there may have been an opportunity missed here. True, the Nats can still go get a premium starter at the deadline if they feel there's a need. Like the catching position, though, the best time to find an upgrade might have been during the course of a strange free-agent market that left quite a few significant players earning less than had been anticipated. Waiting until the deadline is also something of a luxury reserved for teams that don't face real competition within their division. After bringing in some veterans and enjoying good health all spring, the Mets seem to be revived and may well put up a greater fight than had been expected.
Overview
Adding quality veteran bench assets was both predictable and sensible. Those moves should help the Nats fill in for any major absences and help ensure that the team's regulars get plenty of rest without a drop-off in play. But the winter effort somehow feels a bit incomplete.
After all, this is the club's last season of control over star outfielder Bryce Harper. Unless there's a well-guarded extension effort underway — as there was, successfully, for Strasburg — he'll hit the open market at season's end. While the Nats will be among the likeliest suitors for Harper, it's far from certain he'll be back.
It's somewhat surprising, then, that the team didn't find a way to make another big addition, whether in the rotation or, especially, behind the plate. Having already pushed past the luxury tax line, spending a big more wouldn't have had any impact on future spending plans. And this organization has already shed a fair bit of young talent in recent years — pitchers, especially — while trying to build around its core. Spending cash seems generally preferable to coughing up trade capital over the summer, but the latter will be required if an impact move is needed.
How would you grade the Nationals' offseason efforts? (Link for app users.)
Photo courtesy of USA Today Sports Images.