Earlier this week, the Mariners and Rays made the offseason's first major trade, a five-player swap in which catcher Mike Zunino and outfielder Mallex Smith changed teams. That may prove to be the first of multiple noteworthy deals Mariners trade-happy GM Jerry Dipoto orchestrates this winter, especially considering his intention to "re-imagine" his team's roster. The majority of that roster is available for trade, Jon Heyman of Fancred reported prior to the Zunino deal, though he added that outfielder Mitch Haniger, closer Edwin Diaz and left-handed Marco Gonzales appear safe.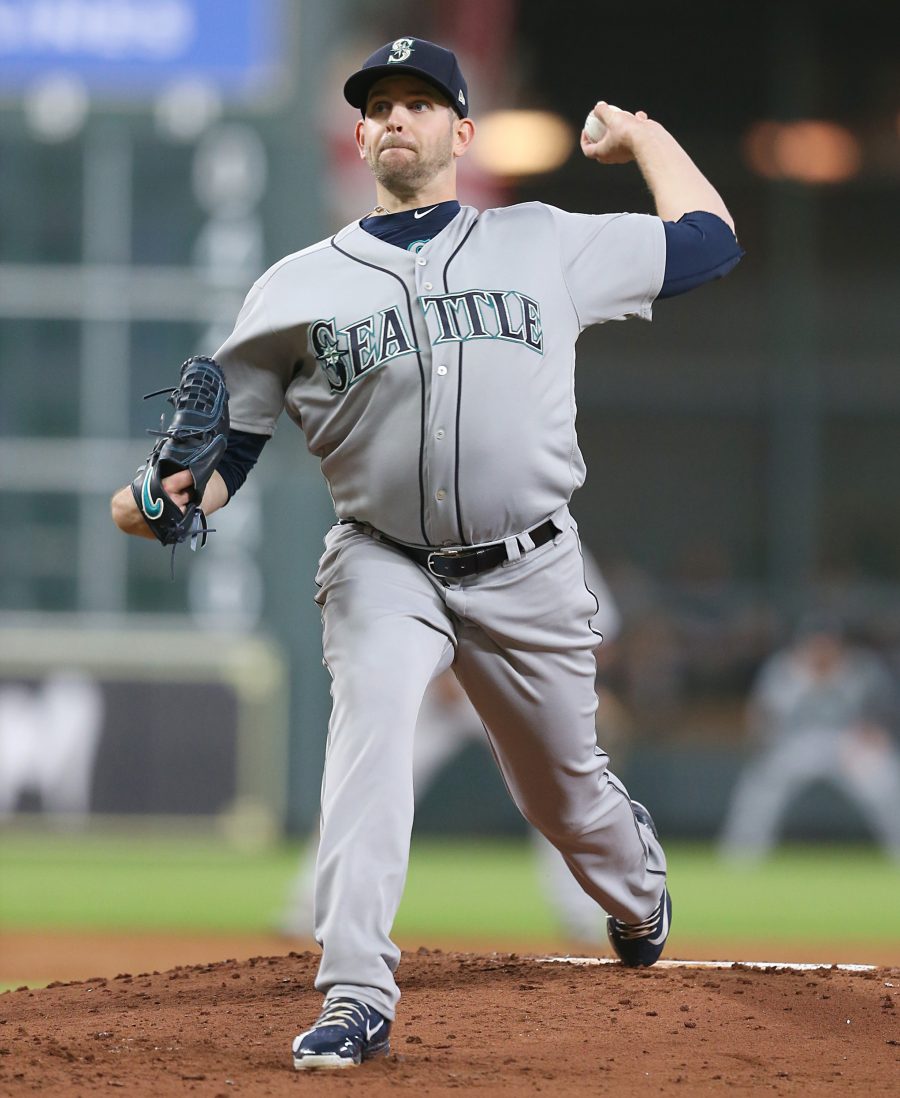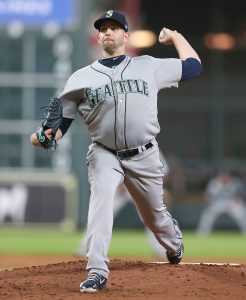 The most interesting name missing from Heyman's list is Gonzalez's fellow southpaw starter James Paxton, who's Seattle's closest thing to an ace. With the 30-year-old Paxton down to his final two seasons of team control, Ryan Divish of the Seattle Times has heard that the Mariners will trade him this winter.
While Paxton does have a checkered injury history and has only exceeded 160 innings in a year once (last season, when he tallied 160 1/3), the fireballer is still one of the majors' premier lefties. Paxton has averaged just 24 starts and 139 innings a season since 2016, his breakout campaign, but the Big Maple nonetheless racked up 11.9 fWAR during that three-year span. In that regard, only 12 starters bettered Paxton, who's sandwiched between Noah Syndergaard and Luis Severino. And since 2017, Paxton ranks fourth among starters in K/9 (11.06), fifth in FIP (2.95), 11th in K/BB ratio (4.61) and tied for 21st in ERA (3.40).
Paxton's projected to earn $9MM in 2019, a far lighter commitment than the best free-agent starters will rake in this winter, which only adds to his appeal. Acquiring Paxton would still sting a team to a degree, of course, as that club would presumably need to part with a big-time haul to land him. In shipping Paxton out, perhaps Seattle would significantly boost a farm system which has long languished at the bottom of the majors.
Here's a look at potential suitors for Paxton, going from best to worst record in 2018:
Boston Red Sox
With Chris Sale, David Price, Rick Porcello and Eduardo Rodriguez, the reigning world champion Red Sox already have 80 percent of a formidable rotation locked in for 2019. But they could lose Nathan Eovaldi to free agency this year and both Sale and Porcello to the open market next offseason. Because Paxton's under control for 2020, he'd at least help cover for their potential exits. The problem is that, in Baseball America's estimation, Boston has the game's second-worst farm system (only Seattle's is worse). Thus, even though they did nothing but win in 2018, it would be exceedingly difficult for the Red Sox to emerge victorious in a Paxton bidding war.
Houston Astros
The Astros may see Dallas Keuchel and Charlie Morton leave as free agents, and they've already lost Lance McCullers Jr. for 2019 on account of Tommy John surgery. The need for rotation help is obvious, then, and it's magnified when considering the Astros don't control their top remaining starters – Justin Verlander and Gerrit Cole – beyond 2019. Houston possesses BA's eighth-ranked system, moreover, and a pair of elite prospects – righty Forrest Whitley (No. 7) and outfielder Kyle Tucker (No. 8) – are atop the group. Whitley or Tucker would be an excellent get for the Mariners, though it would be unrealistic to expect the Astros to part with either for Paxton. They'd probably need a front-line starter with more team control and durability than he provides (Corey Kluber, for example).
New York Yankees
The Yankees are prioritizing rotation help this winter, and they've already talked with the Mariners about Paxton. Trades and prospect graduations have taken a bite out of New York's farm system, which was elite not long ago but is now BA's 17th-ranked group. Still, the Yankees do have three of the outlet's top-100 prospects – lefty Justus Sheffield (No. 23), outfielder Estevan Florial (No. 54) and righty Jonathan Loaisiga (No. 63) – headlining their class. At the big league level, young outfielder Clint Frazier and third baseman Miguel Andujar could be of interest to the Mariners. Andujar's coming off a potential AL Rookie of the Year season, though, so don't expect the Yankees to part with his four years of control for Paxton's two.
Oakland Athletics
The Athletics rode a patchwork rotation to a 97-win season and a wild-card berth in 2018, and three of that team's veteran starters – Trevor Cahill, Edwin Jackson and Brett Anderson – are now free agents. Further, the A's will have to survive next season without their No. 1 starter from 2018, lefty Sean Manaea, who underwent shoulder surgery in September. They also may open 2019 without rotation candidates A.J. Puk and Jharel Cotton, who each sat out last season after undergoing Tommy John surgery. All of that considered, a Paxton acquisiton would make a lot of sense for Oakland, which would be able to slot his reasonable salary into its limited budget. And the Athletics' farm, which checks in at a middle-of-the-pack 15th, does feature three of BA's top 100 in lefty Jesus Luzardo (No. 13), Puk (No. 42) and catcher Sean Murphy (No. 57). The A's are holding out hope Luzardo will crack their season-opening rotation in 2019, however, so it seems he'd be especially tough to pry loose. In the majors, hard-throwing righty Frankie Montas (26 in March) and infielder Franklin Barreto (23 in February) could be of interest to the Mariners. Although, Montas is penciled into the A's thin rotation right now, and Barreto will succeed Jed Lowrie at second base if he walks in free agency.
Milwaukee Brewers
Like the A's, the Brewers went a long way last season with a rotation that didn't look great on paper. Journeyman Wade Miley was one of the unit's key contributors, but he's now a free agent. Holdovers Jhoulys Chacin and Chase Anderson were the Brewers' only other regular starters who managed sub-4.00 ERAs, though their peripherals weren't as encouraging. And Brent Suter, who threw the fourth-most innings among the team's starters in 2018, will sit out most or all of next season after undergoing TJ surgery in the summer. Along with Chacin and Anderson, the Brewers have a cavalcade of other options for their 2019 rotation (Jimmy Nelson, Freddy Peralta, Junior Guerra, Zach Davies, Brandon Woodruff and Corbin Burnes), but it would be quite optimistic to expect Paxton-type production out of any of them. Perhaps the Brewers will be in on Paxton, then, but adding him may cost them some of their pitching depth. Any of Peralta, Woodruff or Burnes could draw Seattle's interest. Per BA, Burnes (No. 56) is one of the Brewers' two top-100 prospects, along with second baseman Keston Hiura (No. 33).
Los Angeles Dodgers
The Dodgers appear to have plenty of capable starters heading into 2019, though lefties Rich Hill and Alex Wood are due to hit free agency a year from now. Plus, LA's known for having enviable depth just about everywhere, which is another reason not to rule out a Paxton chase. With BA's ninth-ranked system and some potential trade chips at the major league level, it certainly seems that the Dodgers have the ammunition to go after Paxton if they want. They boast four top-100 prospects – outfielder Alex Verdugo (No. 26), catchers Keibert Ruiz (No. 27) and Will Smith (No. 80), and shortstop Gavin Lux (No. 82) – not to mention promising young arms such as Julio Urias, Caleb Ferguson, Dennis Santana and Dustin May.
Colorado Rockies
Led by Kyle Freeland and German Marquez, the Rockies' rotation was more than fine in 2018, and they're slated to return all of their top starters next season. No one would blame Colorado for sticking with that quintet. But Paxton would seemingly upgrade the Rockies' rotation, and they likely have a good enough farm system (No. 11) to be serious bidders. They could also offer Jon Gray, Tyler Anderson or Antonio Senzatela, starters who each come with at least three years of team control, or land Paxton using other players and try to flip one of Gray, Anderson or Senzatela for much-needed offensive help.
Atlanta Braves
The Braves want a top-of-the-rotation starter, but it doesn't appear they have the spending capacity to add one via free agency. Enter Paxton? If they're motivated, the Braves – who own BA's fifth-rated system and seven of its top-100 prospects – have the goods to get a deal done. Atlanta's chock-full of young arms, including Sean Newcomb, Mike Soroka, Touki Toussaint, Ian Anderson, Kyle Wright and former Mariners farmhand Luiz Gohara, and counts third baseman Austin Riley and outfielders Cristian Pache and Drew Waters among its quality position player prospects. That nine-player list certainly presents some intriguing possibilities for the Mariners, though the Braves may not be too eager to part with anyone from it.
Tampa Bay Rays
The Rays are coming off a 90-win season, could use another starter(s), have some money to spend and own BA's second-ranked farm system. Further, the only Ray to exceed 100 innings last season was AL Cy Young candidate Blake Snell. All of that suggests Tampa Bay's a great fit for Paxton. On the other hand, it's not easy to envision the Rays trading a bounty of young talent for a 30-year-old who may only be in their uniform for two seasons.
St. Louis Cardinals
The Cardinals aren't wanting for major league-caliber starters, but that's not to say Paxton wouldn't improve their 2019-20 outlook. He'd join Carlos Martinez, Miles Mikolas and Jack Flaherty to give the Cardinals at least four potential front-end starters next year. After that, Mikolas, Michael Wacha and Adam Wainwright could each leave as free agents (or retire in Wainwright's case). St. Louis has the 13th overall system at BA, which regards pitchers Alex Reyes (No. 28) and Dakota Hudson (No. 97), outfielder Tyler O'Neill (No. 49) and catcher Carson Kelly (No. 78) as top-100 prospects. The Cardinals also have rotation candidates/possible trade chips in Luke Weaver, John Gant, Austin Gomber and Daniel Poncedeleon, who are all 26 or younger and have fared reasonably well in the majors.
Washington Nationals

With Max Scherzer and Stephen Strasburg, the Nationals' rotation features a marvelous one-two punch. After that duo, the Nats' starting group is far less imposing, and they've lost a couple of their most productive starters from last year in Gio Gonzalez (traded over the summer) and Jeremy Hellickson (free agent). There's definitely room for Paxton as a result, and with BA's 12th-ranked system, Washington could be in on this sweepstakes.
Los Angeles Angels
Injuries laid waste to the Angels' staff last year, and the unit suffered its most devastating blow when Shohei Ohtani underwent Tommy John surgery after the season. The two-way star won't pitch in 2019, creating further room for the acquisition of Paxton or another high-level starter this offseason. If the Angels take a shot at Paxton, it should help their cause that their system is no longer barren – BA moved it from 30th in 2017 to 10th in '18. And in the event the Mariners would want a somewhat proven starter in a package for Paxton, the Angels have 22-year-old righty Jaime Barria, who held his own as a rookie last season.
Philadelphia Phillies
While the Phillies saw their top five starters amass at least 24 outings apiece in 2018, only one of them, Aaron Nola, actually offered front-line production. Paxton's not better than Nola, but he's certainly superior to Jake Arrieta, Nick Pivetta, Vince Velazquez, Zach Eflin and 2018 injury case Jerad Eickhoff. Aside from Nola (untouchable) and Arrieta (he wouldn't be of interest to the Mariners), perhaps any of those other starters could involved in a Paxton deal. After all, they're somewhat established in the majors and come with a few years of control each. Switching to the position player side, the Phillies have Scott Kingery, who could be part of a Paxton trade. On the farm, they have three of BA's top-100 prospects – righties Sixto Sanchez (No. 16) and Adonis Medina (No. 100), third baseman Alec Bohm (No. 40) – though their system ranks a below-average 18th.
Minnesota Twins
In previewing the Twins' offseason, Steve Adams pointed out that they have a host of young, back-end arms whom they could potentially package for a starter with greater upside. That's an interesting idea for Minnesota, which is coming off a disappointing year but could be aggressive this offseason as it attempts to compete in a weak division. Paxton would qualify as a bold pickup, and given the Twins' loaded farm (BA's seventh-place system), they could get the Mariners' attention.
Cincinnati Reds
Paxton to Cincinnati is an extreme long shot, but the Reds do seem motivated to reel in a top-tier arm, evidenced by their interest in big-ticket free agents. Outbidding the rest of the league for a Patrick Corbin or a Dallas Keuchel just doesn't seem likely, though, so going the trade route may be the Reds' lone hope of landing a starter of that caliber this offseason. With that said, odds are that the Reds won't contend during Paxton's remaining years of control, meaning they'd be better off staying out of this race.
Chicago White Sox
The White Sox have been among the majors' worst teams every year since 2013, but they're nearing a point at which they'll attempt to make a major push toward contention. That could be as early as this offseason, judging by their reported interest in Bryce Harper, Manny Machado, Nelson Cruz and Corbin. Of course, just because Chicago's in on those free-agent stars doesn't mean it'll be willing to subtract from its loaded farm to acquire Paxton or any other trade candidate. However, doing so would increase the White Sox's near-term chances of competing in the underwhelming AL Central.
*The initial version of this post omitted the Nationals, which has been rectified.
Photo courtesy of USA Today Sports Images.