The final two top-tier free agents are finally off the board — it only took until June! — but most clubs have long since begun to reap the benefits of their offseason additions from the open market. That includes those who partook in the annual grab bag of minor league contracts.
Each year, there are dozens upon dozens of recognizable names who settle for non-guaranteed pacts — perhaps more in this past winter's frigid free-agent climate — and while most fail to yield dividends, there's always a handful of gems unearthed. The Rangers, Reds and Pirates did particularly well in terms of signing players on minor league contracts this offseason, but there have certainly been other deals of note. It'll merit revisiting this bunch after the season is over to see who maintained their pace and who stepped up in the final two thirds of the 2019 campaign, but to this point in the year, here's a look at the most productive minor league signees of the winter.
Rangers: Hunter Pence, Logan Forsythe, Danny Santana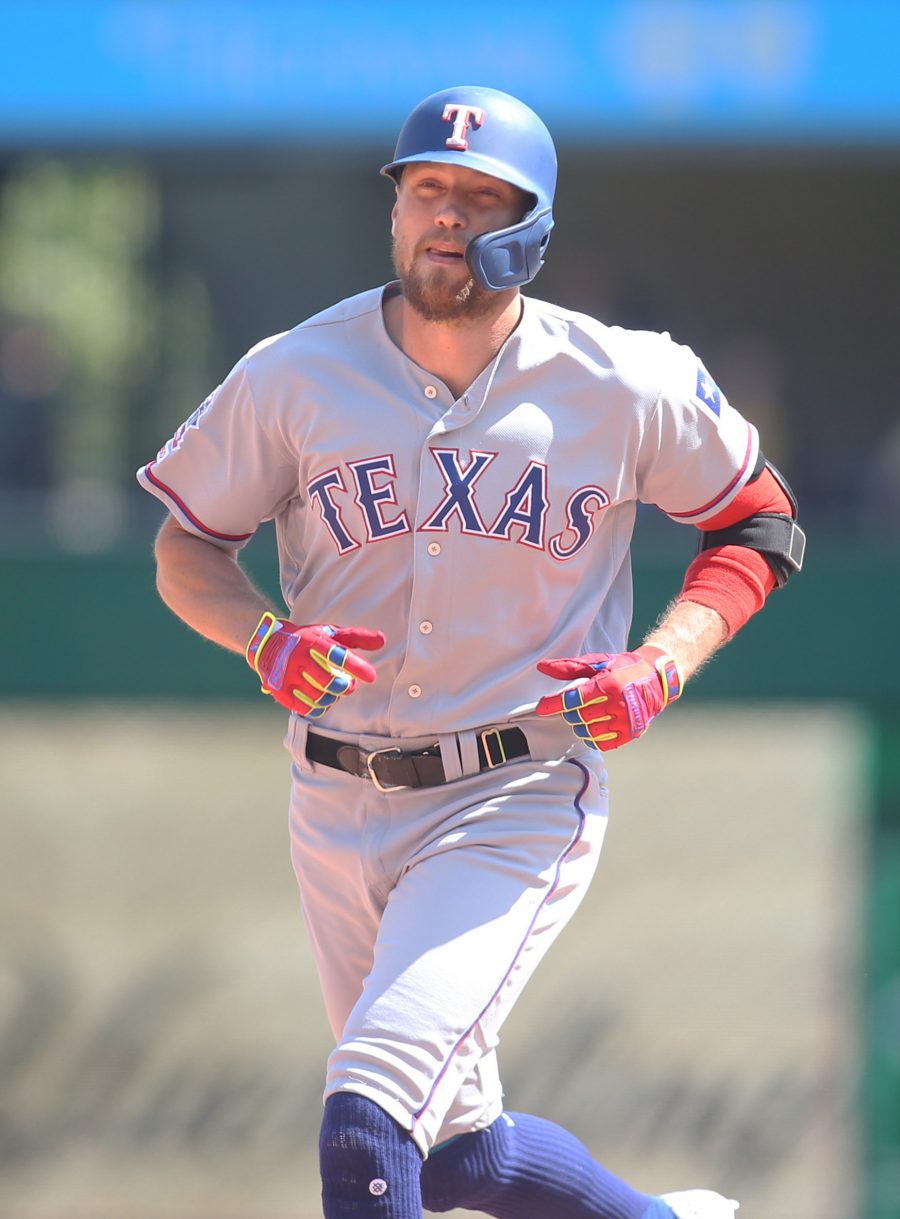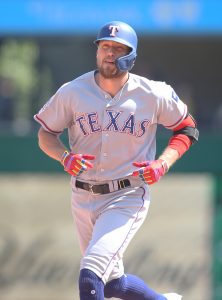 Much was made of Hunter Pence's efforts to revamp his swing while playing winter ball in the offseason. Frankly, it's not uncommon to hear of veteran players perhaps in the twilight of their career making alterations in an effort to stick around a bit longer. What is uncommon is for the results to be this eye-opening.
Pence hasn't simply bounced back from a pair of awful seasons to close out his Giants tenure — he's given the Rangers one of the best offensive performances of his 13-year Major League career. The 36-year-old has posted a resplendent .288/.341/.583 batting line with a dozen home runs, 10 doubles and a triple through 179 plate appearances. His 47.6 percent hard contact rate lands in the 91st percentile of big league hitters, per Statcast, and his average exit velocity of 92.6 mph is in the 96th percentile. Defensive metrics are down on Pence, which isn't a huge surprise for a 36-year-old corner outfielder, but he's hitting at a star level without benefiting from a gaudy BABIP (.299). If he can maintain this pace, he'll have no trouble landing not just a 40-man roster spot this winter — but a solid salary to go along with it.
Pence alone would make for a terrific minor league add, but the Rangers are also getting the best form of Logan Forsythe we've ever seen (.299/.404/.472 through 172 PAs) and a strong showing from Danny Santana (.291/.333/.465 in 139 PAs). Those performances are a bit more dubious, as the pair improbably sports matching .388 averages on balls in play. But, Forsythe is walking at a 14 percent clip that he's never previously approached outside of a 2017 season in Los Angeles where he logged ample time hitting eighth in front of the pitcher (with a 21 percent walk rate in such plate appearances). Santana can't boast that same plate discipline — to the contrary, his longstanding inability to draw a walk is as pronounced as ever — but he's making hard contact more than ever before while also stealing bases with great efficiency (7-for-8). Both Forsythe and Santana can move all over the diamond as well.
Reds: Derek Dietrich, Jose Iglesias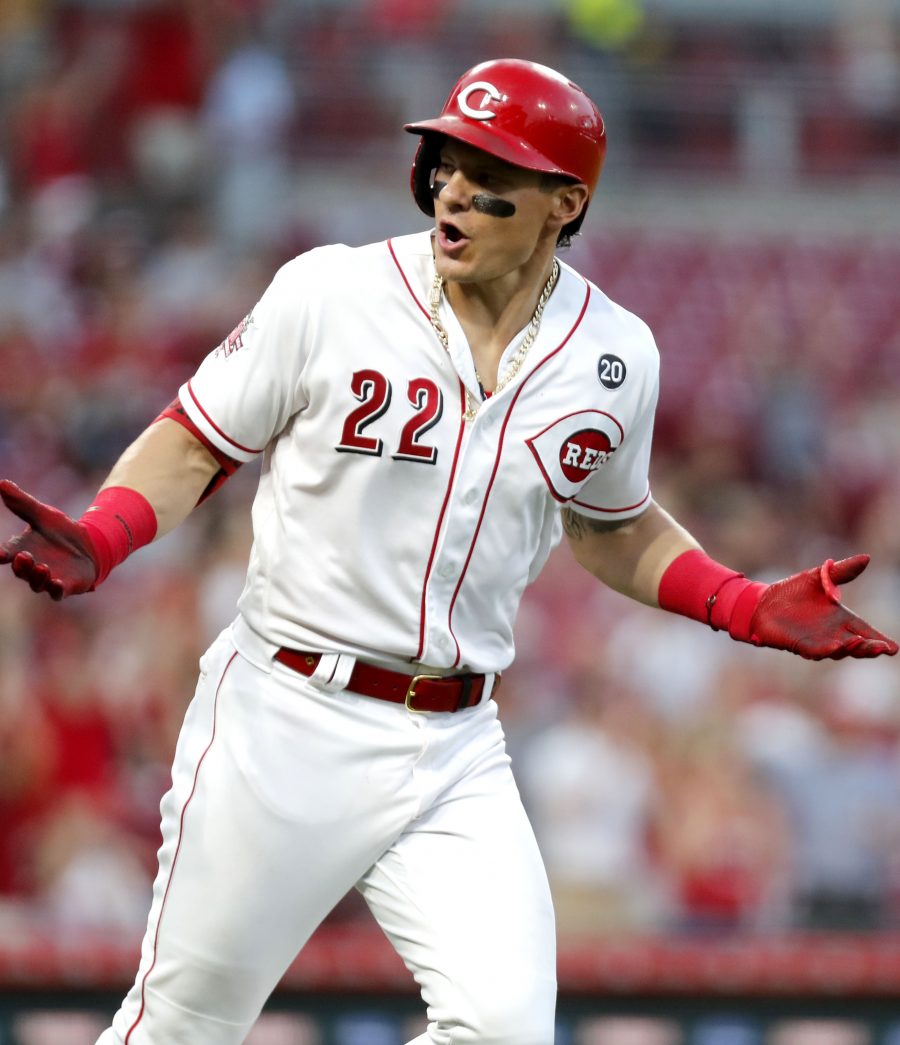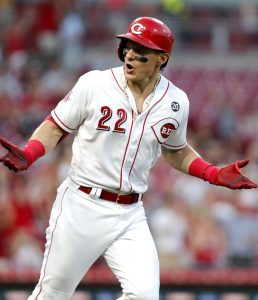 Cincinnati has gotten even more production out of its minor league deals than Texas, although the two player the Reds landed on non-guaranteed contracts both came as a surprise. Even after Dietrich was effectively non-tendered by the Marlins, he was expected to get a big league deal. Iglesias enjoyed a solid season at the plate and has long been regarded as a stellar defender at shortstop. The Tigers jumped on a one-year deal with Jordy Mercer worth $5MM in early December, seemingly believing Iglesias would command more.
That neither player found his asking price met by the time mid-February rolled around has been nothing short of a godsend for the Reds, who scooped up both on minor league pacts. Cincinnati couldn't have known that a spring injury to Scooter Gennett would create even more at-bats for this pair early in the season, but Dietrich and Iglesias have each been sensational in capitalizing on the opportunity for unexpected levels of playing time.
Dietrich has already pounded a career-high 17 home runs despite accruing only 157 plate appearances. Detractors will point to his new hitter-friendly home park, but Dietrich has a .377 on-base percentage, .541 slugging percentage and six home runs on the road this year. Besides, it's not as if every member of the Reds has belted 17 home runs simply by virtue of playing games at Great American Ball Park. Dietrich has a career-best 9.4 percent walk rate and career-low 20.4 percent strikeout rate as well.
Iglesias, meanwhile, has batted .294/.335/.421 with four homers and a characteristically low strikeout rate (13.5 percent) in 2019 plate appearances. He's already tallied seven Defensive Runs Saved with a +3.3 Ultimate Zone Rating in 477 innings at shortstop, making Detroit's decision to move on from look all the more egregious, considering they went out and signed a different veteran to man the position anyhow. He's not running like he did in 2018, but Iglesias has been a flat-out steal.
Pirates: Melky Cabrera, Francisco Liriano
Cabrera has been forced into minor league deals in each of the past two offseasons and will turn 35 later this summer, but the Melk Man just keeps on hitting. Injuries to Corey Dickerson, Gregory Polanco and Lonnie Chisenhall created an opening for Cabrera, and he's responded with a .335/.376/.467 line through 179 plate appearances. It's true that he's benefited from a .366 average on balls in play, but Cabrera's 11.7 percent strikeout rate is excellent and represents a continuation of the elite bat-to-ball skills he's demonstrated throughout his career. The defense isn't pretty — it never really has been — but Cabrera's bat has been a huge plus for the Bucs.
The Astros tried Liriano in the bullpen down the stretch in 2017 and weren't able to get the results they'd hoped. Liriano returned to a starting role with the Tigers in 2018 and found middling results, but he's been reborn in the Pittsburgh bullpen in his second go-around at PNC Park. In 29 1/3 innings, Liriano has a 1.21 ERA with 32 punchouts, 12 walks and a 47.3 percent grounder rate. He won't maintain a 96 percent strand rate or a .233 BABIP, but Liriano's 14.7 percent swinging-strike rate is the best of his career. Even if he takes what seems like an inevitable step back, FIP pegs him at 3.08 while SIERA checks in at 3.82. While the game's highest-paid free-agent relievers have largely flopped, Liriano looks every bit the part of a viable bullpen option.
Others of Note
There have been successful minor league signings outside of Arlington, Cincinnati and Pittsburgh, of course. Eric Sogard, he of the former #FaceOfMLB and #NerdPower hashtag fame, has been a superlative pickup for the Blue Jays, hitting at a .290/.365/.481 pace with a career-high five homers in just 151 plate appearances. With several injuries and poor performances around the Toronto infield, his presence has been a boon to an otherwise disappointing lineup.
Sogard's former teammate and fellow Oakland cult hero, Stephen Vogt, thought his career could be over at this time a year ago. Instead, he's back in the Majors and enjoying a solid showing at the plate with the Giants. In 66 plate appearances, Vogt has hit .250/.318/.417, and Buster Posey's recent placement on the injured list will only create more opportunity for playing time. The Giants cycled through an all-you-can-sign buffet of veteran catchers earlier this spring, and Vogt is the last man standing.
As far as other catchers go, Matt Wieters landed the role of baseball's most seldom-used backup: the Cardinals' second option to iron man Yadier Molina. Wieters has just 50 plate appearances on the year through June 6, but he's going to see an uptick in playing time with Molina on the injured list for a bit. In his 50 trips to the dish, Wieters has connected with three long balls and slashed a very solid .277/.300/.511. His 15 strikeouts against just one walk could very well be a portent for struggles to come, but some more frequent playing time could also help the veteran find his rhythm.
Speaking of players who've succeeded in minimal playing time, right-hander Mike Morin has given the Twins 10 1/3 innings of terrific relief since having his contract selected in early May. He's punched out seven hitters, hasn't allowed a walk, is sitting on a career-high 56.7 percent ground-ball rate and has limited opponents to just one run (a solo home run). He'll need to miss more bats, as he's not going to maintain a .172 BABIP and will eventually walk a batter, but Morin's newfound knack for keeping the ball on the ground is encouraging. (For those wondering where Ryne Harper is, he was technically signed in the 2017-18 offseason and is in his second year with the organization.)
In a similarly small sample of work — four games, 20 1/3 innings — left-hander Tommy Milone has given the Mariners some competitive starts to help out in their beleaguered rotation. Milone is sitting on a 3.10 ERA and 3.84 FIP, and while he's never been one to miss bats in the past, he's punched out 20 hitters against only five walks. His velocity hasn't changed, but Milone is throwing more sliders at the expense of his four-seamer and changeup.
Over in Atlanta, the Braves have enjoyed their own bullpen find, as Josh Tomlin has pitched a team-high 32 innings of relief. Tomlin's 3.94 ERA doesn't exactly stand out, and fielding-independent metrics all suggest a mid-4.00s mark is more realistic, but he's been a relief workhorse for a team whose rotation and bullpen have struggled mightily for much of the year. The 32 innings Tomlin has already soaked up have been vital for the Braves.
Elsewhere in the NL East, former Pirates and Blue Jays prospect Harold Ramirez is doing his best to continue earning playing time with the Marlins. He's hit .329/.368/.427 through 87 plate appearances, and while that line has been buoyed by a .394 average on balls in play, Ramirez is making solid contact and isn't striking out much. He batted .320/.365/.471 in 120 games with Toronto's Double-A affiliate last season and .355/.408/.591 in 31 Triple-A games with the Marlins in 2019, so he's earned a look at the game's top level.