The Freddie Freeman era in Atlanta appears all but over. The Braves announced Monday that they've acquired All-Star first baseman Matt Olson from the Athletics in exchange for a hefty package of minor league talent: center fielder Cristian Pache, catcher Shea Langeliers and right-handers Ryan Cusick and Joey Estes. While some Atlanta fans may hold out hope that the implementation of the universal designated hitter leaves open the possibility for both Olson and Freeman to coexist on the same roster, Braves president of baseball operations Alex Anthopoulos implied otherwise when discussing the trade with reporters. Anthopoulos held back tears today, calling the Olson trade the hardest transaction he's ever had to make — a clear allusion to the team's plans for Freeman (or lack thereof).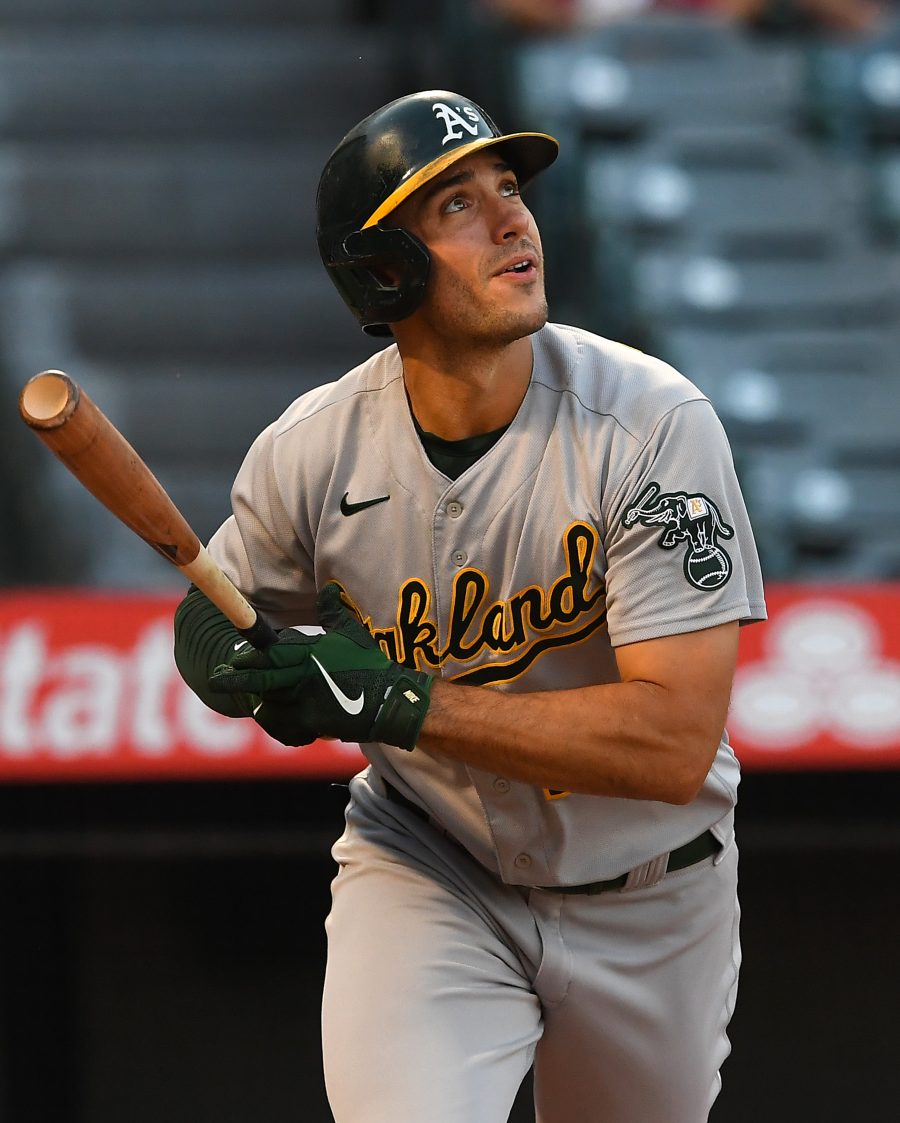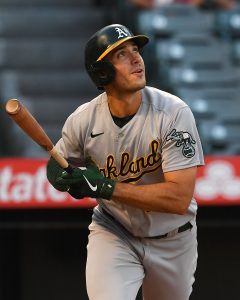 As is the case with Anthopoulos, the acquisition of Olson will be a bittersweet one for many Braves fans. While Olson is an elite first baseman with Atlanta roots, it's long been difficult to fathom Freeman, the 2020 National League MVP, ultimately moving on and signing with a new team. Freeman was a homegrown star in every sense of the word, going from No. 78 overall draft pick in 2007 to a five-time All-Star, league MVP and World Series champion. He's spent the past 12 seasons in Atlanta, thanks in large part to an eight-year, $135MM contract extension that kept him in Braves gear long beyond his arbitration years. Freeman has become synonymous with the Braves, but it now appears all but certain that this is a changing of the guard.
As far as replacements for Freeman go, it's tough to dream up a better option than the Atlanta-born Olson, however. Set to turn 28 later this month, Olson is a two-time Gold Glover at first base who just wrapped up a career year that netted him his first All-Star nod. Over the past three years, Olson has cemented himself as one of the premier power threats in the game, swatting 89 home runs and 65 doubles while playing his home games in the cavernous Oakland Coliseum. This past season, Olson shed the "strikeout-prone" label when he cut his strikeout rate from 27.5% in 2019-20 all the way down to 16.8%. He did so while maintaining an excellent 13.1% walk rate and turning in the finest overall season of his career: .271/.371/.540 with a career-high 39 home runs.
Of course, Olson is far more than your prototypical bat-first, slugging first baseman. He's a two-time Gold Glove winner who happens to lead all Major League first basemen with 34 Defensive Runs Saved dating back to 2017 (despite playing in just 59 games that year). Olson's 22.8 Ultimate Zone Rating is also tops among first basemen in that span, and his 15 Outs Above Average (per Statcast) rank sixth in that same span. There's an argument to be made that bittersweet as the change might be for Braves fans, Freeman is being replaced by the most well-rounded, prime-aged first baseman in the game.
The Braves will control Olson for at least the next two seasons, as he's currently sitting on four-plus years of Major League service time. MLBTR contributor Matt Swartz projects a $12MM salary for Olson this coming season, and he'll be due one more raise on that sum before qualifying as a free agent after the 2023 season. Of course, the Braves could well look to sign Olson to a long-term deal that would keep him with his hometown club far longer than those remaining two years of control. Atlanta reportedly balked at going six or more years on a potential Freeman extension, but Olson is four and a half years younger than Freeman, which could alleviate concerns about an eventual decline in the late stages of a long-term deal.
Just as it's difficult for the Braves' faithful to process the change, Athletics fans are surely reeling from the news as well. While periodic sell-offs of this nature have become second nature for Oakland diehards, the current core is one of the more talented and recognizable groups in recent memory. Olson was a fan favorite and beloved player at the Coliseum, but his departure begins to pave the way for what the A's hope will be its next core group.
Pache and Langeliers are the true headliners here, though all four prospects ranked among the top 15 or so in the Braves' farm. Pache, 23, has seen his stock dip a bit since being ranked as baseball's No. 7 prospect (per Baseball America) in the 2020-21 offseason. That's due both to a poor showing at the plate in the big leagues and a fairly pedestrian output in Triple-A Gwinnett. Pache received just 68 big league plate appearances in '21 and batted .111/.152/.206, though it's tough to glean much of anything from such a small sample. His work in Triple-A was more encouraging but not on par with his strong 2019 campaign in Double-A; in 353 trips to the plate with Gwinnett this past season, Pache batted .265/.330/.414.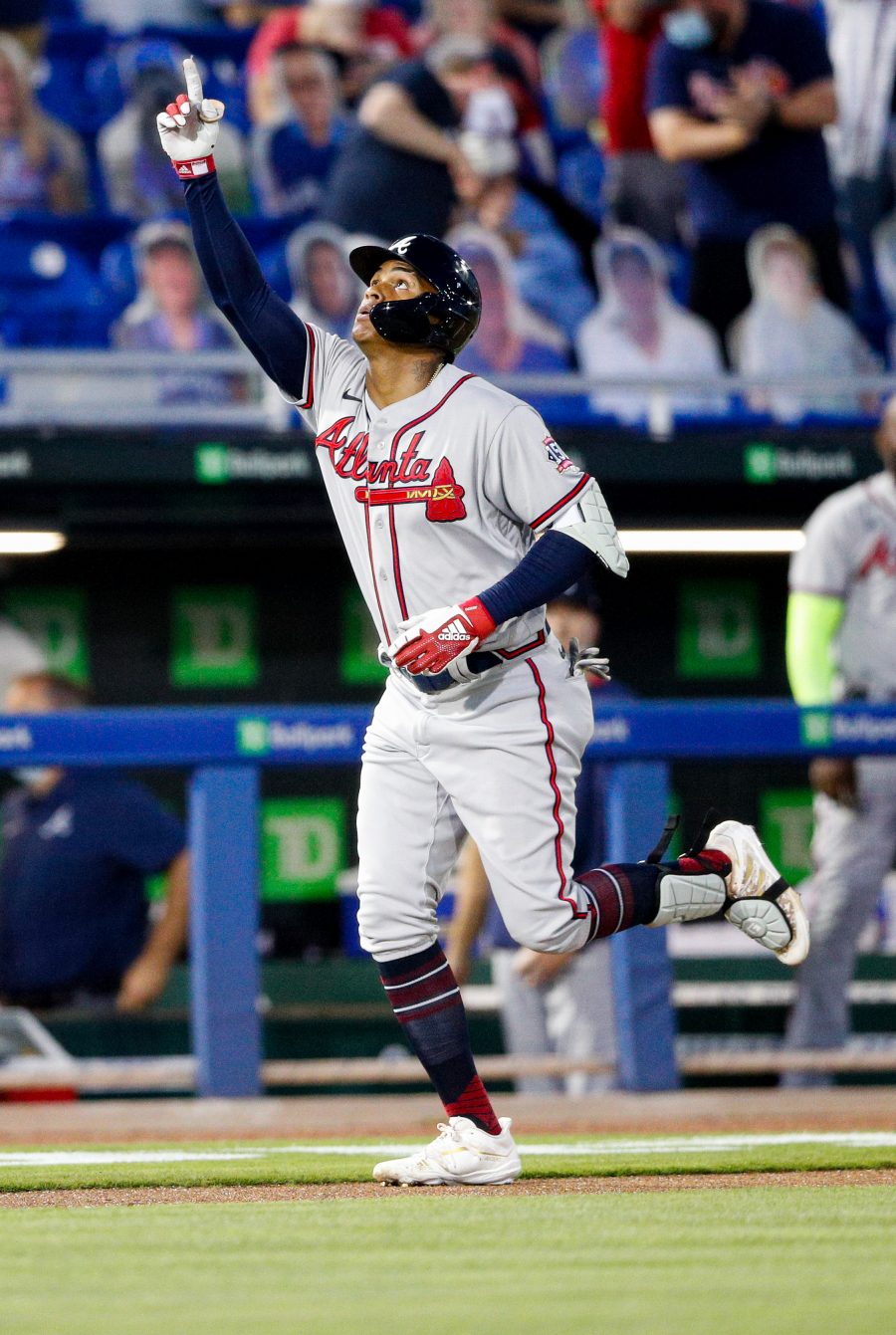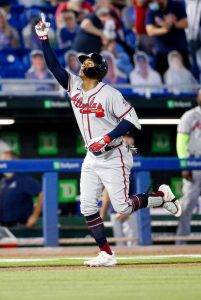 Offense has never been projected to be Pache's primary selling point, however. That's not to say he couldn't develop into a solid big leaguer at the plate, of course, but much of his prospect allure has come from the fact that he's a plus runner who received 80 grades for his defensive upside in the outfield. Considering the huge space he'll now have to patrol at the Coliseum, that's a particularly valuable skill to have. And, if Pache can turn in something close to his lifetime .280/.330./406 slash from the minor leagues, he ought to be able to solidify himself as a highly valuable big leaguer before long. Pache is still near universally regarded among the sport's top 100 prospects.
Turning to the 24-year-old Langeliers, he'll give the A's another potential high-end catcher before long. Sean Murphy is the incumbent option there and had a fine season in '21, but Langeliers was the No. 9 overall pick in 2019 and is fresh off a .256/.339/.494 showing between Double-A and a brief stop in Triple-A. Baseball America ranked Langeliers 54th among all prospects, calling him an excellent defender with a "cannon" arm and above-average power. That he reached Triple-A already in 2021, albeit only for five games, speaks to his proximity to the Majors. Langeliers also ranks as baseball's No. 70 prospect at FanGraphs and No. 80 at The Athletic.
With Langeliers now perhaps the future behind the plate, Oakland will at least have the ability to more comfortably listen to offers on Murphy if they see fit. Murphy is controlled another four seasons and just won a Gold Glove while popping 17 home runs, but he'll reach arbitration next year — around the time Langeliers is likely to be ready for an everyday audition at the big league level.
As for Cusick and Estes, both are well regarded in their own regard, even if they haven't received the type of national attention that Pache and Langeliers have. Cusick was Atlanta's first-round pick just last summer, joining the organization after posting huge strikeout totals during his sophomore and junior seasons at Wake Forest (37% overall). The 6'6″, 235-pound righty sits in the upper 90s with a heater that has touched 102 mph.
Command was an issue for Cusick in college, but in 16 1/3 innings with Low-A Augusta last season, Cusick punched out more than half of the 67 hitters he faced while issuing just four walks. It remains to be seen whether he can sustain those gains, but there's huge potential if he can indeed refine his command. If not, a triple-digit fastball and this type of bat-missing ability will surely play up as a potential late-inning reliever. He was generally regarded among the system's 10 best overall prospects.
As for the 20-year-old Estes, he was the Braves' 16th-round selection in 2019 but has quickly elevated his profile. Drafted out Paraclete High School in Lancaster, Calif., Estes had a nondescript pro debut that lasted 10 innings in '19, didn't pitch due to the canceled 2020 minor league season and then broke out with a monster year as Cusick's teammate in Low-A Augusta. Through 20 starts, a total of 99 innings, Estes notched a 2.91 ERA with a 32.1% strikeout rate and a 7.3% walk rate. He was an extreme fly-ball pitcher in 2021 (33.2% grounder rate), but that's not a huge concern for the A's, given their spacious home environs. Estes' success came despite being nearly three years younger than the average competition he faced. While he and Cusick are both at least one, if not two full seasons away from making a big league impact, they both add some considerable upside to an Oakland system that was generally regarded among the thinnest in the sport.
"This is the cycle for the A's," Forst said back in early November when addressing reports of a likely payroll reduction. "We have to listen and be open to whatever comes out of this. This is our lot in Oakland until it's not." Those foreboding words have already manifested in the trade of two popular and productive A's stars, and there's little sense expecting that Oakland will put a foot on the brakes now. They've secured four new pitching prospects and a pair of ballyhooed close-to-the-Majors position players already (Pache, Langeliers), and things are likely just getting started.
As for the Braves, the acquisition of Olson will turn the page on perhaps the team's most iconic player since Hall of Famer Chipper Jones. The 2020 MVP crowning for Freeman was a high note in his career, but the team's storybook World Series run, with Freeman at the heart of the charge, will make an even more fitting end to this chapter in the team's history. Olson will have major shoes to fill at Truist Park, but so long as he carries on at something near the .254/.348/.515 pace he's tallied over his past 564 Major League games, the Braves will be in good hands.
ESPN's Jeff Passan first reported that trade and all five players involved (Twitter thread).