In a shocking development, Carlos Correa has agreed to join the Mets for a 12-year, $315MM contract, Jon Heyman of the New York Post reports.  Correa had previously agreed to a 13-year, $350MM deal with the Giants, yet reports surfaced yesterday that an unknown issue with Correa's medicals had led to a postponement of the Giants' introductory press conference for the shortstop.  The 28-year-old Correa is represented by the Boras Corporation, and his deal with the Mets will become official once he passes a physical.
As Susan Slusser of the San Francisco Chronicle tweets, the "Giants flagged something in [Correa's] physical and doctors disagreed."  Slusser also reported yesterday that Correa's back wasn't the issue, though back soreness has sent the former All-Star to the injured list on multiple occasions during his career.
Whatever the Giants took issue with in Correa's physical, obviously the problem wasn't enough to deter the Mets from adding yet another high-priced star to their already loaded roster (and payroll).  Mets owner Steve Cohen said last week that the team made a late bid of around $300MM to land Correa, but that offer was turned down by agent Scott Boras since talks with the Giants had already reached an advanced stage.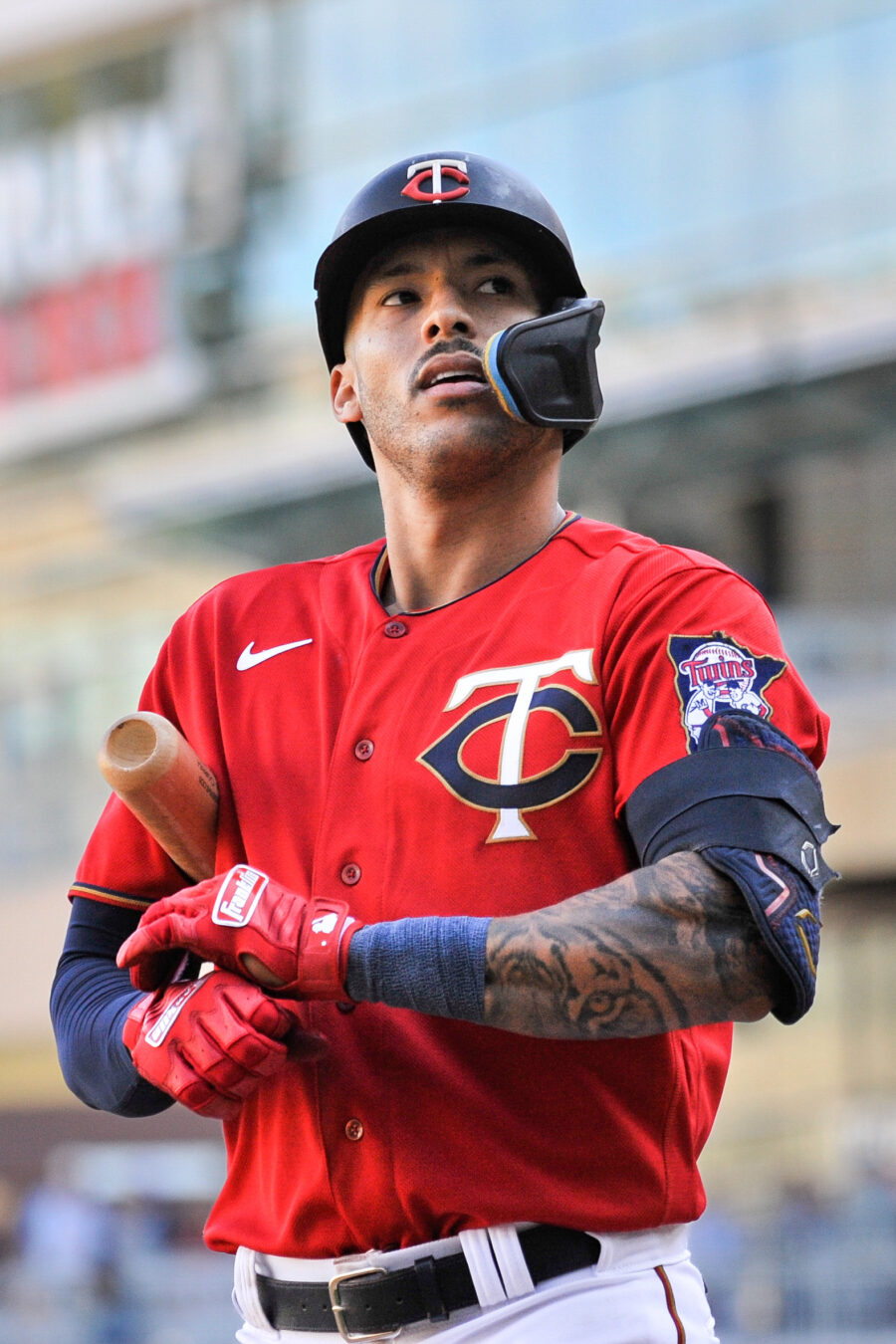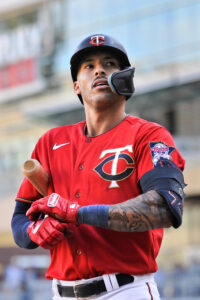 As it turned out, that late attempt from Cohen was seemingly all Boras needed to secure another mega-deal for his client quickly after the agreement with San Francisco fell apart.  As Cohen told Heyman, "we kind of picked up where we were before and it just worked out" over the course of four or five hours' worth of extra negotiations.
Correa's new contract with New York is one year shorter and worth slightly less in average annual value ($26.25MM with the Mets compared to $26.92MM with the Giants).  It is also "only" now the 10th-largest contract in baseball history in terms of total value, while the $350MM deal with San Francisco was the fourth-largest in history.
Still, the deal handily surpasses MLBTR's projection of a nine-year, $288MM pact for Correa.  Like the structure of the original Giants contract as well as other deals signed by Xander Bogaerts and Trea Turner this winter alone, the longer length allows the team to spread out the luxury-tax hit over more years, while the player still gets his money as well as extra security.  The Mets themselves used a version of this strategy in re-signing Brandon Nimmo to an eight-year, $162MM deal, as Nimmo's tax number is $20.25MM.  Correa now joins Nimmo and Francisco Lindor as Mets players signed beyond the 2029 season, though the Mets' expenditures this winter have varied widely in length.
The overall numbers of the Mets' spending spree continue to stagger.  Assuming Correa's contract pays him $26.25MM in each year of the deal, the Amazins' payroll will now soar past the $377MM mark for 2023.  Having already far surpassed the fourth and highest tier ($293MM) of Competitive Balance Tax penalties, New York is paying a 90% tax on every dollar spent beyond the $293MM threshold.  That works out to roughly $23.62MM added to the Mets' tax bill, thus putting their luxury tax number over $386MM.
Correa, Nimmo, Justin Verlander, Edwin Diaz, Kodai Senga, Jose Quintana, David Robertson, Adam Ottavino, and Omar Narvaez represent the star-studded list of free agents signed and re-signed by New York this offseason alone, to say nothing of their previous big splashes since Cohen bought the team just over two years ago.  Needless to say, Cohen has established new standards for spending, as the owner has made no qualms about his desire to immediately make the Mets as competitive as possible.  The result was a 101-win season in 2022, but the Amazins didn't make it past the first round of the expanded playoffs, losing to the Padres in three games in the Wild Card Series.
The Correa signing "really makes a big difference," Cohen said.  "I felt like our pitching was in good shape.  We needed one more hitter.  This puts us over the top."
Indeed, most of the Mets' focus had been on revamping a rotation and bullpen that was full of free agents.  While Diaz and Ottavino were re-signed, plenty of holes had to be filled after Jacob deGrom, Chris Bassitt, Taijuan Walker, Seth Lugo, Joely Rodriguez, Trevor Williams, Trevor May, and Mychal Givens all signed elsewhere.  Nimmo was the biggest pending free agent on the position player side, and Narvaez should help bolster the catching corps, but Cohen and GM Billy Eppler weren't going to curb their aggressiveness.
To this end, one of baseball's best shortstops in Correa now won't even be a shortstop, as Correa will now move to third base in deference to Lindor.  Correa won a Platinum Glove, Gold Glove, and Fielding Bible Award for his work at shortstop just in 2021, and his professional experience at third base consists of one game with the Astros' Double-A affiliate in 2015.  That said, Lindor is an excellent fielder in his own right, and the Outs Above Average and UZR/150 public metrics prefer his glovework at shortstop to Correa's over the course of their careers.  There isn't much doubt that Correa should be able to translate well to the hot corner, thus improving the Mets' defense as well as the impact he'll bring to the lineup.
With Correa now the new third baseman, Eduardo Escobar is suddenly out of a starting job.  It wasn't even 13 months ago that Escobar was one of New York's big signings of the 2021-22 offseason, as he inked a two-year, $20MM deal.  Escobar was decent if unspectacular, hitting .240/.295/.430 with 20 homers for a 106 wRC+ over 542 plate appearances in his first year in Queens.
"Decent if unspectacular" wasn't enough for a team so intent on winning, however, and thus Escobar could now join Luis Guillorme as infield depth.  It stands to reason that the Mets could explore trading Escobar (and the $10MM remaining on his deal) to a team in need of a dependable veteran infielder, or New York could simply keep Escobar as a backup option in the event of an injury to Correa or starting second baseman Jeff McNeil.
Looking further down the depth chart, top prospect Brett Baty is also a third baseman, as is Mark Vientos (ranked by MLB Pipeline as the seventh-best minor league in New York's farm system).  Baty has gotten some time as an outfielder and now might be viewed as a possible replacement for Canha in left field, while Vientos might be destined for a move off third base anyway, with first base potentially being his ultimate spot on the field.  With Correa now locked into the hot corner, however, there seems an increased possibility that the Mets could shop either of these prospects for other upgrades.
Today's news marks the latest twist in a controversy-filled career for Correa, largely tied to his participation on the 2017 Astros team that won a World Series championship later clouded by the sign-stealing scandal.  Correa's time in Houston ended when he signed a three-year, $105.3MM deal with the Twins last winter, though that shorter-than-expected contract was designed to allow a quick return to the free agency.  Correa had opt-out clauses after both the 2022 and 2023 campaigns, and he exercised that first opt-out to re-enter the market in an offseason that wasn't interrupted by the lockout.
Correa hit .291/.366/.467 with 22 homers over 590 plate appearances in his lone season in Minnesota, with a 140 wRC+ that stands as the third-highest of his eight MLB seasons.  Coming off a strong platform year and still being younger than most free agents once they reach the open market, Correa had every expectation of finally landing the pricey long-term contract he initially wanted last year.
The result was two pricey, long-term contracts, with the Mets swooping in to take Correa away from the Giants.  It's probably wise to not totally assume Correa's pact with the Mets is a done deal until the physical is passed and an official announcement is made, given the stunning nature of the last 24 hours.  Yesterday's reports of a delay certainly raised red flags about the status of Correa's agreement with San Francisco, but with an absence of any concrete news, there wasn't yet any reason to believe that Correa wouldn't still eventually end up in the Bay Area.
Instead, the Giants' winter plans have now been dealt an almost unfathomable setback.  The Giants slumped to an 81-81 record after their 107-win season in 2021, leaving president of baseball operations Farhan Zaidi in search of a major acquisition.  San Francisco has lots of payroll space and lots of needs around the roster to accommodate at least one new superstar, and there seemed little doubt that the Giants were lining up to make the first true blockbuster signing of Zaidi's four-year tenure.
Aaron Judge was clearly the top priority heading into the offseason, and the Giants reportedly offered Judge around $360MM before the AL MVP took that same salary over a nine-year deal to re-sign with the Yankees.  With Judge off the board, San Francisco then turned to the shortstop market, with Correa emerging as their top target (ahead of Turner, Bogaerts, or Dansby Swanson).  The $350MM deal represented the biggest contract in franchise history, and a resounding counter to any argument that the Giants' front office was unwilling or unable to land top-tier free agents.
It isn't exactly true that the Giants are back to square one, since they've also signed Mitch Haniger, Ross Stripling, and Sean Manaea in free agency, and Joc Pederson was retained via the qualifying offer.  But, Carlos Rodon left the team to also sign with the Yankees, removing another star from the 2022 roster.  The league-wide rush on free agent signings has left the market bare of most of the top names, and so Zaidi and company will now have to explore the trade market (and possibly make some tough decisions on trading top prospects) in order to acquire another big-ticket star….if one is even necessarily available.
Speculatively, the Giants could try to wield their payroll space in a different manner, perhaps by offering a deal for both a star player and an undesirable contract on a team looking to cut spending.  With over three months until Opening Day, there's plenty of time left for the Giants to still make moves, and yet it's hard to imagine they can make an addition anywhere near Correa's level.
Photo courtesy of USA Today Sports Images
Originally posted at 2:05am.