TUESDAY, 1:47pm: The Dodgers confirmed the deal via press release.
"Chris expressed an interest in coming here and pitching in any role Don asks of him," said Colletti. "We see him adding depth and experience to our bullpen and while Kenley [Jansen] and Brian [Wilson] will close games, we play so many tight games that we couldn't pass up the chance to add another reliever who has experienced success in the 7th, 8th and 9th inning. It's a great opportunity for both Chris and the Dodgers."
MONDAY, 7:44pm: Perez's base salary will be $2.3MM, Paul Hoynes of the Cleveland Plain Dealer tweets.
7:16pm: Perez will make a base salary of around $2.25MM, Jeff Fletcher of the Orange County Register tweets. The deal is also heavy on incentives, and Fletcher notes Perez might be able to make up to about $6MM in a setup role, or $8MM if he becomes the Dodgers' closer.
10:18am: The Dodgers and free agent right-hander Chris Perez are in agreement on a one-year deal, according to Ken Rosenthal of FOX Sports (on Twitter). Perez will take his physical today, according to Rosenthal. Dylan Hernandez of the Los Angeles Times first reported last night that the Dodgers were nearing a deal with Perez, who is represented by Nez Balelo of CAA Sports.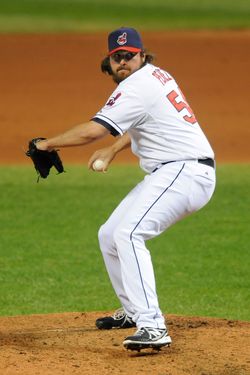 The 28-year-old Perez looked to be on his way to another strong season with the Indians in 2013, having gone 17-for-19 in save opportunities and pitched to a 2.52 ERA with a 30-to-13 K/BB ratio through his first 35 2/3 innings. However, Perez unraveled in an Aug. 5 outing that saw him surrender four earned runs without recording an out. He would go on to allow 16 earned runs over his final 18 1/3 innings with the Indians.
Because he was projected to earn as much as $9MM via arbitration this winter, the Indians made the decision to release him shortly after season's end rather than pay him that lofty salary. Instead, Indians GM Chris Antonetti elected to bring in John Axford on a one-year, $4.5MM pact.
Perez's salary and on-field performance may not have been the only contributing factor to that decision. He also plead no contest to drug charges after he and his wife had a small package of marijuana shipped to their home. He also spoke out against the Indians' lack of spending on the free agent market following the 2012 season.
Despite those issues, there's no denying that Perez has the ability to succeed in a late-inning role for the Dodgers. From 2010-12, Perez served as Cleveland's primary stopper, posting a 2.84 ERA with 98 saves, 7.9 K/9 and 3.5 BB/9. That strikeout rate is a bit misleading, as it's weighed down by an abnormally low 5.9 K/9 in 2011. Perez whiffed rougly a batter per inning in both 2010 and 2012, and he's averaged 8.7 punchouts per nine innings in his career as a whole.
Perez will likely slot into the seventh inning for the Dodgers, given the presence of Brian Wilson and Kenley Jansen at the back-end of the bullpen. J.P. Howell, Paco Rodriguez, Brandon League and Chris Withrow will round out manager Don Mattingly's relief corps in 2014.
Photo courtesy of USA Today Sports Images.