The Diamondbacks' Daniel Hudson has a sweet resume for a starting pitcher with one year and 117 days of Major League service time.  He's already racked up 336 career innings (222 last year) and also has 25 wins and a 3.19 ERA.  What are his extension prospects?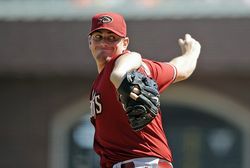 As I showed in my Madison Bumgarner post, pitchers with less than two years of service time don't get big bucks on extensions.  Hudson and Bumgarner currently have much better bodies of work than James Shields, Ubaldo Jimenez, Brett Anderson, and Wade Davis did, but they probably couldn't push the guaranteed money much past $15MM by signing now.  Instead, Hudson and Bumgarner may attempt to set a new standard for pitchers with between two and three years of service, one year from now.
The two-to-three record holder is Gio Gonzalez, who flew past the standard $30MM extension by getting a $42MM guarantee from the Nationals.  However, Gonzalez is not a good comparison for Hudson, as the former was a Super Two.  Hudson won't be.  The Proformance client will go to arbitration three times, beginning with the 2014 season.  
The typical 2+ pitcher extension is a four-year, $30MM deal, signed by Jon Lester, Clay Buchholz, Yovani Gallardo, Trevor Cahill, and Ricky Romero.  These deals included one or two club options.  Hudson will match this group in service time after the 2012 season, but he already matches them in overall statistics.  Hudson already has more innings and wins than Gallardo did and more strikeouts than Lester or Cahill.  If Hudson reaches his 2012 Bill James projections, he'll have at least a 185 inning, 11 win, 141 strikeout, and significant ERA advantage over any of those 2+ peers.  Hudson and Bumgarner will likely be in a class by themselves, and if they sign extensions a year from now they ought to be able to raise the bar to $40MM over five years for non-Super Two 2+ pitchers.     
Photo courtesy of Icon SMI.