The Padres made two substantial free-agent additions while otherwise mostly tinkering at the margins of the roster, and will look to their young core to move the team forward in 2014.
Major League Signings
Notable Minor League Signings
Trades and Claims
Extensions
Notable Losses
Needs Addressed
Sitting here today, one year ago, did anyone think that Benoit would get nearly double the guarantee of Johnson? Nevertheless, that's what happened, and both righties are now Padres. Benoit, of course, will plug into the setup role vacated by Gregerson, and could ultimately supplant Huston Street in the closer's role with the latter coming up on an option year. In a sense, this was a need of GM Josh Byrnes' own making, though Benoit does represent an interesting choice as a closer-in-waiting who has spent most of his career as a setup man. It remains to be seen how the gambit will turn out, of course; though Benoit has been quite good in recent seasons, he is already 36 years of age.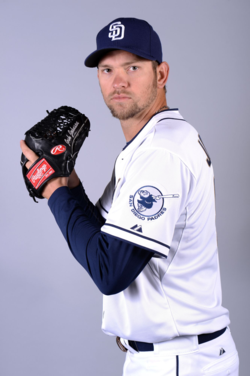 Johnson, meanwhile, represents the last major piece of a re-worked rotation. After moving on from former key arms Edinson Volquez and Clayton Richard, and adding something of a reclamation project by trading for Ian Kennedy last July, the club had room for another arm to put alongside Andrew Cashner, Tyson Ross, and Eric Stults. With younger pitchers like Joe Wieland, Robbie Erlin, and Burch Smith in the organization, GM Josh Byrnes could have stood pat or waited to land a cheap deal with a veteran, innings-eating arm. Instead, he went for upside. 
Otherwise, the 2014 roster had no significant, pressing needs. That did not mean that Byrnes and company would sit on their hands, however, particularly with a host of somewhat marginal MLB players occupying valuable 40-man spots. What ensued was a re-working at the edges of the roster seemingly designed to capture some value for surplus parts.
There were many moves, but their net impact is relatively minor. San Diego purged its bullpen of a series of players who threw for the big club last year, led by Gregerson but also including Bass, Boxberger, Brach, Hynes, and Mikolas. Likewise, the Pads moved on from a variety of reserve types, led by Forsythe and including Anna, Guzman, and Decker.
The return for this big group, and the prospects that accompanied them, will have some impact on the MLB roster. Torres is the team's only sure southpaw in the bullpen, while Smith will see plenty of plate appearances from the corner outfield. Schuster is currently battling minor-league signee Sipp for a spot in the 'pen as a second lefty, while Jackson and Castellanos are in the mix for bench roles. Meanwhile, Hahn and Dickerson are both top-thirty organizational prospects (though so was Andriese).
On the whole, the Pads' front office put out a lot of effort that may not make a huge difference. Looking at the two main trades involving MLB players, it is fair to ask whether Torres and Smith are a better combination than Gregerson and Forsythe? San Diego had dealt its primary lefty, Joe Thatcher, in the Kennedy trade, so adding Torres bypassed the need to purchase a new southpaw. But moving Forsythe still left the club with ample outfield options, and does little to make sense of the earlier Gregerson-for-Smith swap.
By sending out Gregerson for an equivalently-priced platoon outfielder, San Diego not only failed to free up salary space but created a need to book an even more expensive replacement in Benoit. Smith, at least, offers a different skillset than Forsythe, who was perhaps redundant with Alexi Amarista. But his power has declined since leaving Coors Field, and defensive metrics are not fans of his outfield work. While it made some sense to bring in a righty-masher, San Diego never moved any of its other corner bats, leaving it with five outfielders deserving of a roster spot (at least until Cameron Maybin suffered his most recent injury). And it is far from clear that Smith was fair value for Gregerson, who has been consistently effective over all five of his MLB seasons. 
Questions Remaining
The biggest questions in San Diego relate to the fulfillment of potential. The club features many important young players, two of whom — shortstop Everth Cabrera and catcher Yasmani Grandal — are coming off of PED suspensions arising out of the Biogenesis investigation. While the roster arguably features an over-abundance of right-handed-hitting corner outfielders, one (Maybin) will be out to start the year and another (Carlos Quentin) has really never been consistently healthy. The steady Chris Denorfia is also available, though he lacks the talent of the other two. And in the rotation, in addition to a return to form from Johnson, the club will hope for a bounceback from Kennedy and continued development from Andrew Cashner and Tyson Ross. Getting the answers to these questions is simply a matter of waiting and watching.
On the transactional side, speculation on a Chase Headley extension has undergone a roller-coaster ride ever since he broke out in 2012. It has appeared at times that San Diego was set to make the third baseman the long-term face of its franchise, but at present that seems unlikely.  "This has been a topic for a couple years. There's been dialogue. Both sides have tried. We just haven't been able to agree to the essential deal parameters," said Byrnes. "There are no active discussions. But the door's always open." As Headley himself has made clear, the gap between his healthy and productive 2013 and his injury-plagued, less-excellent 2013 campaigns posed a major obstacle. 
So, all signs point towards Headley playing out the 2014 season without a new deal, allowing both sides — and the rest of the league — to assess his actual value. The open question, then, is somewhat different at this point: If Headley performs, but the Padres are not within shouting distance of a post-season bid at the trade deadline, will he be dealt?
Deal Of Note
Of course, the Pads are surely hoping that dealing Headley is not an option due to the team's performance on the field. If Byrnes did not feel there was a legitimate chance at a post-season run, it is unlikely that he would have participated in a competitive auction for the towering Johnson. Taking advantage of Petco Park's reputation for suppressing the long ball, San Diego was able to beat out several other teams — including the Pirates, who instead brought in Volquez — for a roll of the dice on Johnson returning to form. 
Looking past his misleading ERA totals from last year (he suffered from high BABIP and HR/FB rates with a low strand rate), Johnson has an impeccable track record — when healthy. His SIERA and xFIP marks, for instance, have not strayed above the 4.00 level since 2007. His swinging strike percentage last year was right at his career mark, and he punched out hitters at a career-best rate of 9.18 K/9.
The issue, of course, is durability: Johnson has endured a string of health issues. In fact, he has exceeded 200 innings in just one season and has made it to triple-digit inning tallies in only four MLB campaigns. San Diego bought itself some protection by negotiating a conditional $4MM club option for 2015 that will be available to the club if Johnson fails to make seven starts. While that provides some benefit to the club in the event of a catastrophic injury, the fact remains that Johnson's signing is a roll of the dice. 
Johnson's signing, ultimately, makes a lot of sense for both parties. For Johnson, a pillow contract in a pitcher-friendly situation made San Diego a natural fit. The Padres wanted a pitcher of his talent level to supplement their excellent group of younger players, but they did not want to pay the premium needed to get a more established option. There's risk sure, but at one-third the guarantee given to Bronson Arroyo, the potential payoff is worth putting the cash on the line. As Byrnes has explained, "if [Johnson] can pitch like he has for many years in his career, we're a different team."
Overview
On the whole, the Padres' moves seem solid enough. Indeed, in a survey conducted by ESPN.com's Jayson Stark, the team landed second on the "most improved" list among NL clubs. Of course, as Stark noted, San Diego's additions (like those of most of the National League) paled in comparison to what some AL clubs did in terms of impact. But given the organization's solid group of younger players, and limited overall payroll capacity, Byrnes and his staff have put the team in a position to make a run like that of the Pirates last year — if some things break in San Diego's favor.
Photo courtesy of USA Today Sports Images.