MLBTR is re-launching its Draft Prospect Q&A series this season in order to give our readers a look at some of the top names on the board in this year's draft. MLBTR will be chatting with some of the draft's most well-regarded prospects over the next couple of weeks as they prepare for the 2014 draft on June 5-7.
There are few prospects with more power potential in the 2014 draft than California prep shortstop Jacob Gatewood. The Clovis High School product turned heads last summer when he won the All-Star Game Junior Home Run Derby at Citi Field, and for good measure, he turned around and won the Under Armour All-American Game's Home Run Derby at Wrigley Field as well a few months later.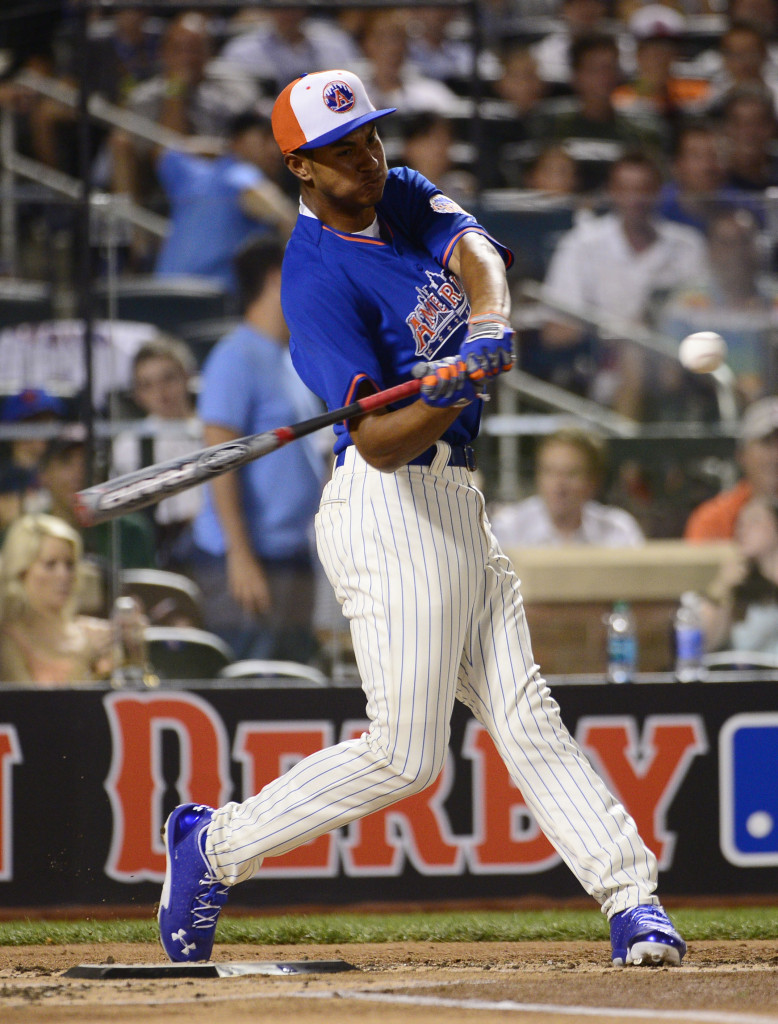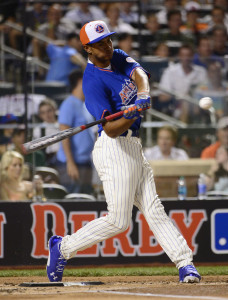 A shortstop by trade, Gatewood stands at 6'5″ and weighs in at 180 pounds, so it's reasonable to think that more power might be in the offing as he fills out. ESPN's Keith Law, who ranks Gatewood as the draft's No. 15 prospect, agrees with that line of thinking, as he gave Gatewood a 55 for his current power (on the 20-80 scouting scale) and graded his future power potential at 65. MLB.com's Jonathan Mayo and Jim Callis, who ranked Gatewood 22nd overall, graded his power at 65. Baseball America ranked him 21st overall and said his raw power is "at least 70-grade."
There have been some concerns about Gatewood's hit tool, but he's quelled some of that concern by "quieting a hand hitch and and [making] mechanical adjustments" this spring, according to BA. Gatewood took some time last week to talk with MLBTradeRumors about his future at shortstop, last season's Home Run Derby triumphs and the advice he received from some of the game's top players at last year's All-Star festivities.
Steve Adams: Describe your overall game and day-to-day approach to me.
Jacob Gatewood: I always try to play the game as hard as I can, no matter what — if I'm tired or whatever the circumstances are that day, I try to play as hard as I can and most importantly win the game that we're playing.
SA: Is there a particular Major League player that you've modeled your game after that you watched growing up?
JG: Definitely Troy Tulowitzki. Me and him are both tall shortstops and we both hit with power. I've always modeled my game after him.
SA: What areas of your game do you feel you've improved the most over the course of your senior season in high school?
JG: I think I definitely worked on becoming more of a complete hitter. I know there was a lot of questions about my hitting after the summer, but I feel like I answered a lot of those. That was probably my biggest thing. I also worked a lot on my defense as well at shortstop.
SA: Do you see yourself as a shortstop in the long-term?
JG: Yes, I do. I've grown up playing shortstop and I'm confident in my ability to stay there. But if the team that drafts me feels like it's best for their club for me to move to third base or wherever, I'm going to do that and I'm going to give it my all.
SA: Last year you drew some national attention by winning the Junior Home Run Derby at Citi Field and then the home run derby in the Under Armour All America Game. Can you talk a little bit about that experience and what it was like for you?
JG: I mean, to this day, it still feels like a dream. From being around all the best players in the game and having them tell me how nervous they were for me, to 50,000 people screaming your name — it can't get too much better than that. Like I said, it still gives me the chills just thinking about it.
[Laughing] Hopefully I can get back to one pretty soon! That'd be pretty cool. But yeah, it was definitely one of the best experiences of my life and something that I'll never forget.
SA: In the video footage from that day, you can see a lot of guys — Mike Trout, Torii Hunter — a lot of big name players reacting to your home runs. Did you get a chance to talk to any of those guys while you were out there?
JG: Yeah, actually I talked to a lot of them, and they were messing around with me a little bit — well, Big Papi was messing around with me a lot. But just to be around those guys — you think about it and you think they're robots or something seeing them on TV all the time, but to actually be up close to them and for them to be genuinely happy for me — that part was definitely cool. They gave me all kinds of pointers that I'll definitely never forget.
SA: What's the best piece of advice that you received out there?
JG: Defintely Torii Hunter told me — he kind of pointed to the stands and he told me, 'All that's cool and stuff,' but then he pointed back to the field and said, 'You see those white lines right there? Everything between those is what you need to work on, what you need to take care of. Make sure you get your work done on the field and play as hard as you can.'
SA: You're used to being the best player on a team or one of the best players on a team. A certain amount of leadership comes along with that. Do you consider yourself to be a vocal leader or are you more of a "lead by example" and let your play do the talking type of guy?
JG: You know, I think I'm a mixture of both. If I need to say something, I'll definitely say it, but I try to lead by example as well. I'm lucky to be on a team that has a couple of seniors be there since we were all sophomores. They've helped a lot, but I like to try to do a mixture of both.
SA: You're a central California guy. You didn't really have any shortage of options for teams to cheer for when you were growing up. Was there one that you followed more closely than the others?
JG: Yeah. Definitely the Dodgers. I've been a Dodgers fan since I was little. My dad (1982 Dodgers first-round pick Henry Gatewood) helped me out a little bit with that since he played for them, but I followed the Dodgers for awhile.
SA: Have you had a chance to follow the career of Ryan Cook at all? He came out of your high school in Clovis as well.
JG: Yeah, actually when I first transferred, they heard I was committed to USC and they talked about Ryan Cook. I had no clue he was from Clovis, so when he was doing his thing up there, it was pretty cool to watch him play. He'd come back in the offseason and play catch right on our field, so it was really cool having a big leaguer out there.
Other entries in this year's series include prep shortstops Michael Chavis and Nick Gordon, Louisville closer Nick Burdi and University of San Francisco center fielder Bradley Zimmer.
Photo courtesy of USA Today Sports Images.