The Reds' hopes of challenging in the NL Central were dimmed by several major injuries this year, and this visit from the injury bug was particularly damaging to a team who already faced some big decisions in the offseason.  With just over $71MM committed to 10 players on the 2015 payroll, the mid-market Reds may be forced to save some money by moving a starting pitcher.  Though Cincinnati's durable and deep rotation has been a big part of the club's success in recent years, pitching seems like a natural area for payroll reduction simply due to the fact that three starters will enter their third year of arbitration eligibility.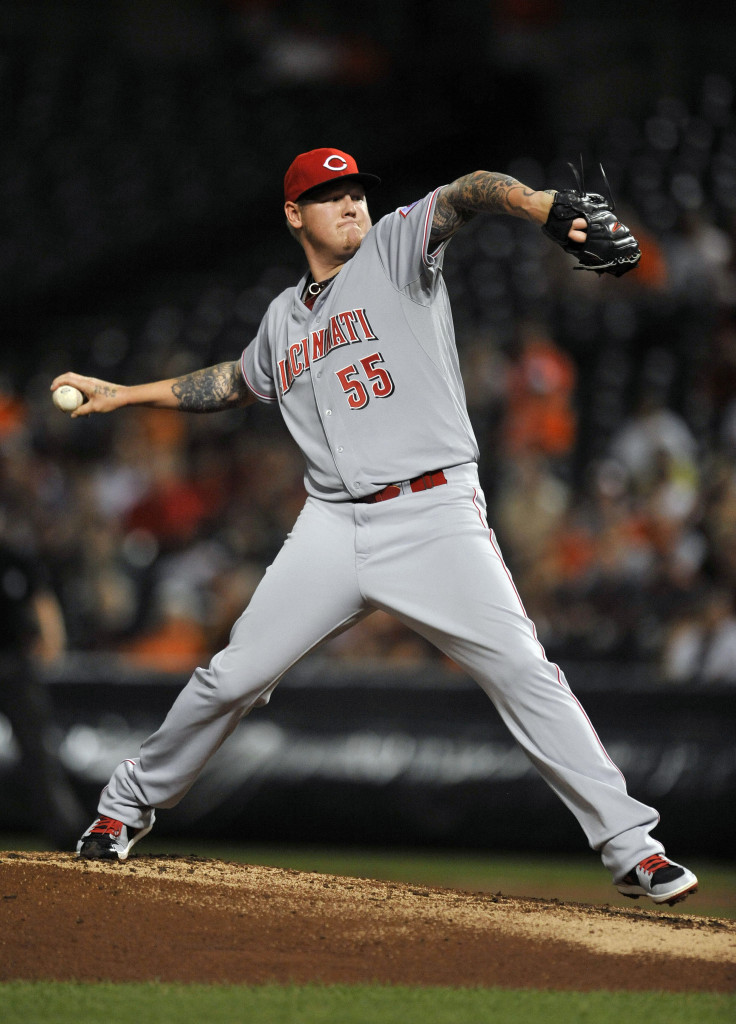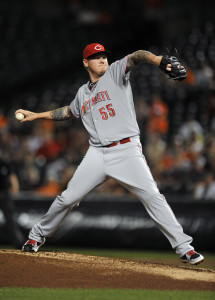 Two pitchers who won't be dealt are Homer Bailey and Tony Cingrani.  The Reds have already committed to Bailey in the form of a six-year, $105MM extension, and wouldn't have been likely to move him even if Bailey hadn't recently undergone forearm surgery.  Cingrani has also had injury problems, spending most of 2014 on the DL with shoulder problems.  Had Cingrani been able to build off of his impressive 2013 rookie season, the Reds would've felt at least a bit better about trading one of their more established starters (Bronson Arroyo wasn't re-signed last winter in part because the Reds were comfortable with Cingrani).
It's possible Cincinnati could trade multiple starters, though I'd suspect that the team wouldn't want to lose too much pitching depth until they know Bailey and Cingrani are fully healthy.  The Reds would probably rather not have David Holmberg or Dylan Axelrod as full-time rotation members next year, top prospect Robert Stephenson still needs some seasoning (a 4.74 ERA in 136 2/3 IP at Double-A in 2014) and the newly-signed Raisel Iglesias could still wind up in the bullpen.
The Reds' other four pitchers are all controlled only through 2015, so the team likely wouldn't score a truly huge return in a trade but all carry value even as one-year pitchers.  The candidates…
Johnny Cueto: The Reds have a $10MM option on Cueto for 2015 that is sure to be exercised given how well Cueto has pitched.  After an injury-shorted 2013, Cueto bounced back in a major way by posting a 2.15 ERA, 8.9 K/9 and 3.73 K/BB rate over a league-leading 222 innings.
Cueto's next contract will be in the nine-figure range, and it's unclear if the Reds would be willing ink another major extension given how much money has been tied up in recent deals with Bailey, Joey Votto and Brandon Phillips.  Cueto would net the biggest return in a trade, though moving their ace would seem to hint that the Reds are punting on 2015, which I doubt they're prepared to do.  On the other hand, the Reds could trade Cueto for Major League parts (such what the Rays and Red Sox received for David Price, John Lackey and Jon Lester before last July's trade deadline) and use a Cueto deal to reload rather than rebuild.
Keeping Cueto would give the Reds stability at the top of their rotation, and they could still explore dealing Cueto at next year's trade deadline if they fall out of the race.  If they're contending and wanted to keep Cueto, Cincinnati could then get a compensatory draft pick via the qualifying offer if he leaves in free agency after the 2015 season.
In a recent Insider-only piece, ESPN's Buster Olney recently explored Cueto's trade market and raised the possibility that the Reds could clear some payroll space by attaching Phillips, for example, to Cueto in a trade package.  With several notable starters available as free agents this winter, Olney believes some teams might prefer trading for a year of Cueto rather than making an expensive multiyear commitment for an ace on the open market.  Also, a contending team that potentially loses their ace in free agency (such as if Max Scherzer leaves the Tigers or James Shields leaves the Royals) could look to Cueto as a short-term replacement to keep their rotation strong for another run in 2015.
Mat Latos: Ken Rosenthal of FOX Sports recently cited Latos as perhaps the likeliest of the Reds' starters to be dealt, as both Latos and Cueto can make a case for commanding an extension larger than Bailey's deal.  While Cueto is two years older than Latos, presumably the Reds would be more inclined to extend their homegrown product than they would Latos, who missed part of 2014 with an elbow injury.  Latos has a 3.25 ERA in 102 1/3 IP this year, though ERA indicators show that he hasn't pitched quite that well (3.64 FIP, 4.00 xFIP, 4.08 SIERA) and both his ground ball and strikeout rates dropped significantly below his career averages.  The right-hander's average fastball velocity also dropped to 90.7 mph, down from 92.5 mph in 2013.
The Reds already tested the market for Latos at the trade deadline, so I tend to agree with Rosenthal that if a Cincy starter is moved, it'll probably be Latos.  His declined numbers could be explained by his elbow issues, and if fully healthy, Latos could be a standout front-of-the-rotation starter for several teams.  He earned $7.25MM in 2014 in the last year of a two-year extension, and he'll be eligible for arbitration for a third and final time this winter.
Mike Leake: Another pitcher with a third arb year remaining, Leake will get a raise from his $5.925MM salary in 2014.  The right-hander has been a reliable rotation piece over his five Major League seasons, not missing many bats (career 6.1 K/9) but inducing a lot of grounders (49.8% ground ball rate) and eating a lot of innings, averaging 191 IP over the last three years.
Leake comes with the fewest question marks of any Cincinnati starter, lacking the injury histories of Cueto and Latos but also never pitching nearly as well as those two have at their peaks.  While Leake's ceiling in the bigs may never surpass the "solid" level (he has an even 100 ERA+ over his career), this also means that the Reds could extend him at a much lower price than Cueto or Latos.  A Leake extension could look something like the five-year, $65MM deal the White Sox gave John Danks a few years ago, as Leake and Danks are decent comparables in terms of age and career numbers to that point in their careers, plus both had one arb year left before free agency.
The Reds put Leake and Latos on revocable waivers in August, possibly in a move to gauge trade interest for the upcoming offseason.  I'd guess there's a better chance Leake stays in Cincinnati than goes, though the Reds will certainly get interest in the durable 26-year-old.
Alfredo Simon: The big surprise of the group, the 33-year-old Simon moved from the bullpen to the rotation as an injury fill-in and wound up making his first All-Star team.  Though his performance has very much come back to earth in the second half, Simon still has a 3.48 ERA through 178 1/3 innings on the season despite a middling 5.9 K/9.
Simon is arb-eligible for the third time this winter and he'll earn a healthy raise over his $1.5MM salary, though the raise will hardly break the bank.  Simon's age and career track record give him a very modest amount of trade value, so it's likely he stays with the Reds and competes for the fifth starter's job (or returns to the pen) if and when a rotation spot opens up via trade.
With this variety of available starters and a wide variance in asking prices for each of the four pitchers, many teams could fit as potential trade partners for the Reds under the "you can never have too much pitching" argument.  If the Reds look to deal a starter and fill an everyday lineup hole at the same time, they'll likely target a left fielder or a shortstop as upgrades on Ryan Ludwick and Zack Cozart, respectively.  Ludwick has a $9MM mutual option for 2015 but after two negative fWAR seasons, the Reds might instead buy him out (for a deferred $4.5MM) and look for other options.
Using these needs to speculate about trade partners, the Cubs, Diamondbacks and possibly the Indians stand out as teams with a shortstop surplus.  The Red Sox have a glut of outfielders and are known to be looking for starting pitching.  The Dodgers could finally solve their long-standing logjam in the outfield and, if it meant getting back Cueto or Latos, would be willing to eat a lot of salary on one of their high-priced outfield bats.
As Ken Rosenthal noted (video link), the Reds could employ some gamesmanship with their starters and perhaps leverage them against each other in figuring out which (if any) pitchers they want to sign over the long term.  Between these negotiations and waiting for the free agent pitching market to play out, Cincinnati might wait until January or even February to move a starter.  At this point, the only thing that seems certain about the Reds' 2015 rotation is that at least one of Cueto, Latos, Leake or Simon won't be on the roster come Opening Day.
Photo courtesy of Joy R. Absalon/USA Today Sports Images