The Yankees rebuilt their infield and bullpen this winter, yet depth could still be an issue given their several veterans with injury histories.
Major League Signings
Chase Headley, 3B: Four years, $52MM
Andrew Miller, RP: Four years, $36MM
Stephen Drew, MI: One year, $5MM
Chris Capuano, SP/RP: One year, $5MM
Chris Young, OF: One year, $2.5MM
Jose De Paula, SP: One year, $510K (split contract)
Total spend: $100.5MM (not counting the split deal)
Notable Minor League Signings
Trades And Claims
Notable Losses
David Robertson, Hiroki Kuroda, Brandon McCarthy, Ichiro Suzuki, David Huff, Preston Claiborne, Zelous Wheeler, Prado, Phelps, Greene, Cervelli, Kelley, Banuelos, Derek Jeter
Needs Addressed
While there was some question as to whether or not the Yankees would be willing to go to four years to re-sign Chase Headley, the team indeed brought him back on a four-year, $52MM contract to solidify the hot corner.  Headley will provide New York with outstanding third base defense, and the team obviously hopes that playing in Yankee Stadium will get his bat back on track — the .262/.371/.398 slash line and 119 OPS+ that Headley posted over 224 PA as a Yankee last season is a good step in that direction.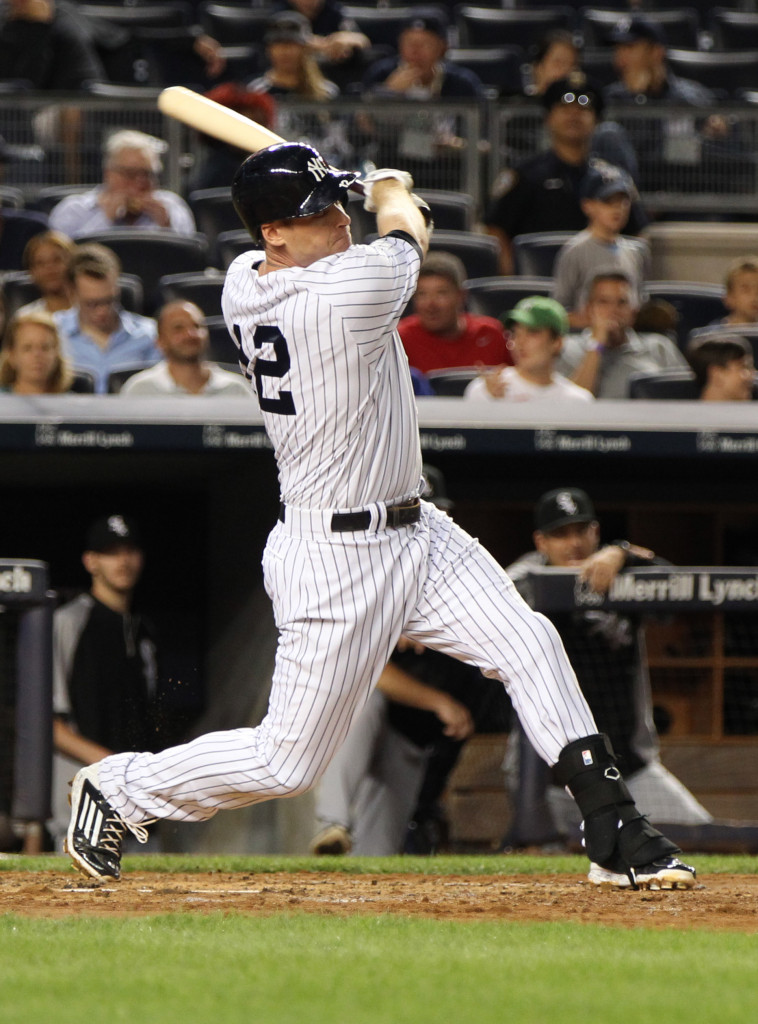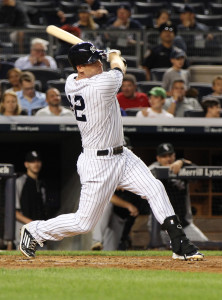 In Didi Gregorius, the Yankees have addressed their hole at shortstop while still giving themselves flexibility for a future move should they feel Gregorius isn't a long-term solution.  Gregorius hasn't shown all that much either at the plate (career 84 wRC+) or in the field (-3.3 UZR/150 at shortstop) during his brief career, yet it's important to note that he's had only 724 MLB plate appearances and he's entering his age-25 season.  He isn't even arbitration-eligible until next winter, though assuming he accumulates a full year of Major League service time this season, Gregorius will have an extra year of arbitration eligibility due to him as a Super Two player.
Going into the offseason, the consensus was that the Yankees would address their infield by acquiring an everyday second or third baseman, with the versatile Martin Prado then playing the other position.  Instead, Prado was shipped out to the Marlins as part of the multi-player deal that brought Garrett Jones and Nathan Eovaldi to the Bronx.  Jones has an .811 OPS against right-handed pitching over his career, and with Yankee Stadium's infamous short right field porch, Jones could provide some nice pop off the bench and also spell Mark Teixeira at first or Carlos Beltran in right field.
Eovaldi injects some youth and, perhaps just as importantly, durability into New York's rotation, as the 25-year-old righty tossed 199 2/3 innings for Miami last season.  Almost any hurler would be challenged by moving from pitcher-friendly Marlins Park to hitter-friendly Yankee Stadium, especially one who doesn't strike out many batters like Eovaldi (career 6.28 K/9), though he's working on a splitter to try to miss more bats.
With David Robertson off to the White Sox, the Yankees replaced one ace reliever with another as they signed Andrew Miller.  It remains to be seen whether he or Dellin Betances will get the lion's share of saves (or if they split the job), but however it shakes out, New York owns one of the most imposing one-two bullpen punches in the game.  Miller was the most high-profile of several bullpen acquisitions for the Yankees, as they also added right-hander David Carpenter and lefties Chasen Shreve and Justin Wilson in separate deals with the Braves and Pirates.  Between Miller, Shreve and Wilson, the Yankees greatly improved their left-handed relief depth, which has been an issue in recent years.
Questions Remaining
Between Masahiro Tanaka's slightly torn UCL, Michael Pineda's long history of shoulder problems and C.C. Sabathia's recent knee injuries, the Yankees are going into the season crossing their fingers for good health from the top of their rotation.  Compounding the problem, the re-signed Chris Capuano will start the year on the DL, robbing the club of its favorite for the fifth starter role.
Despite all these durability issues, the Yankees did little to address their rotation's depth.  Eovaldi will essentially serve as a replacement for Shane Greene, who enjoyed a nice breakout year in 2014 but was sent to the Tigers as part of the Gregorius deal.  Swingman David Phelps was traded to Miami, and the Yankees didn't re-sign either Hiroki Kuroda or Brandon McCarthy (though they looked into bringing McCarthy back, albeit only on a two-year deal).
This isn't to say, however, that GM Brian Cashman hasn't been actively looking for rotation upgrades.  The Yankees have seemingly come the closest of any team to acquiring Cole Hamels from the Phillies, though as CBS Sports' Jon Heyman subsequently reported, the two sides weren't actually very close to working out a deal.  Since the chance remains that any of all of Tanaka/Pineda/Sabathia could be healthy and productive, the Yankees will likely continue to play the waiting game until a move becomes essential.  I would expect the Yankees to eventually aggressively pursue Hamels or any other high-priced aces (especially those who are pending free agents) at midseason in order to fill any clear holes that might emerge in the rotation.
Second base remains an unsettled position for New York, as while Stephen Drew was re-signed on a one-year, $5MM deal, it's hard to know what to expect from the veteran given his sub-replacement level performance in 2014.  Drew's lengthy free agent stint and lack of a Spring Training could certainly be extenuating circumstances, yet as Drew enters his age-32 season, it's unclear to what extent he'll be able to bounce back.  Drew may not get a lot of time to prove himself, as prospects Jose Pirela and Rob Refsnyder are waiting in the wings if Drew continues to struggle.  Prado's trade was something of a surprise given that he hit so well for the Yankees last season and his versatility was a boon on a team with so many injury and depth concerns.  If Drew or the rookies can't handle second base and/or Eovaldi struggles, questions will be asked about why Prado had to be moved.
Prado's departure could be an even bigger issue if Headley struggles.  While he did well in his short time in the Bronx, the Yankees have now committed $52MM to a player entering his age-31 season who has battled some recent injuries and been showing signs of decline at the plate.  I can't be too critical of the Headley deal given his solid track record or the lack of other available third base options this offseason, yet his signing doesn't exactly make third base a worry-free zone for the team.
Like third base, shortstop is also still far from a certainty.  Gregorius hasn't been able to hit left-handed pitching at all, and it's worth noting that two teams (the D-Backs and Reds) have to some extent already passed on Gregorius as their "shortstop of the future."  If Gregorius doesn't play well, the Yankees don't have much depth at short aside from Brendan Ryan, barring a scenario where Drew moves back to shortstop and Pirela or Refsnyder takes over at second.
No discussion of the 2015 Yankees is complete without the obligatory mention of Alex Rodriguez's return.  Even if Headley falters, it's hard to see A-Rod getting significant time back at third given that he's been slated for (at best) a part-time role as a DH and backup first baseman.  Between Jones and the several full-time veterans the Yankees can rotate through the DH spot on rest days, the team has already protected itself against the possibility that Rodriguez may not be productive given his age, injury history and long absence from the game.
The Yankees signed 10 of Baseball America's top 28 international prospects from the 2014-15 signing class, far exceeding their signing bonus limit and resulting in a punishment of not being allowed to sign any international prospect for more than a $300K bonus over each of the next two signing periods.  With this looming restriction in mind, it may come back to haunt New York that the club was unable to land two of the higher-profile international prospects of the last few months — Yoan Lopez and Yoan Moncada, who respectively signed with the Diamondbacks and Red Sox.  Missing out on Moncada was particularly hurtful for the Yankees, given that they were one of the finalists for the Cuban phenom and that he signed with their Boston arch-rivals.
Deal Of Note
While Miller will likely end up getting some save opportunities this season, he can still boast about landing the largest contract ever given to a reliever without any closing experience.  It's no surprise that the Yankees had to go to four years and $36MM to land the southpaw given that he had perhaps the widest market of any free agent this winter — a reported 23 teams showed some degree of interest in Miller's services.  In fact, the Yankees had only the second-largest deal on the table, as Miller turned down a four-year/$40MM offer from the Astros.
Committing four years to any reliever is a risk, especially since Miller has only been an effective bullpen arm since 2012 (as a lefty specialist) and he'd never posted a BB/9 of less than 4.5 prior to last season.  This said, Miller was so dominant in 2014 that if he has turned the corner, he's as good as any reliever in baseball.
It could be argued that the Yankees didn't need to spend so much on a big bullpen arm given Betances' presence, though Betances himself has less than two seasons as a full-time reliever.  In a way, Betances and Miller are acting as each other's security blankets; if one takes a step back this season, the Yankees will still have the other to stabilize the closer's job.
Overview
After spending over $500MM on free agents in the 2013-14 offseason, this winter was a much quieter one for New York (though spending "only" $100MM on free agents counts as quiet only by Yankees standards).  There was speculation that the Yankees would pursue one of the major free agent starters — Max Scherzer, Jon Lester, James Shields — this winter, though nothing much developed on that front.
It's worth noting that signing Scherzer or Shields would've cost the Yankees a first round draft pick, and after their free agent splurge last year, the team didn't seem keen on again limiting its draft pool.  In fact, the Pinstripers are now up an extra pick for the 2015 draft due to the compensatory pick they'll receive for Robertson signing elsewhere and saw the fourth-largest increase in their draft pool of any team from 2014 to 2015.
In my Yankees Offseason Outlook piece from last October, I predicted the team could be more active on the trade market than in free agency this winter, under the logic that the Yankees could use their financial resources more wisely by acquiring high-priced veterans (i.e. their midseason deals for Prado, McCarthy and Headley last year) from rebuilding teams.  In some ways, that proved to be correct since the team filled more holes via trades than they did via free agents, though most of New York's trade acquisitions weren't veterans, but rather younger players like Gregorius, Eovaldi, Wilson, Carpenter and Shreve who all carry several years of team control.
As noted earlier about Gregorius, having controllable players gives the Yankees the flexibility to rather easily move on in the case of a downturn in performance.  These players could also possibly become trade chips themselves should the Bombers pursue more high-profile upgrades later in the season.
These kinds of moves for young talent are necessary given how much money New York has tied up in expensive veterans.  Between Teixeira, Sabathia, Rodriguez, McCann and Beltran, the Yankees will pay $100.125MM in 2015 to five players who combined for 2.7 fWAR in 2014.  Various injuries (and, in A-Rod's case, his suspension) obviously played a role in that low fWAR total, yet it's almost impossible to imagine that all five will be totally healthy and productive this season.  The Yankees are accounting for this to some extent, though even they can only plug so many holes; if Tanaka's UCL issues worsen, or Pineda's shoulder acts up, or if injuries strike Headley, Drew, Miller, etc., then the season will start to resemble a war of attrition with the disabled list, much like the team's 2013-14 campaigns.
The lack of a clear favorite in the AL East certainly gives the Yankees a path to return to the playoffs for the first time since 2012.  They'll just need to rely on a lot of good health, a few breakout performances and a few returns to form from established players to manage it.
Image courtesy of Andy Marlin/USA Today Sports Images