Despite finishing with baseball's worst record in 2014, the Diamondbacks stopped short of a full-scale rebuild and added a high-priced talent they hope will help them quickly return to contention.
Major League Signings
Yasmany Tomas, 3B/LF: Six years, $68.5MM (player opt-out clause after 2018 season)
Daniel Hudson, SP/RP: One year, $800K (club option exercised)
Matt Reynolds, RP: One year, $600K (club option exercised)
Total spend: $69.9MM
Pool-Eligible International Signings
Yoan Lopez, SP: $8.27MM signing bonus
Notable Minor League Signings
Trades And Claims
Notable Losses
Needs Addressed
The Diamondbacks' first order of business was to hire Chip Hale as the club's new manager, deciding on the former Athletics bench coach after an extensive search.  Hale faces an interesting challenge in his first Major League managing job, as he inherits a last-place club that doesn't plan on being a bottom-dweller for long.  Around the start of the offseason, both Chief Baseball Officer Tony La Russa and senior VP of baseball operations De Jon Watson felt that a quick turn-around was possible, with La Russa going so far as to say that he would "be absolutely brokenhearted" if the D'Backs didn't at least manage a winning record in 2015.
To that end, the Snakes unloaded a couple of notable contracts to shed payroll, yet also just as quickly reinvested that money into new talent, most notably in the international market.  Their biggest move came with the signing of Yasmany Tomas, as the D'Backs outbid several other teams (including their division rivals in San Diego and San Francisco) to ink the Cuban slugger to a six-year, $68.5MM deal.
Several pundits, including MLBTR's own Tim Dierkes, thought Tomas would land a contract in the $100MM range this winter, so if the 24-year-old lives up to expectations, the D'Backs will have scored a bargain.  Tomas can even opt out of his contract after four seasons, so the deal could turn into a four-year, $36MM commitment for the team.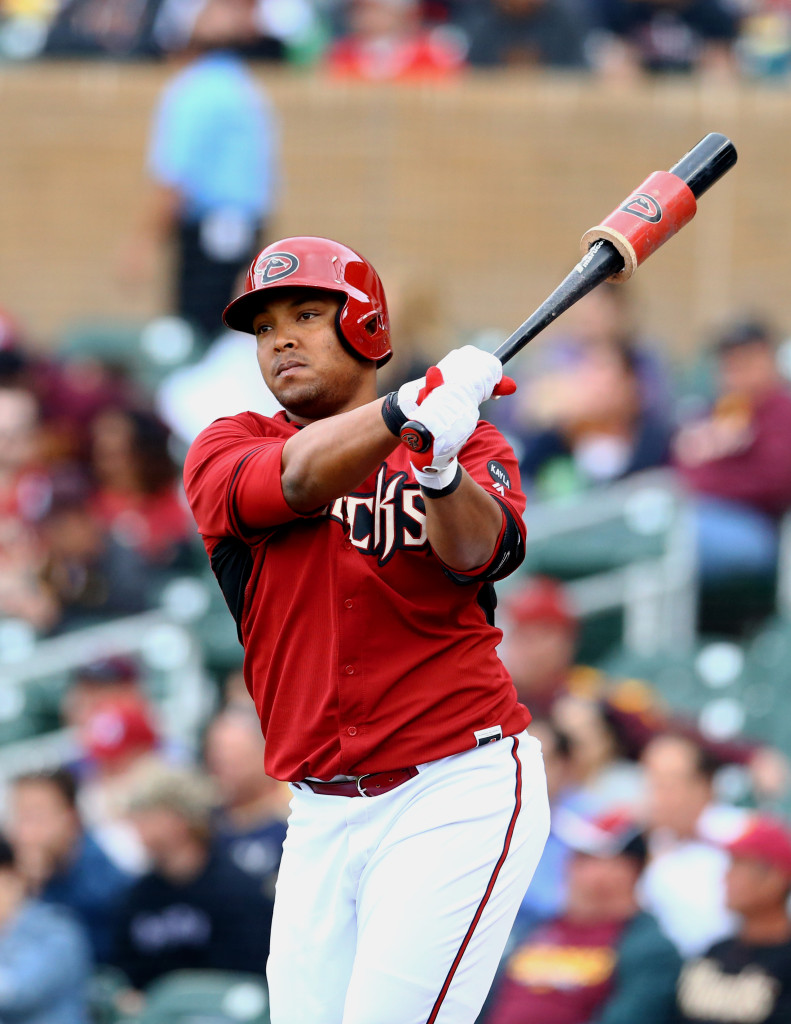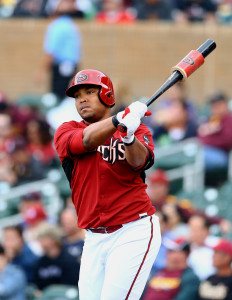 GM Dave Stewart made another big international outlay in signing Cuban right-hander Yoan Lopez to a contract with an $8.27MM signing bonus.  As with Tomas, the Diamondbacks may have scored a bit of a bargain since Lopez turned down at least one larger offer to join the team.  The 22-year-old righty brings a multi-pitch arsenal and a fastball that has touched 100mph, giving Arizona a building block for the future.
If Lopez represents the future, the present was addressed in the form of a payroll-reducing trade.  The Diamondbacks unloaded their biggest salary pre-existing commitment by dealing Miguel Montero (and the $40MM remaining on his contract) to the Cubs for two low-level pitching prospects.  While still a strong defensive catcher, Montero's offense had declined over the last two seasons and the D'Backs felt comfortable moving on from the 31-year-old.
Likewise, Trevor Cahill's time in Arizona didn't pan out as expected, and the Snakes dealt the righty to Atlanta along with $6.5MM to help cover Cahill's $12MM salary for the 2015 season.  The Cahill and Montero trades have further helped to reduce the Diamondbacks' payroll from a club-record $112.3MM in 2014 to roughly $85MM for the coming season.
While dealing Montero was mostly about clearing salary obligations, the trade that sent Wade Miley to the Red Sox brought back more immediate help (as you'd expect given Miley's more favorable contract situation).  Miley became arbitration-eligible for the first time this winter, and rather than pay his increasing price tag, the D'Backs brought back a total of 10 controllable years of right-handers Rubby De La Rosa and Allen Webster.  De La Rosa has earned a spot in Arizona's rotation while Webster remains an intriguing prospect, though he hasn't shown much in 89 1/3 Major League innings.
With Miley gone, the D'Backs brought another veteran arm into the mix by acquiring Jeremy Hellickson from the Rays.  Hellickson is looking to rebound after an injury-shortened 2014 and, now that he's healthy, should be closer to the hurler who averaged 180 innings per year and a 3.72 ERA from 2011-13 (though he did so with less-than-promising peripherals).  Hellickson will join Josh Collmenter, De La Rosa, Chase Anderson and top prospect Archie Bradley in the rotation, as Bradley's strong Spring Training performance earned him his first crack at the bigs, and provided even more incentive for the D'Backs to move Cahill.
Arizona's middle infield situation got a bit less crowded after Didi Gregorius was sent to the Yankees as a part of a three-way trade with the Tigers.  The deal allows Nick Ahmed to take over at shortstop and Chris Owings to become the new second baseman.  For Gregorius, the D'Backs obtained another middle infield prospect in Domingo Leyba and a possible future rotation candidate in left-hander Robbie Ray.
Addison Reed pitched better (2.68 SIERA, 3.26 xFIP, 4.03 FIP) than his 4.25 ERA would suggest, though he'll have to cut down on the fly balls (only a 28.9% grounder rate) to be a long-term answer at closer, especially with a growing salary through his arbitration years.  Still, Oliver Perez, Brad Ziegler, Evan Marshall, Randall Delgado and former starter Daniel Hudson make up a pretty solid bullpen corps for the Snakes.  It wouldn't be a shock to see veterans Reed, Perez or Ziegler get shopped at the trade deadline, especially since the D'Backs will have a bit of an arms surplus at midseason when Patrick Corbin, Bronson Arroyo and David Hernandez all get back from Tommy John rehab.
Questions Remaining
La Russa's optimism notwithstanding, the Diamondbacks are going to have a difficult path to 82 or more wins.  Consider that the Snakes entered 2014 on the heels of consecutive 81-81 records, so despite all of the injuries suffered by the club last year, it could be argued that even at full strength the D'Backs still didn't have a proven winning nucleus.
De La Rosa, Bradley and Anderson were the winners of a widely-contested Spring Training battle for the last three spots in Arizona's rotation, and while this trio has plenty of promise, it's a tall order to see all three blossoming at the same time.  Combine that with the fact that Collmenter and Hellickson wouldn't be top-of-the-rotation choices on most teams, and the Diamondbacks' rotation looks like a problem area.  (Though, as noted, Corbin and Arroyo could provide some midseason reinforcements.)
The staff also likely won't be helped by the uncertainty at catcher, which stands out as one of the most glaring roster holes on any team in baseball.  Montero's departure left Tuffy Gosewisch as the presumptive starter, with Gerald Laird and Jordan Pacheco both making the roster as backups.  While the D'Backs have been linked to Toronto's Dioner Navarro in trade rumors for almost the entire offseason, no deal appears to be forthcoming, according to Stewart.
If Stewart's comments aren't just gamesmanship, then the D'Backs appear to be content with having the inexperienced Gosewisch as the bridge to top prospect Peter O'Brien.  The hitch with that plan, however, is that O'Brien is widely seen by most evaluators as unlikely to stick behind the plate, and he has recently developed an inability to throw the ball back to the mound.  Catcher looms as a big issue for the team both in 2015 and, if O'Brien's struggles continue, into the future.
Tomas is, at the moment, a man without a position or even a spot on the Snakes' big league roster.  Tomas will start the season at Triple-A following an unremarkable spring at the plate (.257/.307/.414 with two homers over 73 PA) and a very shaky defensive performance as a third baseman.  While one could just write off Tomas' time at third as a failed experiment, scouts also have questions if he would be able to handle a corner outfield spot.
Compounding the problem for the D'Backs is that they also don't have much room at any of Tomas' positions.  Third baseman Jake Lamb enjoyed a red-hot spring at the plate and was ranked as a top-80 prospect by both MLB.com and Baseball America prior to last season.  If Tomas becomes a left or right fielder, he joins Mark Trumbo as another power-hitting right-handed bat with questionable defensive ability working the corner outfield positions.  (Fortunately for the D'Backs, A.J. Pollock is an excellent defender who covers a lot of ground in center.)  Trumbo drew some trade interest this winter but the D'Backs are intent on keeping him, despite his defensive shortcomings, low OBP and increasing expense after winning an arbitration hearing.
Once Tomas is promoted, Arizona's probable best plan of attack would be to liberally use David Peralta and Ender Inciarte — both left-handed hitters — to spell Tomas and Trumbo both for defensive purposes and against tougher right-handed pitching.  Until Tomas gets the call, Peralta and Inciarte will split time in left field and as Trumbo's late-inning defensive replacement.
One name missing from the outfield mix is veteran Cody Ross, who was rather surprisingly released just prior to Opening Day.  The Snakes shopped Ross during the offseason but couldn't find any takers, and thus were stuck having to eat the $9.5MM ($8.5MM in salary, $1MM buyout of his 2016 option) remaining on Ross' contract.  All told, Ross' three-year, $26MM deal from the 2012-13 offseason ended up being a bust for the D'Backs, as he only contributed a .699 OPS line in 570 PA and appeared in only 177 games due to injury.
Aaron Hill is another high-priced veteran the D'Backs would like to deal, though he's another tough sell given his poor 2014 season and $24MM salary owed through 2016.  Hill has already lost his starting second base job to Owings, so he won't have much opportunity to rebuild his value in a bench role unless Owings struggles.  Arizona will almost surely have to pay a big chunk of Hill's salary in any deal, but I would guess they'll eventually find a trade partner; Hill was putting up strong numbers as recently as 2013 and several teams could use second base help.
Deal Of Note
Lopez's signing added an obstacle to the Snakes' rebuilding process.  Since Lopez was subject to international signing pool limits, his bonus put the D'Backs well over their pool limit.  Not only will they be taxed on the overage, but they'll also be prohibited from spending more than $300K to sign any pool-eligible player over the next two international signing periods (so, until July 2017).  Since Lopez will need at least a year or two of minor league seasoning, Arizona might not see any return on its investment until its penalty period is up, making the signing an even riskier one for the club.
For a team with a renewed emphasis on international scouting, essentially closing the door on one avenue of the international market until 2017 is a curious decision.  The D'Backs also have the largest international spending pool of any team for 2015-16 as per their poor finish last season, yet they're now unable to spend much of it due to the penalty, though the bonus slots can be traded.  Rival scouts have thus far delivered middling reports on Lopez's ability (while acknowledging that it's still very early in his career), so Arizona is making a big bet that he'll eventually be worth their investment both in terms of money and in other international opportunities lost.
Overview
If Arizona struggles this year, then waiting another season (or at least until this year's trade deadline) to fully commit to the rebuild could be perceived as wasted time, given how many feel a rebuild is already overdue for the franchise.  That said, since injuries so badly hampered the 2014 squad, Stewart may simply want to see exactly what he has before deciding to either make wholesale changes.
It could that this will be something of a treading-water season for the Diamondbacks as they prepare for a more thorough overhaul next winter.  Only three players (Tomas, Hill and star slugger Paul Goldschmidt) are under contract for 2016, leaving lots of flexibility to build around controllable long-term pieces like Pollock and Bradley.  It's worth noting that the D'Backs already at least explored some bigger moves for star veterans this past winter, such as a trade for Matt Kemp or signing James Shields.  Between payroll space, one of the game's better-regarded minor league systems, and a front office that seems willing to be aggressive, Diamondbacks fans can be forgiven for already looking ahead to the 2015-16 offseason.
Photo courtesy of USA Today Sports Images.