That the Brewers should tender a contract to slugging first baseman Chris Carter seems, at first, to be obvious. After being non-tendered by the Astros last offseason, Carter signed a one-year, $2.5MM contract with Milwaukee, then tied Nolan Arenado for the NL home-run crown, with a career-high 41. Now Carter has 4.159 years of service time, and the Brewers are faced with a decision. Surely it would be ridiculous for them to non-tender him, right?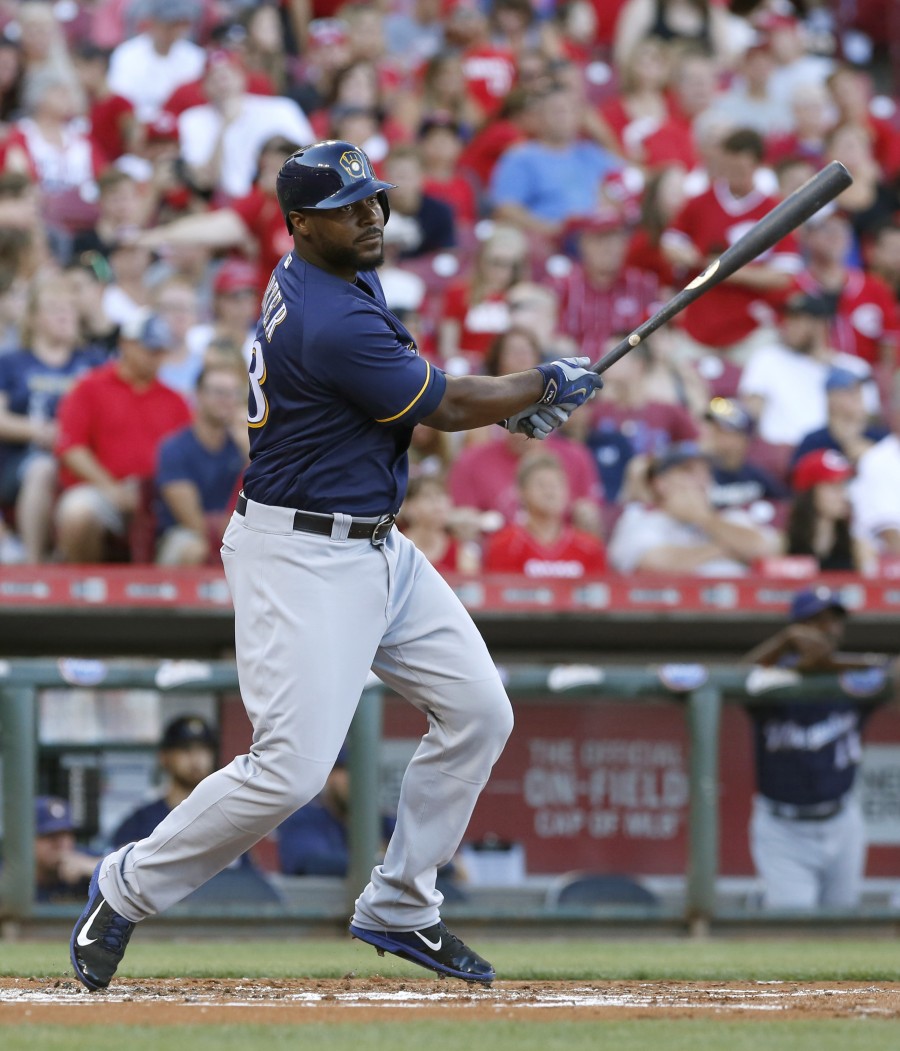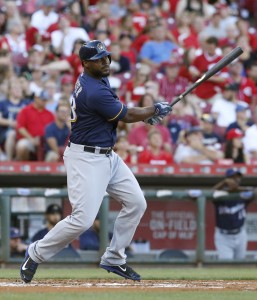 Well, maybe not. MLBTR projects that Carter will get a very significant bump in salary next year, making $8.1MM through arbitration. While that's not an astronomical figure, it is high for a one-dimensional player. As MLBTR's Matt Swartz points out, hitters' salaries during their arbitration seasons are typically evaluated by batting average, home runs, RBIs, stolen bases and plate appearances. Carter has never hit well for average or stolen many bases, but he fared very well last season in the other three categories, also amassing 94 RBIs and 644 PAs. In arbitration, counting stats are what matter most, and Carter's are impressive. In addition, the relative defensive value of a shortstop, say, as compared to a first baseman is not as important in arbitration as it would be on the free agent market. That factor also favors Carter, should the Brewers tender him.
As a result, the amount the Brewers will have to pay Carter through the arbitration process could approach or exceed his actual value. The arbitration process won't penalize Carter much for his consistently mediocre on-base percentages (.321 this season, .314 career) or his below-average defense at first base (-5.2 UZR in 2016). Via FanGraphs, Carter's 41-homer 2016 season was worth just 0.9 wins above replacement, largely due to those factors. Also via FanGraphs, the dollar value of that 0.9-WAR season was just $7.1MM, below the $8.1MM he'd likely receive next year through the arb process.
In fact, Carter has only produced more than 1 fWAR twice in his career, thanks to his lack of defensive value and his exorbitant strikeout totals, which prevent him from reaching base. He whiffed 206 times in 2016, and that wasn't even his career high in that category. Carter was non-tendered last offseason after totaling 90 home runs in the three previous years, even though his salary would only have been a projected $5.6MM. After hitting the open market, he ultimately made less than half that. He would have been worth the $5.6MM in 2016, but neither the Astros nor the free agent market seemed exuberant about his value. That's worth considering this time around.
It perhaps makes sense, then, that the Brewers appear to be at least considering non-tendering Carter. Today's Knuckleball's Jon Heyman reported two weeks ago that the team had a tough decision on its hands, although GM David Stearns had previously indicated Carter would return.
Then again, 41 home runs is 41 home runs, and perhaps we're overthinking it. One would imagine that, at the very least, Carter would have value in the right context. Pedro Alvarez, who's left-handed but has many of the same strengths and weaknesses as Carter, got a $5.8MM deal last offseason but produced $9MM in value for the Orioles, generally playing DH. And another whiff-prone, defensively challenged Orioles slugger, Mark Trumbo, got $9.2MM but produced $17.3MM in value.
Also, the Brewers don't have that much to lose by tendering Carter. They only have two players — Ryan Braun and Matt Garza — under contract for next season, and don't project to have a high payroll (particularly since Braun is a trade candidate anyway). They can afford Carter. Also, Carter isn't blocking anyone who would greatly benefit from his playing time. If Carter has another NL-leading home run season, he could perhaps land the Brewers a prospect or two at the trade deadline, or maybe even next offseason, since he'll still have another year before free agency eligibility. (It should be noted, though, that his projected 2018 salary will be very high if he hits well next season.) There's also the possibility that some power-starved team could overpay for Carter, given his unique skill set. The Brewers could even tender Carter and then attempt to deal him this winter, if there's a market.
Perhaps, then, this is much ado about nothing. Tendering Carter seems like the obvious course of action, and perhaps that's the one the Brewers will take. It's a decision worthy of serious thought, however. What do you think?
Photo courtesy of USA Today Sports Images.