This is the latest entry in MLBTR's Offseason In Review series. The full index of Offseason In Review posts can be found here.
Faced with the daunting prospect of making up for the tragic loss of Jose Fernandez, the Marlins focused on bolstering their pitching staff in hopes of staging an elusive run at the postseason.
Major League Signings
Trades And Claims
Options Exercised
Notable Minor League Signings
Extensions
Notable Losses
Marlins Roster; Marlins Payroll Information
Needs Addressed
The Marlins pushed to contend in 2016, but as the campaign drew to a close, it seemed destined to be defined by on-field disappointment. Then came the unthinkable, late-season death of Fernandez at just 24 years of age. His loss continues to tell in myriad ways.
A move back toward stability, though, came not long after Fernandez's passing, when the club reached agreement on a deal to keep third baseman Martin Prado off of the upcoming open market. It was hardly a bargain rate for the sturdy (if unspectacular) performer, but Miami clearly prioritized his steadying presence at third and in the clubhouse. Prado is entering his age-33 season, but is a well-balanced player who has compiled consecutive 3+ WAR campaigns.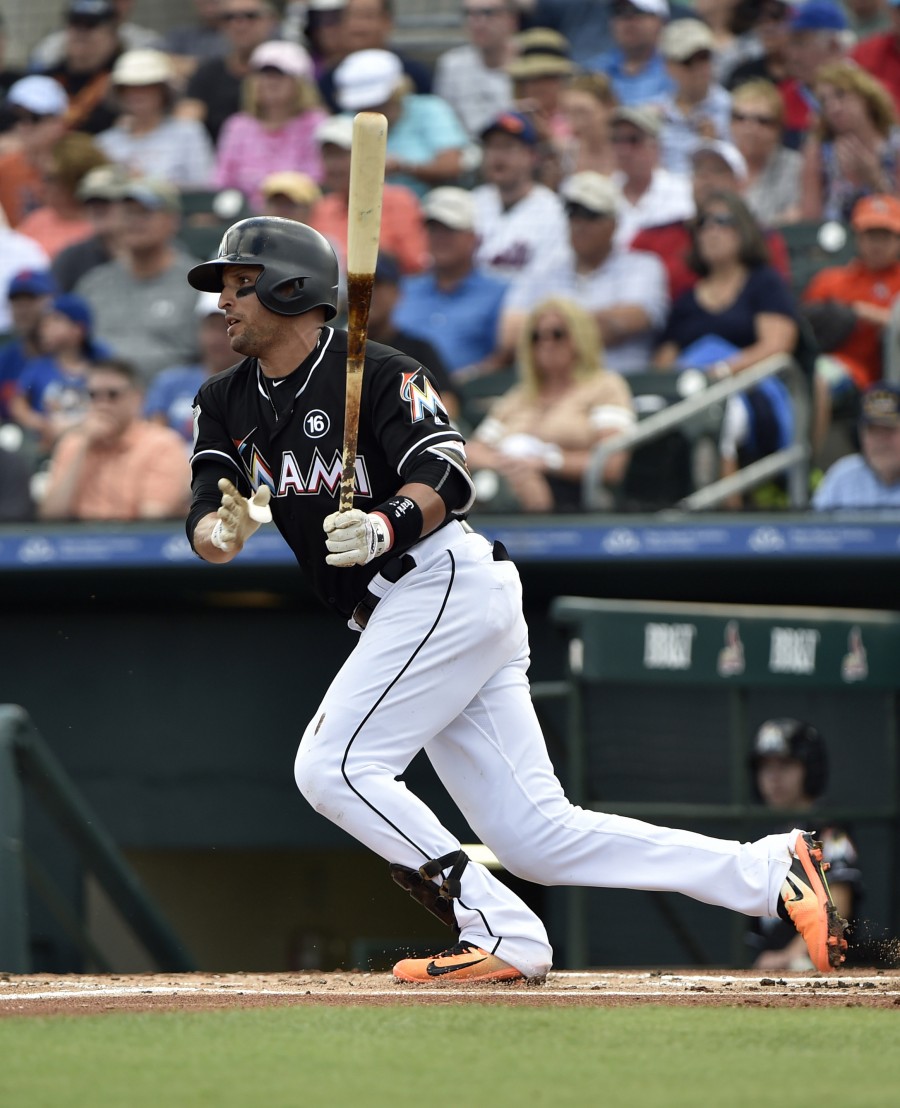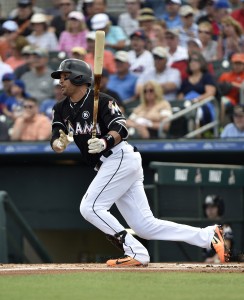 The Prado deal kicked off the winter a little early, and signaled clearly that the Marlins were intent upon continuing to add to their controllable core. But it also represented the organization's only significant move on the position-player side of the equation. Otherwise, the club brought back Ichiro Suzuki after his surprisingly productive season (or was it, really?) at 42 years of age. And a largely parallel change was made in the catching corps, with veteran A.J. Ellis stepping in for the departing Jeff Mathis.
From that point forward, it was all about arms. Mid-season trade acquisitions Andrew Cashner and Fernando Rodney were allowed to leave after disappointing tenures, and key setup lefty Mike Dunn found big money with the Rockies. In the aggregate, there were multiple openings in both the rotation and the bullpen.
Miami directed fairly significant investments to both sides of the pitching staff. The 2017 rotation will feature at least two new members. Edinson Volquez, 33, landed a two-year deal off of the free-agent market, while Dan Straily brings four years of control — the first at the league minimum — with him from the Reds. (When Colin Rea was shipped back to the Padres after coming down with an injury last summer, the Marlins lost the controllable arm they wanted but also got back the key prospect — Luis Castillo — used to get Straily.) If he can overcome biceps tendinitis, bounceback free-agent signee Jeff Locke could also factor in the rotation mix, though he may be slated for long relief duty once he returns from a biceps problem.
There are numerous new faces in the bullpen, too. Brad Ziegler and Junichi Tazawa both join the late-inning mix on two-year deals, joining holdovers A.J. Ramos (the closer), Kyle Barraclough (who gives up gobs of walks but also generates tons of swinging strikes), and David Phelps (who was suddenly outstanding last year and is capable of throwing multiple innings). The Marlins held onto Dustin McGowan with a fairly low guarantee after he turned in 67 innings of 2.82 ERA ball. Also joining the 40-man as a depth piece was righty Severino Gonzalez.
Keep reading for more analysis …
Questions Remaining
The pitching staff has been rebuilt, but it is still full of questions. Among the preexisting starters, Wei-Yin Chen has the longest track record of success, but scuffled last year and missed time with an elbow injury. Tom Koehler is steady but has rarely veered far from his career 4.16 ERA. And there are growing questions about the sometimes-dominant Adam Conley, whose inconsistencies have come to the fore this spring. He's fighting to hold of Jose Urena, who has been tagged for a 5.76 ERA with 5.3 K/9 and 3.3 BB/9 over 145 1/3 MLB innings over the past two seasons, and Justin Nicolino, who carries a 4.52 earned run average in his 153 1/3 frames since the start of 2015 with just 3.5 K/9 and 2.3 BB/9. Those latter two pitchers, along with Locke, representing the depth on hand.
Plus, it's not as if the new additions are sure things. As addressed further below, Volquez and Straily don't seem to hold out much promise of being more than back-of-the-rotation arms. There's certainly something to be said for filling innings, but the Marlins lack much electricity in the staff — a fact which serves as yet another reminder of how badly Fernandez will be missed.
The club did also stake a value bet on Locke. He is still just 29 years of age and turned in 51 productive starts over 2013 and 2014, but he has struggled in the past two seasons — making him available to Miami for only a $3MM guarantee. Last year, Locke compiled a 5.44 ERA with ony 5.2 K/9 against 3.1 BB/9. He could well end up providing some useful frames, but in his case, too, there's not exactly immense upside.
The bullpen seemingly holds more promise, with an interesting blend of high-strikeout arms and steady veterans. But it remains to be seen whether the club has enough on the left-handed side of the relief corps. Hunter Cervenka seems to be the top southpaw, but he scuffled upon arriving in Miami last year and hasn't yet shown he has enough control to succeed in the majors. Non-roster invitees Kelvin Marte, Nick Maronde, and Caleb Thielbar make up the depth along with Nicolino. But as things stand, Miami seems slated to open the year with an all-righty bullpen.
All said, it seems the hope is for the pitching staff to do just enough to allow Miami's talented slate of position players to shine. So long as the outfield stays healthy, it ought to be a quality unit; indeed, Christian Yelich, Marcell Ozuna, and Giancarlo Stanton arguably carry as much upside as any trio in the game. So long as Prado heals up from his recent hamstring injury, he ought to provide value at the hot corner; the club will certainly hope for a bounceback from Dee Gordon at second; and J.T. Realmuto will look to build upon a strong 2016 season. Derek Dietrich carries a .270/.362/.438 batting line over the past two seasons and is a nice piece to have in a utility capacity. (He'll likely open the year filling in for Prado at third.) Miguel Rojas doesn't bring much offensively, but he won't be relied upon too heavily as a reserve middle infielder.
There are some questions, though, at first and short. Justin Bour can definitely hit right-handed pitching; he owns a .271/.345/.494 batting line with the platoon advantage since cracking the majors. But he has been hapless in limited action against southpaws, hitting just .223/.273/.291 over 110 career plate appearances. Miami does have some backup plans in place — Realmuto may see time at first, and there'll likely be a righty bench bat (Tyler Moore, perhaps) on hand — but the club is staking a fair bit on Bour's ability to make strides. The Marlins could come to regret passing on an opportunity to add a more significant threat from a free-agent market that was loaded with lumbering sluggers, though perhaps the team could still look to make a late-spring move.
At shortstop, Adeiny Hechavarria remains a difficult player to gauge. Miami has long seemed to value him highly, though there was chatter recently that the club would consider dealing him — albeit at a price that didn't seem particularly realistic. The metrics have caught up with the positive scouting reports on his glove, which is his carrying tool. He had turned in two-straight palatable seasons at the plate heading into 2016, seemingly putting all the pieces together in a solid 2 to 3-WAR 2015 campaign. While he improved in the K/BB department (moving up to a 6.0% walk rate and down to a 13.3% strikeout rate), though, his batting average on balls in play (.269) and isolated slugging (.075) fell last year, dragging his triple-slash down to an unsightly .236/.283/.311. If there's cause for hope, perhaps it lies in the fact that he did post a personal-high 32.3% hard-hit ratio, though that was offset by a rise in flyballs that doesn't match well with his skillset and home park. The shortstop position is both a near- and long-term question for the Fish.
Deals Of Note
The additions of Volquez and Straily seem cut from the same cloth. While the former was a free agent who commanded a fairly significant salary, and the latter was acquired in no small part due to the flexible control rights that attach, neither seems to hold much promise of top-of-the-rotation results.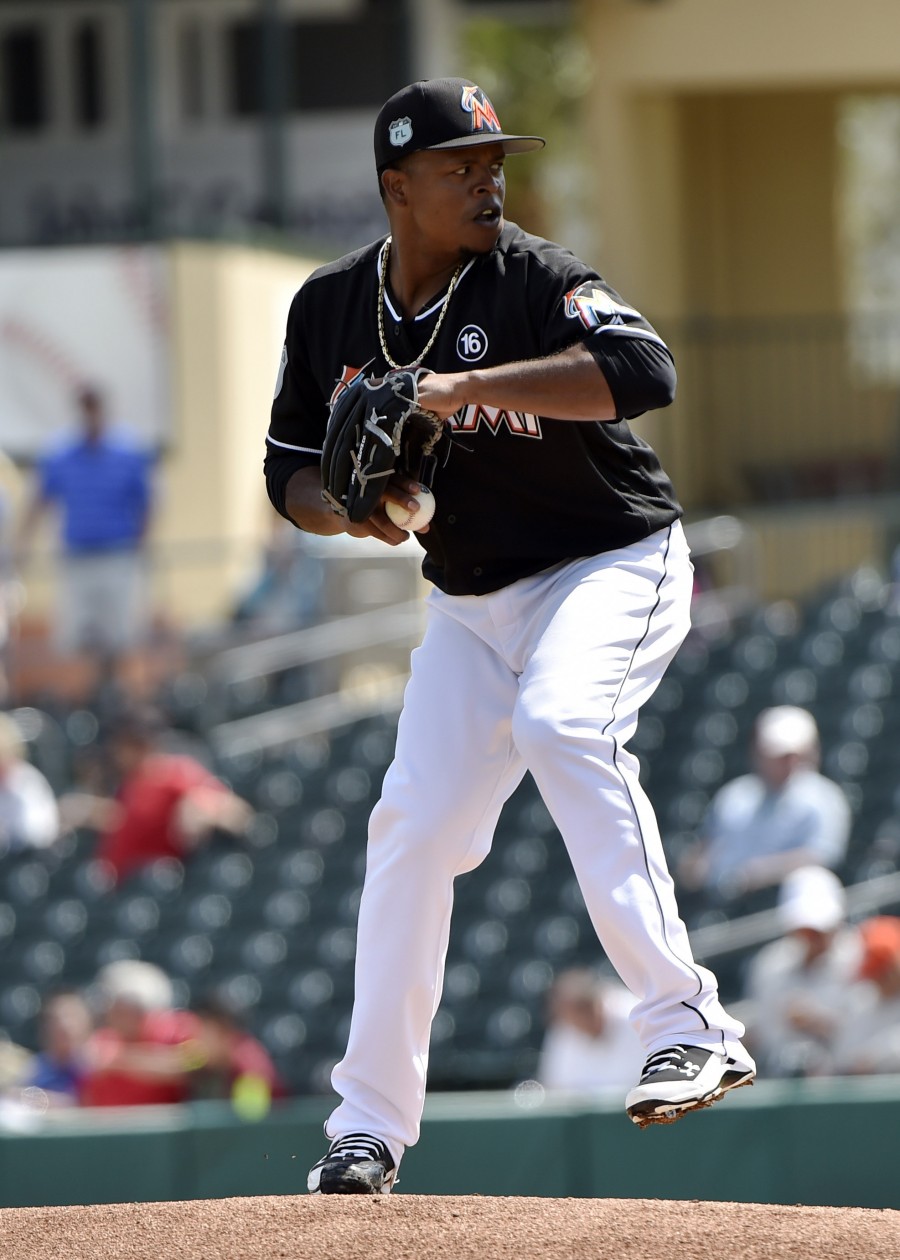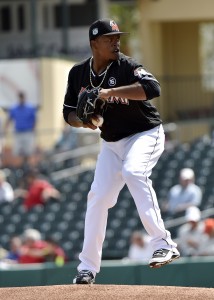 Volquez, who'll take the ball on Opening Day, does have some of the trappings of a top-end hurler. He is still delivering a fastball in his typical range of 93 to 94 mph, after all. But he doesn't generate swings and misses like he did in his heyday and has averaged less than seven strikeouts per nine over the past three campaigns as a result. To be fair, he has tamped down on the free passes that once plagued him and generates grounders on about half of the balls put in play against him. Volquez scuffled to a 5.37 ERA last year, though ERA estimators suggested he wasn't quite so bad as that. Of course, those same analytical tools also cast some shade on the 3.04 and 3.55 marks that Volquez compiled over 2014 and 2015. SIERA, for instance, hasn't valued the veteran as a sub-4.00 performer since 2010. All that being said, Volquez's value is tied as much to his innings as it is to his quality. He has made over thirty starts in each of the past five seasons.
Straily, meanwhile, was freely available this time last year, yet commanded a fairly significant return after turning in a strong 2016 season in which he threw 191 1/3 innings of 3.76 ERA ball. But he has a relatively undistinguished prior track record and was aided greatly last year by a .239 BABIP. Though he did post a strong 10.2% swinging-strike rate in 2016, and features a flyball-heavy approach that may be suited to spacious Marlins Park, Straily has long rated as a marginal performer by measure of the major ERA estimators. (Over his career, Straily carries a 4.78 FIP, 4.79 xFIP, and 4.48 SIERA.)
In an age where many clubs see less value in plodding innings-eaters, perhaps owing to the rise of the number of high-powered relief arms available, Miami's approach with Volquez and Straily seems a bit outdated at first glance. On the other hand, the Marlins did also commit to bolstering their pen and have discussed some possible strategies for limiting the exposure of their starters to too many trips through the order. That casts an altogether different light on the team's strategy, suggesting that it could be attempting something of a new way of getting results despite limited resources available to invest into a rotation. If Volquez and Straily (and their compatriots) are asked mostly to hand off winnable games to a deep bullpen after five or six innings, perhaps there are the makings of a workable, budget-friendly approach.
Overview
There's no doubt the Marlins are pushing to contend, particularly with the prospect of a franchise sale by owner Jeffrey Loria hanging over the season. While the club forewent massive new expenditure on the MLB roster, it has continued to dedicate what resources are available — particularly, shipping out many of the relatively few quality prospects from the farm — to bolster the chances of winning now. While it's still hard to predict that there's enough firepower on hand to bypass the Nationals and Mets in the NL East, this does seem to be a plausible postseason roster with a few breaks in the right direction.
What's your take on the Marlins' winter?  (Link for app users.)
Photos courtesy of USA Today Sports Images.