This is the latest entry in MLBTR's Offseason In Review series. The full index of Offseason In Review posts can be found here.
The Phillies' front office, which continues to chart a steady rebuilding course, added short-term veterans to supplement a group of young talent that is steadily matriculating to the majors.
Major League Signings
Trades And Claims
Notable Minor League Signings
Extensions
Notable Losses
Phillies Roster; Phillies Payroll Information
Needs Addressed
With Ryan Howard's departure, the Phillies have fully shed the stars that made up the organization's most recent contending roster — with their salaries also now departing the payroll. Philadelphia is now building a new core, and just made the first long-term commitment to one of those pieces.
If you look at the Phillies' future balance sheet, there's just one name on it: Odubel Herrera, the former Rule 5 pick who is now controlled through 2023 after striking an extension over the winter. We'll have more on that move below, in the "deal of note" section.
Interestingly, that was really the only significant forward-looking move the Phils made over the winter. There was some trade chatter, mostly surrounding second baseman Cesar Hernandez, but there was no urgency to deal him with three years of arbitration control remaining. And the Phils were never rumored to be chasing any controllable major leaguers.
Instead, the club seems content to nurture its existing group of young talent while continuing to build through the draft. But that's not to say that GM Matt Klentak and company sat on their hands all winter. With massive spending capacity and a new TV contract, the plan called for some fairly significant investments in the 2017 roster — none of which, notably, will impact the future payroll.
That $36.7MM total spending figure listed above is a bit misleading. In addition to its free-agent commitments, Philadelphia struck three separate trades that essentially functioned the same way. The team gave up little in the way of players, but took on $30MM in salary. Combined with the open-market moves, two-thirds of Philly's approximately $100MM Opening Day payroll comes from newly-added veterans.
So, what did they get for their money? There was no singular focus akin to the Braves' and Padres' rotation overhauls. Instead, the Phillies splashed veterans across the roster.
The rotation features some appealing young talent, though the Phillies obviously hoped to relieve the pressure on the arms that will be needed for the long haul. Jeremy Hellickson represented the first major addition when he somewhat surprisingly accepted the qualifying offer issued by the club. While the Phils surely would have been happy to recoup a draft pick, it's hardly the worst result given the strategy. That said, if the club hopes to cash in on its thus-far worthwhile investment in Hellickson, it'll need to deal him at the deadline; under the new rules, he's not eligible for another QO.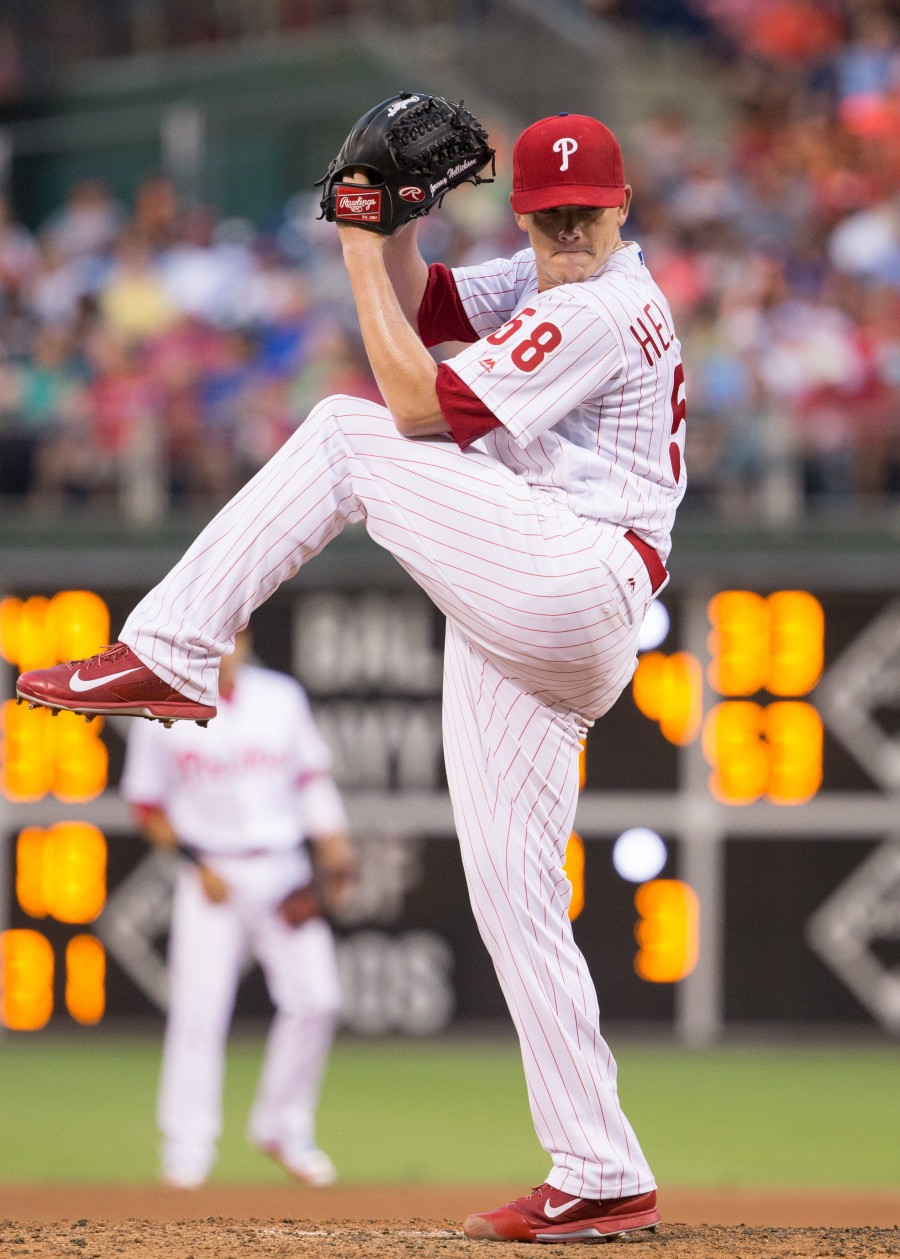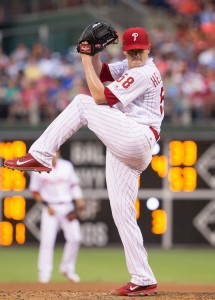 Despite the return of Hellickson, the Phillies elected to add Clay Buchholz to a staff that'll also feature Aaron Nola, Vince Velasquez, and Jerad Eickhoff. There were alternatives to adding another veteran — Jake Thompson reached the majors last year and several 40-man members are throwing at Triple-A — but Philadelphia elected to take on Buchholz in hopes of a resurgence. If he can carry forward his strong work late in 2016 (2.86 ERA over his final 44 innings), then the Phillies can shop him over the summer or perhaps make a qualifying offer at season's end.
The bullpen saw additions, too, with Pat Neshek coming via trade and Joaquin Benoit arriving from the open market. These elder statesmen both had promising results last year, but also come with questions. Neshek carried a 3.06 ERA while allowing less than one baserunner per inning through his typical blend of few walks and weak contact. But his success was driven by a BABIP-against mark (.216) that was even lower than usual (.236 career), and he was bombed when allowed to face lefties (.240/.321/.646 and ten home runs in just 55 plate appearances). Benoit, meanwhile, allowed just one earned run on 17 hits in his 23 2/3 innings with the Blue Jays, but had struggled with his control and long ball susceptibility over the first half of the season with the Mariners.
With the infield accounted for, Klentak and his charges turned to addressing an outfield that had received meager contributions from the corners in 2016. The first move, acquiring Howie Kendrick, may have been made in part to provide cover in the event that a deal was struck involving Hernandez. But the former second baseman was always penciled in to play left, and that's where he'll open the season. A paragon of consistency at the plate for the bulk of his career, Kendrick fell off last season and ended up hitting just .255/.326/.366 — though he did substantially increase his walk rate. While there's not much upside to him as a left fielder, Kendrick at least represents a sturdy veteran who'll plug a hole.
Next, the Phils staked a more interesting bet on Michael Saunders, whose deal includes an option for 2018. The 30-year-old was finally healthy and productive last year, though he faded badly after an outstanding start. Still, the overall results — .253/.338/.478 with 24 home runs over 558 plate appearances — were quite good, and Philadelphia would no doubt be pleased with a repeat performance.
That slate of moves was accompanied by the re-signing of veteran infielder Andres Blanco, who has been a handy member of the bench for the past two seasons.
Read more analysis below …
Questions Remaining
The immediate needs were filled with the offseason shopping, but that doesn't mean this is a complete roster. While the Phillies surely aren't mailing it in, it still seems more likely they'll end up with a top-ten draft pick than a .500 or better record.
In the rotation, there are both upside and downside cases for Hellickson and Buchholz. The same holds, in different ways, for the younger arms. Velasquez and especially Nola had some elbow problems last year while also battling inconsistency. Eickhoff, meanwhile, will need to manage the long ball to reach his potential.
The bullpen has an interesting mix of the above-mentioned veterans and live-armed youngsters. Hector Neris leads that group, with Edubray Ramos and southpaw Joely Rodriguez also on hand. There's some boom and bust here, clearly, which is all the more interesting given the ongoing questions with regard to the closer's role. Jeanmar Gomez earned a big arb salary after taking the job last year, but ended the year with a 4.85 ERA and uninspiring peripherals. He'll be hard-pressed to keep the job; if he can't, it'll be interesting to see whether Neris or one of the experienced late-inning hurlers is next in line.
In the infield, shortstop Freddy Galvis has morphed into something of a Danny Espinosa clone, with a sudden power surge, good speed, and excellent glovework offset by an abysmal on-base percentage. He still seems to be a placeholder for prospect J.P. Crawford, who'll look to gain traction at Triple-A before making the leap to the majors. Hernandez was the team's true breakout performer in 2016, slashing .294/.371/.393 with 17 steals and a well-reviewed fielding performance at second. Whether he can repeat remains to be seen. Both Galvis and Hernandez could conceivably become trade pieces at the deadline, or the latter could be approached about an extension.
There's more of a future-oriented tone at the corners. Maikel Franco failed to follow up on his stellar 2015 season, but hit 25 homers and obviously has the talent to become a cornerstone player. The Phils will be watching his development closely. Across the way, Tommy Joseph — the former top catching prospect who was forced out from behind the dish due to concussions — turned in a surprisingly promising year in 2016. He did enough to deserve a full crack at the job with a .248 ISO and 21 homers in 347 plate appearances, though he'll need to maintain that power and boost his on-base percentage (.308 on a 6.3% walk rate and .267 BABIP) to lay claim to first base for the long term. Joseph also showed fairly significant platoon splits — he hit for power but didn't reach base as often against righties — so lefty hitting reserves Daniel Nava and Brock Stassi could spell him at times.
Things get even more interesting behind the plate, where Cameron Rupp is seeking to stake his own claim to being a future piece. He slashed a surprising .252/.303/.447 with 16 bombs, representing plenty of lumber for a backstop. Rupp has some prospects nipping at his heels, though. Jorge Alfaro reached the majors last year, while Andrew Knapp has earned the second-catcher job to open the year. There could be quite a bit of intrigue at the catching position for the Phillies if all three of these players pan out, though it's also quite possible there'll be some growing pains in the short run.
That brings us to the outfield. The corner spots could either be a source of stability or see quite a lot of change. There's no doubting that Kendrick and Saunders will see the bulk of the action to open the year, but that's subject to change. Injury, ineffectiveness, or summer trade chatter could help lead to movement, though perhaps the biggest driver will be the performances of the Phillies' next wave of outfield talent. Roman Quinn, Nick Williams, and Dylan Cozens could all push for a promotion at some point during the season to come.
Deal Of Note
If there's a single position on the Phillies' roster that's not in question, it's center field. That's now the domain of Odubel Herrera, who is one of the game's more interesting players.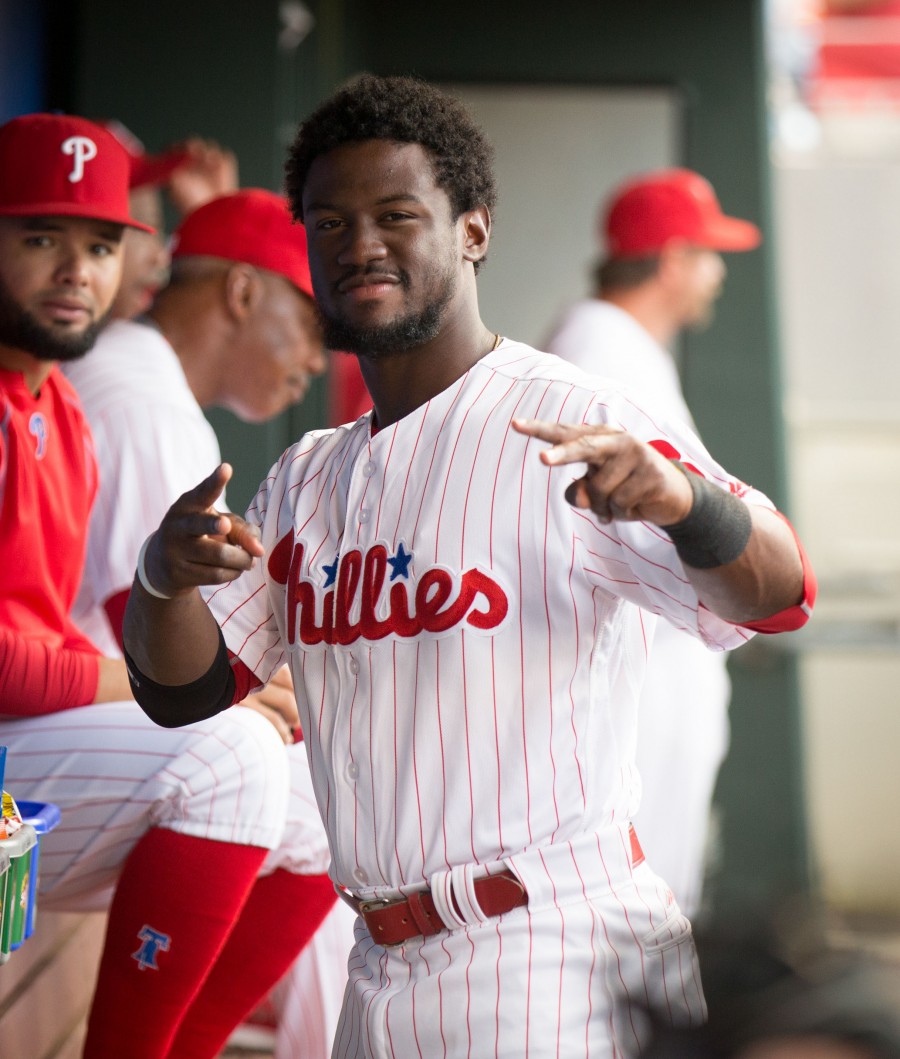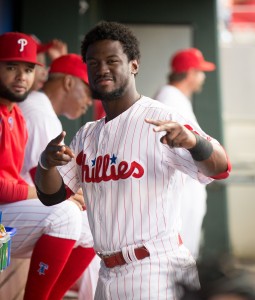 Herrera more than made good on his Rule 5 status, taking the regular job in center and running with it. He just turned 25 and has turned in consecutive seasons of 111 OPS+ hitting — making him a ~4-WAR player with the good baserunning and fielding metrics he has compiled.
What's so intriguing about Herrera isn't just that he was able to leap to the majors, but that he has changed since his arrival. His debut season was plenty promising, though a .387 BABIP left some question as to whether he' be able to keep pace with the bat. Herrera responded by maturing at the plate, nearly doubling his walk rate (to 9.6%) and shaving nearly four points off his strikeout rate (to 20.4%) even while boosting his power to respectable levels (15 home runs, .134 ISO).
Though he did struggle in the second half — most worryingly, he reverted toward his prior K/BB rates — there's enough evidence to think that Herrera may have more in the tank as a hitter. Even if that doesn't make it reasonable to expect him to increase his output substantially, perhaps it provides reason to hope that he can actually remain a reasonably above-average hitter.
All said, it's a sensible investment for the Phils, who can afford to wait to commit but could also afford to stomach a mistake. Even in a downside scenario, Herrera would seem likely to be a strong fourth outfielder, though of course the club has reason to expect quite a bit more.
With Herrera now taking his place on the accounting books, it'll be interesting to see who's next. Philadelphia will no doubt be assessing this season just who ought to receive such a commitment. And that, in turn, will guide not only possible extension talks, but also the player acquisition strategy pursued next winter.
Overview
The Phillies are committed to improving the on-field product without hampering their future spending ability. And they are trying to avoid the kind of multi-year austerity plan that would drive away fans while improving draft position. That approach may simply be a luxury available to a bigger-market rebuilder, but there's also an argument to be made that an even more dramatic approach could or should have been tried. It'll be years before we can fully assess, but the upcoming season will begin to show some of the returns not only for the Phillies, but also for a variety of other teams on the same general path (such as the Braves, Padres, and Brewers).
What's your take on the Phillies' winter? (Link to poll for mobile app users …)
[polldaddy poll=9715984]
Photos courtesy of USA Today Sports Images.